In the mood to transform your hairdo incredibly without waiting for the natural hair to grow? Hair extensions can infuse a sense of experience and adventure into your beauty journey.
Though extensions have been in the hair game for a long time, their constant improvements in the mainstream are giving folks multiple options to switch up their hairstyle. So what exactly are they? With our newest information, you'll be able to discover what are hair extensions and the truth about these hair techniques.
If you're already curious about whether or not to take the plunge and try hair extensions, read on to learn more!
What are hair extensions?
To quickly define what are hair extensions, they are hair pieces that instantly add extra volume or length to your natural locks.
Over the years, hair extensions have become the ultimate accessory for brides, prom-goers, or any type of special dressy event where you want your hair to look flawless. Instead of spending a fortune to get highlights and/or lowlights, you just need to install extensions to get a hair transformation.
Nowadays, modern hair extensions are becoming more luxurious and natural-looking than ever. With hair care lines made specifically for those with hair extensions, they are also easier to maintain, especially when coloring and styling.
In addition, thanks to a wide variety of attachment techniques, lengths, and color options for hair extensions, they can fit practically any budget for everyone who desires to change their hairstyle.
For detailed information about types of hair extensions, let's move on to the next part.
Types of hair extensions
Thanks to the rapid development of the hair industry, hair extensions are designed in plentiful types, and each one has its own strengths that can meet customers' demands. The type of hair extension is decided based on two main factors: The material origin of the hair extension and the attachment method.
Types of hair extensions based on origin
According to hair experts, there are two main origins of hair extensions, which are human hair and synthetic hair.
Synthetic hair extensions
Synthetic hair is made from non-porous fibers that are not derived from human or animal hair and has evolved a lot over time. The non-porous fibers are put through various chemical processes to give them a similar look, feel, color, and styling capability as human hair. The better quality fiber pieces are treated, the more realistic, hair-like luster they get.
Normally, synthetic hairpieces are much more cost-effective than natural human hair, but they will have differences in the treatments you can apply to them. Nowadays, there are heat-resistant synthetic hairs and non-heat-resistant synthetic hairs on the market. Since some styling and chemical products that can be used on natural hair will interact badly with synthetic hair, users need to follow manufacturer instructions carefully in order to keep the synthetic hair in good condition.
Synthetic hair is simple to maintain. All you need to do when restyling is wash, dry, and gently brush them. Furthermore, you can easily discover different color styles without going to a hair salon by purchasing multiple synthetic wigs.
Human hair extensions
Completely different from synthetic hair, this kind of hair extension is made from 100% real human hair. Thanks to its structure, human hair has a lot of significant benefits: easier to handle when coloring, styling, bleaching, and perming. Moreover, they also bring a natural feeling to users and have long-lasting lifespans.
Human hair extensions are also divided into three kinds of standards: virgin hair, remy hair, and non-remy hair.
Virgin hair: The highest quality of human hair extensions. Collect from 100% human hair that's never been chemically treated or dyed. It must meet strict standards since it needs to be totally natural and unaltered in any way. 

Remy hair: The most popular type of human hair. The term "remy" brings up hair cuticles aligned in the same direction. Remy hair is also considered the second-best human hair but has a more affordable price since it can be dyed or treated.

Non-remy hair: The cheapest and lowest quality type of human hair extensions. Collected from a wide variety of sources and from a lot of donors. Such as from the floors of salons and temples, or from random donors and hair suppliers. Because of this, the cuticles are aligned in different directions, which makes the hair prone to a lot of knots and tangles.
Certainly, if you invest in the highest quality human hair extensions, you can instantly transform your appearance in a myriad of ways. Adding lots of instant hair colors without the fear of permanent damage will become a simple solution for human hair extensions.
Although human hair extensions have the flexibility to change according to your wishes, they are quite high-cost, including purchase and maintenance. Just like real hair, they also require a regular hair care routine to be washed, messaged, and styled.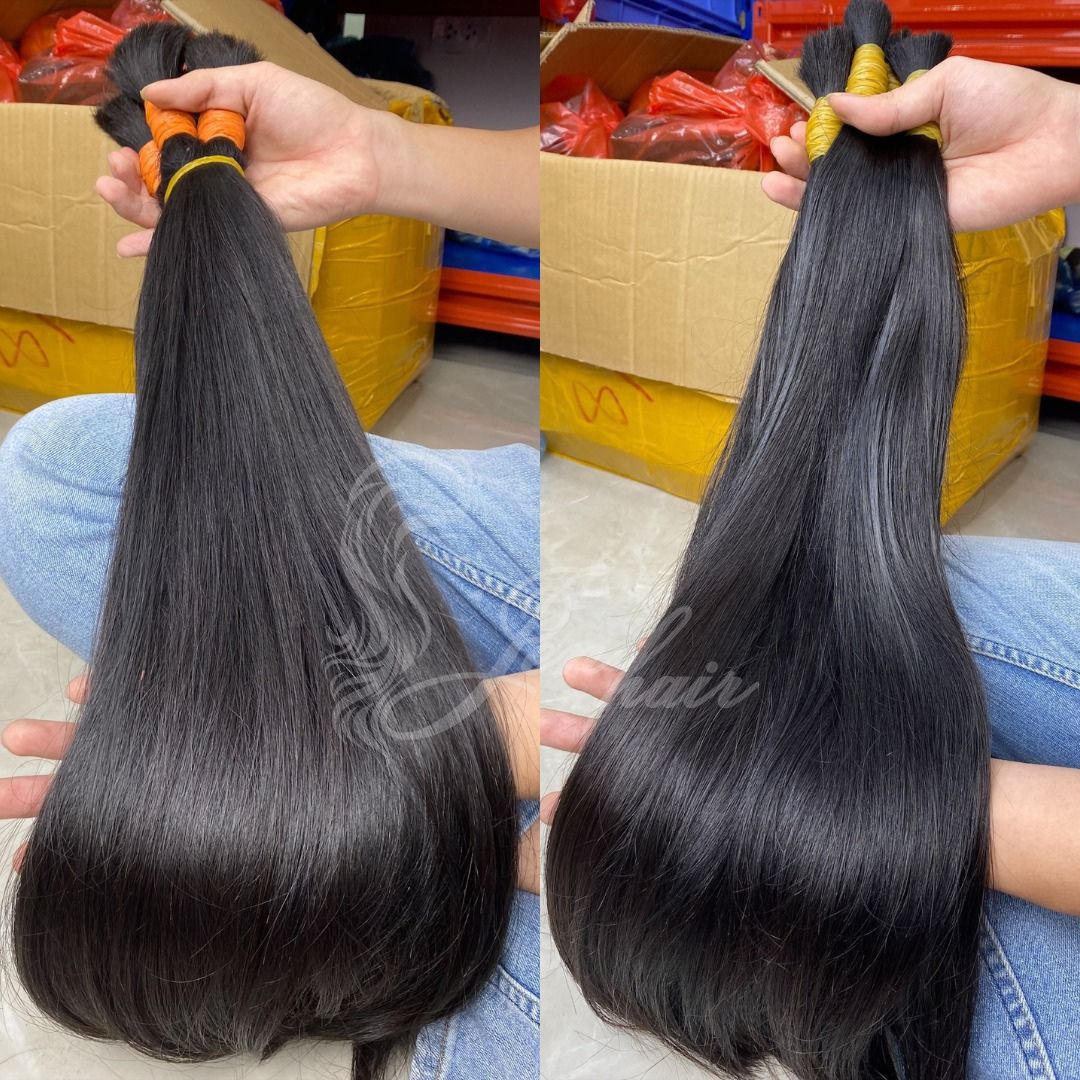 Types of hair extensions based on the method
After knowing the origin of hair extensions, let's dive into the different types of hair extension application methods. Whether you want to go with temporary hair extensions, which you literally take out for a few hours, or a permanent, long-lasting result, you can consider leveling up your hairstyle with these attachment methods.
Tape-in hair extensions
Tape in hair extensions is a permanent style that is held together in flat clusters with tape about 2-4 inches wide. The adhesive used on tape extensions is a safety medical glue, which is currently used in medical forms.
The sticky part of the tape is covered by a paper tab that is easily peeled away when you are ready to use it. The sticky tab can be removed and re-taped with each use, making this method not only super quick and easy but also affordable.
Typically, tape in hair extensions will last for 6 to 9 weeks. The adhesive part will slip off over time due to external agents, so you will have to fix it by replacing the tape on the hair extension with the help of professional hairstylists. Since tape in hair extensions has a lighter weight than other types, experts recommend it for those with thin and weak hair.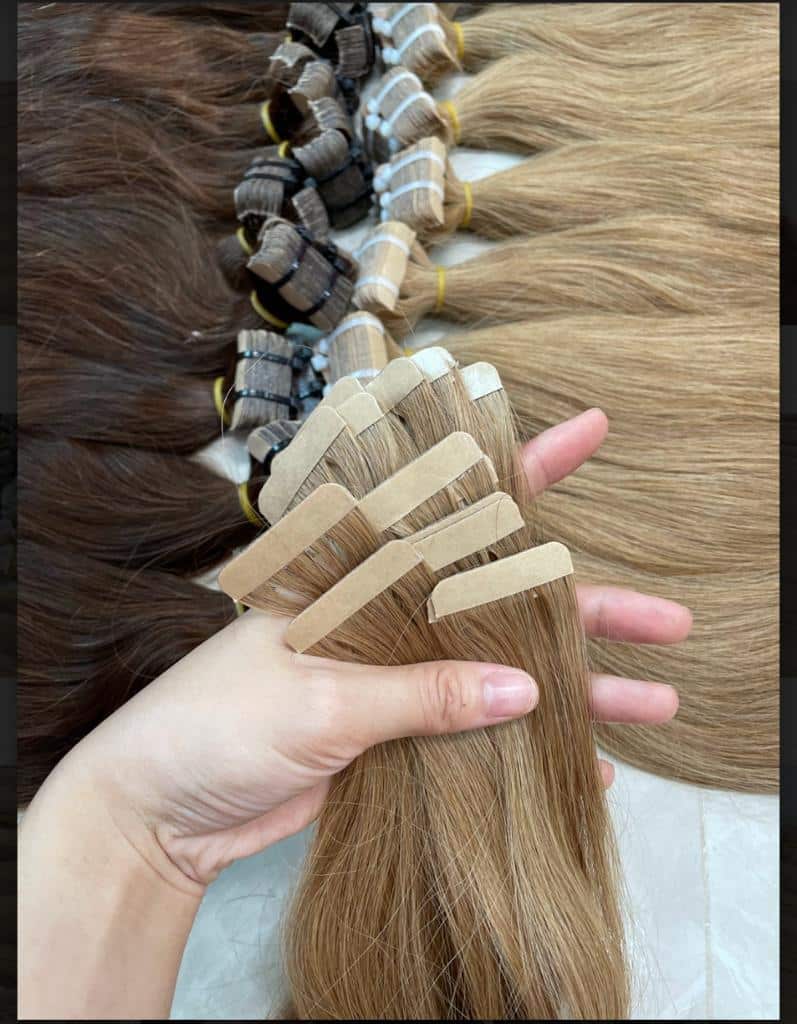 Clip-in hair extensions
If you are interested in exploring the world of hair extensions but don't look for a "commitment relationship", and just want to take the hair extensions out after a day but can continue to reuse them when needed, clip-in hair extensions might be the "real true love" attachment method for you.
Clip-in hair extensions are loved by many beauty gurus, not only because they are the easiest and least time-consuming way of adding length, thickness, and volume to your hair, but also because you don't even have to see a professional to have them installed.
Halo hair extensions
Similarly, as clip-ins, halo hair extensions are also an attachment method that can be installed and removed easily.
The halo hair extension design is extremely simple but absolutely effective, with an invisible wire in a variety of lengths. This extension connects the strands of hair with a hold-tight structure. While wearing a halo extension, you will find out that it's just stretchy, comfy nylon that sits on your head with no strain at all. You don't even feel the existence of the wire while you are choosing the right size for your head.
In brief, halo hair extensions will not damage your hair if they're installed correctly. The reason why halo hair extensions are completely different from other products and have become very popular is that they do not bind or bond to real hair.
Microlink hair extensions
Microlink hair extensions are a permanent option for those who need luscious, bouncy hair that can last for a few months. 
This method involves threading a small section of your natural hair through small silicone-lined beads, inserting the extension into the bead, and crimping the bead with pliers to secure the extension in place.
Micro-link hair extensions are very friendly to natural hair because they don't require the use of heat, adhesives, or chemicals.
However, microlinks are one of the higher-end methods for hair extensions, which is quite high-cost and should be taken out and replaced every four to six months to protect the health of your natural hair.
Fusion hair extensions
Fusion hair extensions provide a naturally blended hairstyle by using silicone-coated keratin bonds to secure the hair strands to the client's hair.
The most well-known forms of fusion hair extensions are hot fusion and cold fusion extensions (also called u-tips and i-tips hair extensions). These processes require no glue or tape during the application, which can last for up to 6 months with proper care and maintenance.
However, it's important to do maintenance on these techniques. To ensure they stay in good condition, fusion hair extensions need specific shampoos and conditioners, avoiding excessive heat and water, and regular visits to the hairstylist for touch-ups and adjustments.
Sew-in hair extensions
Sew-in hair extensions are one of the best semi-permanent types that can blend seamlessly with the rest of your hair. They have also become very popular for their affordability and durability. 
The installation process of this hair extension type involves attaching wefts of hair, which are also called weaves, to your natural hair using a specialized needle and a thread. With a sew-in, your hair is tucked away, and it requires very little maintenance.
Although this hair extension method has a ton of advantages, installing and removing sew-ins requires a professional stylist to carefully handle them, which can also take several hours in the salon.
The advantages and disadvantages
As demand increases, hair extensions are produced in different types to meet the preferences of various customers. There are plenty of possibilities for attachment techniques, including clip ins, tape ins, microlinks, fusion, sew ins, and more!
Generally, every type of hair extension will include the pros and cons listed below:
The pros
Various choices: Since hair extensions have countless installation methods, prices, and types, everyone can get them as long as they have a clearly defined goal for using them.

Flexible hairstyles: Instead of letting your natural hair go through a harsh chemical process to achieve your dream hairstyle, hair extensions can be an alternative solution with endless options.

Conceal hair loss: Hair extensions job is to add seamless volume and coverage to your thinning hair, which helps you avoid the concern of an unnatural hairline. Hair extensions such as hair topper, frontals, and closures also offer a real scalp look on top of your head.
The cons
Require maintenance: Each kind of hair extension requires different kinds of proper care. Poor maintenance might cause hair loss and damage to your head.

Cost: With hair extensions, you definitely get what you pay for. Whether you demand good quality or ones that are long-lasting, you'll pay an appropriately high price. Moreover, you will need to prepare a sum of money for the maintenance of your hair extensions.
On the whole, whether you want to level up your appearance for a few hours with temporary clip-ins or long-commitment sew-in weave hair extensions, you can instantly add flexibility to your hairstyle.
Since everything has two sides, you can read our post to dig deep into the advantages and disadvantages of each hair extension method.
How much are hair extensions?
According to the question, "How much are hair extensions?" It depends on the method of installation, the length, the origin of the hair, and other factors. The truth is that prices might range from $100 to $3,000. The higher the quality, the more you will have to pay for the hair extensions. Here are some recommendations for you based on the average cost of hair extensions:
Clip-ins: from $100 $500

Bulk: from $10–$1000

Tape-ins: $200–$1000

Sew-ins: $275–$500

I – tips: $300–$900

Microlinks: $200–$900
If what Jen Hair has provided is quite unclear and ambiguous, check out this post on how much hair extensions cost.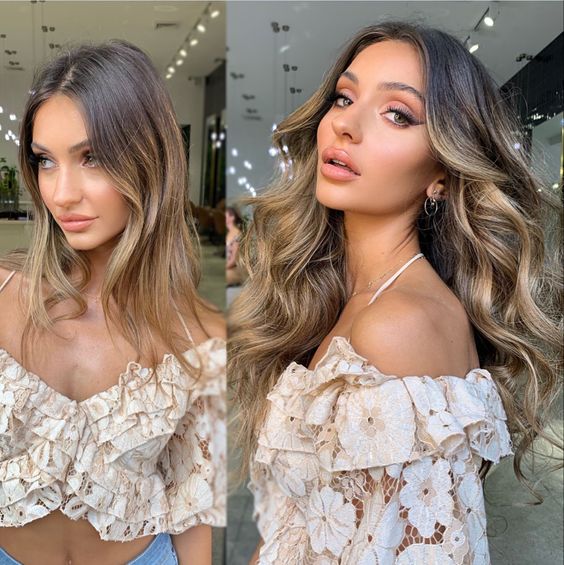 FAQs
1. Can you shower with hair extensions?
Yes, it's possible to shower with hair extensions. However, it's advisable to follow these guides to maintain the highest quality of your extension:
Always comb your hair extensions before showering.

Use sulfate-free shampoos and conditioners which are specific for hair extensions

Do not apply moisture treatments near the hair scalp, especially when they are permanent hair extension methods.

Allow hair extensions to air dry in a place away from sunlight.

Avoid scrubbing your hair, specifically on the weft part.

For temporary hair extensions methods such as clip-ins and halos, remember to remove them before the washing process.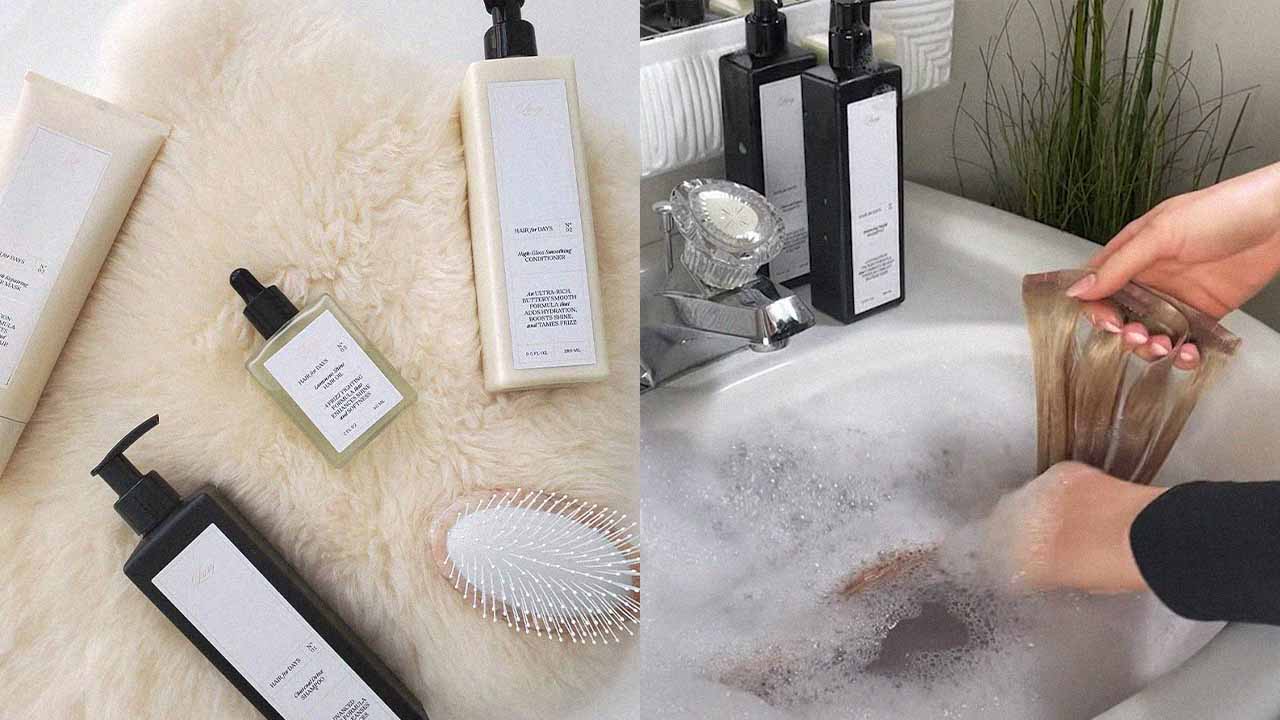 2. Do hair extensions fall out easily?
It's a fact that the possibility of hair extensions easily falling out is quite low if you obtain good-quality hair extensions. Especially when you take proper care of your hair extensions, they can stay fresh and fixed on your scalp.
However, to keep the hair extensions in the best condition, here are some tips that you should follow in order to prevent your hair extensions from falling out:
Carefully comb them

Take proper care of them while they are wet

Do not harshly snatch them

Choose the right shampoo and hair extensions

Ensure that you are using the correct techniques to wash your hair extensions

Take a professional's help to install your hair extensions so that they will not fall out.
Is it OK to wear hair extensions every day?
Since wearing hair extensions is a lifestyle choice, it's okay to wear them every day if you take good care of both your natural hair and extensions. However, it's not recommended for people with extremely fine and thin hair, as well as very chemically compromised hair, because the weight pulling on the hair will produce breakage and even prevent it from growing due to the constant strain.
Final thoughts
Everybody of every gender can get hair extensions, and those who are dealing with hair thinning can benefit from having hair extensions applied to add volume to their strands.
Now that you know what are hair extensions, the question is, will you want to level up your hairstyle with them?
Lastly, Jen Hair hopes that this article is helpful for those seeking the path of ideal hair extensions.
Love what we share? It's time to subscribe to us, and you will receive notifications whenever we publish brand-new content.