The hair extension market is crowded since the demand for wigs and human hair is constantly increasing. According to PR Newswire, "The hair wigs and extensions market size was worth around US$ 6.48 billion in 2022 and is estimated to hit approximately US$ 12.25 billion by 2030". Therefore, becoming a hair vendor can be quite profitable since this is a golden time.
In such a manner, how do you get a piece of that pie? It's actually quite straightforward to get started in the hair extension business the right way.
In this article on "How to become a hair vendor?" Jen Hair will reinforce every fact and tip to help you turn your dream into a reality!
How to become a hair vendor?
The hair extension industry is currently one of the most exciting and competitive business fields. Aware of this great opportunity, many have been interested in becoming hair distributors. However, there is a need to learn more about how to become a hair vendor in order to prosper.
The suggested tips below are intended to turn your passion into a hair business.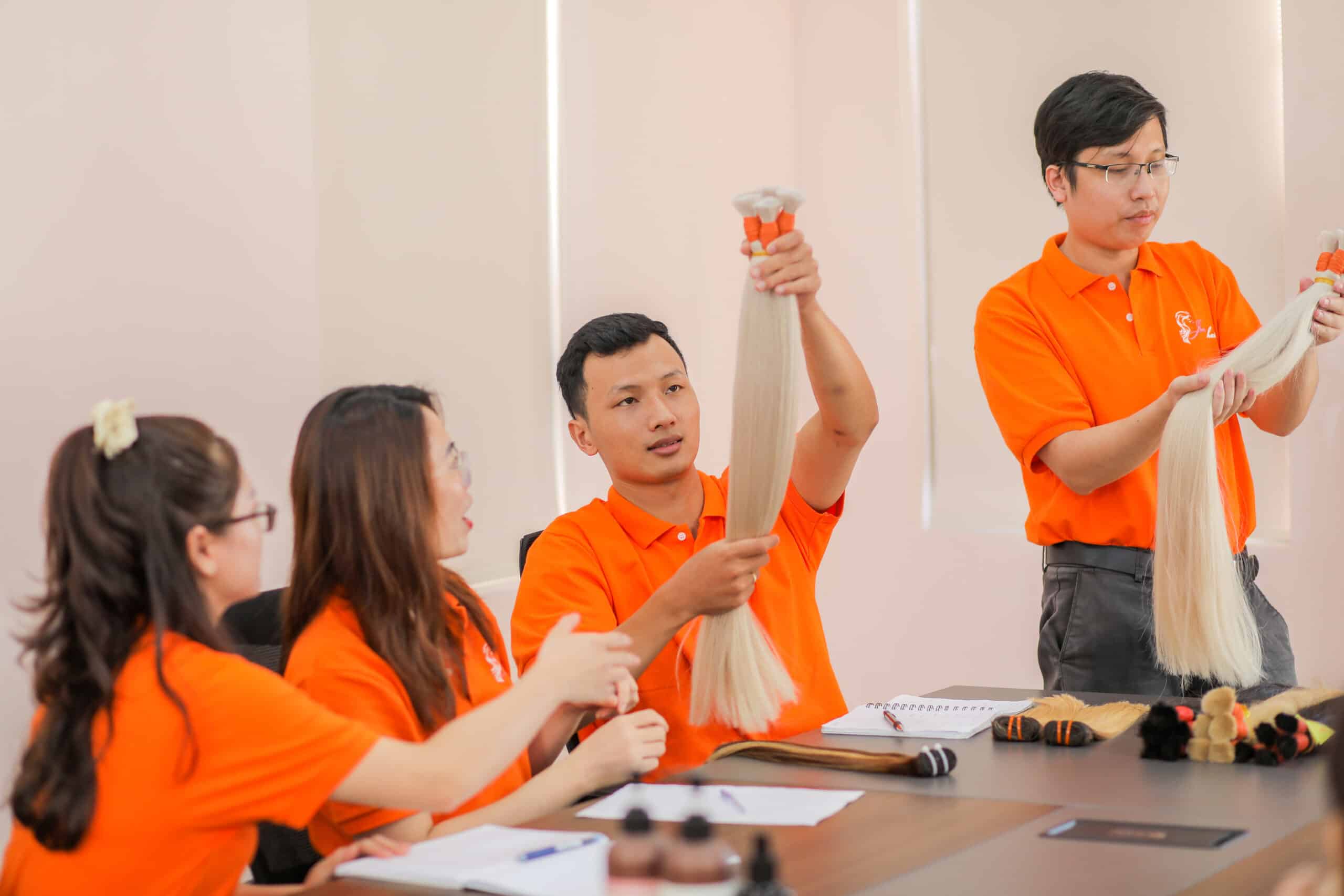 Product & market research
On the hair market today, there are countless domestic and foreign hair providers, but never assume that you will embrace all these providers to sell hair extensions, especially if you are a newbie in this field.
Before deciding which hair extension products and brands to sell, take a survey to find out the business market, as well as the general beauty trends of the hair salons, and beauty centers around to get the general picture. From there, you can imagine what it takes to open a hair extension store, and the list of products that will be the main market exploitation.
If you are struggling with market research and analysis, it is a good idea to find a consulting firm. They will provide you with all the research and analysis of the hair market and the content you require. From that information, you can estimate monthly costs and profits, recover costs, determine advertising methods, etc.
Choose products to sell
Now that you have better research and analysis of the hair market and your target areas, it is time to choose which hair extension products you'll offer.
There are different approaches that hair vendors take to choosing a product to sell. Some are only passionate about human hair and high-quality hair extensions, and some are simply interested in items that have proven profitable. Hair extensions also fall into the beauty category and present a lot of potential.
Overall, what's interesting about the hair industry is that there are various types of products with different origins and qualities to choose from.
Let's say you want to sell human bulk hair, for instance. You can classify bulk hair extension products by:
Quality: remy hair, baby hair, non-remy hair

Origin: Vietnamese hair, Chinese hair, Indian Hair, Slavic hair

Color options: basic collection, full range of colors, customize

Hair style options: bone straight hair, curly hair, non-processed hair…
Notice that: Doing too much too fast could get overwhelming. It is a great idea to start small with a small range of products. You can always incorporate new products down the road as you grow and scale your business.
If you are looking for a reputable hair manufacturer, Jen Hair is dedicated to offering a diverse range of premium hair extensions at competitive prices that meet the needs of clients. Be mindful to contact us to find your dream come true hair extensions!
Detailed information:
Website: https://jenhair.com/ 
Facebook: https://www.facebook.com/jenhairwholesales/ 
Instagram: https://www.instagram.com/jenhair_vietnam/?hl=vi 
WhatsApp: https://wa.me/84967696996
Line: https://line.me/ti/p/JwcSHw_nuI 
Determine sales channels
Besides selling hair extensions at the store in a classical way, with the increasing percentage of Internet users buying goods, of course, a wise entrepreneur will never ignore extending potential sale channels.
According to The 2022 State of Online Marketplace Adoption, 70% of consumers worldwide now believe online marketplaces are the most convenient way to shop. Therefore, joining a reliable eCommerce marketplace such as Shopee, Alibaba, or Aliexpress can make a world of difference when you're trying to get your hair business off the ground.
These sorts of platforms can help you find more leads, provide grantee assurance, manage your customer relationships, and more. In addition, they are great opportunities for hair vendors since they are the most widely trusted eCommerce marketplaces in the world.
Create an account on the eCommerce marketplaces to sell your hair extension products to retailers around the world. You can start selling right away since their dedicated support team will help you set up your digital storefront.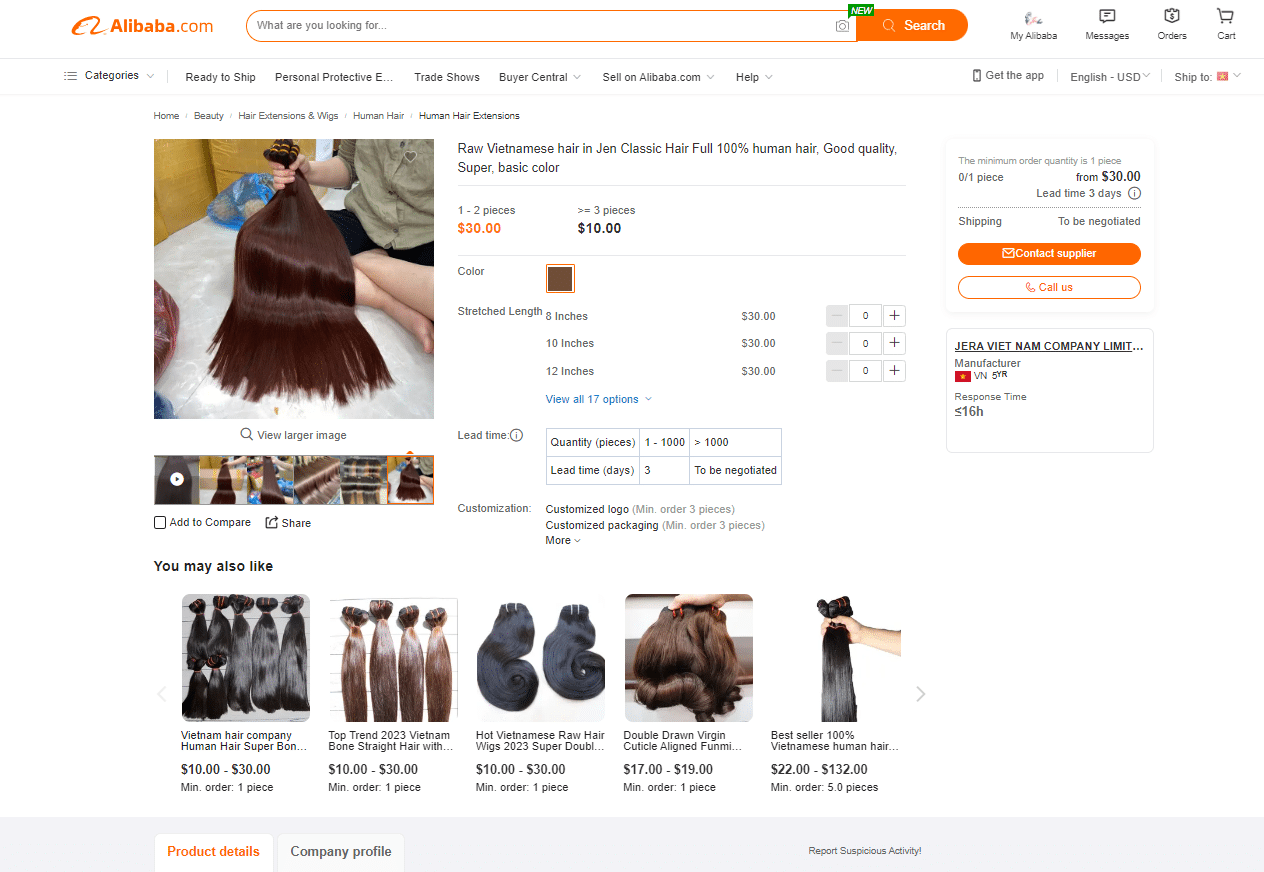 Finalize the business details
Finalizing the business details is a powerful way to position your small business for success as you set out to meet your goals. A detailed business plan can also help you attract potential lenders, investors, and partners by providing them with evidence that your business has goals and a vision.
Here are some specific details to take care of:
Company description: Your goals and vision. What challenges does your company solve?

Target market: Which consumers are you targeting?

Financial resources needed: What amount of funding will you require from investors? Where will that funding go?

Marketing strategy: Work on branding, marketing, and advertising

Business policy and terms: Ensure that your offer meets local rules
Register your business and get a business license
Once all of the details are taken care of, it is time to register your business and get a business license.
While you are about to launch a start-up, you would want to build a good reputation in order to have good cooperation with partners and customers. For this reason, it is important to meet licensing requirements before you open your doors for the first time.
If you don't obtain a business license, neither you nor your company will be protected by local, state, or federal ordinances. Moreover, your business could be liable for significant damages and/or penalties.
By and large, business licenses not only make a business legal to operate but also boost credibility and allow the entrepreneur to apply for citywide funding. Treat your hair business like a baby, nurture it with all the attention you have, and invest the time and energy into helping it get cash flow and become stronger day by day.
Promote your hair business
Promote your hair business. This can include producing or sponsoring a hair show, fashion show, or related event or using social marketing tools such as Facebook and Instagram. However, make sure to make your content useful and engaging for your customers.
Instead of just including photos of your hair extensions, show how they look on a person and in everyday situations. Provide hair knowledge and hair care tips. For example, what types of hair extensions go well with daily use?
Set up an inventory and venue
While all the strategy has been cleared up, you need to set up an inventory and venue that are then routinely updated in line with the turnaround of your stock.
Regardless of the size of your hair business, keeping an inventory not only helps you keep track of how well your company is performing but also keeps your stock organized. A clean inventory would be suitable, as long as it is placed in a dry, odor-free, and pet-free area. Consider buying insurance as a backup. Even if you are using drop shipping or a fulfillment service such as Fulfillment by Amazon, ensure to let them know the proper way to store your hair extensions.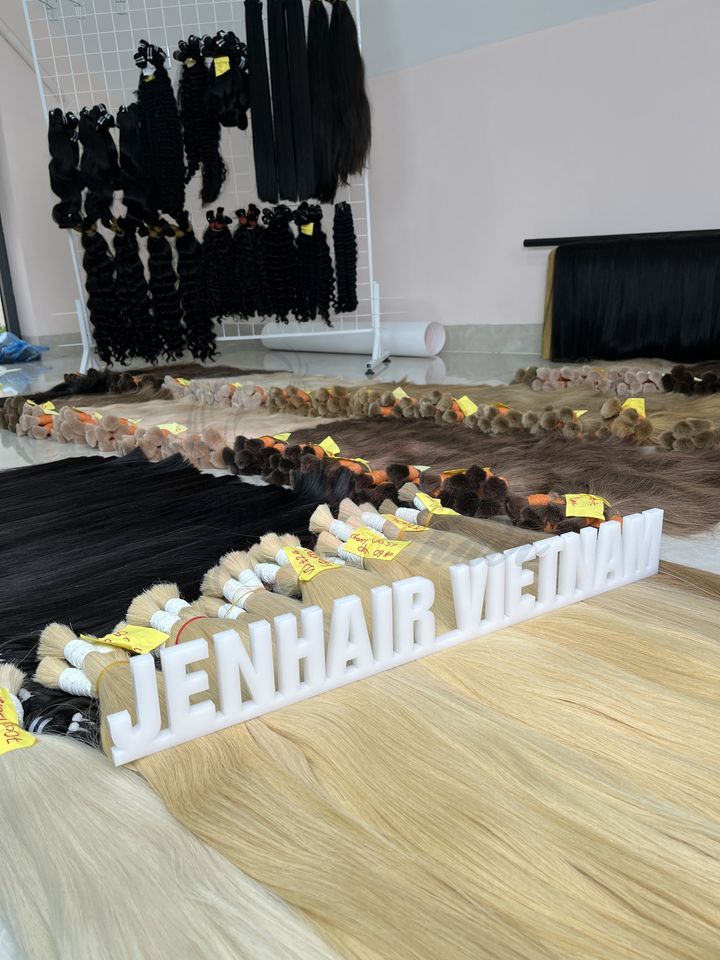 How can I be successful in the hair business?
Whether you're just starting to learn how to become a hair vendor, this guide will help you reach your full potential to be successful in the hair business:
Start blogging
Blogs not only give clients a better understanding of your company and products but also make it easier for them to find businesses through Google. Therefore, no matter the type or size of the business, taking advantage of blogs as part of a marketing strategy is an effective way to reach current or potential customers. 
Don't ignore social media
Since there are now more than 4.2 billion active social media users across the globe, taking advantage of social media is an essential way to reach your customers, gain valuable insights, and grow your hair business.
Stay connected and reply to comments and questions on your own social media posts in an appropriate way so that consumers can interact positively with your business.
Hire the right employees
There are no two ways about it, hiring the right people matters, as they are the lifeblood of the company. Hire the right employees and give them the support they need to carry out your business mission. Make sure that your staff is cohesive while providing adequate training and development opportunities to drive revenue.
Apprehend knowledge from successful entrepreneurs
Even the most prosperous entrepreneurs of our time collaborated with other industry professionals before working independently. Surrounding yourself with business-minded people is a great way to leverage complementary resources and, more importantly, to learn about the various facets of running your own business.
Nurture long-term business relationships
Nurturing long-term business relationships with strategy can help raise your business's awareness, build an engaged community around your brand, drive word-of-mouth referrals, drive sales, and offer creative opportunities to connect with customers.
However, building real and mutually beneficial business relationships is not a one-time event, but a continuous process that requires constant feedback and support. You have to put others first and establish yourself as a listener and helper.
FAQs
1. How much money can you earn from selling hair?
As we both know, a ton of people are willing to pay hundreds of dollars for long locks, especially if they're a unique color. Due to the growing demand for hair extensions, starting this business model can be potentially profitable.
According to Branded Hair Extensions: "The average amount for retail hair can cost $150 USD to $300 USD. If you only make one sale per day, you will make about $54,750 USD-$109,500 in gross sales in a year! The general profit margin for retail hair is about 50%-100%. So after deducting the money you spent to get the hair, you will make a net profit somewhere between $27,375 and $54,750 USD. If you can make two sales per day, you will be making six figures in net profit!"
However, it may take months, a year, or even longer for you to generate revenue every day when you decide to start a hair business. Whether you feel doubt or your business is going through hard times, remind yourself that patience and persistence win in the end.
2. How do I get customers for my hair business?
As a start-up hair vendor, you're always on the hunt for new customers. However, don't waste your time chasing butterflies, mend your garden, and the butterflies will come. Here are our tips to help you attract more customers.
Provide hair samples: This strategy allows new customers to approach your hair extensions for a small sum before making a big order.

Offer discounts and sale promotions:  Consumers are always looking for value and deals. Offering special discounts is an effective way to lure them into your business.

Ask customers for feedback or product reviews:  89% of consumers worldwide read reviews before deciding to buy products. Reviews increase trust and credibility, helping you gain new customers.

Create a user-friendly website: This is an important part of your brand's digital marketing success. Choose a website layout that looks familiar to your target users and will make prospective customers feel welcome.
Final thoughts
Ultimately, it's the fact that there is no magic bullet that can transform you into a rich and successful entrepreneur overnight. To promote your hair business to go above and beyond, you need to take action, keep calm, and break stretch goals into smaller pieces.
If you're considering how to become a hair vendor, this guide is for you. Jen Hair has covered everything from choosing the right business idea to building a successful marketing and sales strategy. We sincerely hope that this article is helpful for you in achieving your dream career. If you like our content or have any questions about it, please contact us here.