If you are new to using hair extensions and are wondering what type of hair extensions to choose, I recommend you refer to tape-in hair extensions. This is the most basic and most popular hair extension on the market today that every salon has. And I think that you are new to using or have become a hair extension expert should try it. Today's article will tell you what are tape in hair extensions and what you should know before deciding to use them.
What are tape in hair extensions?
Tape in hair extensions is usually made from human hair or synthetic fibers. However, the type made from human hair is more popular with the basic characteristics quite similar to the original hair. Due to the texture of the hair fiber, the outer cuticle remains intact or only a small part is lost due to the screening and manufacturing process.
Tape in hair extensions is held together in flat clusters with tape about 2-4 inches wide. Your hair will be sandwiched between the two pieces of tape printed for a perfect connection. It is attached to your hair with tape so it is easy to put on and take off, you can do it easily at home.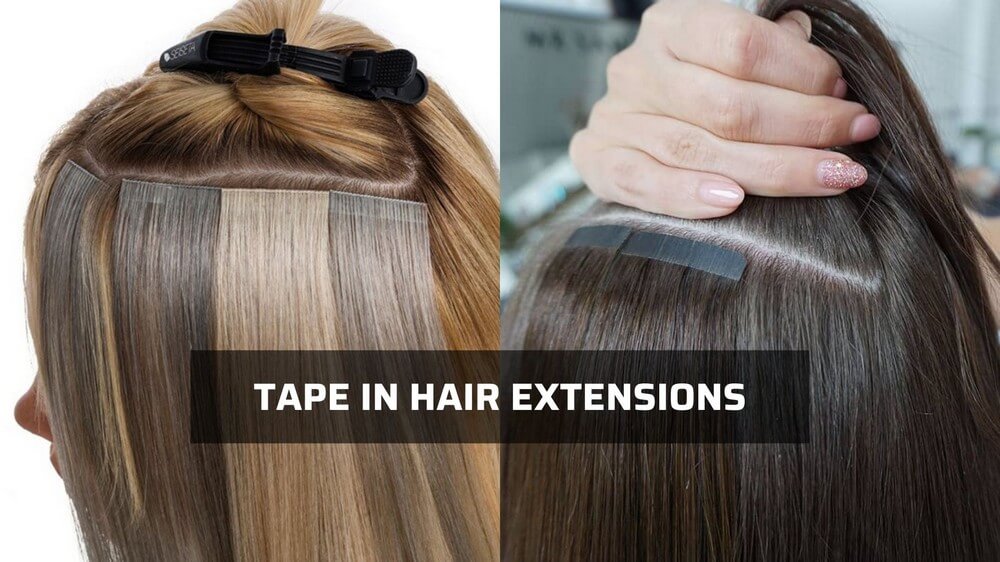 Tape in hair extensions pros and cons
Any type of hair extension today has its advantages and disadvantages. Before deciding to use it, I think you should consider whether its characteristics are within your limits. Here are some advantages and disadvantages of tape in extensions you can refer to
Pros of tape in hair extensions
1. Easy to wear
This is the biggest advantage of tape in hair extensions that should not be ignored. With a few quick steps, you have the desired hairstyle right away.
2. Easy to remove
You can easily remove hair extensions right at home. When the hair extensions are connected with glue like this hair extension, the only thing you need is a dedicated bottle of the dissolving agent, the glue comes off.
3. Look natural
Each tape in the hair extension is thin, so you can easily hide it behind a layer of real hair. The ends are very hard to show, so you will have the most natural hair. In addition, this type of hair extension is very popular, so the manufacturers of hair extensions release a wide variety of its colors. You can easily choose a hair color that matches your natural hair color.
4. Light-weight
Printed tapes are almost the lightest because of the ends that bond with real hair patches. Therefore, it is very popular with people with thin hair or not too much hair.
5. Avoid hair damage
Due to its lightweight, it prevents your hair from being pulled down. So for hair types that are not too strong, experts also recommend using tape in hair extensions
6. Great Durability
For many types of hair extensions sold, there will be some inconvenience with washing hair. They will reduce your desire to wash your hair. However, this will not happen with adhesive tape hair extensions. As long as you comply with washing your hair after 72 hours of connection, the connectors will last up to several months even if you wash your hair regularly.
Cons of tape in hair extensions
1. The price is quite high
Compared to the price of other types of hair extensions, tape-in hair extensions are a bit more expensive. However, if you compare it with the outstanding benefits that you will receive in return, you will certainly understand that to be true.
Besides, to be able to create good quality products of tape in extensions, experts will have to invest a lot in production. This is also one of the reasons its price is higher
2. Need to take care
After a period of 6 to 9 weeks, the joints between your hair and the tape will slip off, so you should take care of it to have a longer lifetime. Besides, you should also regularly take care of the connectors at home to make them more durable on your hair. This is also a feature of many types of hair extensions, if properly cared for, their lifespan will increase.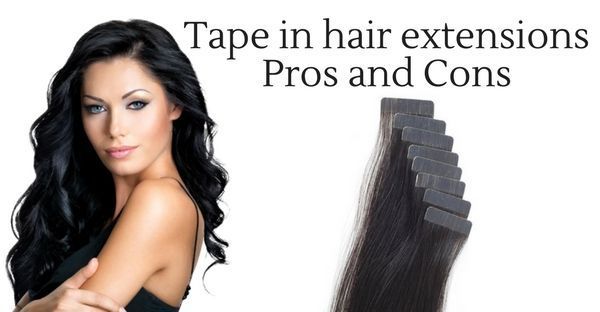 FAQs on tape in hair extensions
1. How much are tape in hair extensions? 
The price of tape in hair extensions depends on the quality of your hair, the length of your hair, the volume of your hair you want, and the color of your hair.
However, we will classify by hair quality to make it easier for you to imagine. If the printed tape is made from synthetic hair, the price will be in the range of 150$-500$. The type made from human hair will have a higher price, they will range from 500$-2000$. I think with any budget, tape in hair is suitable for your requirements.
2. How long do tape in hair extensions last? 
Normally, Tape in hair has a lifespan of 6 to 9 weeks. The adhesive part will slip off over time, external agents, so you will have to fix it by replacing the tape on the hair extension. Usually, this is advisable to get the help of salon professionals.
The lifespan of tape in hair extensions can also be extended if you know how to take care of your real hair and extensions. Should you refer to our article posted on how to take care of tape in hair extensions. With proper care, your extensions are sure to look softer and shinier.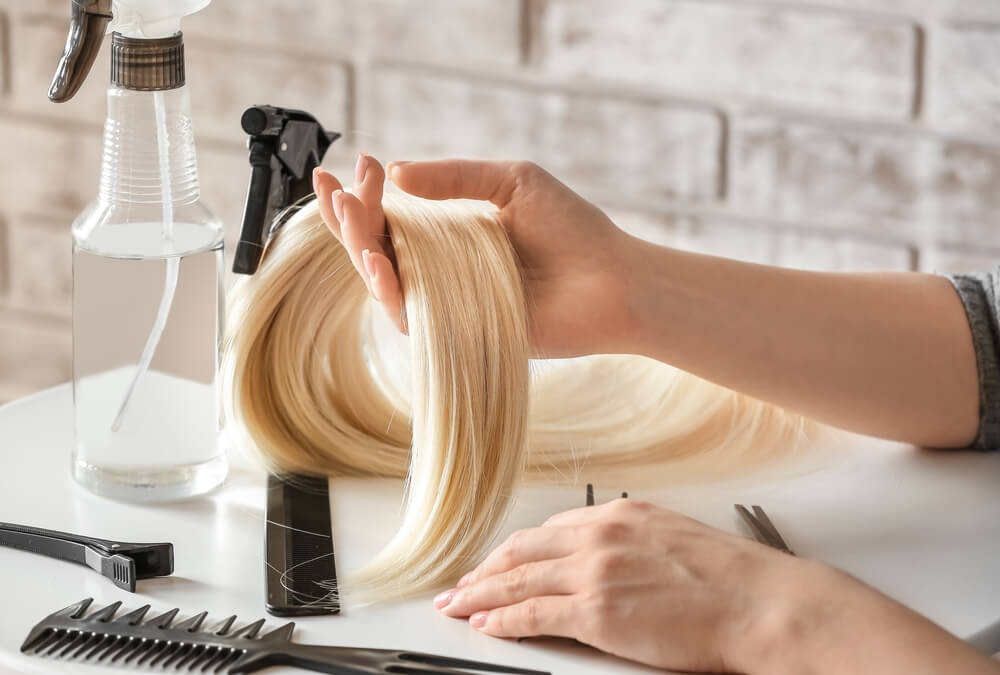 3. Do tape in extensions ruin your hair?
Tape in hair extensions is one of the hair extensions that experts recommend for those with thin and weak hair. Therefore, you do not need to hesitate in this matter. Tape in extensions do not exert too much force on the scalp, due to their lighter weight than other types.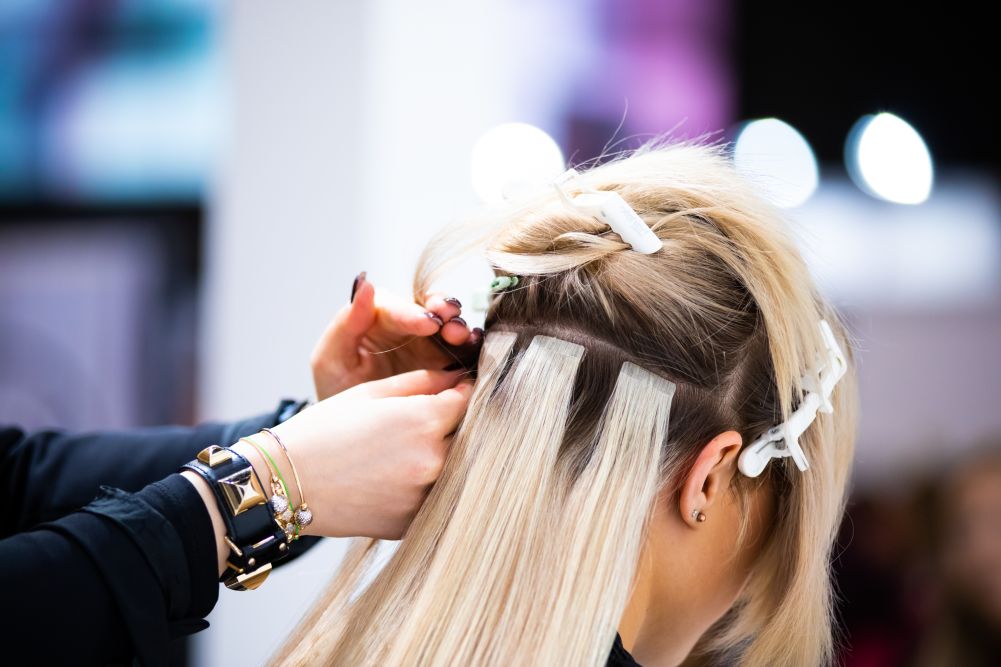 Final thought
I hope that this article will bring you useful information and help you understand what tape in hair extensions are. All of the above information will help you not to hesitate when deciding to invest in tape in hair extensions. I believe you will have the beautiful hair of your dreams with this hair extension. If you have any questions related to tape-in hair extensions, do not hesitate to leave your questions right below the content of this article. We will quickly reply to you.