Are you looking to transform your hairstyle in 2023? Sew-in hairstyles with closures are a fantastic option to consider. These versatile and trendy hairstyles offer you a range of possibilities. They allow you to experiment with different lengths, textures, and colors without compromising your natural hair. 
In this post, Jenhair will explore the 15 top sew in with closure hairstyles to try in 2023. Get ready to enhance your look!
Top sew in with closure hairstyles to try
1. Double Ponytail
If you want a sleek double ponytail, you'll need a longer closure that is easier to style. You can either part your hair in the middle or on the side, depending on what suits you. Simply tie your hair on both sides and make sure it's flat on your scalp for a smooth and seamless appearance.
2. Half Ponytail
If you want a natural-looking hairstyle, you can try putting your hair into a half ponytail. This style helps to blend your closure with your natural hair. 
All you need to do is tie up the upper part of your hair from ear to ear and leave the bottom part flowing freely. This creates a beautiful contrast because the tied-up section gives a polished look while the loose section mimics natural hair. 
Embrace this sew in closure hairstyle to achieve a more relaxed and casual vibe while still looking fabulous!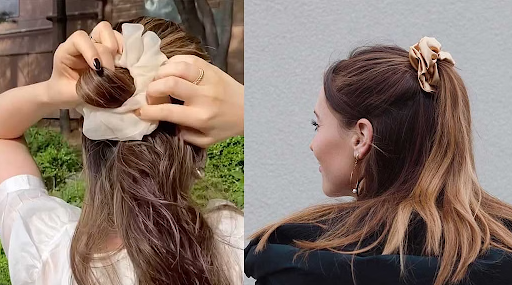 3. Casual Weave Style
For a relaxed appearance, consider trying a casual weave style with wavy hair. This sew-in option offers a more laid-back and natural look. While it may not perfectly match your natural hair texture, it still retains a casual touch that is closer to your roots. 
The wavy hair adds a touch of softness and movement. This style allows you to embrace a carefree and natural aesthetic while enjoying the benefits of a sew in with closure hairstyle.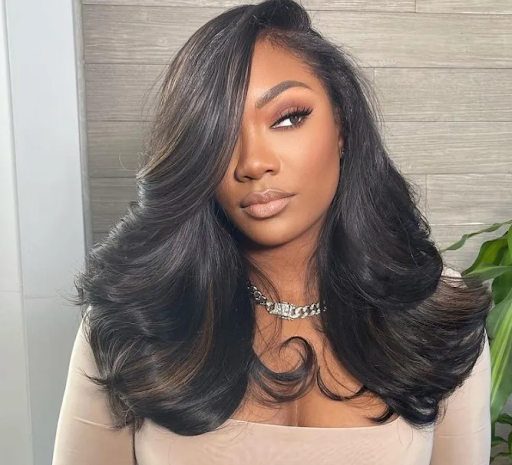 4. Sassy Side Braid
When it comes to a sassy and stylish hairstyle, the side braid is a perfect choice. It's easy to achieve with just two simple steps. 
Start by tying your hair into a low ponytail. Once your ponytail is secured, begin braiding it down towards the side of your head, keeping it tight and neat. Finally, seal the braid with a rubber band to keep it in place. 
If you want to add some extra glamor, feel free to add accessories to the braid, such as ribbons, beads, or hairpins. This sassy side braid is a fun and trendy sew-in hairstyle that will elevate your overall look.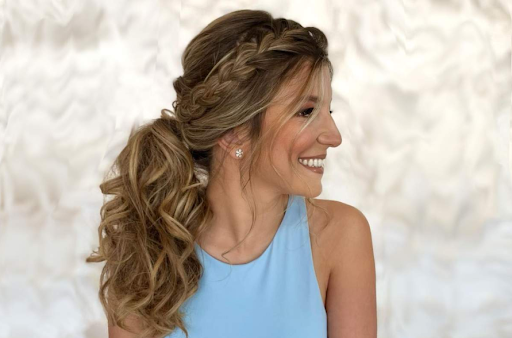 5. Halo Crown Braid
The Halo Crown Braid is a popular sew in closure hairstyle for its adorable appearance. To achieve this look, you'll need a longer closure that can cover your entire head. 
Begin by French braiding your hair from one ear, upwards and over your head, and then continue braiding until you reach your other ear. Once you've completed the braid, secure the tail underneath your hair using a bobby pin. 
This style creates a beautiful halo effect with elegance to your overall look.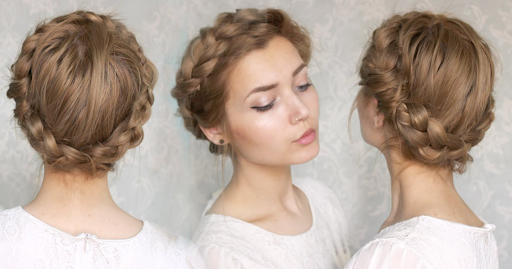 6. Shoulder Length Sew-In Weave Hairstyle
Are you searching for a hairstyle that doesn't require much effort to take care of, but isn't too short? Well, look no further than a shoulder-length sew-in hairstyle! 
This type of hairstyle offers plenty of opportunities for different styles. Meanwhile, it is still short enough to avoid any stress or hassle. With a shoulder-length sew-in, you can enjoy the best of both worlds – easy maintenance and endless styling options!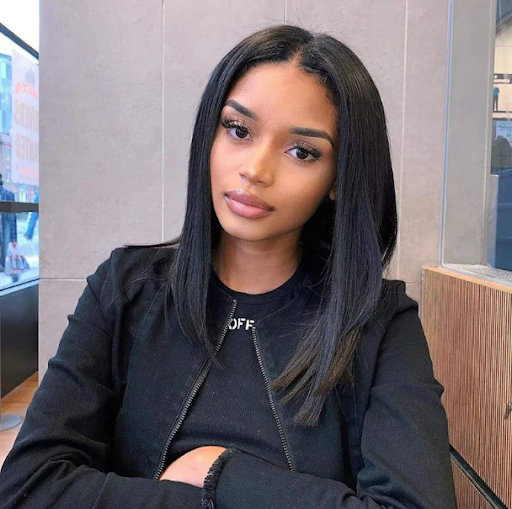 7. Double French Braid
The Double French Braid is a trendy and stylish hairstyle with a unique twist to the classic French braid. Instead of a single braid that goes from ear to ear, this hairstyle starts in the middle and goes down to the ear on both sides. 
You can leave the rest of your hair down for a relaxed look or gather it into a ponytail along with French braids for a more polished appearance. This hairstyle offers versatility and allows you to express your personal style.
8. Big Hair Extensions
If you're looking for a natural-looking hairstyle, consider big, beautiful, and curly hair extensions. A sew in with closure technique can give you the closest resemblance to your own hair. With this type of weave, you'll not only achieve a voluminous look, but you'll also enjoy bouncy curls with flair. Big hair extensions allow you to enhance your natural beauty while adding that extra touch of volume and texture.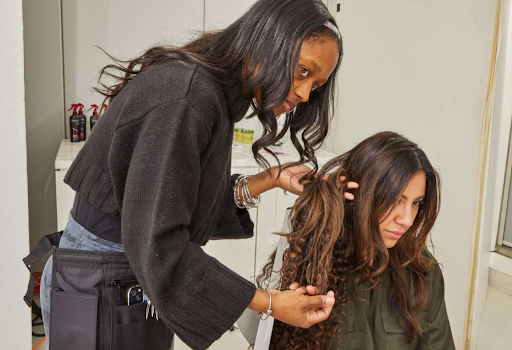 9. Half High Bun
The Half High Bun is an excellent hairstyle choice when you want to hide your lace closure and create a seamless appearance between your natural hair and extensions. This style works well if you have tight and curly hair because it can give you a youthful and vibrant look. 
Simply gather the upper section of your hair and secure it into a bun. Remember to allow the remaining hair to flow freely. With this hairstyle, it is difficult to tell whether the hair is growing from your scalp or not!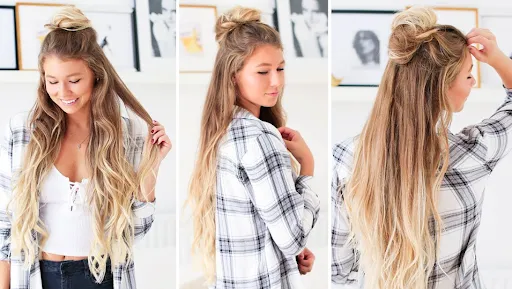 10. Loose Curls Sew In Hairstyle
Wearing and styling wavy hair is always a delightful experience. Even better, you can achieve a long length to open up many possibilities for your hairstyles. 
Super long wavy hair extensions are a fantastic choice for any setting, whether you're a college student or working in an office. It's a versatile sew-in option that blends into any environment, and you can express your style and confidence wherever you go.
11. Low bun sew in with closure hairstyle
The Low Bun is a stylish alternative to the traditional high bun. Rather than gathering only sections of your hair, this hairstyle creates a bun with your entire hair. 
Start by parting your hair in the middle, then begin twisting one side of your hair and secure it in place with a hair tie. Repeat the same process on the other side. 
This elegant low bun is perfect for a sophisticated and polished look. So it is a great choice whether you're attending a formal event or simply want to add a touch of elegance to your everyday style.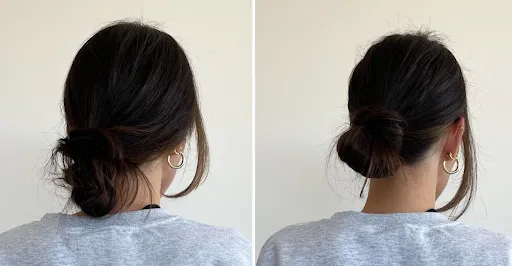 12. Middle Part Sew In Hairstyle
The Middle Part Sew-In Hairstyle allows for different parting options. One classic choice is to have a sew-in with a center part. This versatile option suits all face shapes and provides a balanced look. 
While side parts are also popular, this hairstyle is an idea that is guaranteed to work well for you. Embracing a middle part sew-in is a foolproof choice that will enhance your overall style.
13. Messy Bun
For those with an oval or round face shape, the messy bun is a fantastic option. This hairstyle is a variation of the classic high bun, but with a deliberately messy appearance. 
The best part is that it's easy to style, making it a convenient choice for a long day ahead. The messy bun not only adds a touch of charm to your overall look but also provides a comfortable feel throughout the day.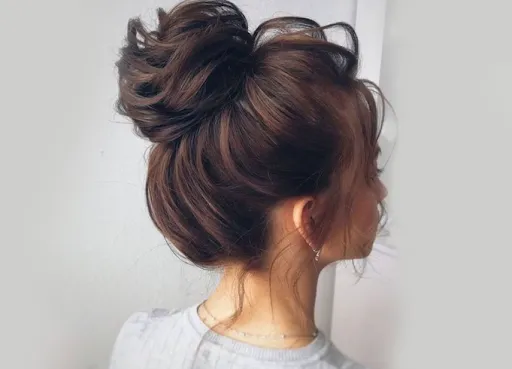 14. Hairstyle with Highlights
Elevate your hairstyle by adding a touch of radiant highlights and watch it transform to the next level. To achieve the best results, you should opt for highlights in a shade that beautifully contrasts with your natural hair color. For instance, honey highlights create a stunning effect when paired with jet black hair. This contrast adds depth and dimension for a captivating and eye-catching style. 
Let the highlights bring a new level of vibrancy and allure to your overall appearance!
15. Half Up Half Down
If you're looking for a hairstyle that showcases voluminous hair, try the half up half down sew-in. This hairstyle involves gathering strands from the crown of your head and tying them up, while letting the remaining hair cascade down. 
To enhance the volume, consider using a sew in with closure extension if your natural hair is not thick enough. By using this extension, you can achieve the fullness and create a stunning look that highlights your hair's volume and texture.
Final thoughts
Sew-in hairstyles are a secure way to switch up your look while allowing your natural hair to grow. However, it's important to remain cautious and prioritize proper care. Once you've selected your desired sew in with closure hairstyle, it's crucial to have it installed by a skilled professional. Furthermore, it's essential to pay extra attention to the maintenance and well-being of your natural hair.
Now that you're aware of these considerations, which style will you opt for when it comes to your sew in closure hairstyles?