Box braids are one of the most adaptable and fashionable protective hairstyles for natural-haired ladies. They provide a plethora of styling possibilities and may be tailored to your personal preferences. Medium size box braids in particular are popular since they are not overly heavy and can be fashioned in a variety of ways.
Looking to venture out for that special occasion with lovely medium size box braids, or just need a protective hairstyle that will look great on you while also keeping your natural hair healthy and growing? Check out this article no matter what your intentions are. 
In this article, we will provide you with basic information about medium size box braids as well as discover the various remarkable hairstyles you should try.
What you need to know about medium size box braids 
Medium size box braids hairstyles have been increasingly popular among short, medium, and long variations of box braids during the previous few decades. These box-shaped protective hairstyles are popular for both achieving gorgeous hairstyles and safeguarding natural hair. They are only slightly different from regular box braids in size. Medium size box braids long about 10-20 inches. Consider shoulder-length box braids and other mid-back braids.
These braids are trendy and may be placed fashionably in a way that matches all types of fashion and quickly integrates with one's choice. Furthermore, installing the medium size box braids, especially by a competent hair stylist, takes roughly 4 to 5 hours.
However, this is only true for short-medium box braids; a longer style with a waist or knee length would take at least 8 hours to install. Still, the end result is always worth the wait!
How to create medium size box braids
You must first gather your materials. You will need: 
You will undoubtedly require some patience as well. When you're ready, let's begin learning how to do medium size box braids. Simply follow the instructions below:
Step 1: Hair preparation. Wash your hair, blow dry it, then comb it out. Also, don't forget about treatments; you may use whatever you like throughout preparation.
Step 2: Parting the hair. A rat-tailed comb and alligator clips are necessary for this. If you don't have an alligator clip, any clip would be fine. Parting needs you to divide your hair into medium and tiny sections in specific box shapes. You can do the section row by row or one step at a time while or before plaiting.
Step 3: Hair braiding. Separate hair into three portions and repeat the process with the extension before attaching it to the hair to weave it together. Make sure that the sectioned hair is in a box shape and the extension is not too little or too large.
Step 4: Follow the steps again. Now, to obtain a consistent appearance, you would need to repeat the process several times until you had a full head of hair. If you make a mistake when braiding, just loosen the hair and try again.
Benefits of medium size box braids 
The advantages of medium size box braids are numerous. Here are a handful of them as of right now:
They can preserve your hair from damage and offer your hair a rest from heat and chemical treatments.

Braids can last up to 8 weeks if properly cared for and also look very fantastic. As a result, you won't have to redo your hair every few weeks.

They need little upkeep, which will cut down on the time you spend on your hair regimen.

Medium size box braids are suitable for putting extra length and volume to your hair.
20+ trending hairstyles of medium size box braids
We can't decide which is our favorite, so here are some of the greatest medium size box braids hairstyles to try in 2023. These hairstyles will offer you a smart and trendy look whether you're heading to college or at work. Let's get started without further ado!
Medium-length Box Braids
The most fashionable hairstyle for this summer is medium length, and when combined with box braids, it will be a smash success. Braids in this design are neither too thick nor too thin, producing a great balance for an amazing look. Box braids at medium length are versatile. You may accessorize it with some colorful and attractive hair accessories to give a dynamic and naughty touch to your vacation look.
Bob Medium Size Box Braids
Medium bob box braids are a trendy and dynamic style that everyone may wear. These braids are normally shouldering length and offer several style options. To make medium bob box braids stand out even more, add beads, feathers, and other ornamental elements. Medium bob box braids, whether worn relaxed or in a sophisticated updo, are an ideal choice for folks who wish to stand out.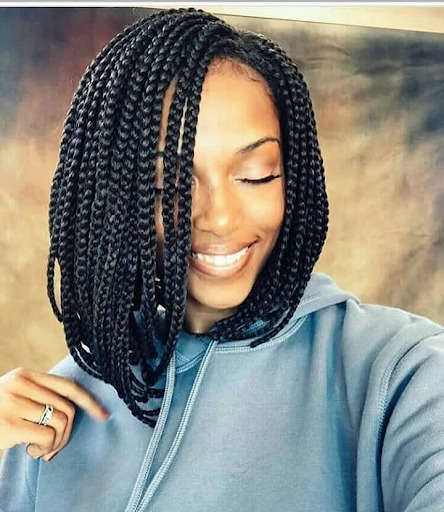 Asymmetrical Medium Size Box Braids
This look combines thick and thin braids in an asymmetrical pattern. Individuals that wish to stand out from the crowd will develop a distinct and edgy style. Asymmetrical medium box braids are a great way to play with your hair and show off your fashion sense. This hairstyle may be more appropriate for your everyday look.
Knotless Medium Size Box Braids
Any female's favorite hairdo might be medium size box braids knotless. It's recently acquired favor as a less annoying and softer alternative to typical box braids. Knotless box braids are created by gently inserting extensions into natural hair, resulting in a flawless and natural braid. Knotless box braids are less stressful on the scalp, minimizing the risk of traction alopecia and hair breakage. They are also lighter and easier to care for than traditional box braids.
Half-up Medium Size Box Braids
Half-up size medium box braids are a lovely and classy hairstyle for women to wear to evening events. This hairstyle entails tying the top piece of your medium size box braids into a half-up style and allowing the remaining braids to fall down your back. 
You may make your appearance more interesting by decorating it with hair pins, headbands, or clips. Half-up medium box braids are ideal for heading to work, a night out with friends, or a formal event.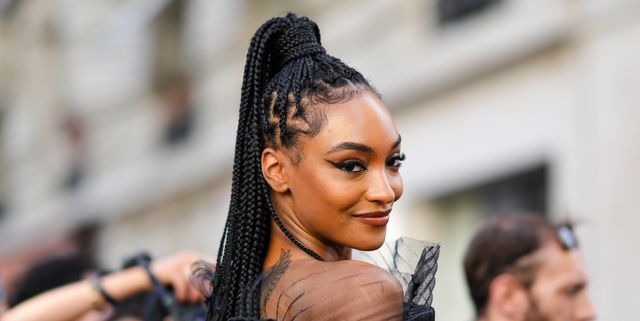 Waist-length Medium Size Box Braids
One advantage of this hairstyle is that it can be styled with updos to keep hair out of your face and off your neck, which is very handy during the warmer months. Consider waist-length medium box braids if you want a hairstyle that is both useful and stylish. 
This trendy look is low maintenance, making it ideal for busy ladies on the go. They're guaranteed to turn heads and keep you looking your best.
Medium Size Box Braids With Curl Ends
Medium size box braids with curls are a great way to add more shine to your look if you're looking for a beautiful haircut for your night party. Once the braids are in place, the stylist will add curls to the ends of the braids with a curling wand or other curling tools.
Medium Size Box Braids With Zigzag Parts
Medium size box braids with zigzag parts are a trendy and one-of-a-kind way to update your box braid hairstyle. Instead of the conventional straight features, zigzag segments create a visually appealing pattern on the scalp, providing a touch of originality and refinement. 
This look involves dividing the hair with a comb in a zigzag manner to create triangular portions that are then braided into box braids. The zigzag element can be symmetrical or asymmetrical, depending on your tastes. Medium box braids with zigzag portions are a great way to express yourself while keeping your hair in place.
Medium Size Box Braids With Diamond Parts
Begin by dividing your hair into a diamond shape and using a comb to create four straight lines that meet in the middle of your scalp. Then, have your hairdresser install box braids along the diamond portions. Diamond parts, as opposed to ordinary straight or zigzag parts, provide a unique touch of refinement to your hairstyle. 
To make your hairstyle stand out, add extra hair ornaments, such as clips or beads, around the diamond area. Medium box braids with a diamond part are also good for protecting your hair.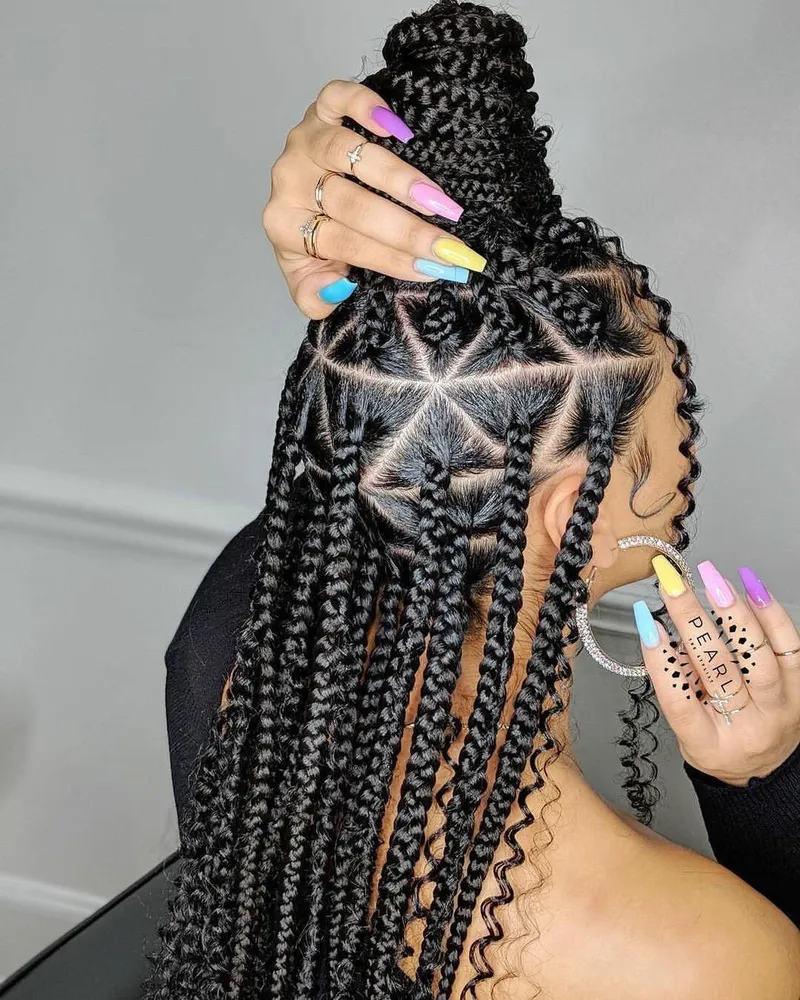 Medium Size Box Braids With Triangle Parts 
A triangular part, as opposed to the usual straight or zigzag part, gives a geometric aspect to your hairdo. To get this style, begin by dividing your hair into a huge triangular shape using a comb or your fingers, like in the previous one. Then, have your hairdresser put the box braids in a triangular design. 
Medium size box braids with triangular parts are a trendy and edgy braid style. Try adding a burst of color to the triangular area of your hair for a more daring style.
Medium Size Box Braids With An Undercut
Medium size box braids with an undercut are a terrific alternative to consider if you want to seem lovely and edgy. An undercut may give medium size box braids distinct forms and textures while also making them lighter and more comfortable to wear.  
To make your undercut stand out, experiment with hair tattoos or motifs. This hairstyle is very useful for hair protection. 
Medium Size Box Braids With A Ponytail 
Medium box braids with a ponytail are another hairstyle variation from your standard medium box braids. Box braids not only provide protective style for your hair, but adding a ponytail allows you to change up your appearance. Begin by getting medium-sized box braids done by a skilled hair stylist. Then, using a hair tie or rubber band, knot your braids into a high or low ponytail. 
Please remember to take care of this or any other box braids style that you receive. Your braids with a ponytail may last for weeks with proper maintenance, giving you a dazzling look in your everyday look.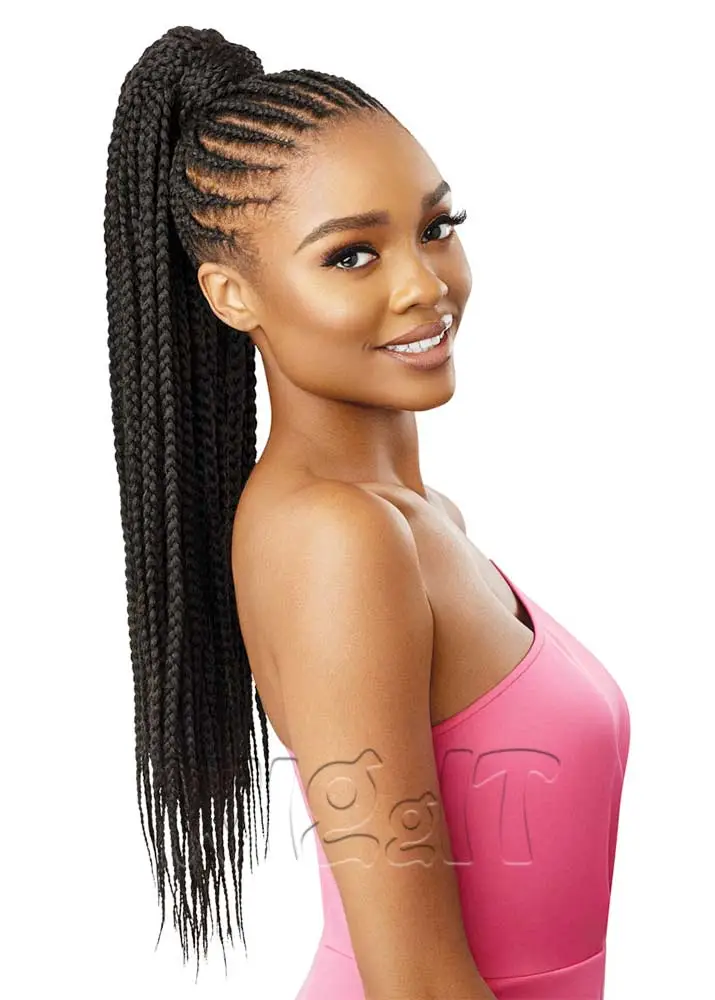 Medium Size Box Braids With Bangs
Medium size box braids with bangs may take your style to the next level of sophistication. Braid medium size box braids and frame the face with bangs to get this look. Bangs may be worn in a variety of styles to suit individual tastes, such as blunt or side-swept.
If you're already smitten with this look, you can wear it to any event, from casual to formal. Furthermore, both braids and bangs require special attention to ensure their longevity.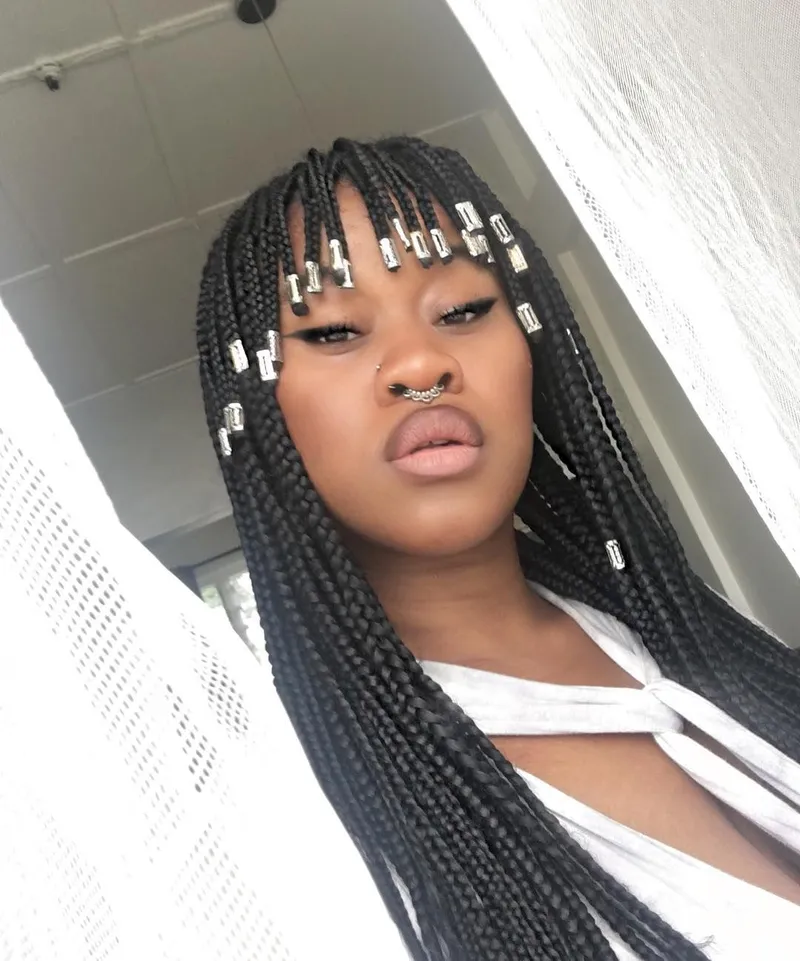 Medium Size Box Braids With Bun
An updo hairstyle suitable for hot weather. Medium size box braids with a bun are a fashionable and flexible way to wear box braids. This hairstyle entails braiding the hair into a bun or top knot and fastening it with bobby pins or a hair tie. 
This style has the advantage of keeping the braids away from your face and may be dressed up or down according to the occasion. Slick the edges with gel or edge control for a more professional look, then decorate the bun with a hairpin or scrunchie. This haircut will offer you a trendy and beautiful look wherever you go.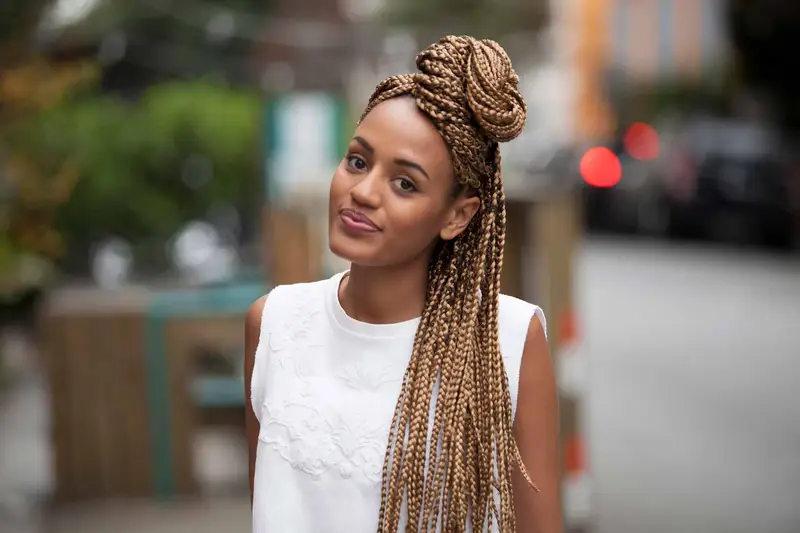 Criss-Cross Medium Size Box Braids
To create criss-cross medium box braids, braid your hair into medium-sized box sections and then cross part of the braids over each other to form a criss-cross pattern. Rubber bands may be used to hold the criss cross braids and offer edge control for a smooth finish. 
You may wear this hairstyle in a variety of ways depending on your sense of style, such as a ponytail, half up and down, or anything else.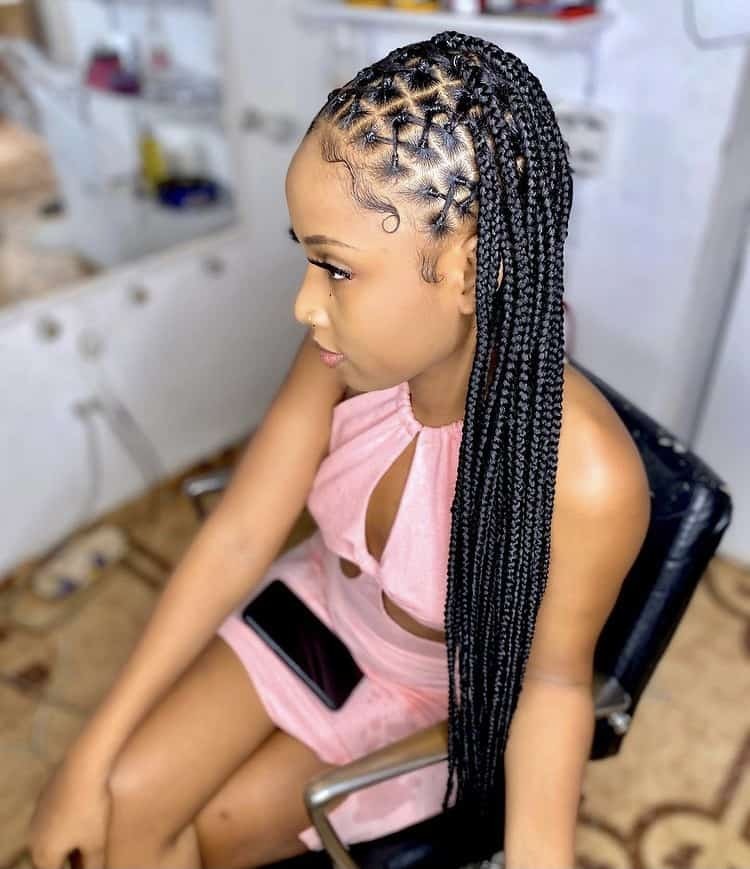 Fishtail Braid On Medium Size Box Braids
If you're not sure how to style your braids, a fishtail braid can be a good option. They will stand out with this fashionable hairstyle. Divide your hair into two sections and cross a few hair strands from one area to the other to create a fishtail braid. 
Gather the hair into a ponytail and continue fishtail braiding to the ends for medium size box braids. Pull out a few hair strands and secure them with a hair tie or bow to give the braid a more voluminous and messy appearance. This stylish haircut is adaptable and may boost your appearance whether you're attending a formal event or on a vacation.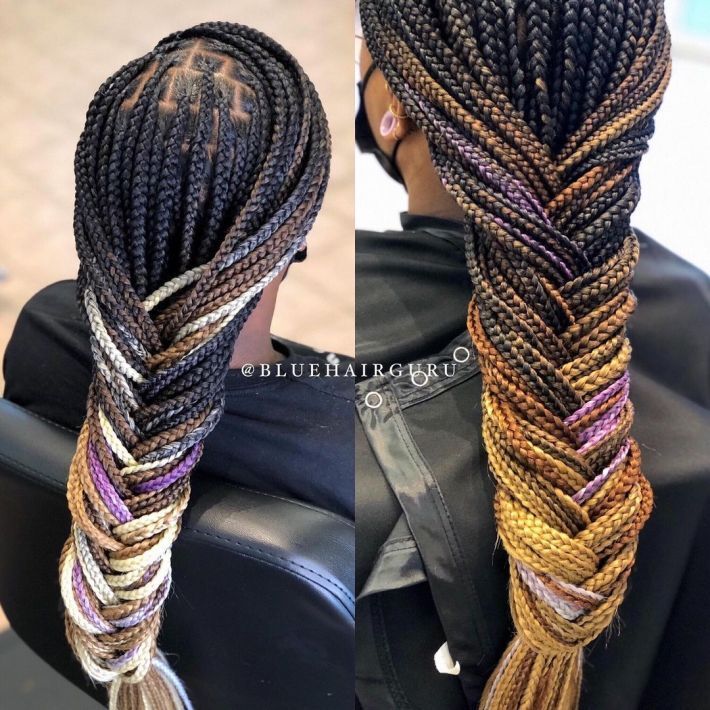 Faux Hawk Medium Size Box Braids
You have lovely medium size box braids and want to make them more dramatic, right? The faux hawk might help you fix your problem. They are made by braiding your hair into sections and then placing them on top of your head in the style of a hawk. Leave some braids hanging on the sides for a more edgy effect or pin them all up for a more polished finish. 
The faux hawk will add a rock-chic vibe to your medium size box braids, making you appear more confident and stronger.
French Braid With Medium Size Box Braids
A French braid, created by braiding additional hair into each segment as you go up your scalp, is a timeless and stylish hairdo that may keep your braids nice and tidy. 
To accomplish this style, begin by taking three pieces of hair from the front of your head and French braiding them until you reach the nape of your neck. You may then braid the remainder of your hair normally or tie it up in a bun or a ponytail. You may also liven up your French braid with embellishments such as beads or clips.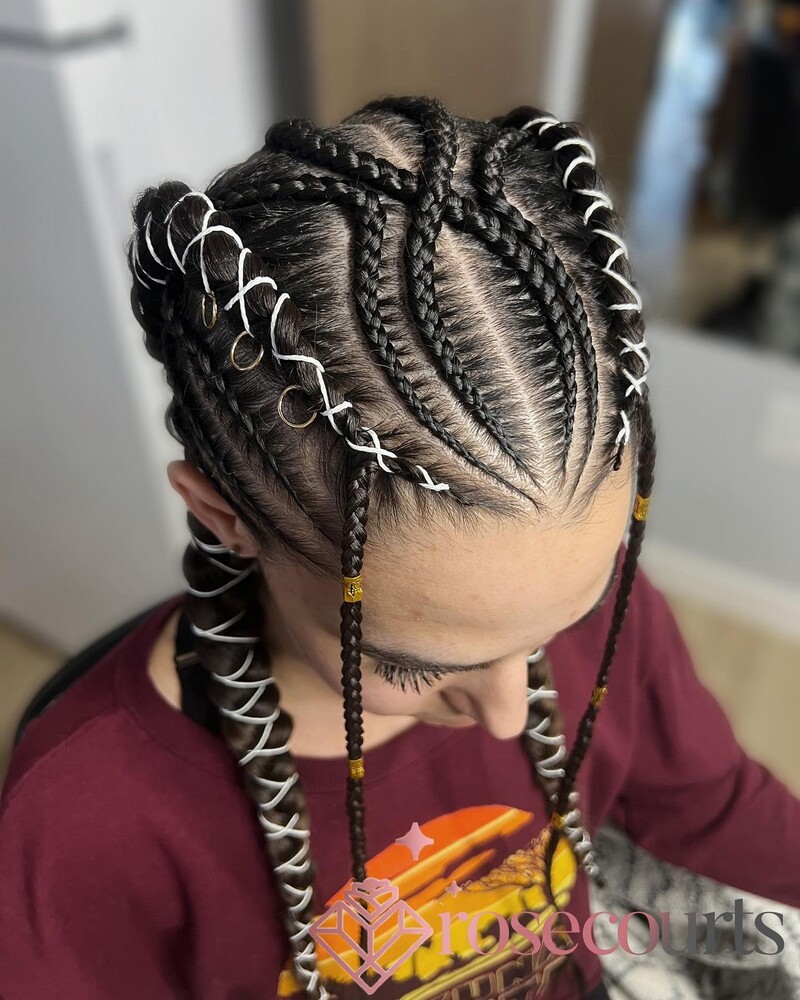 Medium Size Box Braids Into Bantu Knots
Combining Bantu knots and medium size box braids can result in a one-of-a-kind hairdo. Bantu knots are little buns produced by twisting and wrapping one's hair around yourself. Divide the medium box braids into parts and twist each portion into a knot to obtain this look.
Bobby pins or elastic bands can be used to secure the knots in place. Depending on your attire, you may leave some braids out for a more casual style or put them all into bantu knots for a more dramatic impression.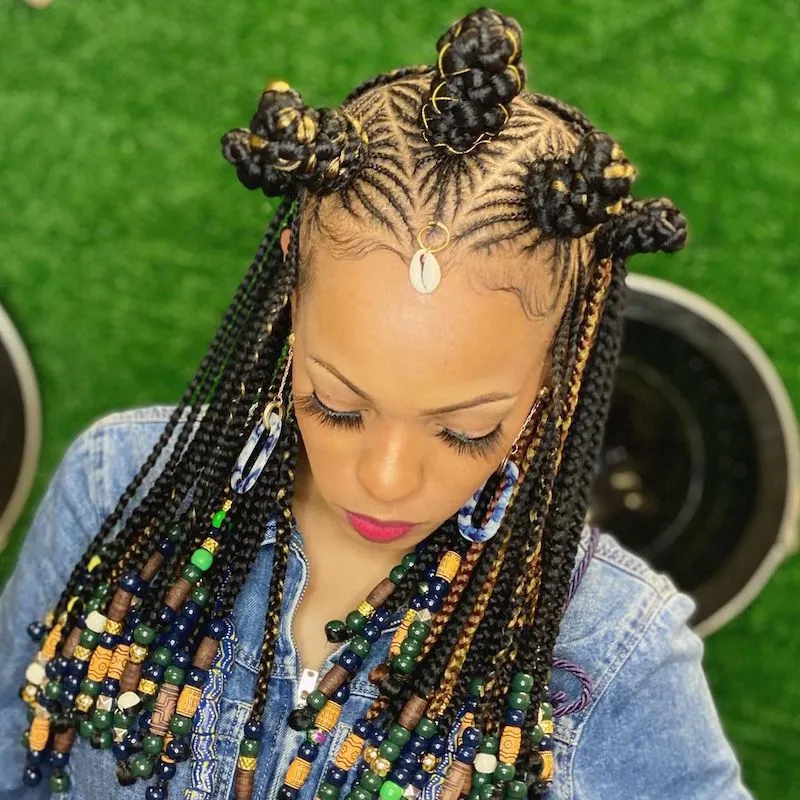 Goddess Medium Size Box Braids
Goddess box braids are a wonderful choice for individuals who wish to brighten and improve their look. Because of the gold cuffs, beads, rings, and other decorations, these long and thick braids gleam and shine. You may also experiment with curly or wavy hair extensions to achieve a more textured and voluminous look. 
Goddess medium size box braids are the perfect choice for creating a regal appearance, whether you're attending an important occasion or simply want to feel like royalty. This haircut has amazing results, so you should try it right away. 
Bohemian Medium Size Box Braids
The bohemian look is popular in both the beauty and fashion industries. Box braids with loose and wavy hair are combined to create a comfortable and stylish look. These braids combine the convenience and safety of braids with the variety and movement of curls. 
This style may be achieved by letting part of your natural hair out at the ends of your braids or by using curly hair extensions. For a more bohemian look, try medium size box braids with beads, shells, feathers, or flowers.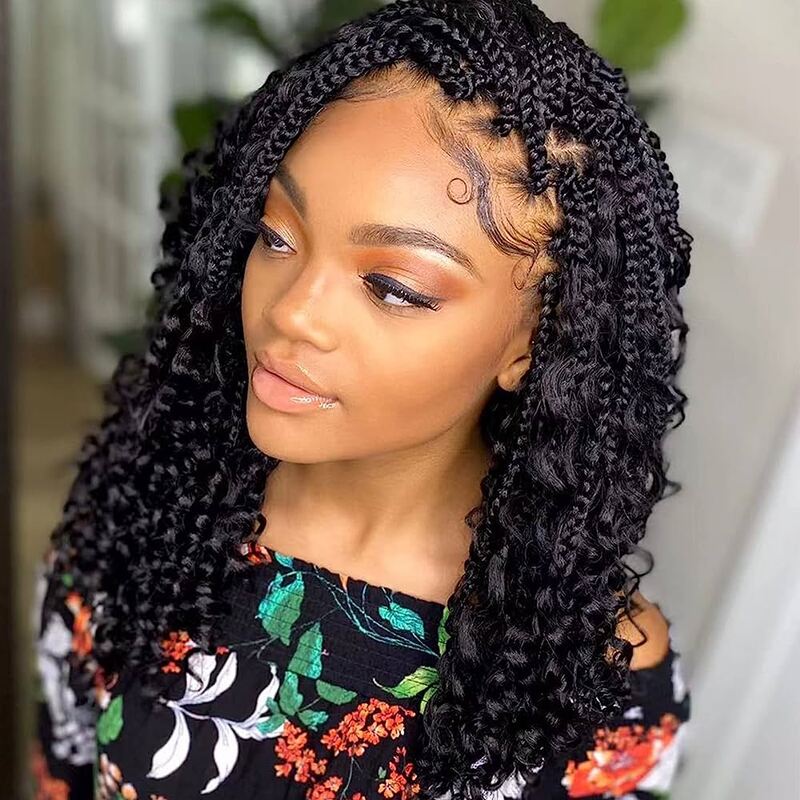 Space Buns Medium Size Box Braids
Space buns are a charming and whimsical hairdo that may be added to your box braids to add some excitement. You make them by splitting your box braids in half and twisting them into buns on top of your head. Depending on how many braids you use for each bun, you may make them as big or as small as you like. 
To make your box braids space buns more colorful and festive, add decorations such as scrunchies, ribbons, or clips. If you're going to a party or a festival, space buns are a wonderful pick for your outfit.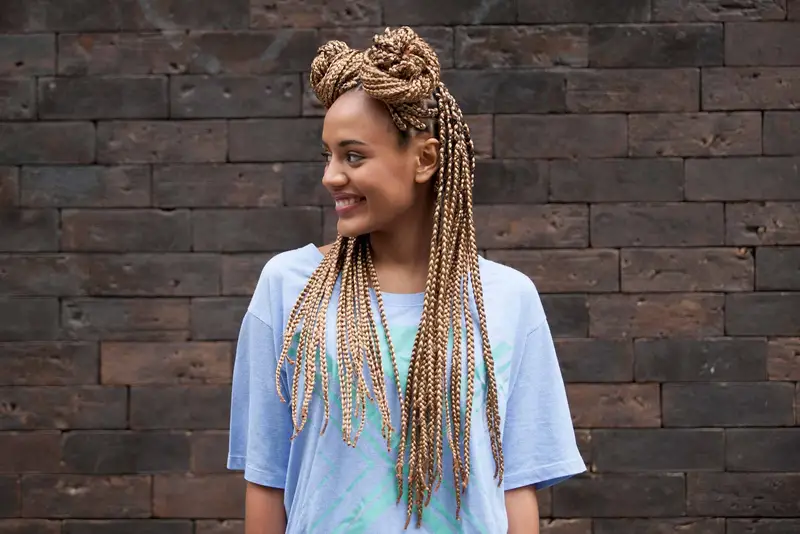 Butterfly Medium Size Box Braids
Small pieces of hair are wrapped around the base of each braid in a butterfly-like pattern to create the playful and stylish butterfly box braids. Due to the lack of the classic box braid's knot at the root, these braids are also known as knotless box braids.
They become more mild and pleasant on your scalp as a result. Butterfly box braids come in a variety of colors, lengths, and widths, so you may experiment to get your own appearance. Additionally, this is a versatile hairstyle that allows you to dress up or down depending on the occasion.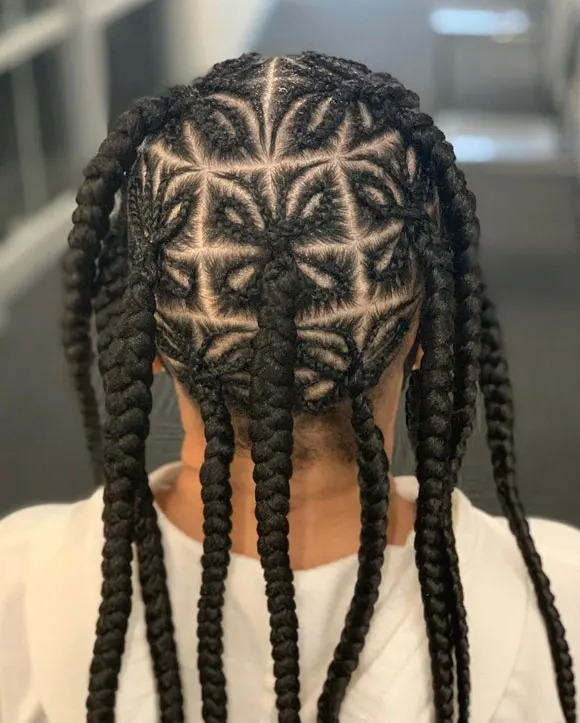 Half Medium Size Box Braids Half Cornrows
Half-box braids and half-cornrows are elegant and sophisticated hairstyles that may make you seem polished and perfect. By dividing your hair into two portions and braiding one of them into cornrows along your scalp, you may make them. 
The remaining section can then be braided into box braids using a traditional or knotless technique. For your half-box braids and half-cornrows, you may also combine various hair types, hues, and lengths.
Final thought 
Medium-sized box braids are an excellent choice for individuals who prefer the ease of braiding but do not have particularly long hair. They are also an excellent alternative for those who wish to add texture and intrigue to their hair. We hope that with our list of suggestions you will find the hairstyle that suits you. If there is any hairstyle you want more detailed advice on, please contact Jenhair so we can support you in the most thoughtful way. Stay tuned for more useful articles from Jenhair.