African women with short hair now have it easier than ever before. Numerous African hairstyle twists have been created specifically to cater to the needs of kinky hair. These different categories of hair twisting have become familiar and widely recognized. What are the top short kinky braids hairstyles in Nigeria 2023?
In this article, we will showcase a special list of the latest kinky braids hairstyles in Nigeria that are making waves in the country 's fashion scene. From bold colors to intricate designs, these short kinky braids hairstyles in Nigeria are perfect for those who want to embrace their natural hair texture. So, let's dive in!
Top short kinky braids hairstyles in Nigeria 2023
Sunkissed kinky twists
These twist hairstyles do not use extra hair and have a different color that matches your hair. That makes it look like you are being kissed by the sun! This adds depth and dimension to the twists, making them look more vibrant and eye-catching.
If you have short hair, you can try it with a short bob haircut and add those blonde-inspired dyes on the top. This hairstyle can create a natural and graceful look.
Golden ombre kinky twists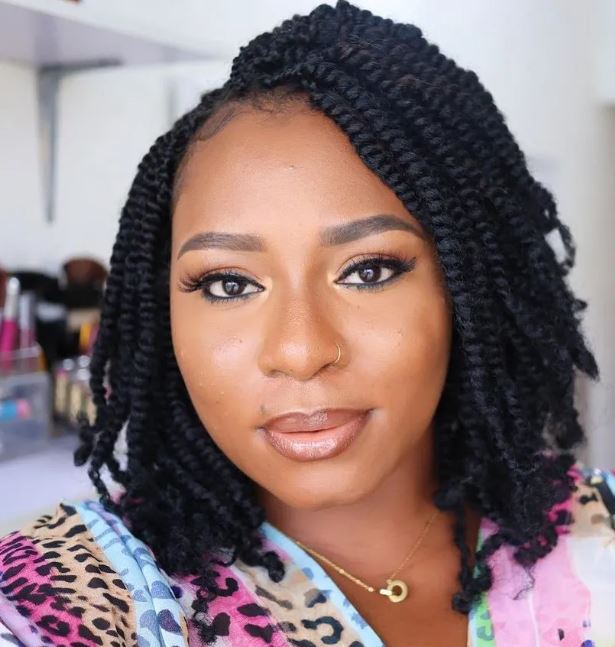 Hairstyle trends have taken a new turn with dyeing techniques. Short kinky braids hairstyles in Nigeria have also joined in on this journey. One popular choice is the ombre style that offers a range of stunning colors to choose from. 
Dyed kinky twist braids create a captivating look, especially when adorned with beautiful ombre shades. The combination of dark hair and golden ombre creates a scenic view for the wearer's overall appearance.
Double strand twist Bantu knots/African twist hairstyles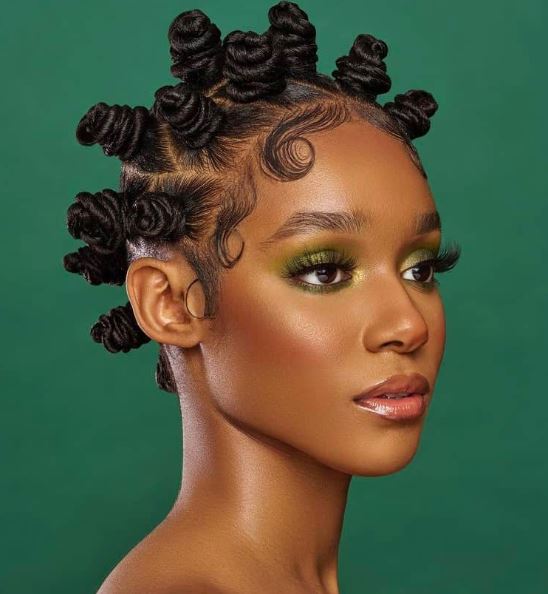 The Bantu knot out is a popular and trendy hairstyle embraced by those with natural hair. These natural hair short kinky braids hairstyles in Nigeria create the illusion of shorter strands, making it a great choice for individuals with short hair. 
Additionally, it serves as a protective hairstyle to promote the health of your hair. The double strand Bantu knot offers versatility in styling and ensures the well-being of your hair.
Pixie Kinky twist hairstyles with short hair
Another delightful twist hairstyle for short hair combines a pixie shave style with prominent kinky twists. When styled with care, this hairdo becomes a favorite choice. 
To add even more glamor, you can accessorize with beautiful earrings and hair accessories, such as statement pieces or vibrant rhinestone embellishments. The Pixie Kinky twist hairstyle is particularly popular during warm weather or for a visit to the beach. 
Two strand twist outs TWA style
The TWA (Teeny Weeny Afro) has remained a beloved choice among young women throughout time. The TWA twist out offers a bold and flattering appearance with sheer joy to kinky hair. 
Short natural hair poses a notable challenge in scalp protection, but this hairstyle aims to overcome that. Even Lupita Nyong'o has a fondness for this style.
Moreover, its compact size makes it a perfect twist style to embrace during a warm season.
Tapered twist out with color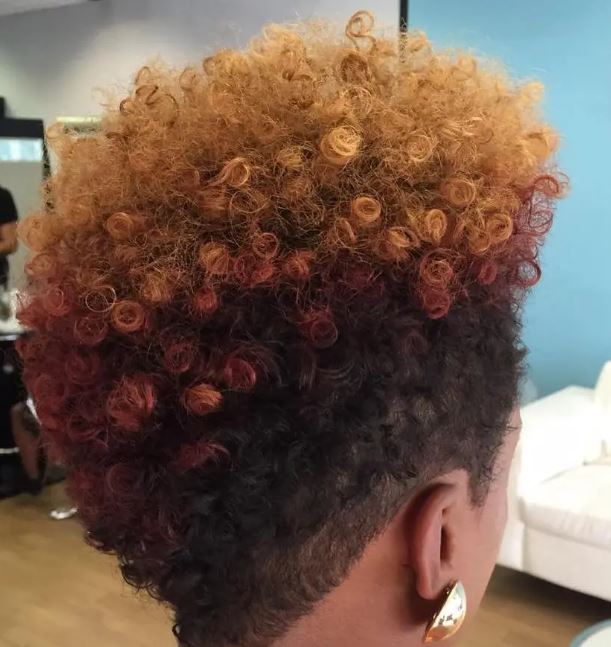 The tapered hairdo is unquestionably stunning. Not only is it a simple hairstyle, but it also helps prevent heat damage. 
Maintaining the tapered look requires regular hair trims. However, it offers a variety of styling options for a chic appearance. To add flair to the style, you can consider dyeing the twists that come with your desired color tone outcome.
Cornrows into a kinky twist and curly ends
In order to embrace these curly twists, you will need to let go of straight ends. If you are longing to express your creativity with short hair, this hairstyle will be very convenient for you. 
A kinky twist with curly ends is the combination of sleek and neat cornrows. It is added texture and volume of kinky twists and curly ends, resulting in a stylish and versatile hairstyle for both braids and curls.
The traditional method of achieving this hairstyle involves crafting regular cornrows and braiding the loose hair strands into kinky twists. While it draws inspiration from 90's hairstyles, new short kinky braids hairstyles in Nigeria styling techniques give it a modern twist. 
Chunky twist hairstyles
The combination of a twist out and flat twist styles creates a creative and edgy hairstyle. This unique Nigeria kiko hairstyle incorporates both a flat twist out and a regular twist out. 
However, achieving a flat twist out requires skillful cornrowing from your stylist. The end result is a flat twist out with cornrows on the scalp. It can then be unraveled into a twist out style, depending on the desired look and styling.
Intricate flat twist hairstyles short hair with updo
Many women often avoid flat out updo styles because they believe their short hair is not suitable for such a look. However, when it comes to short hair, combining twists with a glamorous updo can result in a polished and refined appearance. 
An updo hairstyle holds a high status in the world of hairstyles, and you can never go wrong with it. The flat twist updo offers an answer to achieving elegance and a sophisticated look. 
This hairdo works well with natural hair, so it is an alternative for those who are allergic to braids. It is crucial to choose the right occasion for this style to ensure it looks appropriate and well-suited.
Fierce protective Afro twist hairstyles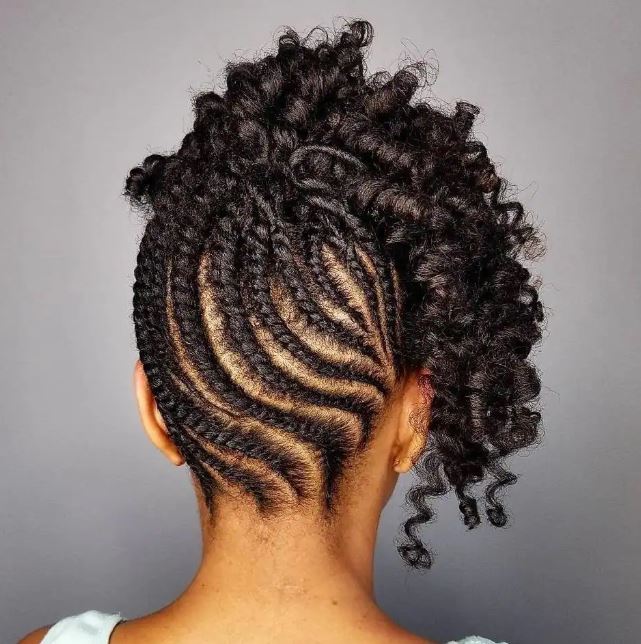 This flat out style entails securing tightly woven strands close to the scalp. These strands are then twisted around each other for an irresistible and fabulous look. 
This hairdo is supreme as the perfect style to rock on your way to the office. It meets all the criteria for a great hairstyle and is super fabulous.
Short bob kinky twist hairstyles for natural hair
How wonderful it is to create short bob kinky twists from your own short hair! The beauty of kinky textured hair lies in its versatility to complement a wide range of hairstyles while providing protection for your strands. Some stylists even take it a step further by incorporating a touch of color to infuse vitality. 
By making the right decision for this hairdo, you are bound to turn heads and make a statement. It is also worth noting that this style particularly suits ladies with luscious lips and prominent eyes!
Short two strand twist black hairstyles
This fantastic style is undoubtedly popular among women with short hair. It captivates the feminine crowd with its trendy and fabulous appeal. 
One of the notable features of this hairdo is its flexibility, making it suitable for women of various hair textures. You are guaranteed to look amazing. And what's more, this style will not strain or stretch your strands like some other hairstyles tend to do.
FAQs
1. How long do short kinky braids last?
The duration of short kinky braids can vary depending on various factors such as hair care routine, hair quality, and style of braids. On average, short kinky braids can last anywhere from two to six weeks. However, it is important to maintain proper hair care practices to extend the lifespan of your braids. This includes regular cleansing, moisturizing, and avoiding excessive manipulation or tension on the braids.
2. What are the different styles of short kinky braids hairstyles in Nigeria?
Short kinky braids offer a variety of styles such as box braids, Senegalese twists, Marley twists, crochet braids, micro braids, and Ghana braids. These styles provide versatility and range in thickness, length, and intricacy. Which style depends on personal preference and hair type. And a professional stylist can help you determine the best style for your short kinky braids.
3. Can short kinky braids be installed on natural hair?
Yes, short kinky braids hairstyles in Nigeria can be installed on natural hair. In fact, they are often installed on natural hair as a way to enhance and protect the natural texture. Short kinky braids are a great option for those who want to embrace their natural hair while adding style and versatility. It is important to ensure that the natural hair is in a healthy condition before installing the braids. And you need to follow proper hair care practices to maintain the health of the natural hair.
4. How can I maintain and care for my short kinky braids?
To maintain and care for short kinky braids:
Wash regularly with a gentle shampoo.

Moisturize with a lightweight conditioner or moisturizing spray.

Minimize manipulation and avoid excessive pulling or styling.

Protect braids while sleeping with a satin or silk bonnet.

Avoid heavy products and opt for lightweight oils or serums.

Be cautious with styling tools to prevent damage.
5. Are short kinky braids suitable for all hair types?
Short kinky braids can be suitable for various hair types, including natural hair with a kinky or coily texture. They are particularly well-suited for those with afro-textured hair, as the short afro kinky braids blend seamlessly with the natural texture. However, please note that the suitability of short kinky braids varies depending on the individual's hair condition, length, and thickness.
6. Can I style my short kinky braids in different ways?
Absolutely! Short kinky braids offer versatility when it comes to styling. Here are a few options:
Updos: Create elegant updo hairstyles by pulling your braids into a bun, high ponytail.

Half Up, Half Down: Style a portion of your braids into an updo or ponytail while leaving the rest down for a chic look.

Side Swept: Sweep your braids to one side for a stylish appearance.

Accessories: Add flair to your braids with colorful hair accessories, such as headbands, clips, or beads.
7. How long does it take to install short kinky braids?
The time can vary depending on factors such as the thickness of your hair, the size of the braids, and the expertise of the stylist. On average, it can take anywhere from 3 to 6 hours to install short kinky braids. However, for more intricate styles, it will take longer, potentially extending to 8 or more hours. 
To Conclude,
These top short kinky braids hairstyles in Nigeria can give you a wide range of options to embrace your natural hair texture with style. These hairstyles provide versatility, beauty, and a touch of cultural flair. No matter a special occasion or a fashionable everyday look, these braided hairstyles are sure to make you standout for the upcoming holiday season of the year. Let's embrace the beauty of short kinky braids and rock your natural hair with confidence in the rest of 2023!