If you're curious about boosting men's hair volume, this article is your go-to guide. Whether you want to enhance volume through products or tweak your lifestyle, we've got you covered.
How to add volume to hair men is a question that piques the curiosity of gentlemen who desire thicker and bolder hair. Your hair can significantly influence your overall appearance, and knowing how to achieve more volume can enhance your overall look. There are various methods to increase hair volume, ranging from hair care and styling products to finding the perfect wig that complements your style.
The reasons why men need to add volume to hair
Before delving into the techniques for how to add volume to hair men's naturally, it's essential to understand why you might need that extra volume. Whether you're grappling with age-related hair thinning or simply aiming for a fuller and healthier appearance, there are compelling reasons to seek that coveted hair volume.
It's crucial to grasp the underlying causes of flat hair. While there can be numerous factors contributing to lack of volume, some of the primary culprits include excessive moisture and product buildup in your hair. 
Incorrect product choices during washing can accumulate residue on your strands, resulting in limp and lifeless hair. Additionally, greasy and dirty hair tends to weigh down, leaving your locks looking lackluster. Finally, both your styling habits and genetic factors play a role in this equation.
What impacts hair volume
Hair volume encompasses two key aspects: the actual quantity of hairs adorning your scalp (hair density) and the way these hairs occupy space on your head through a particular haircut or style. Of these aspects, the number of hairs you have and how they distribute across your scalp is paramount.
Another factor that can influence hair volume is the diameter of your hair strands, which may also serve as an indicator of receding or thinning hair. It's common for many individuals to observe that alterations in hair volume can also affect hair texture and thickness at the scalp level.
What hair volume means for men
Hair volume for men signifies several things, including overall hair health, thickness, and styling possibilities. Here are a few key aspects:
Hair Health: Adequate hair volume often indicates good hair health. Thick and voluminous hair can be a sign of well-nourished and well-maintained hair.

Youthfulness: Many men associate a full head of hair with youthfulness. Maintaining good hair volume can make you appear younger and more vibrant.

Styling Versatility: Having voluminous hair allows for a wider range of styling options. You can experiment with different hairstyles, from classic to trendy, to express your personal style.

Confidence: Fuller hair can boost self-confidence and self-esteem. It contributes to a positive self-image and how you perceive yourself.

Protection: Hair volume of men can provide some protection against sunburn and harsh weather conditions by shielding the scalp.
Hair volume is not just about aesthetics, it reflects how well you care for your hair, your self-image, and your ability to express your style.
How to add volume to hair men: 7 useful tips
Proper Hair Washing Techniques
Maintaining the ideal hair volume begins with the way you wash your hair. Washing your hair every day can help it look and feel its best, giving it the most volume. Greasy or unwashed hair has a tendency to clump together, resulting in a flat and lifeless appearance. 
For men, daily hair washing is often more manageable as their hair is typically shorter. This practice is especially important for men who work outdoors and may accumulate sweat, ensuring their hair stays clean and voluminous.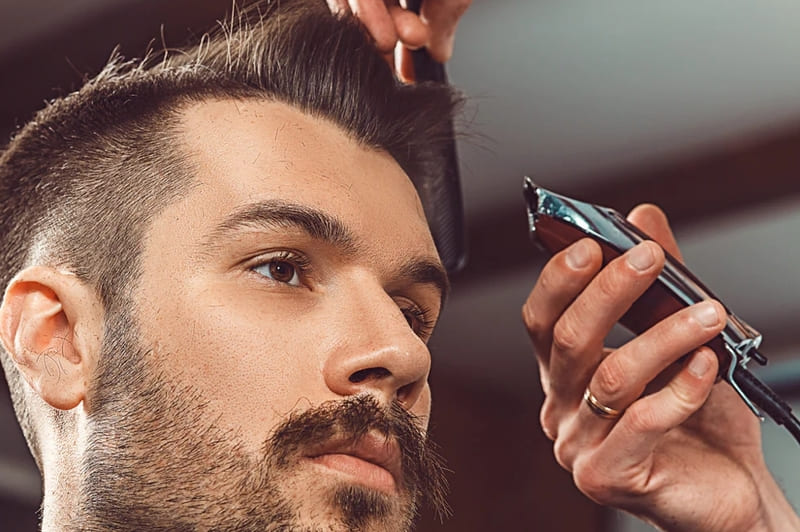 Use the right shampoo and conditioner
Men should select a suitable shampoo that matches their hair type. It's essential to maintain clean and well-conditioned hair, and for this, consider using thickening products. Thickening shampoos and conditioners can effectively enhance the volume of your hair. These products function by applying a unique polymer to the hair follicles, which is specifically designed to increase the diameter of individual hair strands. 
If you discover a thickening product that suits your preferences, make it a part of your daily hair care routine, replacing your previous shampoo. For optimal results, consider combining a volumizing shampoo with a matching volumizing conditioner.
How to add volume to hair men: Styling hair
If you have naturally curly or wavy hair, try gently separating the curls and waves with your fingers to create extra volume. You can divide each curl into smaller sections (2 to 4 times) to make your hair appear fuller.
On the other hand, if you have frizzy or naturally curly hair that you want to reduce the volume of, consider straightening it with a flat iron. For those with thin hair, you might experiment with curling or styling techniques to add more volume to your hair.
Avoid combs and some styling products
If a volumizing styling product leaves your hair with a "crispy" or "crunchy" texture, it may not be the best choice for achieving added volume. A good volumizing product should leave your hair feeling flexible and natural, as the more pliable your hair remains after application, the more effective it will be in creating the appearance of volume.
Avoid applying a volumizing styling product directly to your hair's roots, as this can negatively impact the appearance of volume. Product application at the roots may lead to clumping, resulting in an uneven, patchy look for your volumized hair.
Avoid combing your hair, since combs can negatively impact the appearance of volume. To achieve the best results in enhancing the appearance of volume, it's best to avoid using combs, as they can have a negative impact. 
Instead, use your hands to style your hair. Combs can sometimes tug and damage the hair at the roots, causing hairs to be pulled in odd directions and potentially revealing more of the scalp.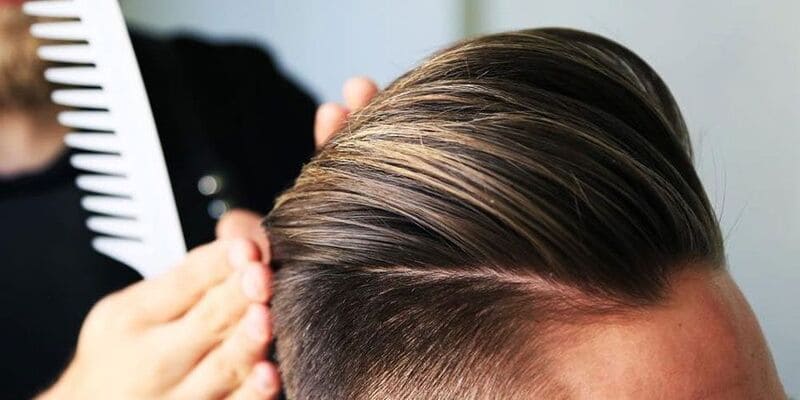 Use a blow dryer to enhance hair volume. 
Dry hair generally appears more voluminous than wet or product-saturated hair. For optimal results, blow dry your hair after applying a volumizing styling product. Hold the blow dryer approximately 12 inches (30 cm) from your head and run your fingers through your hair while drying. 
This technique promotes quicker drying. Most styling products suggest application on damp or slightly moist hair to ensure even coverage. If your hair is wet when using the dryer, run your fingers through it a few times to lift and separate the strands.
How to add volume to hair men: Care your hair and scalp
Take good care of your hair and scalp to maintain volume. Protect your scalp from sunburn, as it can have adverse effects on your hair's volume, potentially leading to hair loss and reduced thickness of human hair. Prolonged sun exposure to the top of your head can make your hair brittle and thinner.
When spending extended periods in the sun, consider wearing a hat for protection. However, avoid wearing tight-fitting hats regularly, as they can compress your hair, reduce its volume, and potentially impede circulation to your scalp. This could damage your hair follicles and result in thinner hair.
Allow Your Hair to Grow Out
One of the most effective ways for men to increase hair volume is by letting their hair grow. Regardless of the amount of products you use, achieving volume with short hair can be challenging. If you're curious about how to add volume to men's hair, consider letting your hair grow out by at least 1-2 inches (2.5-5.1 cm). 
This added length provides you with more hair to work with and style. Longer hair not only enhances volume but also adds a unique look. Keep in mind that longer hair doesn't necessarily mean you'll look unkempt. You can maintain shorter lengths on the back and sides while growing out the hair on top of your head.
Optimizing your hairstyle for maximum volume often involves some trial and error. Take the time to experiment with different techniques to find what suits you best.
How to add volume to hair men: The final word
In this article, Jen Hair provides valuable insights on the correct ways to enhance hair volume for men. You have a variety of methods at your disposal to achieve that voluminous and naturally beautiful look. 
However, it's important to recognize that not all options may be suitable for everyone. Before you embark on any hair volume journey, it's essential to consider safeguarding your hair against male pattern baldness. If you require guidance or assistance, please don't hesitate to reach out to us.