What is a quick weave? Quick weave is a full head weaving method in which hair extensions are glued to a weave or skull cap and placed on top of natural hair. Learning about the quick weave with Jen Hair below.  
Here's every detail you need to know about what is a quick weave, the pros and cons and how to remove a quick weave easily. Quick weaving helps you to change style quickly which you can do at home. It's a pretty convenient protective style with the simple installation and removal. Read this article and get more information about quick weave now!
What is a quick weave? 
A quick weave is a hairstyling technique that involves attaching hair wefts or tracks to a cap or wig using adhesive. This method allows for the creation of a full head of hair quickly and is often chosen for its efficiency and versatility. Quick weaves can be customized with various hair textures, colors, and styles, providing individuals with the opportunity to change their look without a long-term commitment.
The process typically takes less time than traditional sew-in weaves and can be a suitable option for those seeking a temporary hairstyle change or protective styling. It's important to note that the use of adhesive in quick weaves requires careful application and removal to prevent damage to natural hair.
What is a quick weave: Pros and Cons
There are numerous advantages and disadvantages of quick weave that you should consider: 
Pros of quick weave
Time Efficient:

Quick weaves are faster to install compared to traditional sew-in weaves. This is obviously a convenient option for those with busy schedules. For the sew-in method, the hair extensions are threaded into some heavy tension, while quick weaves use a bonding method to protect your natural hair. The weft is glued to the cap instead of your hair so it's easier for you to replace a quick weave in the proper time. 

Versatility: Quick weave offers a wide range of styling options. You can choose many options to change your hairstyles day by day, from various hair lengths such as long hair, short hair to textures such as straight hair, wavy hair… to various choices of colors. Quick weaving can help you make creative and customizable looks.
Temporary Change:

Quick weaves provide the flexibility to change your new looks of hair without a long-term commitment. You don't even need to worry about the hairstyle with a quick weave. That's why convenience is loved by more and more people nowaday. 

Protective Styling:

When installed and removed properly, quick weaves can serve as a protective style that helps shield natural hair from daily wear and tear.
Cons of quick weave
Potential Damage:

Quick weaves can damage natural hair if not applied or removed carefully. The hair installation or removal process may lead to breakage or unwanted side effects. You need to take a look at how to use the quick weave before applying. You also avoid allowing any glue to come into contact with your hairline or hair. Another trigger of damage may occur if they are too tight and create a tension on your scalp. 

Limited Longevity:

Quick weaves are not meant to be long lasting. Compared to traditional sew-in, quick weave has a shorter lifespan. They typically need to be redone every few weeks, which may require additional costs. Most quick weaves last for only one month while a sew-in weave can last for upwards of two months. If you are looking for a lengthy wear, this product may not be your choice. 

Allergic Reactions:

Some individuals may experience allergic reactions to the adhesives or chemicals used in the process. Quick weaves also require some skill to achieve a natural look, and mistakes can be noticeable if you're not careful enough. 
What is a quick weave hairstyle you must try?
Quick weave bob
Bob weaves with bangs are always considered as one of the best bold looks for women.  This quick weave hairstyle will provide you with an impressive look. If you choose to highlight some strands, it will be a more fierce look to your style.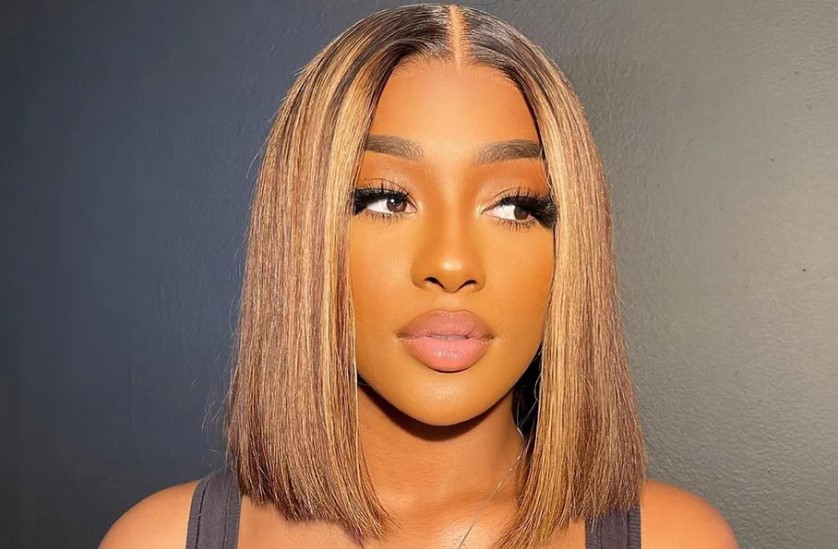 Quick weave long straight
Long straight is obviously the queen of all hairstyles. You can apply it quickly, simply but it will give your face an excellent shape. It is so easy to achieve with just one quick weave that it does not demand too much maintenance. 
What is a quick weave with closure
Quick weave with lace front closure is a technique which gives you have a natural look with length of 2×4, 4×4 or 5×5. Lace front closure to attach directly to the wig cap. This method looks very natural and you can completely apply it at home. Quick weave with closure is more comfortable for using in a long time than other types of extensions. 
How to install a quick weave
You should follow some steps below to install quick weave:
Prepare your natural hair by braiding it or using molding gel to secure it beneath the wig cap. You can opt for a side or center part if you want it to be visible through your weave.

Shield your hair with a protective wig cap once it's prepared to safeguard it from the adhesive. For added security, you can use two wig caps. If you wish to further protect against glue mishaps, consider applying a liquid cap to your hair. This ensures any stray glue adheres to the cap rather than your hair. You can also apply glue protector to the wig cap itself.

Mark the section where you've left your natural hair out on the wig cap to avoid attaching hair extensions too near to it

Ensure that your hair is completely dry, whether you've used molding gel or glue protector on your hair or wig cap. Everything should be thoroughly dry before proceeding with the quick weave installation.

Begin gluing the hair extensions onto the wig cap. Measure the extensions around your head to determine where to cut them. Start affixing them from the back of your head and work your way inward.

Allow each section to dry before adding the next track. When you approach the area where you've left out your natural hair, cut that portion of the wig cap to free it.
With everything in place, you're now ready to style, trim, and comb through your hair to achieve your desired look.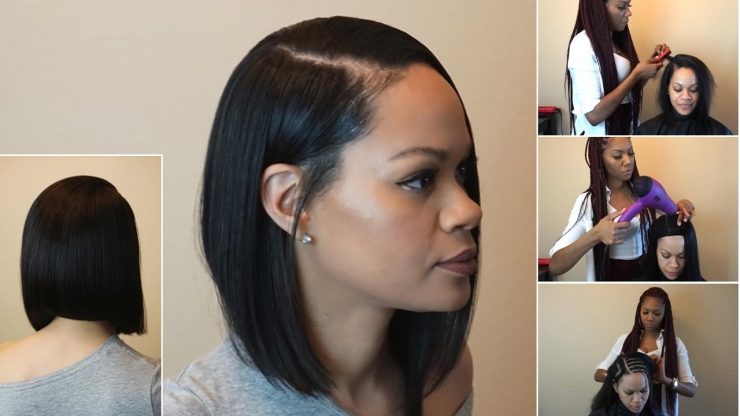 How to remove a quick weave
You can remove quick weave at home by warm water or oil-based products. We recommend you going to a professional hair salon for removal and quick weave care. If you'd like to remove a quick weave at home, you need to take time to avoid damaging your hair. The removal process is easier than installation. Here's some steps:
Add some oil-based product to loosen the glue on your hair for a few minutes. Then you should run your hair under warm water to get rid of the glue.

Massage your hair with hair products in case the quick weave gets stuck to loosen the glue. 

Remove your wig cap with your fingers. You can easily slide off it. Remember to pull off the wig cap slowly. If you rush, you might pull out some natural hair. 

Apply conditioner to loosen the knot

Wash your hair with shampoo after removing the quick weave to clean the conditioner. 
In conclusion
In summary, what is a quick weave? Quick weaves offer a convenient way to change your appearance with many beautiful hairstyles, but they come with potential risks, including hair damage and discomfort. Proper installation and maintenance are essential to minimize these drawbacks and enjoy the benefits of hairstyling options.
This article, Jen Hair provides you some information about changing your hairstyle temporarily with a quick weave. You can try every hair extension from long, short, straight or curly in every color you desire.