The options for the perfect shade of blonde can be overwhelming, especially when it comes to pearl blonde vs ash blonde. That's why we write this post to help you navigate the realm of hair color choices and make an informed decision. In this guide, we will explore the unique characteristics of pearl blonde and ash blonde, so you have valuable insights into their distinct qualities. 
Let's dive into the world of pearl blonde and ash blonde and discover which shade will enhance your natural beauty and style!
The differences between pearl blonde vs ash blonde
What are the main differences between pearl blonde and ash blonde? In terms of tone, pearl blonde falls in the warm tones, whereas ash blonde belongs to the cool tones.
Pearl blonde is characterized by its shimmering, almost metallic appearance. This adds a touch of sophistication and elegance to the hair. This shade is ideal for individuals with fair or light skin tones, as it complements their complexion. 
On the other hand, ash blonde is known for its versatility as it can adjust the intensity of the cool tones. So you can customize it to suit different skin tones. It is a popular choice for people looking for a natural-looking blonde shade with a cool, sophisticated edge.
Pearl blonde vs ash blonde? – Which hair color suits your skin tones best?
If you want to enhance a prominent nose and achieve a youthful look, pearl blonde is the ideal choice. Its warm tones can help conceal imperfections and create a rejuvenating effect on your face.
On the other hand, ash blonde is considered a cool tone that imparts a sense of seriousness and structure.
If you have fair skin, pearl blonde can add a unique radiance and luminosity. For those blessed with dark skin, ash blonde is a great option as it enhances the natural glow of your complexion.
Moreover, pay attention to your hair type!
If your hair is thin or fine, it is best to choose pearl blonde. It is a type of blonde with hints of violet, pink, and mauve. This will make your hair look fuller, textured, and voluminous.
If you have thick hair and want to reduce its volume, we recommend going for ash blonde. Moreover, ash blonde hair is perfect for balayage and highlights.
Factors to consider when choosing between pearl blonde vs ash blonde
To make the best decision for your desired look, it's important to take several factors into account. Let's explore the key factors to consider when choosing between pearl blonde vs ash blonde.
Skin tone and undertones
Pearl blonde is ideal for the ones with fair to light skin tones. Its cool-toned hues complement these skin tones beautifully and create a soft and ethereal appearance. 
On the other hand, ash blonde works well with a broader range of skin tones, including fair, medium, and even some olive complexions. The cool and muted undertones of ash blonde can help neutralize warm undertones in the skin. This creates a harmonious and balanced overall look.
Eye color and its impact on the desired hair color
Pearl blonde tends to enhance blue or green eyes as it creates a striking contrast and brings out the intensity of these eye colors. 
Conversely, ash blonde complements a wider spectrum of eye colors, including blue, green, hazel, and even brown. It provides a softer and more natural look that harmonizes with various eye shades.
Lifestyle and maintenance requirements
Consider your lifestyle and the level of maintenance you are willing to commit to when choosing a hair color. Pearl blonde hair with its delicate and luminous appearance requires more maintenance to keep it looking vibrant. Moreover, regular toning and the use of color-protecting products are essential for preserving the iridescence of pearl blonde. 
In comparison, ash blonde comes with the muted and cool tones, so it generally requires less maintenance and can grow out more naturally.
Personal style and fashion preferences
Your personal style and fashion preferences should also play a significant role in your hair color decision between pearl blonde vs ash blonde. 
Pearl blonde exudes elegance, sophistication, and a touch of ethereal charm. It is often favored by those who prefer a more glamorous look. 
Ash blonde is a versatile choice that can suit a range of styles, from edgy to classic. In addition, you should consider whether you lean towards bolder or more subtle fashion choices when making your decision.
Professional advice and consultation
When in doubt, seeking professional advice from a hairstylist is highly recommended. They have the expertise and knowledge to assess your unique features, including skin tone, eye color, and hair condition. 
A professional can offer valuable insights into which shade, whether pearl blonde or ash blonde, will best complement your overall look. They can also provide guidance on the maintenance and care for your ash blonde permanent hair color.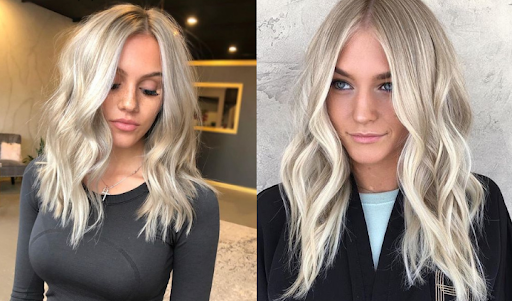 Frequently asked questions
Can I switch between pearl blonde vs ash blonde?
Yes, you can certainly switch between pearl blonde and ash blonde. However, it's important to consider potential damage caused by frequent color changes to have appropriate maintenance.
How often do I need to touch up my roots?
The frequency of root touch-ups depends on your hair growth rate, typically ranging from 4 to 8 weeks. It ensures a seamless blend between your natural hair color and the blonde shade, especially if you are looking for a medium pearl ash blonde permanent color.
Can I achieve pearl or ash blonde hair on naturally dark hair?
It can be challenging to achieve pearl or ash blonde on naturally dark hair. It often requires a bleaching process to lighten the hair before applying the desired blonde shade.
Can I dye my hair at home or should I visit a salon?
While you can dye your hair at home, visiting a salon is recommended for the best results. Professional colorists have the expertise to achieve your desired pearl ash blonde permanent hair shade while minimizing damage.
Final thoughts,
We hope this post has clearly provided you with the differences between pearl blonde vs ash blonde hair colors, so you can choose the perfect shade that aligns with your style and preferences. Remember, whether you opt for the luminous allure of pearl blonde or the sophisticated elegance of ash blonde, the key consideration is a color that compliments your skin tone and enhances your natural beauty. 
If you are considering a hair transformation or have any questions regarding our range of wigs, do not hesitate to contact us. Let's explore collection of Jen Hair, customize your desired shade, and embark on a journey of stunning hair transformation