Every woman loves bouncy, wavy, shiny hair but doesn't want to style it too frequently for fear of damaging their natural hair. Hair extensions were born to solve this problem. Instead of using your natural hair, why not choose a wig and curl it in your own way? Although this idea can protect your hair, learning how to curl a wig is also very important for the best hairstyle result without ruining it.
In this article on how to curl a wig, Jen Hair is going to provide you with the instructions to style your wig with curling irons and without heat. So whether you have a synthetic or human hair wig, learn all the tried-and-true methods for curling your hair. Keep reading for the best tips and tricks!
How to curl a wig with a curling iron
Straight hair is just straight; that's it!
Curls, on the other hand, have different types depending on how curly and tight they are. It adds to your personality, and you never have boring hair days.
To begin with how to curl a wig with a curling iron; here's everything you'll need to style your wig like a pro:
A curling iron or curling wand

Heat protectant

A hairbrush

Hair sectioning clips

Hairspray
Step 1: Check the condition of the wig
Firstly, you need a wig that is made from 100% real human hair and remember to avoid synthetic hair in the heating tool. As we both know, synthetic hair does not go well with heat products and can cause a burn or even melt into plastic balls. In another way, human hair works perfectly with curling irons because they are just like our natural hair.
Secondly, check the condition of the wig before the curling process. Make sure that they are totally clean and dry. Next step, brush your wig to reduce tangles, your wig will be thankful for you because this step will make the process quicker and easier.
The curling effect and shine of the wig depending on the condition of the wig. So it's essential to choose good quality hair extensions and do proper care for them regularly.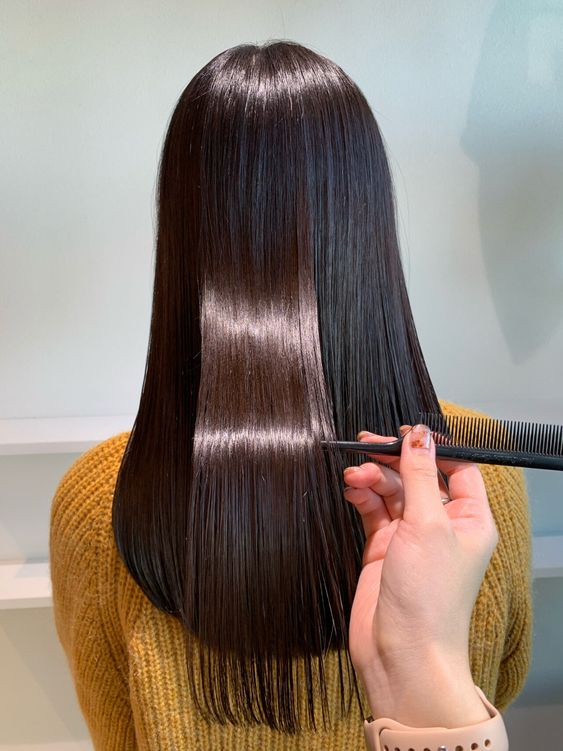 Step 2: Use a heat protectant on the wig
After obtaining the steps above, treat your wig with a heat protectant that will help prevent damage. Many people ignore using this product before styling their wig since it's not their natural hair, but this is a big mistake. Applying high heat to your wig or heat styling it without a heat protectant can burn the strands and cause serious damage.
Step 3: Wear your wig or place it on a wig stand
Place your wig on your head or a mannequin head. This allows you to create exactly the hair you desire. However, it might be easier to curl the wig on a mannequin head, especially when you're a newbie or want to curl the back of it.
Step 4: Separate a small section of hair and start curling them
To prevent the damage, do a heat test on a small patch of the wig at the base of the neck or an underlayer, as this is a discreet place where nobody will notice any damage.
Dividing your wig's hair into portions will make it easier to manage and curl them one by one. You can also use a hair dryer to help set your curls but make sure the dryer is set to a medium or low heat setting.
While using curling irons, don't apply heat for too long. Just hold for 10 seconds, release, and let the curl cool to set, then repeat on the remaining sections.
Step 5: Apply hair serum and gently pull the curls apart
In order to make elegant waves, applying a light serum as a leave-in can go a long way toward softening your curls. It also adds instant shine and life to your curls. Go for lightweight hair serum textures such as jojoba and almond for a pleasant feeling all day long.
When the hair serum has absorbed into your wig, separate it into sections and finger-combing each one gently. Gently scrunch each section of hair from the bottom and use your fingers to apply it to the length of your hair. This will help your curls stay bouncy instead of weighing them down.
Step 6: Using the holding spray
After finishing curling your dream hairdo, you would want to finish with the holding hairspray. This step will keep your curls from falling out too quickly, especially if it's humid outside. To keep your curls as long as possible, try not to touch your hair throughout the day. Avoid wearing a hat or using hair accessories that might weigh your hair down.
How to curl a wig without heat
If you want to maintain and extend your wig's lifespan as long as possible (especially with synthetic hair extensions), you would want to avoid styling them with heating tools. Below are simple steps you can follow to curl your wig without heat.
Step 1: Get your wig ready
First, you'll want to collect the following tools:
Wig stand

Wig comb

Cool water in a spray bottle

Wig styling spray

Hair clips and bobby pins

Friendly-heat foam hair rollers
Take a comb and brush your wig at the beginning. It's best to use a wig brush, which is designed to remove tangles from wigs. As these combs and brushes are typically less harsh on hair, treating your wig with a gentler touch will prevent damage.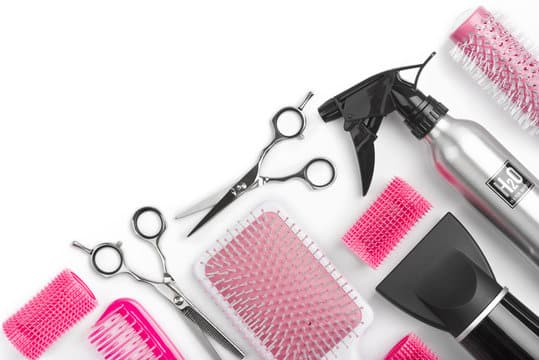 Step 2: Separate and secure the hair
Once your wig is nice and smooth, create sections of hair using clips
Pull all the wig's hair to the top of the wig stand. Section your hair into small parts. One for the top, one for each side, and two sections in the back of your hair. Make sure to keep them separated with hair clips. Leave a layer of hair as a bottom section to start curling. By curling a layer of hair at a time, you will do a thorough job.
Step 3: Roll the hair lock and repeat
In this step, you will wrap a small section of hair around one roller for a clean ringlet look. Because of the position of the rollers, either vertically or horizontally, the way in which you position your rolls will determine the type of curl.
Starting to roll the top section of your hair. The larger the section of hair, the looser the curl will be. Continue adding foam rollers to the rest of your hair.
Step 4: Remove the roller
Instead of pulling the rollers out of the wig, unwind each roller gently. It helps create nicer ringlets in the wig. For a more realistic hairdo, lightly work your fingertips through the style.
During this step, you can lightly spritz the strands with wig-holding spray as you unroll them to hold your style in place for the rest of the day.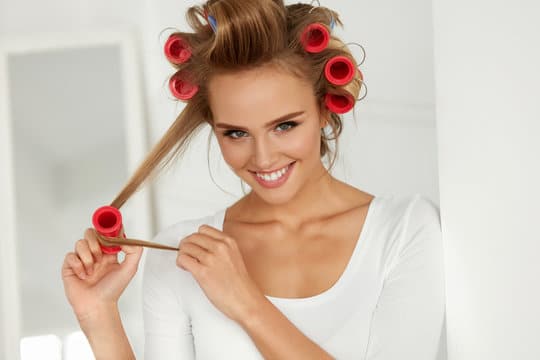 FAQs
1. Which one is better for curling? Synthetic or human hair?
As a feature of each kind, synthetic hair is made of a type of plastic, which means if it catches heat from a curling iron, hair straightener, or blow dryer, it will burn or even melt into a ball. This can be a disadvantage for people who prefer to change their appearance frequently.
In contrast, human hair can be styled in many different ways with heating tools. They are made out of real, human hair from top to bottom, which allows for almost no tangling and ensures that the extensions remain smooth and silky throughout their lifetime.
Therefore, it's a better option to pick human hair extensions for curling rather than synthetic ones.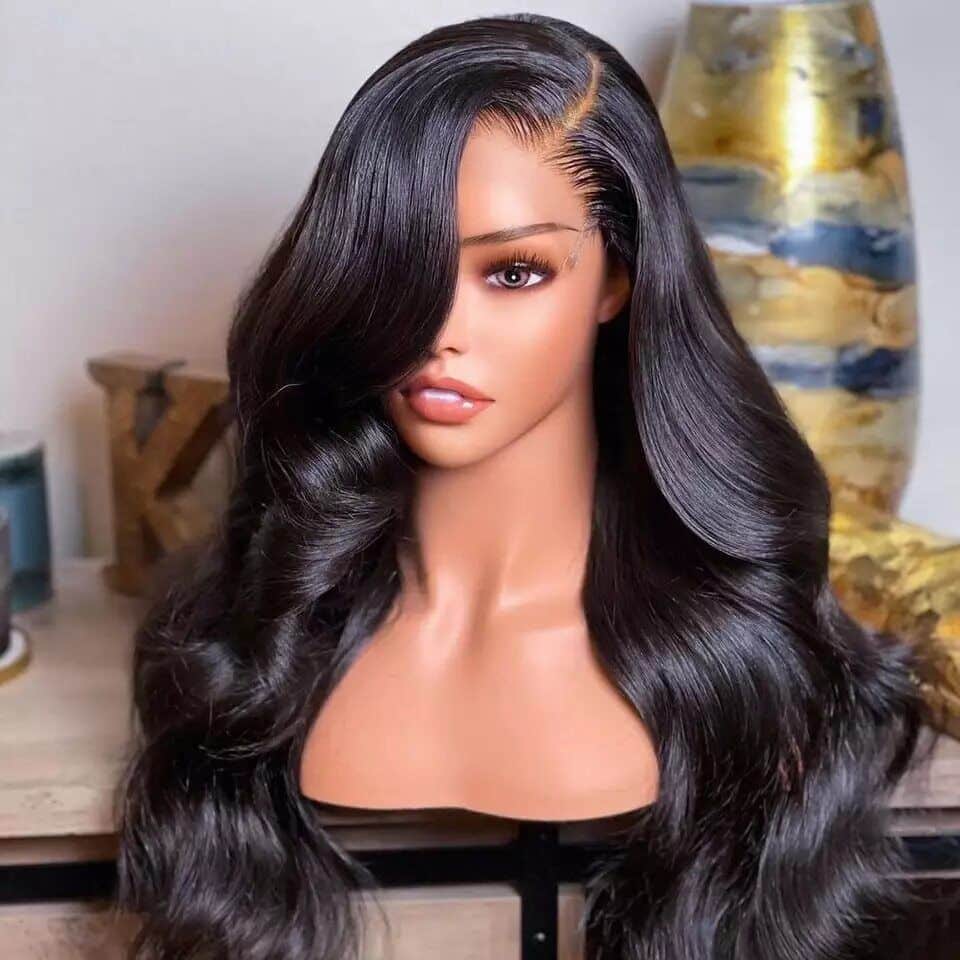 2. How can you tell if a wig is heat friendly?
It's a fact that not all synthetic wigs are created equal! To identify whether a wig is heat-friendly or not, you can look for the label, or what many retailers call a "hang tag." Most wigs will have this information printed on the tag, usually either "heat friendly" or "heat resistant."
In addition, if a wig is made out of polyester synthetic fibers or 100% human hair, it's likely to be heat-friendly.
3. How much heat can you put on a wig?
According to hair experts, a heat-friendly synthetic wig doesn't mean it can resist any heat level or condition. Heat-resistant synthetic fibers can handle as much heat as 350°F/180°C, but not any more than that.
Jen Hair recommends starting with lower temperatures. For flat irons, 250°C is high enough to create a curl. For curling irons, 180°C is a good starting point. If you are a newbie, it's much better to use a heating tool that has a temperature gauge and make sure that you keep it within the given limit.
Final thoughts
Curling your hair isn't always a seamless experience. No matter what styling tool you're using (curling irons or foam rolls), there will always be a bit of non-homogeneity. Although there are a lot of things to learn, once you practice and master these techniques, you'll be churning out beach waves and curly hairstyles like a celebrity hairstylist. 
In the end, Jen Hair has given you all the details you need to know about how to curl a wig with a curling iron or without heat, and you'll be in a good position to make the best choices when it comes to your hair extensions. Finally, do not forget to share this post with your fellow hair lovers!