It is sure that you may feel unfamiliar with the world of wigs and feel lost in seeking information related to them, especially when getting to know a lace closure for the first time. 
Jen Hair is certain that you might come across lace closure items on a lot of platforms when searching for wigs. So, do you want to delve deeper into what is a lace closure and why it's so popular nowadays? 
In this article, Jen Hair will provide you with detailed facts about what is a lace closure, and its pros & cons. Desire to know? Let's dive deeper right now!
What is a lace closure?
As the name implies, lace closures have a circular lace base with embedded hairs. The lace base is usually thin and encloses the entire front area of your head from temple to temple, right at the hairline. They are sewn in bundles or constructed to make a wig. The lace material is great because it makes it more breathable for your natural hair.
Lace closures come in a variety of sizes. The different sizes of closures are always the same as normal closures (4×4, 5×5, 6×6, 7×7…)
With the advantage of being easily installed and having a certain degree of naturalness, lace closures are popular trends that help beauty lovers conceal their hair and give it an attractive look.
Lace closure: Pros & cons
After defining what is a lace closure, you might be curious about its benefits and drawbacks. Let's take a closer look at both sides of the coin to help you make an informed decision.
1. Pros of lace closure
Natural looking
Lace closures blend extremely well with natural hair, matching your skin tone and giving it a realistic look.
The perfect option for daily looks
The installation of lace closures is quite easy within minutes, which is also very beginner-friendly.
The flexibility
Flexible as you can part it from the middle of the sides, it stays flat on your scalp, making any of your hairstyles look very stunning and gorgeous.
Affordable price
Compared to other kinds of wig material (such as silk closures and lace frontals), lace closures tend to have a lower cost.
Breathable
Because of its structure, a lace closure wig can offer good ventilation conditions, which leave your scalp and hairline breathable and lightweight.
2. Cons of lace closure
Need to tweak for better usability
Lace closures need to be bleached or dyed first because bleached buttons achieve the most natural-looking scalp.
However, the bleaching process could make the knots dry and brittle over time, resulting in breakage and shedding of the hair. Furthermore, the results can be uneven if not done correctly, and the shedding piece might eventually become too thin to wear.
How to choose lace closure
Although lace closures have advantages and disadvantages, there is one thing for sure: Lace closures are a delightful way to get creative and inspire your hairstyle and confidence. Therefore, Jen Hair is going to list exactly how to choose a lace closure according to our experience in 7 years of manufacturing lace closures:
1. Lace material
The base of the frontals can be designed using several different kinds of materials, including silk, lace, thin Skin, or monofilament.
However, most lace frontals are constructed using French, Swiss, and/or stretch lace. Each of these materials (except monofilament) is available in several different shades and colors to blend seamlessly with various skin/scalp tones, making them virtually undetectable. 
In general, a high-quality lace material needs to be durable, breathable, and have good disappearing qualities on the front hairline.
2. Hair fiber
The second important choice you'll make on how to choose lace closure. The two main options are affordable, low-maintenance synthetic hair, or more valuable, more realistic-looking human hair. In detail, there are actually multiple wig fiber types you can choose from:
Synthetic hair: Affordable price, a good option for the more budget-conscious hair shopper. Cannot be altered in dyeing, perming, or even heat styling. Without careful maintenance, it can get tangled and frizzy.

Heat-friendly synthetic hair: The hair can be styled using a low/medium heat setting and can be curled, blow-dried, or flat ironed to achieve a different hairstyle. But get tangled and frizzy easier than human hair.

Synthetic human hair blends: Wigs with a blend of human hair and heat-friendly synthetic hair. It has a more natural look than heat-friendly synthetic hair but is pricier.

Human hair: is the highest quality fiber type. Natural look, feel, and movement, and the ability to style as you would natural hair. It can last about 9-12 months with daily wear and proper care!
Knowing which hair fiber you like can help you choose a lace closure that is right for you. You may find that you prefer a synthetic wig for special occasions, but for daily use, you want to opt for a human hair wig. Having a couple of lace frontal options may be your best fit.
3. Density and length of the hair
It's important to know how dense your hair is, its length, and your curl pattern in order to determine what lace closures will work best with your hair. The hair density and length selected depend entirely on personal preference.
For hair density, it's not mandatory to start counting individual strands. Just have a general idea about whether your hair density is on the thin or thick side and ask for advice from hair suppliers.
For the hair length part, if you're confused about how to describe the hair length you want for your lace closure, you can use a wig length chart to figure out what length you desire. You can also use this to describe exactly to the hair adviser what you want to achieve in your ideal hairstyle.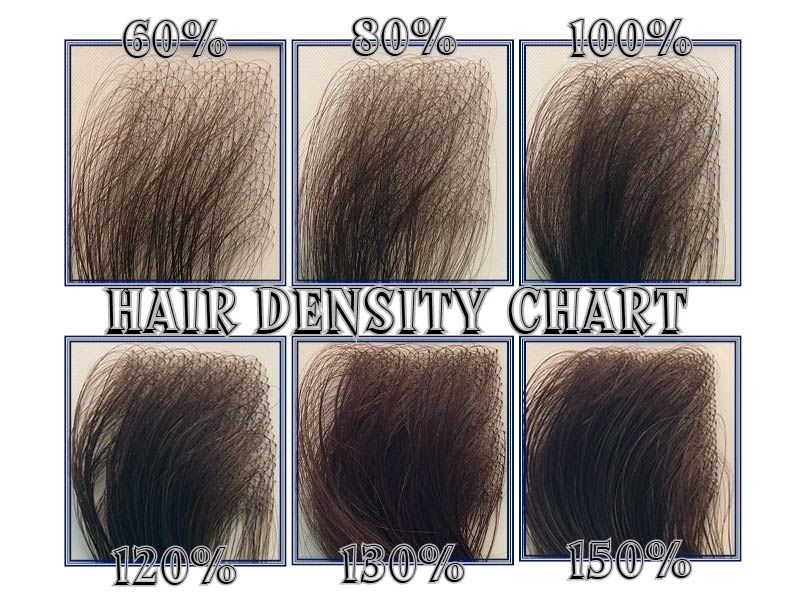 4. Lace closure size
At first, finding an appropriate lace closure size might be complicated, as there are many sizes to choose from. Actually, it's just an "easy peasy, lemon squeezy" step.
Step 1: Grab a tape measure and record the width of your forehead, from ear to ear. Then divide the measurement by half, and you have the size in width.

Step 2: For the length, still, use the same tape and measure your forehead's length. This time, divide the number by three. This should be your lace closure's length. The closure's measurement should be one-third of your forehead size or a bit less.

Step 3: Send your head size to the wig supplier so that they can customize the size to your preference.
How to wear lace closure
Step 1: Put on a wig
Tie up or braid your hair; try to keep your real hair flat; then put on a wig hat.
Step 2: Wear a lace closure
Take note that the easiest way to wear a lace closure is from the front. This will ensure the position of the wig and the direction your wig will move, the foundation you are creating, without breaking it.
Step 3: Fixed lace closure wig
Gently connect the comb of the wig to the hair, then adjust the wig strap so your lace closure and wig blend seamlessly with your real hair.
Step 4: Adjust your hairline
After fixing the wig, patiently adjust the hairline with tweezers to pull out your hair. Do not pull out too many strands at a time; just pull out a small wisp for a natural-looking result.
Since there are many different ways to wear lace closures. So, if you can't wear a lace closure after reading this article, you can ask the store where you bought it how to wear it or watch this video for detailed tutorials.
Where to buy lace closure?
For retail: Jen Hair
Thanks to high-quality hair extensions, Asian countries have become one of the main sources for hair imports. On top of the list, importing Vietnamese lace frontals is favored for many reasons. If you are a wholesale hair vendor and want to have a long-term co-operate with a reputable hair supplier company, it is worth taking a look at Jen Hair.
Jen Hair Vietnam's journey began in 2017 when the founders recognized the need for high-quality hair extensions that were not only affordable but also made from 100% human hair. Our company started on a small scale but quickly gained a reputation among customers who were seeking a trustworthy brand for their hair extension needs.
With seven years of reputation in the hair industry, Jen Hair quickly made a name for itself as a wholesale hair company with a science-first approach and in-house product development.  Our factory has more than 200 skilled workers and can provide a quality guarantee to supply up to 100 tons of hair per year. Our machinery systems have the most modern and advanced equipment imported from Switzerland and can surely produce any wholesale quantity customers demand.
As Jen Hair grew, we expanded our product line to include a wide range of hair types, colors, and textures, as well as lace closures and frontals. Our commitment to providing only 100% remy hair has remained at the core of our values, ensuring that customers receive only the best quality products.
With a strong reputation and a loyal customer base, Jen Hair is a hair company that is poised to continue its success in the years to come.
For personal use
Indique Virgin Hair Extensions: Indique is an international hair extension brand with retail stores across the United States and distributors throughout the United States, Europe, Asia, Africa, and Central America. They have over 30 years of industry experience, and we provide 100% virgin human hair that is completely natural and of the highest quality. The best part of this brand is that clients can consult with a friendly, professional expert to find the perfect lace closure for their desired look.
Her Hair Company: As one of the most reliable online-based distributors of premium Brazilian hair extensions, Her Hair Company consistently provides all of its customers throughout the U.S. with the best quality human hair extensions. This company commits to providing 100% virgin Brazilian Remy hair for all of its products. Whether you are looking for straight, wavy, body wave, or curly lace closures, know that you can always count on the products offered by Her Hair Company, Inc.
Mayvenn: Mayvenn is one of the best hair companies in the USA with excellent customer service! Using world-class technology, Mayvenn sells 100% virgin hair extensions in a wide variety of textures and colors. With a wealth of experience in the wig industry and a team of dedicated consultants, owning dreamlike hair with lace closure at an affordable price is a piece of cake when you come to Mayvenn.
Perfect Locks: Another well-known name among the top Indian hair companies is Perfect Locks, which uses ethically sourced hair. They always provide a large number of Virgin Indian Remy Hair products that exceed customers' expectations at a very affordable price.
Their selections of virgin hair, remy hair, and other hair extension types that complement your hair and the styles you want are extensive. As the main supplier of human hair in India, their objective is to increase their clients' self-assurance. Due to their natural appearance, vibrant colors, and diverse range of textures, their hair extensions have a very strong reputation.
Final thoughts
Wearing a lace closure can make you feel glamorous and make daily styling a breeze. However, they vary greatly in quality and sources, so it's important to know the terminology used to grade them if you're purchasing them on your own. 
In this article, Jen Hair has indicated to you a lot of important knowledge related to what is a lace closure. We hope that you have gotten enough information, including some suggestions and pieces of advice about lace closures, to help you make the final decisions. 
Love what we share?
It's time for you to sign up for our blog, and Jen Hair will send you all brand-new content.