Are you curious about what a side part sew in is and whether it will suit you? In this article, we will delve into various side part sew in styles, how to achieve them, and help you determine the perfect style for you. If you're eager to learn more, keep reading for all the details!
Get ready to make a statement with these stunning side part sew-in hairstyles. Let's dive into the latest trends and find your perfect look for the year ahead!
What is a side part sew in?
A side part sew in is a specific way to braid your hair so that you can easily wear a wig with a side part. Many think this hairstyle is fashionable and perfect for 2023. Others find it easier to style because it gives more volume on one side of the head, which you can twist, straighten, or curl as you like.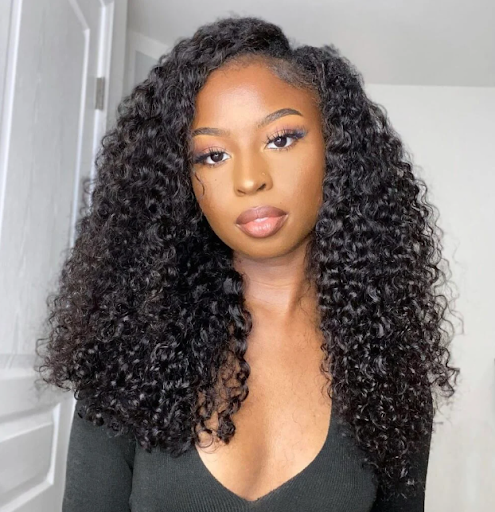 Here's how to do a side part hair sew-in:
Step 1: Start with clean hair by shampoo and conditioner to make sure your hair is fresh and clean. This is important because you will be wearing the wig for a few weeks.
Step 2: Use a comb to part your hair, with more hair on one side. This is where you will begin the braiding process.
Make small braids start from the back and near the roots. 

Twist each braid until you reach the ends. 

Keep in mind that smaller braids will make the tracks less visible.
Step 3: Put a hairnet on your head. It is best to choose a hair net that matches your natural hair color so it blends in well. The wig will be sewn onto this net, so make sure it fits your head and forehead properly.
Step 4: Use needles to sew in the wig. 
Avoid parting your hair in the middle 

Decide which side you want to emphasize. 

Sew the side part sew in weave by making slow and steady motions, starting from the back. 

Create single tracks on each side and make sure the entire unit is covered. 

When you reach the front, make the desired side part.
Step 5: If you are not happy with the length of your hair, you can cut it. Otherwise, blow dry and comb your hair to achieve your desired hairstyle.
Different deep side part sew in hairstyles
Straight side part sew in long hair
This deep side part sew in hairstyle is fun and playful, but it requires a lot of maintenance. Women who like bold hairstyles will appreciate this one because it grabs a lot of attention. It looks good on younger women who are willing to invest time in washing and styling their hair.
Deep side part sew in bob hair
If you mean business and prefer hairstyles that exude professionalism, then this particular bob hairstyle can capture your heart. It is the perfect choice for your everyday 9-5 job, allowing you to maintain a sophisticated look throughout the workday. 
This hairstyle truly shines on women who are in their 30s, as well as those who are dedicated workaholic moms. They can blend style and functionality to complement their busy lifestyles. 
Side part sew in wavy hair
These loose waves possess a feminine and flirty charm that everyone should embrace at least once. Whether you are attending a grand wedding, prom, or simply aiming to exude everyday glamor, opt for this side part sew in style. The allure of the body wave side part sew in has no bounds and can elevate your overall look on any occasion!
Deep curly side part sew in hair
Women with naturally straight hair will find great delight in this side part sew in with curls. Its remarkable length and beauty are undeniable, but it is important to exercise caution as it is easy to become frizzy. To rock this wig, it is crucial to acquire the appropriate set of haircare products that can help you maintain its stunning appearance.
Bob side part sew in with bangs
Bangs have maintained their fashionable status throughout the years, and this short hairstyle with bangs can bring a trendy vibe to any woman. Its short length creates a minimalistic and adorable charm, while the long bangs bring a touch of liveliness. Regardless of age, anyone can experiment with this sew-in hairstyle and rock it with style.
Long side part sew in ombre hair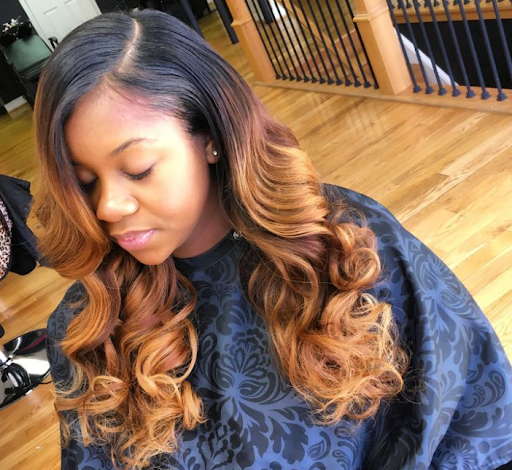 Finally, we have the stunning long ombre hairstyle, perfect for those unafraid of vibrant colors. However, it is important to note that coloring is required once the sew-in is in place, so you should anticipate an additional hour at the salon! This hairstyle has the potential to become the top choice for any woman, particularly if you have a preference for distinctive and unique styles.
Frequently asked questions about side part sew-ins
How long does a side part sew in typically last?
A side part sew-in typically lasts for several weeks to a few months, depending on several factors, such as the quality of the installation, the type of hair extensions, and how well it is cared for. Regular maintenance and touch-ups can keep the sew-in looking its best throughout its lifespan.
Can I wash and style my hair with a side part sew-in?
Yes, you can wash and style your side part sew in with closure. It is important to be gentle while washing to avoid tangling or loosening the sew-in. Use a mild shampoo and conditioner while avoiding excessive pulling or tugging on the extensions. 
Styling can be done using heat tools, braiding, or other methods, you should use heat protectants and handle the hair extensions with care to maintain their longevity.
What type of hair extensions work best for a side part sew-in?
When it comes to a side part sew-in, the best type of hair extensions are those that closely match your natural hair texture and blend with your own hair. Human hair extensions are highly recommended for a natural look and versatility in styling. Specifically, wefts or bundles of human hair can be sewn into your natural hair to provide a secure and long-lasting result for a side part sew-in hairstyle.
Can I install a side part sew-in on my own?
Installing a side part sew-in is a complex process that requires the expertise of a professional hairstylist. While it is possible to attempt it on your own, it is recommended to have a trained stylist perform the installation. They have the expertise and experience to properly position and secure the extensions.
Final thoughts,
Whether you are seeking a bold and attention-grabbing look or a more polished and professional style, these hairstyles have you covered. If you are ready to rock a fabulous side part sew in, don't hesitate to contact us. Our hair experts are here to help you achieve the perfect hairstyle and make a statement with your hair in 2023. Contact us today!