Your hair can turn orange after bleaching or dyeing. However, you can fix the orange tones using special toners and shampoos made for this purpose. And you can even easily use them at home. But what is the best blue toner for orange hair for you?
Blue toners are a simple way to get rid of the orange tones, but it is important to choose the right product for your hair. You should also follow some easy steps to get the best results. Our guide on using blue toner for orange hair will help you select the right toner so that your hair will look fabulous again in no time.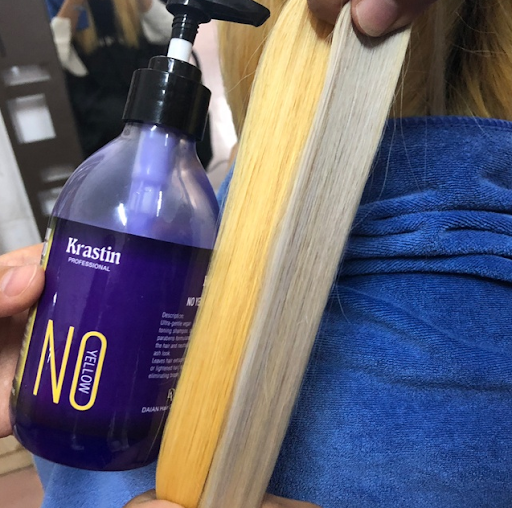 When you bleach dark hair like brown or black, it can turn orange because those hair colors naturally have red and orange undertones. This is especially true when adding highlights or balayage, as the bleached areas end up with orange undertones.
Orange tones can also occur when copper-blonde dye is left on the hair for too long or chemical buildup on naturally blonde hair.
In case your recent hair coloring session resulted in brassy tones and unwanted warmth with orange undertones, the most effective solution to correct your hair color is a blue toner. By incorporating blue pigments, this toner will counterbalance the orange tones. Blue toner and blue shampoo will add blue pigment to your hair strands. The blue color can cancel out the orange tones because blue is directly opposite orange on the color wheel.
Additionally, a blue toner or blue toning shampoo is a cost-effective alternative to visiting a salon professional  because it enable you to neutralize the warmth in your hair without breaking the bank.
Why does blue toner work for orange hair?
When you get your hair colored at a salon, the colorist will use a toner after the coloring process to fix brassy undertones. If you bleach orange hair, you can also use a blue toner or blue shampoo at home to maintain your desired look for a longer period.
Moreover, correcting orange undertones is simple with the help of a blue toner or shampoo. However, to achieve the best results, it is important to choose the right product based on your orange hair type.
Things to look for in a blue toner for orange hair
Choosing the right blue toner for orange hair is crucial for counteracting orange undertones in your hair.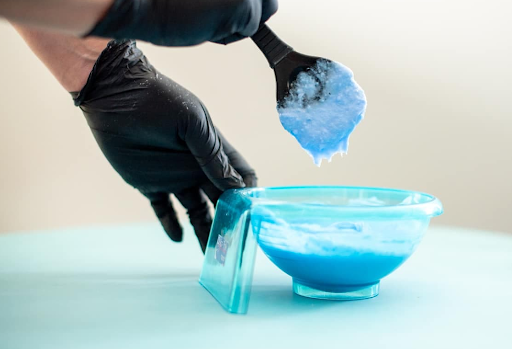 There are three important factors to consider for DIY blue toner for orange hair:
1. Intensity: Ensure that the intensity of your blue toner matches the intensity of the orange tones in your hair. If your hair is very orange, a blue toner is more suitable. However, if you have lighter copper undertones, a blue toner might be too strong. Then, it is better to opt for a blue toning shampoo instead.

2. Shade: Before applying a blue toner for orange hair, make sure that your undertones are genuinely orange. If your hair has yellow-orange tones, a purple toner or purple toning shampoo is more effective.

3. Cause: Determine whether bleaching your hair caused it to turn orange or if you left a copper blonde dye on for too long. If you simply want to tone down the copper color, a blue shampoo is an ideal choice. However, if your goal is to completely eliminate intense orange tones, a blue toner for orange hair is the better option.
You should consider the desired duration of the toning effects as well. If you prefer a temporary cool tone for your hair, a blue toning shampoo is fine. However, if you want longer-lasting results, it is better to use a semi-permanent or demi-permanent toner. 
Demi-permanent blue toners for orange hair often provide color for around 28 washes, while semi-permanent toners last for approximately 6 washes. In the case of a semi-permanent toner, you need to enhance the results by using the toning shampoo.
Best blue toners for orange hair
Wella Blondor Pale Silver – Best blue toner for orange hair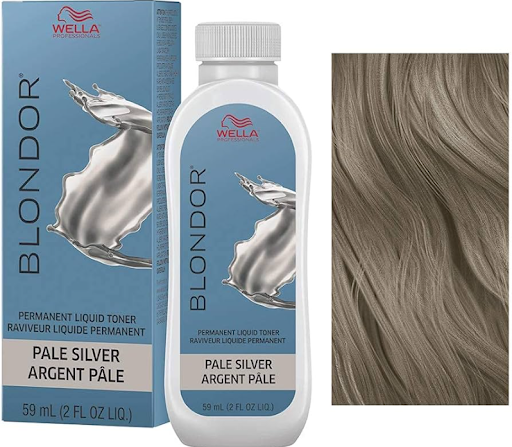 For individuals with light-colored hair with yellow or orange tones, this toner will impart a stunning platinum or silver-blonde shade.
Moreover, you don't need to worry about excessive color depositing. This makes it an excellent choice, especially for those who lack experience in toning orange hair with blue toners. You can minimize the risk of a bluish hue if you accidentally leave it on for an extended period.
Matrix Total Results Brass Off – Best blue toning shampoo
Matrix Total Results Brass Off is a great blue toner for orange hair designed to tone and neutralize orange tones in hair. It contains blue-violet pigments that help counteract the brassiness. This shampoo is particularly suitable for hair that is colored in light brunette or dark blonde shades.
In addition, using this shampoo is easy. Simply replace your regular shampoo with Matrix Total Results Brass Off. Apply the shampoo to your hair and massage it using gloved hands. Leave it on for 3.5 minutes before rinsing it out. For the best outcome, it is recommended to use a conditioner from the same product range.
Schwarzkopf Blond Me Blonde Toning Creative Pastel Tones Steel Blue
Schwarzkopf Professional Blond Me Blonde Toning is an exceptional toner suitable for all shades of blonde hair to counteract orange tones. It imparts a soft pastel blue shade to your hair and neutralizes brassy tones. Additionally, the bond-enforcing technology in this toner helps enhance the shine and softness of your hair.
To apply this blue toner for orange hair, you need to mix it with a 7-volume or 20-volume developer before application. The toner takes a maximum of 30 minutes to process, then rinse thoroughly. Afterward, you will shampoo and style your hair as you would.
While this toner works well on orange tones, its results on yellow tones can vary. For yellow hair, it is recommended to use a purple toner for more effective toning.
Manic Panic Virgin Snow Hair Toner Amplified – Best value blue toner
You can easily apply this smooth and creamy toner without the need to mix it with a developer. It boasts a formula composed of 100% natural ingredients and free of ammonia. Not only does it tone your hair, but it also acts as a nourishing deep conditioning mask for color-treated hair. Furthermore, it is gentle enough for curly hair, as it is sulfate-free.
This blue toner delivers an icy blonde finish that you can apply all over your hair or target specific sections. Like all other Manic Panic colors, this toner is vegan and cruelty-free, as it is never tested on animals.
Redken Color Extend Brownlights Blue Shampoo And Blue Conditioner – Best blue toner for lifting and toning
Redken Brownlights blue shampoo and conditioner are perfect for various types of lightened brunette hair, including balayage, highlights, and natural brunettes. These products are formulated with color deposit technology, so they add blue pigment to your hair with each wash. This eliminates brassy tones and helps maintain a cool look for a longer time.
You can easily incorporate these products into your haircare routine by using them instead of regular shampoo and conditioner. From the very first use, you will notice a difference in your hair's appearance. Moreover, regular use provides ongoing protection against brassy tones and preserves your desired look.
How to use blue toner on orange hair
Step 1: Dampen or towel dry hair
Before applying your preferred toner, ensure your hair is wet. Then towel dry it until it reaches approximately 70% dryness. This technique allows you to identify the areas of your hair that require treatment for a more uniform outcome.
In the case of a demi-permanent or semi-permanent toner, it is necessary to mix it with a developer before application. It is essential to follow the instructions and recommended quantities provided on the packaging of your chosen toner. This ensures that you achieve the desired results as expected.
Step 2: Allow the blue toner for orange hair to process
Apply the blue toner with a color brush

Target the areas where you observe orange brassy tones, whether it's distributed throughout your hair or limited to specific sections. 

Ensure thorough saturation of your locks with the toner mixture. 

Set a timer based on the recommended processing time for your specific toner. It could range from 5 to 10 minutes or longer.
To optimize the toning process, consider wearing a shower cap to retain heat. This aids in better penetration of the toner into the hair strands.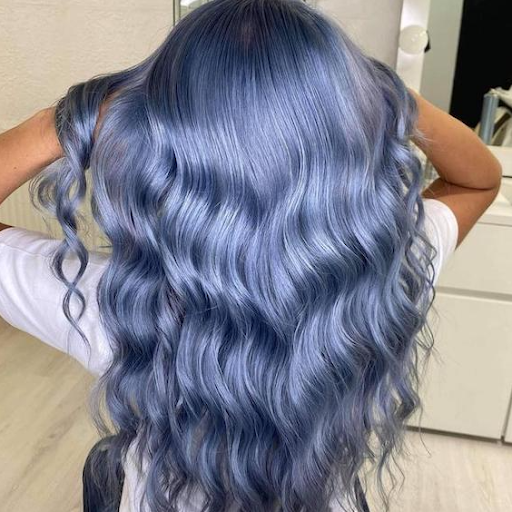 Step 3: Wash with a moisturizing shampoo and deep conditioner
Once the timer goes off, check if you are satisfied with the color of your hair by using a towel to wipe off the toner mixture from a few strands of hair. If the hair still appears orange, you need to leave the toner on for a few more minutes.
When the toner completes its processing time, thoroughly rinse it out using warm water. You can proceed with your regular shampoo and conditioner routine and conclude with a cool water rinse. This helps to seal the cuticles and promote shine. If possible, allow your hair to air-dry. In case you are unable to wait, use a heat protectant with the coolest setting on your blow dryer to minimize stress on your hair.
Final thoughts,
Orange hair after bleaching dark hair is a common issue. Thankfully, a blue toner or shampoo can effectively neutralize those brassy undertones and restore a more balanced appearance to your hair. Moreover, you can easily use them in the comfort of your own home.
Knowing how to select and apply a blue toner for orange hair, you will be able to rejuvenate your locks and have them look fabulous in a short amount of time!