Are you ready to rock a bold and eye-catching look? Purple hair for dark hair can be the perfect choice to elevate your style. 
In this post, we will share the best tips, tricks, and product recommendations to help you navigate the world of purple hair dye for dark hair and achieve the color results you desire.Let's dive in!
Pre-dyeing steps for achieving purple hair
Conduct a patch test
Before diving into dyeing your hair purple, it is essential to take a precautionary step by conducting a patch test. This simple test helps prevent any potential allergic reactions and gives you an idea of how long you should leave the dye. 
All hair dyes come with instructions for conducting a patch test. To perform the test, apply a small amount of the hair color on your inner elbow and wait for some time. If you experience any irritation or itchiness, do not to use the dye on your hair. 
Remember, whether you are using a semi-permanent or demi-permanent dye, never skip the patch test. Your hair's health and safety come first!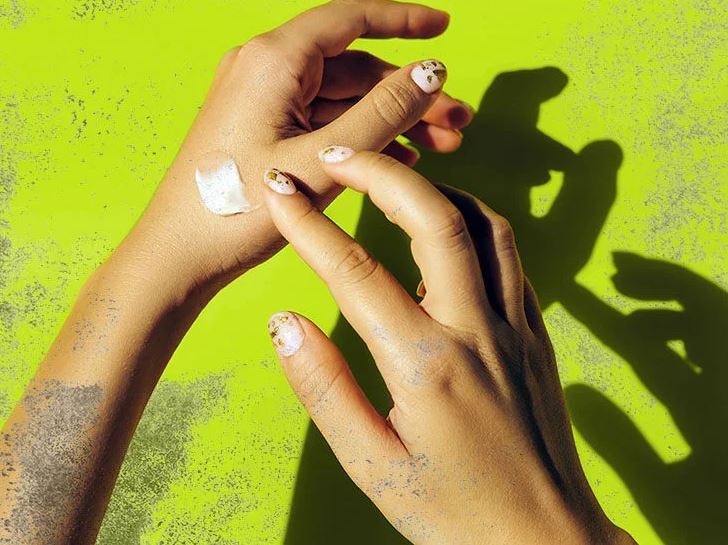 Determine your hair's natural color
Before embarking on the journey of dyeing your hair purple, it is crucial to understand your natural hair color. Bleaching your hair lightens its original shade, which directly affects the end result of your hair color. Take the time to examine your natural hair color carefully before proceeding. 
Luckily, most hair dye brands provide a color chart that showcases how different hair colors will react to their purple shade. By familiarizing yourself with your hair's starting point, you can achieve the desired purple hue. 
Best purple hair dye for dark hair – get your hair ready
Prior to dyeing your hair purple, you should gather key hair care products: a clarifying shampoo and a gentle conditioner. A clarifying shampoo plays a vital role in removing stubborn residue and buildup from your scalp, ensuring a clean canvas for the dye. 
After using the clarifying shampoo, follow up with a mild conditioner to provide nourishment and hydration to your hair. By incorporating these essential hair care steps, you will set the stage for a successful and beautiful purple hair transformation.
Best hair dye brands for purple hair dye for dark hair
Arctic Fox Semi-Permanent Hair Color Purple Af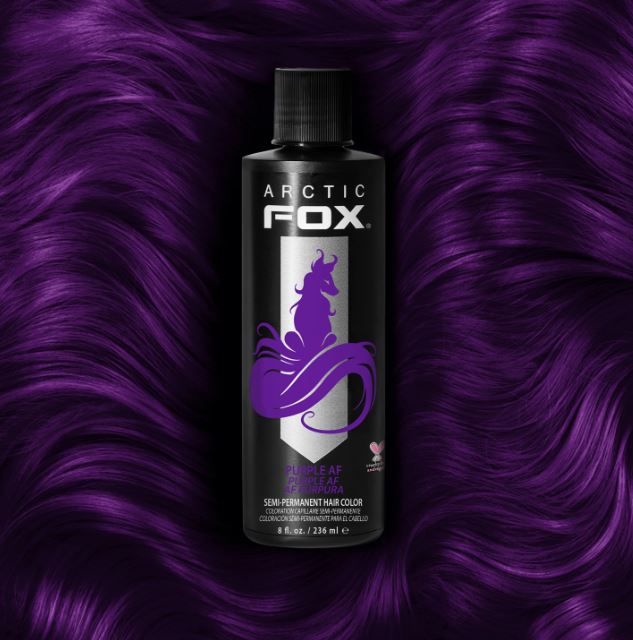 Experience months of stunning, vibrant, or richly intense hues with the versatile purple color of Arctic Fox. This remarkable hair dye offers a multitude of benefits, including no harmful chemicals that could harm your hair, compatibility with a range of light to dark hair shades, and the ability to blend with other shades for a customized color.
Notable features of Arctic Fox's Purple AF include its gentle formula suitable for frequent use, the exclusion of harsh chemicals, and the use of vegan ingredients. Like a magical elixir for your hair, this purple dye from Arctic Fox not only delivers a fabulous, long-lasting purple shade but also leaves your hair irresistibly healthy and well-nourished.
Lunar Tides Semi-Permanent Hair Dye In Orchid Purple
Lunar Tides Semi-Permanent Hair Dye in Orchid Purple promises long-lasting and intensely pigmented results while simultaneously nourishing your hair.
This exceptional hair dye offers a variety of benefits, including its highly pigmented formula that delivers vibrant and enduring colors. Additionally, it deeply conditions your hair, ensuring optimal health and vitality.
Highlighted features of the Lunar Tides Semi-Permanent Hair Dye include its long-lasting semi-permanent formulation, allowing you to enjoy your desired shade for an extended period. Furthermore, it contains rejuvenating ingredients that contribute to hair health. Moreover, this product holds its vegan and cruelty-free status.
Lime Crime Unicorn Hair Dye Full Coverage, Semi-Permanent Color
Catering to the desires of DIY enthusiasts, Lime Crime Unicorn Hair is designed for individuals seeking to flaunt vibrant colors from their own homes.
This remarkable hair dye offers a host of benefits, including moisturizing the hair, enhancing shine, and nourishing the hair while imparting color. Its formula ensures a strong and vibrant color payoff for an eye-catching result.
Highlighted features of Lime Crime Unicorn Hair include its exclusion of harsh chemicals such as PPF and ammonia, making it a safer choice for your hair. It is also DIY-friendly for easy application at home. Furthermore, it also boasts a vegan and cruelty-free formulation.
If you are eager to embark on an adventure of purple hair dye for dark hair, Lime Crime Unicorn Hair could be the perfect opportunity. 
Manic Panic Dye-Hard Temporary Dye In Purple Haze
If you crave a temporary and playful transformation, the Manic Panic Dye-Hard Temporary Hair Color Styling Gel in Purple Haze is an ideal choice. Its enchanting ability to wash out completely after just one shampoo makes it truly magical.
This hair styling gel offers a range of benefits, including the option to mix it with other colors, providing endless possibilities for customization. It serves as a temporary hair dye that swiftly washes off, so it is a convenient choice. Furthermore, it is suitable for all hair types and colors.
Manic Panic Dye-Hard Temporary Hair Color Styling Gel includes its practical squeeze tube packaging for effortless application. It is also free from harsh chemicals, a safer option for your hair. Additionally, this product also upholds its vegan and cruelty-free status.
Ion Intensive Shine Permanent Liqui-Creme Hair Color Kit In Plum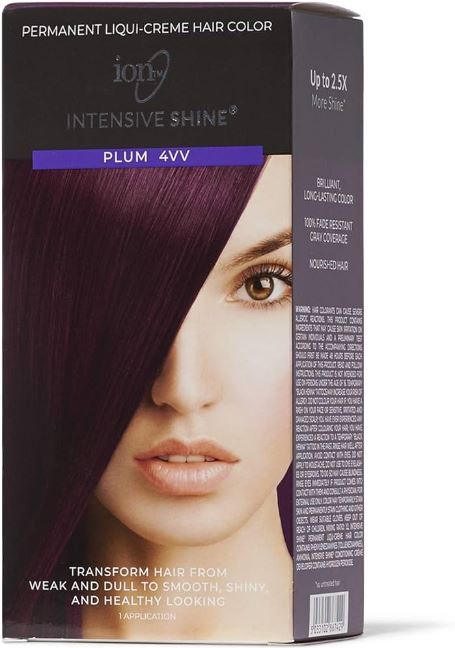 Let's discover a luxurious purple hair dye for dark hair that goes beyond mere coloring, providing your hair with a complete transformation and revitalization.
The array of benefits offered by this premium hair dye includes the enhancement of shine, the delivery of a long-lasting and beautiful color, and the nourishment of your hair with natural oils.
This product has its exceptional longevity, ensuring your desired shade endures for an extended period. Moreover, it adds vibrancy to your hair with a radiant and captivating appeal. Additionally, it comes as a complete kit, equipped with all the necessary materials for a seamless DIY hair dye experience.
Embrace the opportunity to flaunt a stunning purple-reddish hue that exudes an irresistible shine!
How to use purple hair dye for dark hair
Step 1: Select the appropriate hair color
Selecting the right hair color is crucial to achieve your desired shade. There are different types of hair colors available, and below is a breakdown of each below for you to make an informed decision:
Permanent hair color: These dyes have a longer-lasting effect as they contain ammonia, which raises the pH level of your hair. The lifted cuticles allow the color to penetrate the inner part of the hair, known as the cortex.

Semi-permanent hair color: With less ammonia and reduced harm, semi-permanent dyes are a popular choice. They penetrate slightly deeper into the cortex and last for up to six hair washes. This type of hair color is suitable if you want to dye your dark hair purple without bleaching to minimize potential damage.

Demi-permanent hair color: Demi-permanent dyes use oxidation dyes and an alkaline agent other than ammonia. They are mixed with a low-volume developer to facilitate easy color penetration into the hair shafts.
Step 2: Choose the ideal shade
To ensure that the purple hair color suits you, it is essential to select a shade that complements both your skin tone and natural hair color. By choosing a purple hue that harmonizes with these factors, you will achieve a look that enhances your overall appearance. 
You should consider your unique combination of skin tone and natural hair color to find the perfect match and create a stunning and flattering result.
Step 3: Prepare your hair
A few days before coloring your hair, it is recommended to wash it with a mild shampoo. However, you should avoid washing your hair immediately before the coloring process. This is because washing your hair right before dyeing can strip away natural oils, leaving your tresses more vulnerable to damage from the hair color. 
Step 4: Divide your hair into sections
For easier handling during the coloring process, divide your hair into four sections using hair clips. This division will allow you to work on your hair more efficiently. 
Additionally, to prevent staining your skin, apply a thin layer of petroleum jelly on your ears and neck. This protective barrier will help shield your skin from any potential hair dye stains.
Step 5: Thoroughly mix the hair color
To ensure proper mixing of the hair color solution, refer to the instructions provided on the color package. These instructions will guide you on how to mix the solution correctly. If the hair color is meant to be applied directly, carefully pour the contents into a bowl for easier application. 
Step 6: Apply the hair color to your hair
Put on the gloves and use an applicator brush to carefully apply the purple hair dye for dark hair. It is important to work with small sections at a time to ensure that every strand is covered. 
To guarantee even application, consider setting up two to three mirrors that allow you to check all angles of your hair. This way, you can easily identify any areas that require additional color and ensure that you achieve a consistent result.
Step 7: Allow sufficient time for the color to set
After completing the hair color application, put on a fresh shower cap. Let the dye remain on your hair for approximately 30 minutes, or follow the instructions provided on the package for optimal color setting. This waiting period allows the color to fully develop and adhere to your hair, ensuring long-lasting and vibrant results. 
Step 8: Gently wash your hair
Rinse your hair thoroughly with lukewarm water to wash away the hair color. After applying the color, you will start with a conditioner instead of shampoo. This helps preserve the vibrancy and longevity of the hair color. Gently massage the conditioner into your hair, allowing it to nourish and protect the newly colored strands. Avoid using shampoo immediately after coloring to prevent premature fading of the color.
Step 9: Pat dry your hair with a towel
After coloring your hair, it is best to avoid using heat tools such as hair dryers. Instead, gently pat your hair dry using a towel. Allow your tresses to air dry naturally, embracing the opportunity to showcase your newly colored hair. By avoiding heat styling, you minimize the risk of heat damage and help maintain the vibrancy and health of your freshly colored locks.
Key considerations for purple hair dye for dark hair
Prioritize hair conditioning
Prior to coloring your hair, it is best to engage in a thorough hair conditioning treatment either at a salon or at home several days in advance. This practice ensures that your hair retains moisture and enhances its manageability. Additionally, it serves as a remedy for any potential hair damage or moisture depletion during the hair coloring procedure.
Minimize hair washing frequency
To prolong the longevity of the purple color in your hair, minimize the frequency of hair washing. By reducing how often you wash your hair, you can preserve the dyed purple color.
Opt for color-safe products
It is advisable to avoid using hair care products that contain harsh chemicals. Whether it is shampoo, conditioner, hair spray, or gel, ensure that you opt for color-safe formulas. This precaution is essential as utilizing such products can contribute to the longevity of your hair color.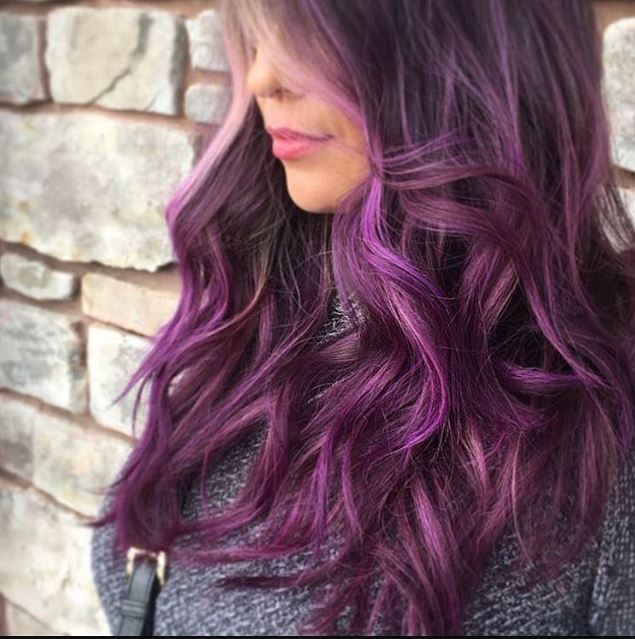 Shield your hair from sun exposure
To prevent rapid fading of your hair color, it is important to shield your tresses from UV rays. Ensure to cover your head using a hat, cap, headwear, or scarf, as this will help maintain the vibrant shine of your purple hair for an extended period.
Steer clear of chlorinated water contact
When exposed to chlorinated water, your colored hair can sustain damage. To safeguard your hair from the potential harm caused by chlorine, consider wearing a swimming cap or applying a hair product specifically designed to protect against chlorine when you swim in a pool.
Final thoughts,
Purple hair dye for dark hair can be an exciting and transformative experience. This guide of Jen Hair has provided valuable insights and tips to help you achieve the best results. Remember to prepare your hair properly, choose the right product for your hair type, and follow the instructions carefully. Additionally, the product recommendations mentioned in this guide can serve as a great starting point, offering quality options that deliver vibrant and long-lasting purple hues on dark hair. 
Whether you are looking for a subtle tint or a bold statement, with the right techniques and products, you can confidently embark on your purple hair journey. Enjoy the process and embrace your new, colorful look!