Is your thin hair feeling lifeless? Have you ever thought that you would need to deal with a lifetime of limp locks and stick-to-your-forehead bangs?
Fortunately for those of us who have the same struggling situation, finding the right extensions for thin hair can create the illusion of a fuller head of hair. But how do you find the right extension technique without getting damaged and causing hair loss? Which hairstyle is suitable to encourage a bouncier effect?
In this article, Jen Hair is here to help you find out the best extensions for thin hair. Keep scrolling to see how to add bombshell volume to your thin hair.
How to choose the best hair extensions for thin hair?
There's no stereotype that tells you to sport a certain style just because your hair is thin or thinning. Pick whatever hairstyle you feel comfortable with, but if you're in the market for a style that will create the appearance of fullness, you definitely need to acknowledge how to choose the best extensions for thin hair.
In the latest post, Jen Hair has already discussed the secret to choosing the best extensions for thin hair (lightweight feeling, desired hair look, needs)—but there's another factor that you will need to consider more carefully: the natural blending effect between your extensions and real hair.
To make things easier, we've put together a little guide on the best extensions for thin hair that magically add volume to it.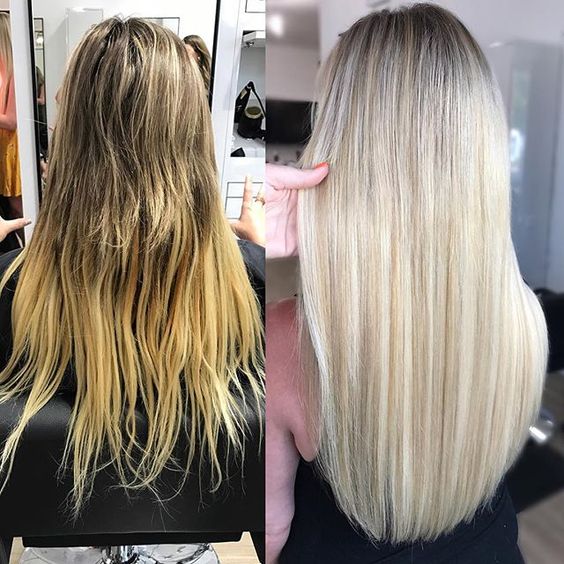 Tip #1: Select extensions that can blend naturally with your real hair.
You see, naturally thin hair needs to blend well with your extension's density and be shaped to encourage more bounciness and volume. Due to the phenomenal growth of the hair extension market, wearing hair extensions without being noticed by anyone is the bare minimum for beauty lovers.
However, without the right technique, no amount of styling, curling, or pulling will give it the fuller look you want. Furthermore, you might need to consider hair color, length, and cuticle structure to find the best extensions for thin hair. 
Tip #2: Thickening is the prioritized choice.
It's a fact that choosing the best extensions for thin hair is not as easy as it might sound. Besides choosing the appropriate extensions that can hide within your natural hair, you will also need them to match your hair's thickness.
To understand how thick the hair extensions are, just check the weight (grams) of the set. The heavier the weight, the thicker your extensions will be. For thin hair, you'll need to choose the right amount for volume and length. It can be difficult to change your hair into various styles if you choose an extension that doesn't suit the thickness or density of your hair.
Tip #3: Go for remy hair 
As we emphasized, the more natural the extensions look, the more glamorous your appearance will be. That's the reason why hair experts would recommend customers choose remy hair (the highest quality of human hair extensions).
In addition, remy hair blends more easily with natural hair than synthetic options. Remy hair will be a valuable choice for you to have a fresh look without getting tangled easily like synthetic hair. This type of hair not only ensures that every strand of the hair is made from roots to tip but also allows for easy coloring, heat styling, chemical processing, and less change in hair quality. A plus point of remy hair is its long shelf life, usually 2 to 3 years, or maybe longer if you maintain and take good care of it.
The 3 best extensions for thin hair
While in the past, hair extensions were the biggest fear of thin hair because they were likely to damage hair and lead to breakage, this is no longer the case.
Currently, as many types of hair extensions are available to suit a large number of customers,  there are several fantastic ways to replicate the appearance of your natural locks. Based on the characteristics of each type of hair extension, Jen Hair would like to recommend the top 3 best extensions for thin hair:
1. Tape-in extensions
Tape-in extensions are the perfect way to add luxurious volume and length to your hair. Furthermore, you can even pull off a high ponytail without the extensions showing, as the extensions are painless, non-damaging, and flexible.
Since tape-in extensions aren't bulky, the installation will appear very natural, which means they're the least likely to be noticed by people with fine or thin hair. Tape-in hair extensions are also lightweight and have a simple installation and removal process.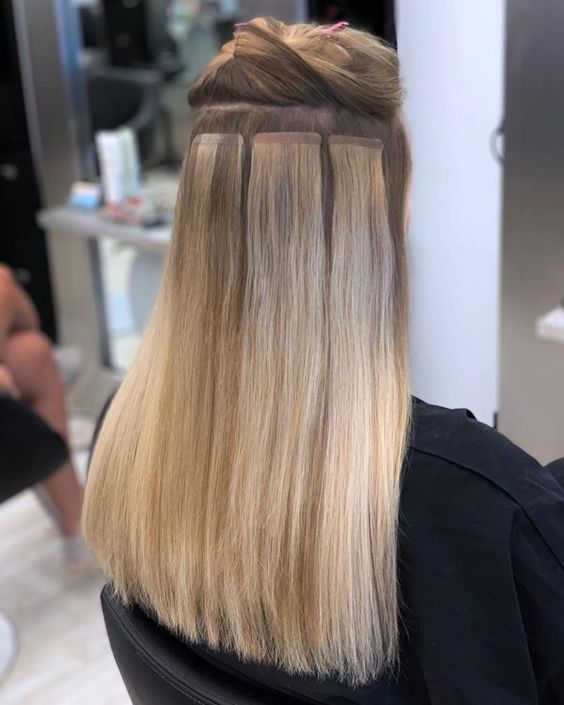 2. Hand-tied extensions
Because of the lightweight nature of the weft, hand-tied extensions are another great option for thin hair. As the hand-tied weft is a super flat weft, it won't overly strain your scalp or each individual hair strand.
Hand tie extensions can be done without glue or heat, which are damaging factors for your real hair. Additionally, hand-tied wefts are thinner than machine wefts, and they are manufactured according to your needs.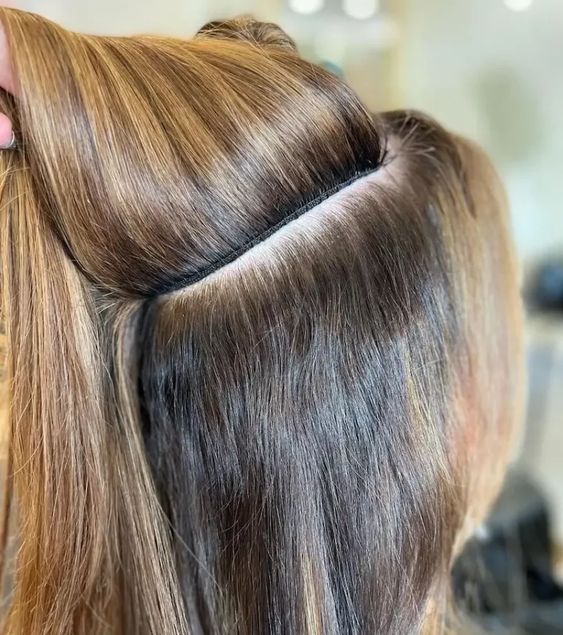 3. Halo hair extensions
If you're looking for a quicker, easier way to make your hair appear thicker while also making it simple to remove it yourself, halo hair extensions are the best option.
Professional hairdressers often treat halo hair extensions as a headband for your hair. Its design is extremely simple but absolutely effective, with an invisible wire in a variety of lengths. This extension connects the strands of hair with a hold-tight structure. So if you install your halo hair extensions properly, you won't ever have to worry about them falling off.
Moreover, halo hair extensions are the queen of parties and conventions. It only takes you 5 to 10 minutes to have your dream hair with halo extensions. The steps are extremely quick. You should refer to this article: How to wear halo hair extensions? a 3 steps guide to follow.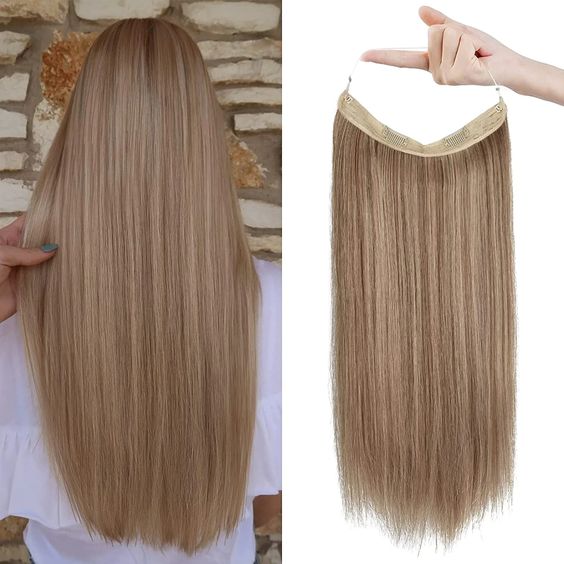 FAQs
1. Are hair extensions OK for fine, thin hair?
The truth is, good hair extensions won't damage your hair, but a bad application and/or poor maintenance will. To conclude, good hair extensions for thin hair need to meet these four criteria:
Safe for your real hair: If you experience any pain or discomfort, head back to your stylist to have your extensions repositioned. With the right application technique, hair extensions that are of good quality will not harm your natural hair.

Lightweight feeling: Choosing a hair extension with a small weight will minimize the force of pulling the hair down.

Correct installation and removal: Depending on the extensions, you may even be able to have your stylist remove, clean, and reposition them. If that's the case, well-maintained extensions can be worn for up to a year!

Good hair quality: Good hair extensions aren't cheap, and cheap hair extensions aren't good. If you go with high-quality hair extensions, have a hairstylist help apply them correctly and look after them well.
2. What type of hair extensions are best for thin hair?
While not all types of extensions are suitable for thin hair, the top 3 hair extensions that we have mentioned above are extremely safe and thin hair-friendly.
Tape-in extensions

Hand-tied extensions

Halo hair extensions
3. How many rows of extensions do I need for thin hair?
According to Maggie Perry, an extensions specialist at Blow Beauty & Extensions in Colorado Springs, "How many rows of extensions are needed for thin hair will depend on what you desire".
If you just want to add a little more volume to your hair and are looking for a cost-effective, easy-maintained solution, one row of extensions is suitable.
While one row of extensions will perfectly add more thickness to your current length, two rows of extensions are the most popular package. Two or three rows of extensions will absolutely transform your hairdo, adding a lot of length and fullness.
However, the more rows you add, the higher the maintenance will be. Ask for advice from your stylist and consider these factors to find out the right number of rows for you.
4. How do you hide thinning hair with extensions?
There are three simple tricks to hide thinning hair with extensions:
Adding weft hair: If you just want a natural hair look that nobody will notice that you're wearing hair extensions, adding some weft hair to cover the thinning area instead of the full headset is also a lightweight and convenient option.
Disguise with dry shampoo: Dry shampoo absorbs excess oil and adds bulk and volume to hair, which is a blessing for adding volume and hiding thinning hair with extensions.
Curl them all: The last trick to hide thinning hair with extensions is to curl them. The curling effect and shine of the hair extensions depend on their condition, so make sure your hair extensions are heat-friendly, or use human hair extensions for the best results.
In order to learn more about how to curl extensions, you can read this post.
Final thoughts
Finally, if you're a thin-haired gal, be sure to check out the extra thick hair extensions for that ultimate voluminous head of hair!
So when you are going to have your new hair extensions, you can present one of our recommendations about the best extensions for thin hair that will have you saying bye-bye to lifeless locks and hello to major volume. These looks guarantee your thin hair looks thick and full—and no one will be the wiser. Trust us: Your hair will thank you later.
Jen Hair hopes this article has helped you discover some great options to achieve your dream come true hairdo. Don't forget to follow our latest articles, or are there any other topics you would like us to write about? Post a comment below; we'd love to hear from you!