If you have short or thin hair, and you want to look like your idol, then you need perfect hair extensions. However, not all hair extensions are suitable for thin hair. If you choose the wrong type of hair extension, it is easy to make your sensitive hair more susceptible to damage and possibly thinner. But don't worry,  Jenhair will show you how to choose the best extensions for thin hair right now.                                                           
How to choose the best extensions for thin hair?
Based on the biggest weaknesses of thin hair, we can consider important criteria when making the decision to choose the best hair extension. In addition, you should also consider your needs and personal preferences. Here are some criteria we give you suggestions on how to choose the right hair extensions for thin hair:
Weight problem:

you should choose hair extensions that have a total weight or curls that weigh less than your natural hair.




Thin hair is hair that has little hair or hair that is too thin. That's why weight is the biggest weakness. Choosing a hair extension with a small weight will minimize the force of pulling the hair down. As a result, thin hair extensions will become easier and have a longer life. Honestly, I think the issue should be considered the most because it will ensure your hair is not damaged after doing hair extensions.

Style of hair extensions:

you should choose a type of hair extension to ensure the simplest possible removal and removal of hair extensions.




Thin hair is very susceptible to damage compared to other types of hair substances. These harmful effects often come from the process of wearing hair extensions on thinning hair. In the process of styling and beautifying your hair, you will have to exert a lot of force on your real hair and scalp through manipulations from installation to removal. That's why we need hair extensions that support this process as much as possible.

Your needs:

Understanding your own hair characteristics and your desires.




To choose the best fit, it must really connect with your existing hair. For example, if your hair is thin and short, there will be another option if you have long and thin hair. Based on the characteristics of real hair, it will be optimal to hide hair extensions in thin hair. The desired factors I want to mention here can be: prioritizing styling, prioritizing cost, prioritizing the longevity of hair extensions, prioritizing disassembly every day, prioritizing long-term hair extensions, etc.
Best extensions for thin hair
Currently, there are many types of hair extensions to suit a large number of customers. We have selected three types of hair extensions that are best suited for thin hair. They are selected based on How to choose the best extensions for thin hair we mentioned earlier in the article. In this section, we will clarify the characteristics of each type of hair extension so that you can be objective:
1.
Tape-in extensions
Tape-in extensions are wigs that are applied like a piece of duct tape. Usually, two patches are sandwiched between a section of your hair. It will be better for thin hair if you use one-sided glued hair extensions.The patches are easy to apply and blend into the hair.
This type of extension is very popular due to its lightest weight compared to other hair extensions. Therefore, the effect of gravity on the real hair roots is minimal. It helps to avoid hair loss.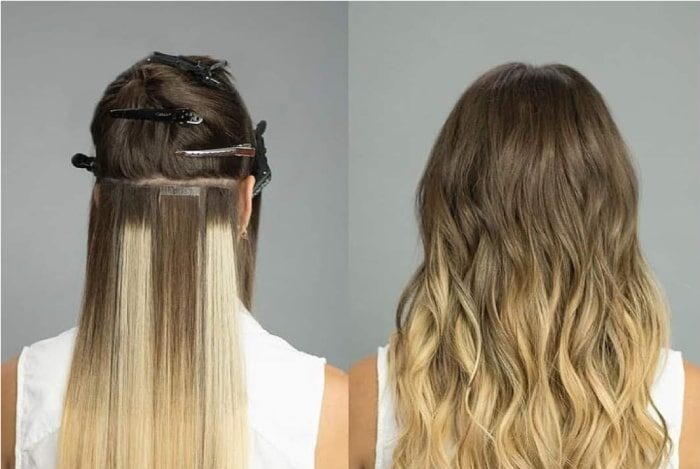 2.
Hand-tied extensions
Cosmetologist Brittany Johnson explained that "Hand-tied extension is a method where a stylist attaches beads onto a row of a client's natural hair, similar to the beaded weft method".
When it comes to clip in or tape in extensions, you can install them by yourselves at home because it's quite easy to process. However, when it comes to hand–tie extension, you need to find a hair technician.
"A stylist that is certified in this method will understand how to properly blend your hair, how many wefts you'll need, and the right takedown method. Leaving it to a pro will ensure that they not only look good and last longer, but it'll keep your hair healthier by having them done the right way." Johnson advised.
This dedicated process is a truly great idea for those who own thin hair and want to add more volume and length to it. It won't put too much tension on each hair strand as well as on your scalp. Hand tie extensions can be done without tapes, glue, and heat, which are damaging factors for natural hair. Additionally, hand-tied wefts are thinner than machine wefts and they are manufactured according to your needs.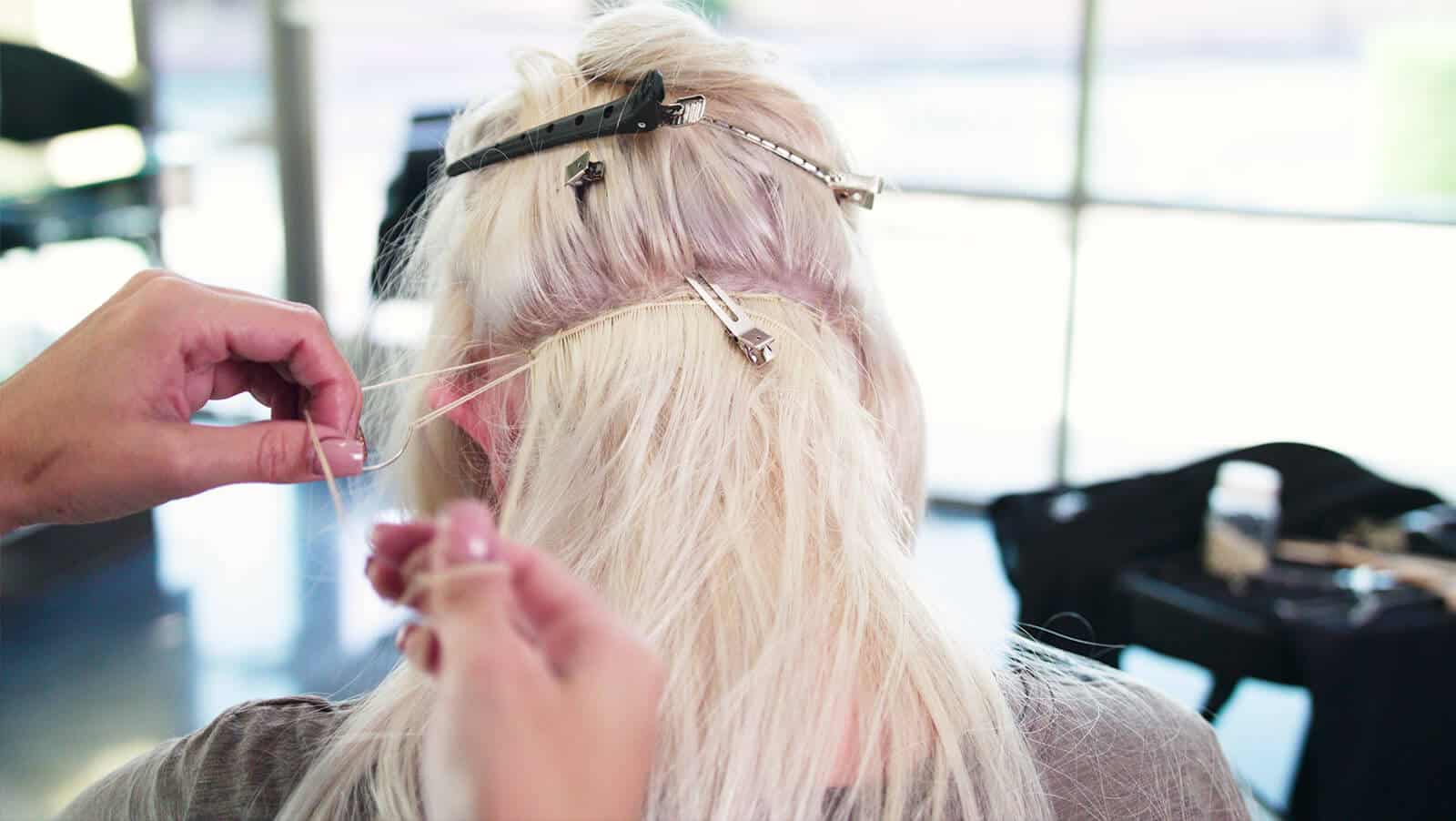 3.
Halo hair extensions
Halo extension hair is one of the easy and convenient hair extensions that are worth considering for anyone with thin hair. It looks quite like a hair band. 
The hair extension is spread out with a thin flatness and is fixed with a band so that it can be fixed on the hair you have braided. The horizontal length of the halo hair extensions can be changed to suit each person's head circumference. It's convenient, isn't it? You can use the hair on the top of your head to cover the halo extension. When removing halo hair extensions, only 1 quick removal is required.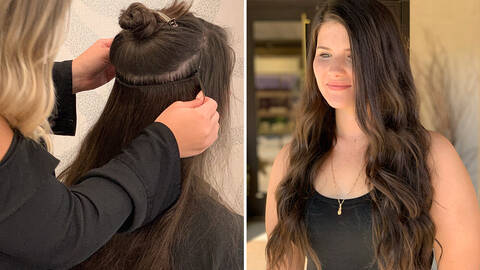 3 types of extensions to avoid for thin hair
1.
Micro fusion extensions
Micro fusion is also known as "hot fusion" extensions because heat is required when installing. Hair technicians will use an application tool to melt the keratin tip attached to each bond to stick it to your hair strands.
This is among the most delicate methods to extend your hair length and thickness. Microfusion is the same thing as standard fusion except it's micro-sized or smaller-sized. In comparison, the bonds used for standard fusion hair extension weighs about 1 gram per strand, whereas the bonds used for micro fusion one just weigh 0.6 – 0.8 gram each strand. This will add quite a bit of weight to your head, which is easy to cause headaches if used for a long time. This method uses heat on the joint, which will easily cause damage to real hair. With this method, you will also have to go to the hair salon and see a specialist so that the hair extension does not damage the original hair.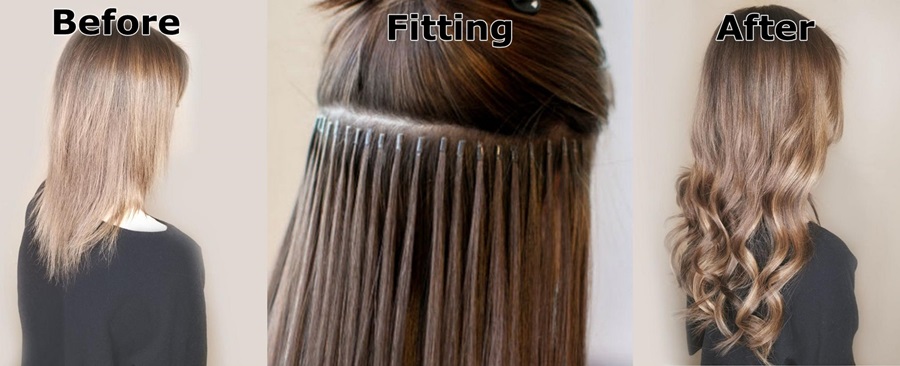 2. Sew in extensions
Sew-in extensions are a type of hair that has been sewn to fix the wigs like a carpet spread across the width of your hair. To be applied to thin hair with bobby pins. Honestly, the process of putting it on your hair doesn't take too long. However, in order for the hair extensions to be closely connected to the real hair you need to have a thick enough hair to be able to braid the hair to have a baseline that creates the foundation for the hair extensions on the scalp. In general, this method will affect the force from the pin and the braid quite a lot. We do not recommend sewing in extensions for thin hair.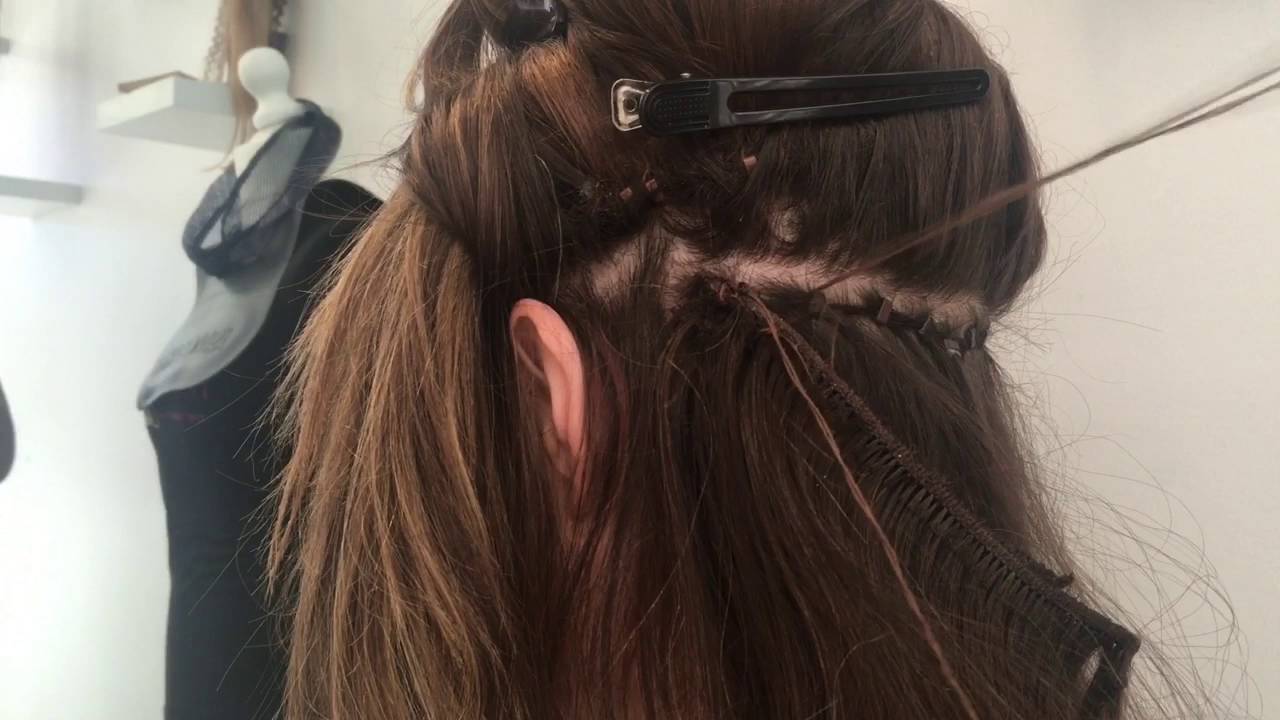 3. Clip-in
 extensions
Clip-in extensions are definitely a good choice for you with thin hair that really shouldn't be missed. If you are a busy girl and you just have 3 minutes to get ready for your date then clip in extension is your choice. It allows you to change your look in minutes just by attaching the hair clips to your hair strands. And yes you can surely do it on your own at home without any help from other people. That also means you can take it off in minutes by yourself. Unlike permanent hair extensions, clip-in wefts can be taken off anytime you want. Hence, you can reduce the time that your natural hair endures the tension from the extension. In addition, there is no glue or high temperature needed when installing a clip-in weft so you not need to worry that your hair is badly damaged.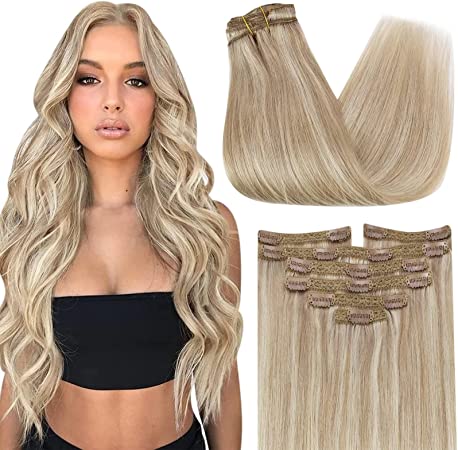 Where to buy extensions for thin hair
Jenhair is currently selling a lot of extensions suitable for thin hair at very good prices, you can refer to our website. We have both long and short extensions for thin hair. The bouncy wavy products with a weight of 100g are very suitable for thin hair. In addition, you can also refer to the 80 cm long vip hair of the baby thin line, the thin and shiny hair will surely make you fall in love with it.
We are always proud to bring up the best quality and reasonable price with a professional team of many years in the field of wigs.
FAQs
1. How to take care of extensions for thin hair?
Besides choosing a suitable hair extension, you also need to know how to take good care of it so that your extension can last long and look gorgeous every moment. 
1. Washing
If your extension is clip–in, you should take it off before going to bed or taking a shower. Gently brush your extension hair to detangle the hair, and soak it in water mixed with shampoo to soften the hair strands. Next, gently run your fingers through the hair strands so that they are evenly absorbed by the shampoo and dirt particles are washed away. After about 3-5 minutes, rinse with water and apply conditioner to your hair extension. Leave it in 5 minutes for the conditioner to penetrate into the hair strands and then rinse it with water. Remember that the water you use should be warm.
With other types of hair extensions that you can't take off by yourself like hand tie or micro fusion ones, you do the same way as the guide above but in a standing position.
2. Drying
Before using a hair dryer, you should use a towel to absorb the water on your hair extensions. You can apply thermal protection before using the hairdryer. Don't use too high a temperature because it will dry your hair and make it easily tangle. Especially, when you dry your hair, try to avoid directing the dryer for too long at the joints as it can melt the bonds of your extension. 
3. Nurturing
The last step before you can go to bed is applying hair treatment on your hair extension, which can be oil or hair serum. If you have no idea about choosing the right products, you can consult your hairstylist. Products containing keratin are always prioritized.
2. Do extensions cause thin hair?
Not only for thin hair, but all normal hair substances are also quite sensitive to frequent temperature changes, and styling hair extensions. Therefore, the bad effect of hair extensions on your hair is inevitable. Before wearing any hair extensions on your hair, you will have to braid or tie and connect with a lot of ties. These will make your hair more prone to breakage.
However, you can also improve this damage by choosing the right hair extensions for your thinning hair. The right hair weight also minimizes hair loss. Likewise, it is also really good if you choose the right one of the three hair extensions mentioned in the article. In addition, regular hair care and maintenance, avoiding excessive drying because high temperatures also improve thinning hair, and avoid damage to hair.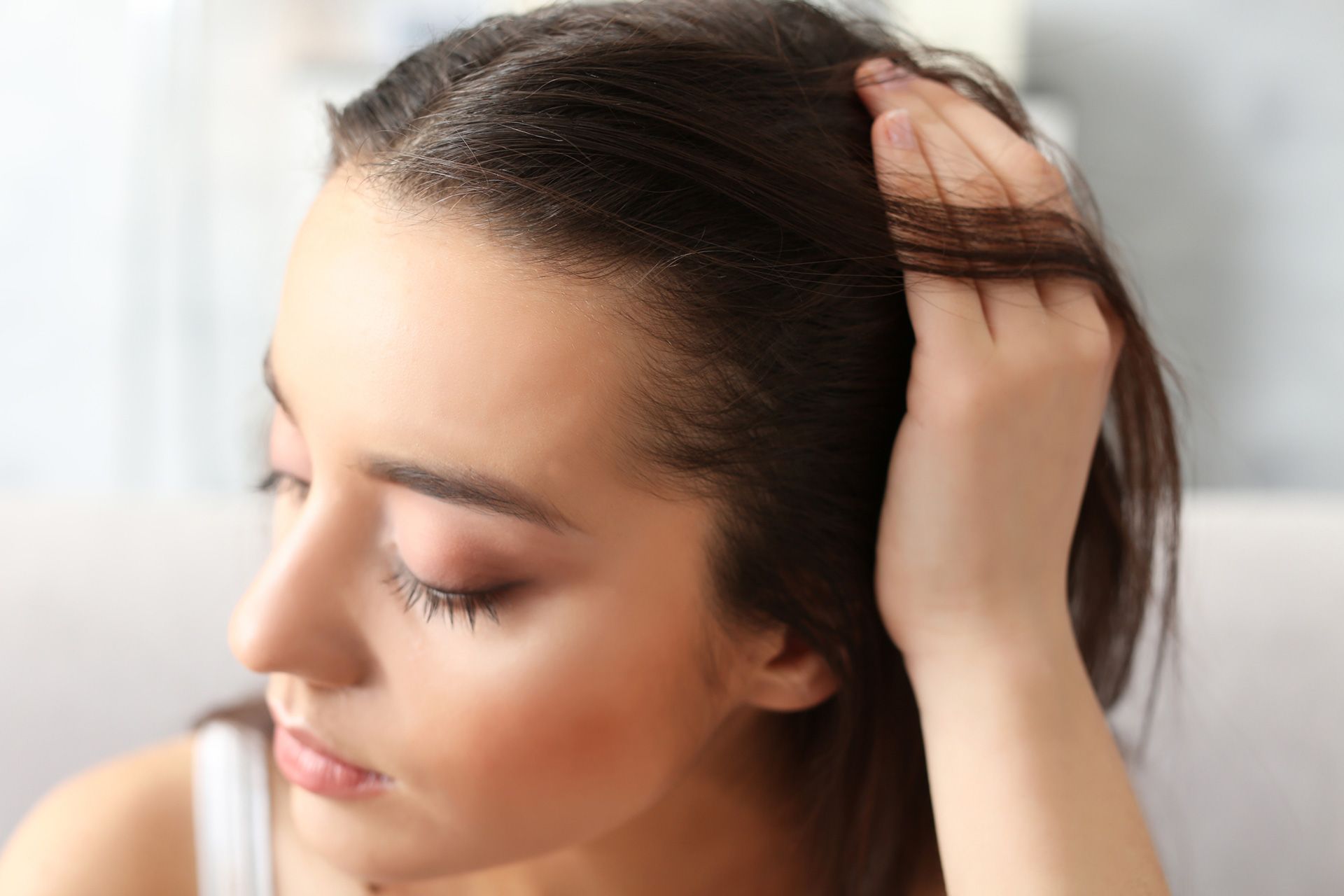 Final thoughts
If you have an understanding of the types of extensions you will always know how to choose the best for thin hair. Above are our suggestions for choosing the best extensions for thin hair. It's really not easy to have a perfect hair extension for thin hair but after this article, it will definitely improve. If you do not understand any of the information we convey in this article or have any questions related to the above content, please contact us. Or you can leave a comment right below this post to discuss. Thank you so much for reading this post!