Starting a new hair business and not sure where to source your products? Look no further than DHgate, one of the best online marketplaces for hair products. Whether you're a seasoned pro or just starting out, these vendors will provide you with the products you need to succeed. 
With so many vendors to choose from, it can be difficult to know who to trust. But fear not, Jen Hair has compiled a list of the 7 best DHgate hair vendors that you should know. So, what are you waiting for? Check out these amazing vendors and take your business to the next level!
Related posts:
An overview of hair vendors on DHgate
DHgate, a leading global e-commerce platform, offers a diverse array of hair vendors catering to the needs of discerning buyers seeking high-quality hair products. These vendors offer an impressive selection of hair extensions, wigs, and other hair accessories, designed to enhance one's natural beauty and style.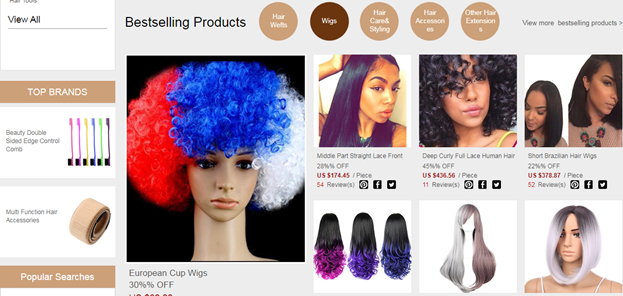 The hair vendors on DHgate are renowned for their professionalism, attention to detail, and commitment to excellence. They source their hair products from trusted manufacturers and suppliers, utilizing the latest technologies and materials to create premium-grade hair products that are durable, versatile, and stylish.
Whether you are looking for straight, curly, or wavy hair, natural or synthetic hair, or human or animal hair, DHgate's hair vendors have got you covered. With a vast selection of colors, lengths, textures, and styles, you are sure to find the perfect hair product that suits your unique preferences and budget.
In addition, hair vendors on DHgate are known for their exceptional customer service, providing timely responses to queries and concerns, and ensuring that their customers are satisfied with their purchases. They also offer flexible shipping and return policies, making the shopping experience on DHgate hassle-free and enjoyable.
How to find good hair vendors on DHgate?
If you're looking for good hair vendors on DHgate, here are some tips to help you find the right ones:
    1. Look for vendors with high positive feedback ratings
DHgate allows customers to rate and review their purchases, so you can use these ratings as a guide when choosing a vendor. Look for vendors with a high percentage of positive feedback (for example 95% or higher).
    2. Check the number of transactions completed
A vendor with a high number of completed transactions may be more reliable than one with few or no completed transactions. This indicates that the vendor has a lot of experience and has likely dealt with many customers.
    3. Look for vendors that specialize in hair products
You can filter your search results by category to focus on vendors that specialize in hair products. These vendors may have more expertise in the products they sell and can provide better customer service.
    4. Read the product descriptions carefully
Make sure the vendor provides detailed information about the product, such as the type of hair used, the length, and the weight. This can help you choose the right product for your needs.
    5. Ask questions before making a purchase
If you have any questions or concerns about the product, contact the vendor before making a purchase. A good vendor should be responsive and willing to answer your questions.
By following these tips, you can find the best DHgate hair vendors and purchase high-quality hair products with confidence.
The 7 best DHgate hair vendors to trust
    1. Gali Hair 
Having worked in the hair industry for 9 years, Gali Hair is known as one of the best DHgate hair vendors. It specializes in top-notch virgin hair, which is often sourced from Brazil, Peru, India, European, and Mongolia. The brand also provides lace top closures and lace wigs. You will be astonished by the wide range of hairstyles on the website, which are body wave, loose wave, deep wave, kindly curl, and body curl.
Thanks to its high-quality products and helpful staff, Gali Hair Store has made over 12000 successful transactions with buyers all over the world. The store has also received 98,5% positive feedback from DHgate customers. 
    2. AisHair & Beauty Store

AiShair & Beauty is a reliable hair products supplier on DHgate. Its main items are virgin human hair weaves: Brazilian hair, Indian hair, Malaysian hair, Peruvian hair etc. 
There have been more than 2500 transactions made by clients on DHgate during 8 years. Customers prefer the brand's products because of the quality and it only uses FedEx to let you receive the goods in 2-5 working days. They rank the store 4.9 out of 5 stars in terms of fast shipping. 
    3. Bella Hair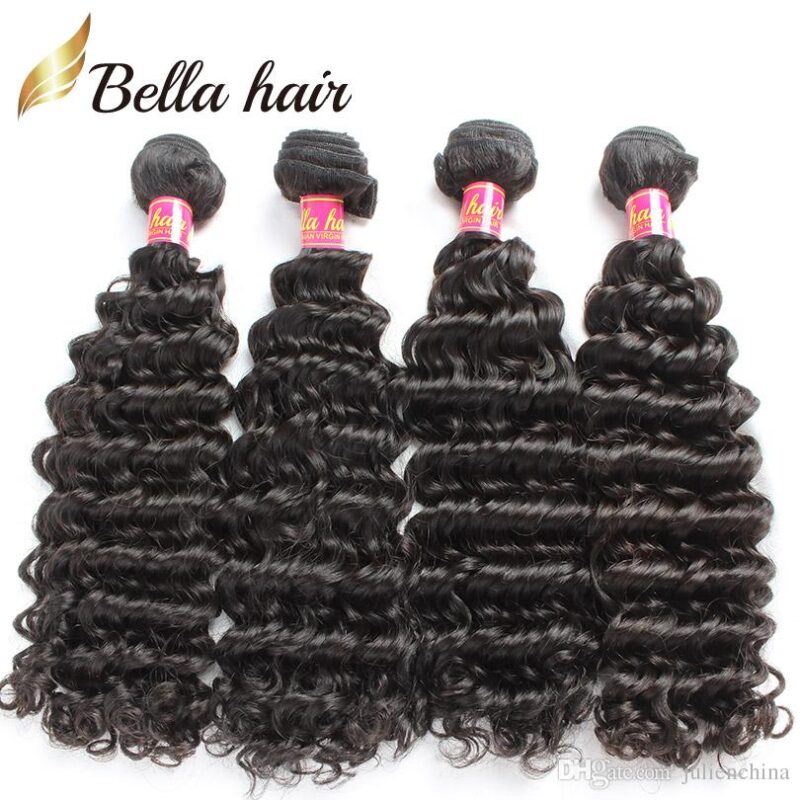 Bella Hair is a reputable hair vendor on DHgate, which provides premium hair extensions in a variety of textures. The hair is from 100% Brazilian human hair, which is soft, thick, and long-lasting, making it great for anyone seeking a voluminous and flowy hair look. 
The store offers buyers lots of deep discounts, especially DHgate coupons. Customers also head on free-shipping vouchers. With its high-quality goods and supportive customer service, Bella Hair has received 98.5% positive feedback from DHgate buyers. 
    4. Hannah Hair
Hannah Hair is a leading hair store on DHgate that is based in China. It offers the widest variety and best quality lace wigs, Brazilian hair, weaves, clip-ins, hair accessories to all of DHgate's customers. The brand has been experienced in the human hair market for more than 5 years. 
The hair from Hannah Hair is often reported to be healthy, youthful flow and long-lasting with careful maintenance. Therefore, they have received 97.5% positive feedback from customers all over the world. 
    5. Allove Hair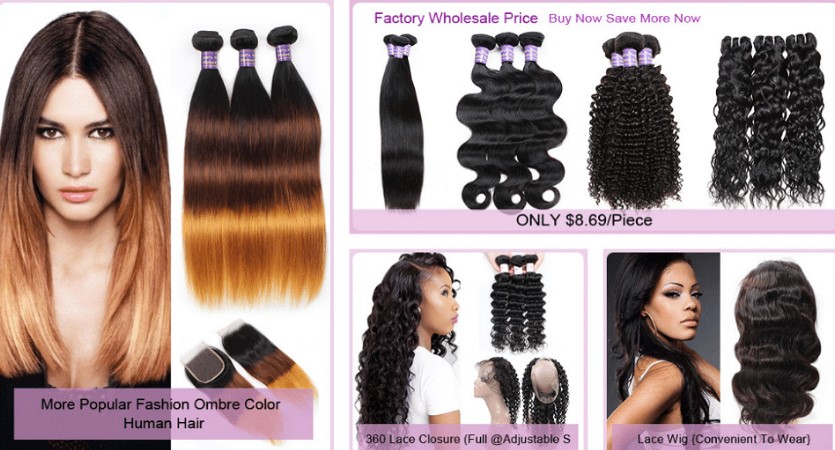 Allove Hair is known as the best DHgate hair vendor that offers a wide range of hair products, including hair extensions, wigs, and hair bundles. The company sources its hair from various countries, including Brazil, Peru, and India, and offers a variety of textures and colors to suit different hair types and styles. 
In addition to its hair products, Allove Hair also offers accessories such as hair brushes, combs, and clips to help you style and maintain your hair. The stores often give away uo to 50% discount on hot items. 
    6. HC Hair
HC Hair is an ideal choice for anyone seeking 100% virgin human hair with top-notch quality. HC's goal, as a hair manufacturer with 12 years of expertise, is to provide consumers all over the globe with both beauty and exceptional service. Only human hair of the highest quality, in our opinion, can be properly styled and endure for a long time. Hence, the brand gets human hair from all around the globe and carefully chooses the finest examples. 
From here, you can order Brazilian hair, Peruvian hair, and Malaysian hair at their best quality status at a wholesale price with competitive prices. The store has made more than 5000 successful transactions for each item on DHgate, which is a really huge amount.  When it comes to holidays or Black Friday, there are often discounts on nearly 60 items with free-shipping vouchers. 
    7. Siyusi Hair

Siyusi Hair is one of the best DHgate hair vendors in 2023. It specializes in virgin human hair sourced in Brazil, which is currently holding 98.1% positive feedback with many advantageous discounts. With more than 5 years of experience in the hair extensions market, Siyusi Hair takes pride in its high-quality hair with sincere service that attracts lots of loyal customers on the DHgate platform. 
What's the alternative for hair vendors on DHgate?
DHgate is one of China's most well-known B2B e-commerce platforms, housing over 20 million items from tens of thousands of vendors. However, you don't have to limit yourself to DHgate.
Jen Hair is famous for high-quality wholesale items at reasonable trade rates. Our company has many years of experience providing Vietnamese human hair, which is preferred by its healthy, flexible, and enduring hair strands.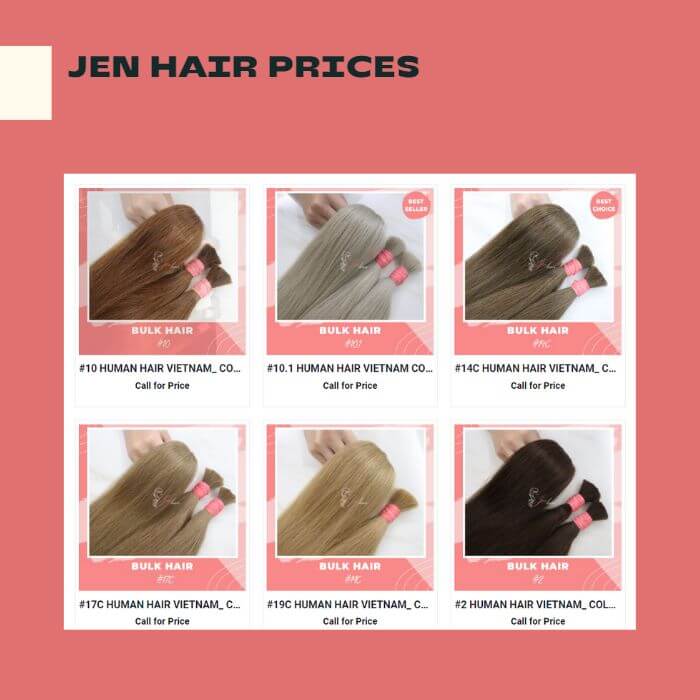 When visiting our website, you can find that lots of customers are satisfied with our products which leave a lot of positive feedback. Here are the reasons: 
Variety of products

: We are able to accommodate a wide range of products. Bone straight hair, bulk hair, single drawn hair, double drawn hair, and so on are only some of the hair kinds we have. 

Prominent factory

: Jen Hair has a 5000-square-meter factory in Ninh Binh and 10 sub-factory in Vietnam with skillful employees and sophisticated technology that are willing to produce new arrivals immediately if we have your orders. 

Fast shipping:

Jen Hair has collaborated with the most famous delivery corporation such as DHL and FedEx to make sure you receive your items at least 2-6 days after ordering. 

Reasonable prices:

All of our items are supplied just at the factory price, making it great for small businesses to buy in bulk.

Excellent hair quality: We sell 100% human hair from Vietnamese women, whose tresses are often straight, thick, and have a high percentage of black melanin. With its exceptional hair quality, you should have no reservations about having the extensions styled or colored in any color you like.  
FAQs
    1. What are some popular hair types from hair vendors on DHgate?
DHgate offers a wide range of hair types and textures from various hair vendors, giving customers a lot of options to choose from depending on their preferences and needs. Brazilian hair, Peruvian hair, Malaysian hair, and Indian hair are the most preferable items by customers on this platform. They both offer a thick texture and natural lusher and are popular for their ability to blend well with most hair types.
    2. How do you know if the hair quality is good?
There are several factors to consider when assessing the quality of the hair from vendors on DHgate:
Customer reviews

: Look for vendors with a high rating and positive feedback from customers who have purchased hair from them. Read both positive and negative reviews to get a well-rounded understanding of the vendor's reputation.
Product descriptions

: Look for detailed product descriptions that include information about the hair's origin, texture, and quality. If a vendor is vague or provides little information, this may be a red flag.
Samples

: Consider purchasing a sample of the hair before making a larger purchase. This can give you a better idea of the quality of the hair and whether it meets your expectations.

Price

: Be wary of vendors offering hair at an extremely low price. Quality hair typically comes at a higher cost, and prices that seem too good to be true may indicate low-quality hair.
By considering these factors and doing your research, you can increase your chances of finding a reputable hair vendor on DHgate with good-quality hair.
    3. How can you compare prices from different hair vendors on DHgate?
If you are looking to compare hair prices from hair vendors on DHgate, here are some steps you can take:
Determine the type of hair you want to buy:

Before you start comparing prices, it's important to know the type of hair you want to buy, such as Brazilian, Peruvian, or Indian. This will help you narrow down your search and compare similar products.

Search for hair vendors on DHgate

: Use the search function on DHgate to find hair vendors. You can also use filters to narrow down your search by hair type, length, color, and other specifications.

Compare prices

: Once you have found several hair vendors, compare the prices of the products they are selling. Pay attention to the details of the product, such as the length, weight, and quality of the hair. Keep in mind that the lowest price may not always be the best deal, as quality can vary between vendors.

Consider shipping costs and delivery time

: Finally, consider the shipping costs and delivery time for each vendor. Some vendors may offer free shipping or faster delivery times, which could make their prices more competitive.
    4. Can you return hair on DHgate?
Yes, you can return hair on DHgate, but the return policy can vary between different hair vendors on the platform. 
In general, DHgate's return policy allows buyers to return items within a certain timeframe, usually within 7-30 days from the date of delivery, if the item is not as described, defective, or damaged. Keep in mind that certain DHgate hair merchants have more stringent return policies than others, such as requiring the hair to be unopened and in its original packaging. In most cases, the buyer must also pay to have the item returned to the seller.
To ensure a smooth return process, it is recommended that you keep all relevant documentation, such as the order confirmation and shipping details, and communicate with the vendor in a clear and timely manner.
    5. What's the difference between DHgate and AliExpress?
DHgate and AliExpress are both online marketplaces that connect buyers and sellers from around the world, but there are some key differences between them.
Product Selection

: DHgate has a more focused selection of products, mainly in the wholesale category. AliExpress, on the other hand, offers a wider variety of products, ranging from clothing and accessories to electronics and home goods.

Pricing

: DHgate typically offers lower prices than AliExpress due to its focus on wholesale purchases. However, both platforms offer competitive pricing and often have sales and promotions.

Quality Control

: DHgate has a more rigorous quality control process than AliExpress. All sellers on DHgate are verified and have to meet certain standards before being allowed to sell on the platform.

Buyer Protection

: Both platforms offer buyer protection, but DHgate has a more comprehensive system in place to protect buyers from fraud and ensure that they receive their orders.
Ultimately, which platform to use depends on the specific products you are looking for and your buying preferences.
    6. What's the difference between DHgate and Alibaba? 
Both DHgate and Alibaba are global online marketplaces where buyers and sellers may interact with one another. Yet, there are significant distinctions between the two systems:
Business Model

: Alibaba is a business-to-business (B2B) platform, while DHgate is a business-to-consumer (B2C) platform. This means that Alibaba is designed for businesses to trade with other businesses, while DHgate is designed for individual consumers to purchase products directly from sellers.

Product Categories

: While both platforms offer a wide range of products, Alibaba is known for its emphasis on wholesale products and large quantities, with a focus on industrial goods and raw materials. DHgate, on the other hand, offers a mix of wholesale and retail products across a wider range of categories, including consumer electronics, clothing, and home goods.

Seller Verification

: Alibaba has a more rigorous verification process for its sellers, which can help to ensure a higher level of trust and reliability in the products offered on the platform. DHgate also verifies its sellers, but the process is generally less stringent.

Shipping and Handling

: DHgate offers a more streamlined shipping process, with many products available for quick delivery, while Alibaba leaves shipping and handling up to individual sellers.
Final thoughts
In conclusion, finding the right hair vendor can be a daunting task, but DHgate offers a wide range of options that can help you start your hair business with confidence. With the 7 best DHgate hair vendors Jen Hair has highlighted, you can rest assured that you will be able to find the perfect products for your customers, whether you are looking for virgin hair, lace wigs, or any other type of hair product. 
Remember to do your research, read reviews, and communicate clearly with your vendors to ensure a successful partnership. With dedication and hard work, your hair business can thrive and become a go-to destination for quality hair products. Finally, do not forget to keep following us to be updated with the latest blog related to the hair industry!