Vietnam hair vendors are increasingly sourced worldwide as the need for high-quality human hair extensions grows. Because it is recognized for its distinctive texture, consumers prefer to buy from the best hair suppliers rather than the cheap and deceptive ones.
Are you looking for the best Vietnamese hair vendors too?
We've got your back!
Let's continue reading to discover:
Tips to recognize trustworthy hair vendors.
Top Vietnamese hair suppliers recommended by global customers.
Excited? Let's jump right in!
How to find reliable Vietnam hair vendors?
Because the hair extensions industry is growing in popularity, it's clear to see why we should be wary of untrustworthy vendors. You can sort the reliable Vietnam hair vendors by considering the following criteria:
1. Well-established online and paper businesses
Given the prevalence of online shopping in the modern economy, many hair vendors in Vietnam will promote their wares online. As such, you can rely on social media platforms or feedback on its websites to identify trustworthy Vietnam hair suppliers.
Here, its profiles, post contents, ratings, and feedback can all be used as a resource to learn whatever about hair extension manufacturers in Vietnam you desire.
Following this, you should think about trademarks and other corporate formalities. If a hair seller is unwilling to give you their official business name, you may want to look elsewhere.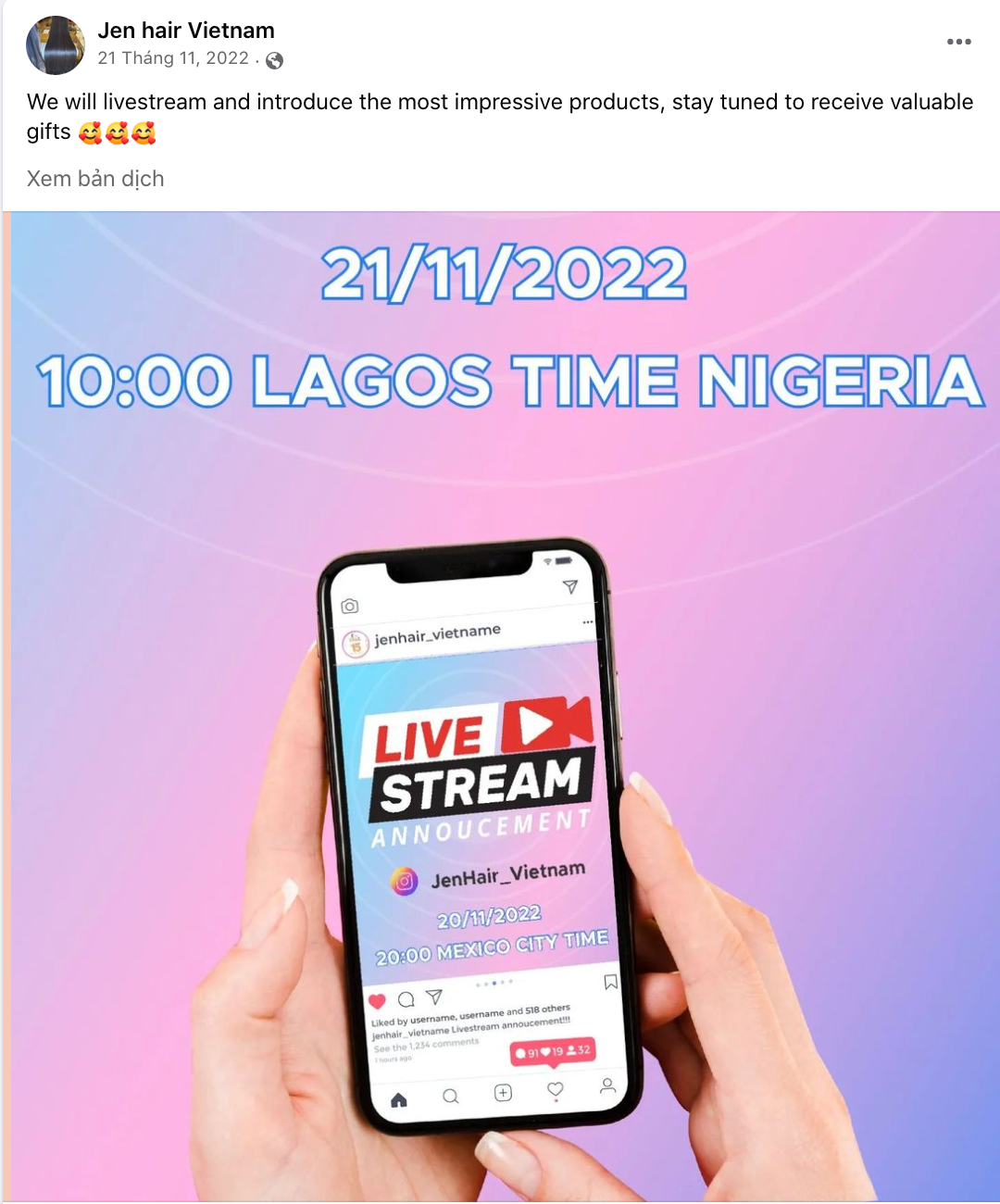 Jen Hair has a strong online presence across many social media platforms, including Facebook, Instagram, website, and YouTube. These platforms are used to deliver information on hair care and extension techniques and provide step-by-step instructions for newcomers to the industry.
2. Dedicated customer services
You can tell a lot about the dedication and expertise of Vietnam hair vendors by asking them about hair knowledge. For instance, if they can help you out with requests for more pictures or queries about shipping costs quickly and easily, you may rest assured that you've found the best hair vendors in Vietnam.
Jen Hair is well-known for customer service! If you encounter any problems relating to products or misunderstanding Jen Hair, you have the right to contact the company's department.
When shopping with Jen Hair, your opinion matters! Plus, feedback is well-received since we believe it is the key to maintaining our business in the long term.
3. Highly confident in hair knowledge
If you're talking to Vietnam hair manufacturers, you should strive to verify their expertise by asking them specific questions related to hair knowledge. By doing this, you can easily see if they actually understand what they sell rather than pretending to know.
Jen Hair is confident in general knowledge about the hair extensions industry for all staff. They have received a qualified process of education. Therefore, you can totally rely on our services.
4. Request for a sample of hair
You can ask the vendor for a sample of raw hair from any Vietnam hair vendor you want. Don't be concerned about discussing product samples. Through this request, you can determine the quality of raw hair in Vietnam and decide to make a purchase later.
If they are the best vietnamese hair vendors, they will feel confident in their products and will always be willing to offer these to clients effortlessly.
Best Vietnamese hair vendors: Top 6 you will trust
1. Jen Hair Vietnam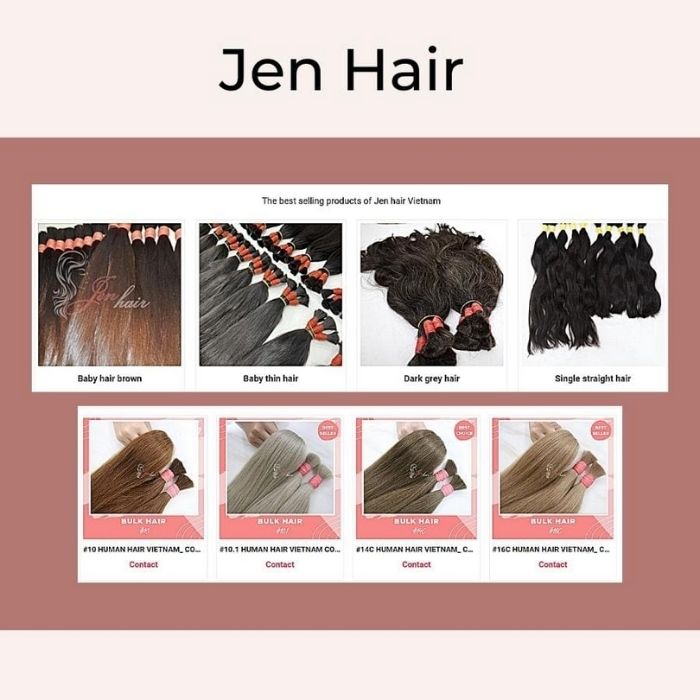 Since 2017, Jen Hair Vietnam has taken great pride in being a modest and legitimate hair manufacturer. Yet, after just 5 years, and thanks to the trust of thousands of customers worldwide, Jen Hair is now Vietnam's largest manufacturer of hair extensions and is constantly praised for its best hair quality ever.
How did we gain those achievements?
Detailed-oriented: We give each purchase a great deal of attention to ensure that the permanent Vietnamese hair extensions you get are of the most excellent quality.
Professional sales team: we've invested in a knowledgeable sales team that can answer all your questions and ease your anxieties when you call.
Convenient shipping process: We have 10 sub-factories in northern Vietnam, 1 major warehouse in Hanoi, and 1 warehouse in Russia, making shipping faster and easier.
Variable wholesale quantity: Every order is different, and Jen Hair is a Vietnam hair factory which is nearest to the hair source, we'll do our best to accommodate your needs.
Best wholesale price: we do our best to negotiate the most reasonable pricing for you, which will serve you well whether you're a consumer or a corporation. (And we already said the quality is the same, right?)
Additionally, Jen Hair is authorized to use donor hair in accordance with international standards (ISO). Because of this, our Vietnamese goods are popular at upscale department shops, beauty salons, and spas throughout the Americas, Europe, and Africa.
2. CyHair
CyHair is considered a reputable manufacturer of human hair extension products that integrates sales, services, development, and production. CyHair offers a variety of different hair textures, including bulk hair, remy hair, and bone straight hair extensions in various colors. Therefore, customers are sure to meet the requirements.
According to CyHair's principle, customers are a priority and always strive for best quality products. In order to satisfy customers and stay on top of the hair industry in Vietnam, CyHair will release 3 to 5 new styles monthly.
One plus for CyHair is the 24-hour customer care. They will always be responsible for responding to any inquiries from you (from hair textures, tips for hair care to import hair procedures) in a timely manner. Therefore, take it easy when you experience the services from CyHair.
3. VQ Hair Company
One of the greatest Vietnam hair vendors that exports hair weave globally is VQ Hair Company. The company continually makes an effort to deliver complete fulfillment over its 15 years of operation. As a result, it has emerged as one of the top virgin hair businesses in Vietnam.
They have traded raw hair and virgin hair from Asian people all over the world. Their virgin human hair come in a wide range of sizes and colors.

What's more, the prices of VQ Hair are absolutely fair so that everyone in the world can take advantage of it.
Thus, you will not be disappointed with their pre- and post-purchase customer services. Each staff in VQ Hair Company has received training to help consumers choose the best items, either through a hair test or sample order hair extensions.
With them, each client is treated honestly, steadily establishing itself in the global hair market.
4. RawHair Vietnam
With over twenty years of industry experience, RawHair Vietnam is one of the best Vietnamese hair vendors to buy hair from.
They are able to provide all types of raw hair from Vietnam in the best quality all around the world. They also employ skilled professionals and consistently produce beautiful hair that meet the needs of their clients.
When you use the products of RawHair Vietnam, you will be ensured of the quality guarantee and available for returns and exchanges procedures.
5. K-hair factory
K – Hair Factory, which was established in the 1990s, is currently one of the top hair retailers in Vietnam. The factory pledges to offer identically high-quality hair extension goods.
With over 20 years of expertise in the hair industry, K-Hair Factory Vietnam is solidifying its position as the top hair supplier in Vietnam and gaining ground in the international hair market.
With more than 1500 devoted hair vendors globally, K -Hair Vietnam has established itself as the most reliable hair distributor in various nations.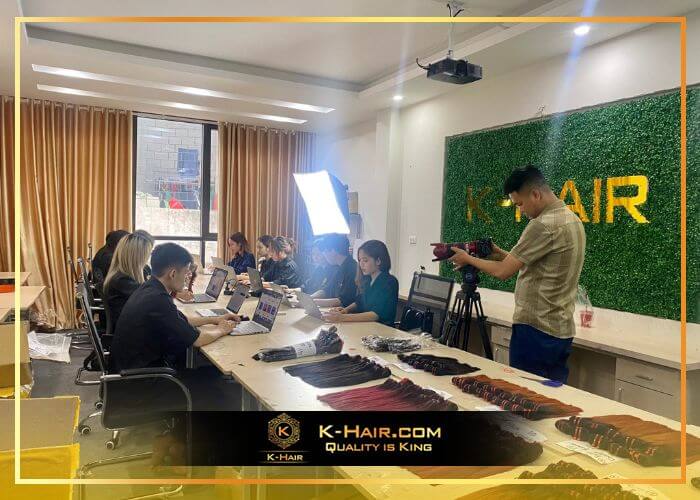 K-Hair Factory frequently offers virgin raw Vietnamese hair instead of raw Vietnamese hair to guarantee the highest quality for consumers. If you know how to keep them properly, you can use them within 1–2 years and reuse them numerous times.
Its products are reasonable because the hair is sourced from Vietnamese women, saving time and money on shipping raw hair from other nations.
K-Hair also offers varied pricing based on the hair's type, length, and thickness.
6. Mic Hair
Mic Hair is a one-stop shop for all your human hair product needs, from R&D and design to manufacturing and distribution. Placed in the heart of Vietnam's largest hair trade area – Ha Noi, Vietnam, Mic Hair can provide you with good quality hair extensions and bulk hair quantity.
Thanks to their round-the-clock support team, they ensure that customer orders will be completed promptly. Customers always feel satisfied with Mic Hair natural hair when receiving shipping packages.
With a specialized R&D team, they constantly deliver 2 new designs monthly to keep up with consumer demand.
7. Lynhair
Lastly, Lyn Hair is a Vietnam hair factory that provides premium hair at competitive prices. They are a trusted human hair supplier for global industry leaders and an innovative business connector for new entrants in the hair industry.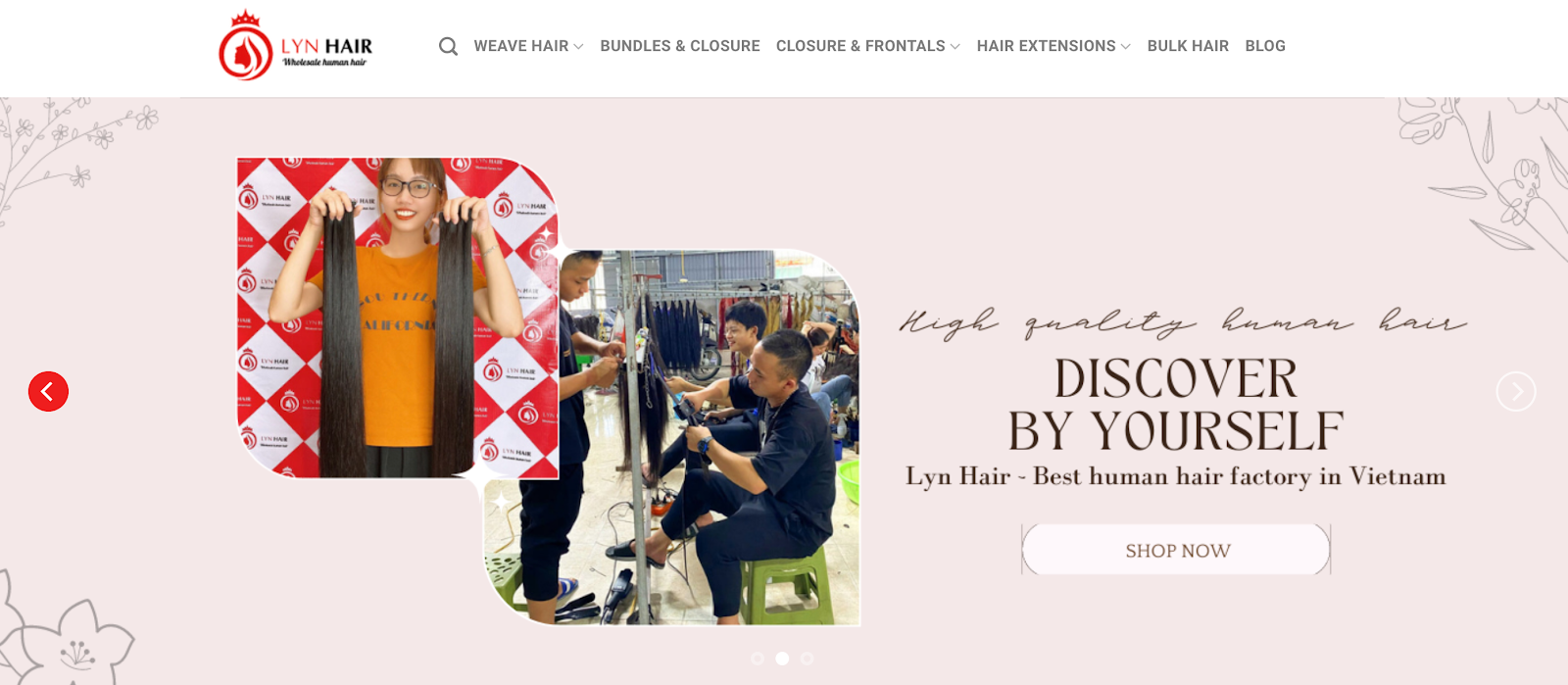 Whether you're looking for Vietnamese hair bundles, Vietnamese human hair wigs, Remy hair, or virgin hair, they surely have you covered. With that said, in the market for human hair extensions, Lynhair is one of your best bets for reliable Vietnamese hair factories.
Vietnam hair vendors: FAQ

1. What is the clearest sign of a bogus Vietnamese hair factory?
Lack of online presence: In order to keep in touch with their clientele, businesses make regular updates to the information they provide to the public about their inner workings. Businesses with a solid foundation have their own dedicated websites.
Scammers often intercept and divert public lines of communication, including websites, Instagram accounts, YouTube channels, etc.
2. How to buy hair from Vietnamese hair vendors?
To import hair from Vietnam, you often need to connect to the sales to place an order, make an advanced payment, and wait for delivery. More details can be found here.
Final thoughts
In this article, we have provided you with some of the best Vietnamese hair vendors along with tips to identify a credible Vietnamese hair vendor.
Hope that it will support you in your goal of finding the best Vietnamese hair vendors.
Love what we share?
Like and follow our social media, and we'll notify you whenever we publish brand-new content!