Are you looking for a comprehensive guide on how to install a sew in leave out middle part hairstyle? In this post, we will explore everything you need to know about achieving this stunning hairdo. 
We will discuss the concept of sew in leave out middle part with its different options. Then, we will dive into the step-by-step instructions on how to install the sew-in leave out middle part hairstyle. Additionally, Jen Hair will also add some trending sew-in hairstyles. By the end of this post, you will have a clear view of how to achieve your desired sew-in leave out middle part look. Let's get started!
What Is Sew In Leave Out Middle Part?
We understand that the concept of sew-in leave out the middle part seems a bit complicated at first. Allow us to explain it in simpler terms.
The middle part sew-in involves using a piece of hair, often a lace closure, to cover your baby hairs or bleached ends. To achieve a sew in leave out natural hair, it is crucial to use high-quality sew-in hair extensions.
When we talk about a sew-in with leave out middle part, it means that a section of hair in the middle part of your hairstyle is left out. Unlike other methods like wigs where no leave out is required, the key feature of this technique is leaving out some of your natural hair. 
This method is great if you want to add length, volume, or change hairstyle around the middle portion. The purpose of leaving out some of natural hair is to conceal the tracks of the sew-in hair extensions. By blending your natural hair with the extensions, you achieve a successful application. At the end, the leave out helps create a cohesive look between your natural hair and added hair extensions.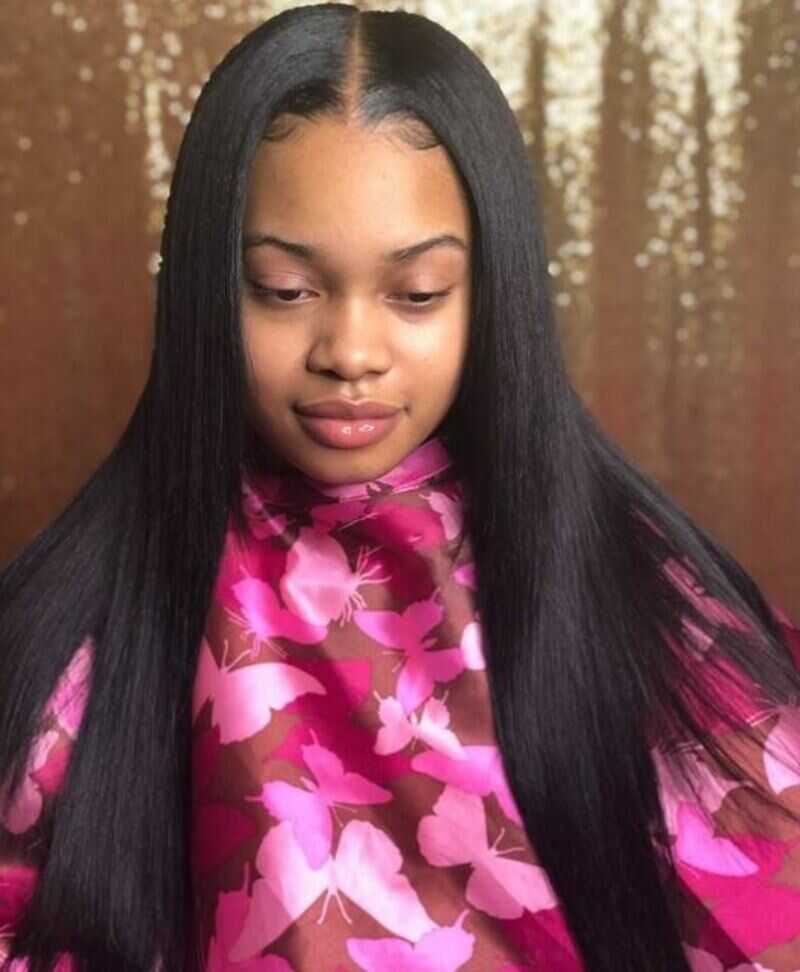 Leave Out Or No Leave Out – When to Choose
One common question for the sew-in middle part method is whether to choose leave out or not. 
Middle part sew-in with leave out
As mentioned earlier, traditional sew in leave out refers to leaving some of your natural hair out in the middle part to cover the hair extensions. The primary reason to leave out in a middle part sew-in is to achieve a seamless blend. The natural hair left out can blend with the hair extensions, resulting in a more natural look.
Middle part sew-in with no leave out
Opting for no leave out is a great way to protect all of your natural hair. No hair out can prevent potential heat damage by excessive use of heat styling tools. On the other hand, this method lacks the natural look and blending achieved with leave out. There is no integration between your natural hair and the extensions in this approach.
How to install sew in leave out middle part to your hair
Achieving sew-in middle part hairstyles is not difficult. By following these simple steps, you can achieve your desired results:
Begin by creating a pattern around the middle part of your head and braiding your hair accordingly. Start with the front hairline in the middle part and braid it first, using it as a guide for where you want to create the part (hairline) in your hair. 

Proceed to braid the rest of your hair. Create small and tight braids on both sides and connect them at the ends.

Place a mesh cap on top of your hair and trim it to fit along your hairline. It is important to choose a mesh cap that matches the color of your hair extensions.

Begin sewing the hair extensions onto the sides of your head and gradually go towards the center.

Complete the process by applying some hair styling products or creams. Brush out your leave-out hair and ensure to cover the edges well.
Trending sew in hairstyles
Sew-in hairstyles have gained immense popularity among women who desire beautiful and silky hair. With their convenience, sew-ins have become a go-to choice for many. If you are eager to discover the most trendy sew-in hairstyles, let's explore some captivating options below.
Straight Sew In
The straight sew in leave out hairstyles are a popular choice among women for several reasons. You can have hair that looks entirely different from your natural hair. This allows you to experiment with new styles before committing to a permanent change. It is a fantastic way to explore different options while still maintaining the flexibility to switch back to their natural hair.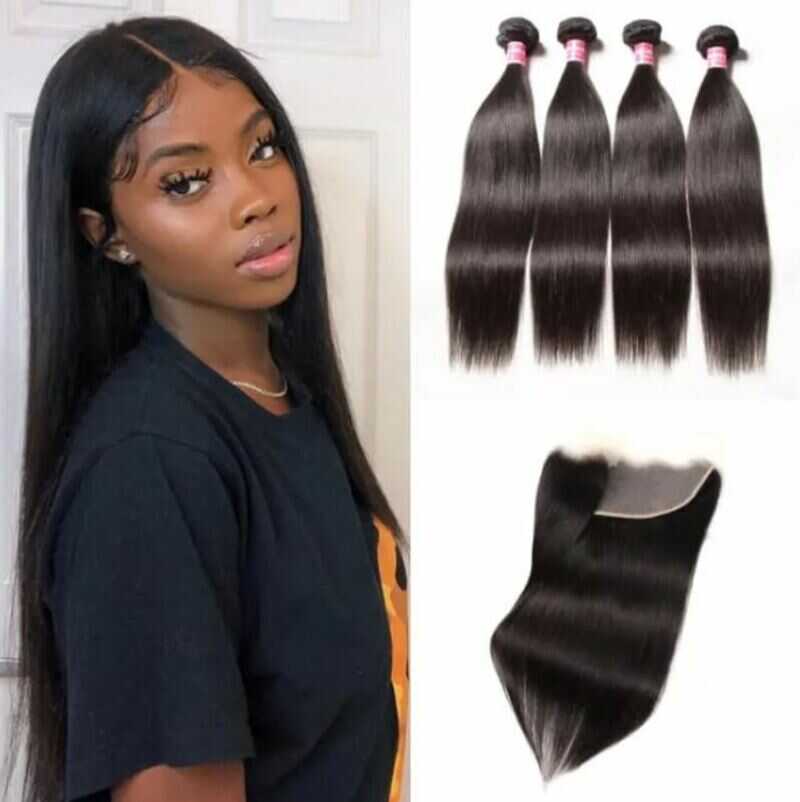 Bob Sew In
The bob hairstyle has emerged as one of the trendiest weave hairstyles. African-American women are particularly drawn to this chic sew-in hair choice.  It could be a cute short bob or a luxurious long one. The bob offers a stylish and versatile look that is highly admired.
Shoulder Length Sew-In
For those seeking a low-maintenance hair option between short and long, a shoulder-length sew-in hairstyle is the ideal choice. It strikes a perfect middle ground that is easy to care for without being too short. 
With a shoulder-length sew-in, you are free to experiment with various styles while enjoying the convenience. It is a versatile and hassle-free option that offers the best of both worlds.
Curly sew-in
When it comes to a curly sew in leave out hairstyle, all attention is drawn to the stunning curls. While they are slightly larger and looser compared to natural Afro-textured hair, they exude a captivating radiance. 
Moreover, these curls bring to mind the trendy crochet braiding method. This hot and eye-catching look can attract the attention of onlookers, including the guys.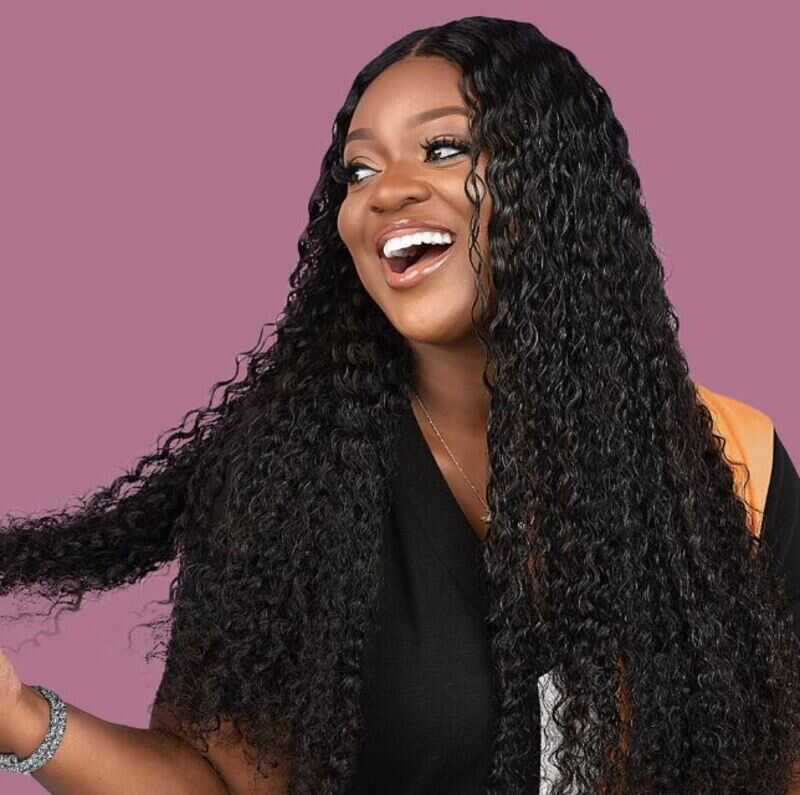 Pastel Pixie
When it comes to charming sew-in hairstyles, we cannot overlook pixie cuts. For your sew-in, you can embrace a vintage-inspired pixie with exquisite finger waves. To enhance the appeal, consider adding a soft pastel pink hair color that brings a delightful touch to the look. This short and chic style is the perfect choice if you aim to achieve a cool and stylish vibe.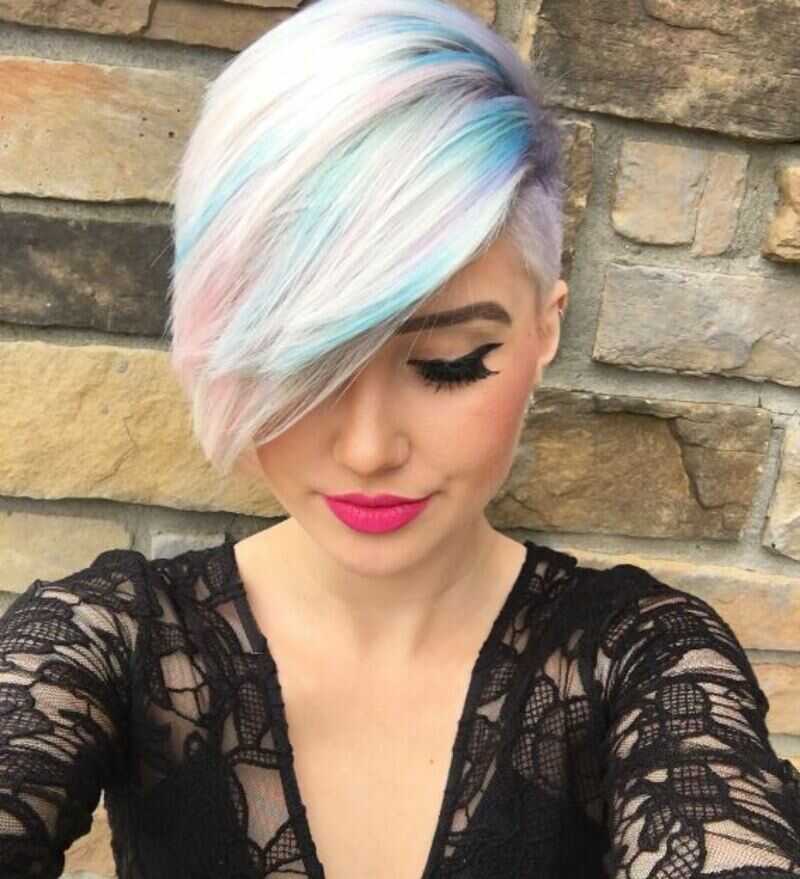 Braids and Ringlets Sew In
The combination of braids and ringlets in a sew-in hairstyle is a captivating option, especially when utilizing the leave-out method. Then, you can achieve a high-fashion aesthetic by incorporating goddess braids with bouncy ringlets. This hairstyle idea offers a glamorous look that is sure to turn heads.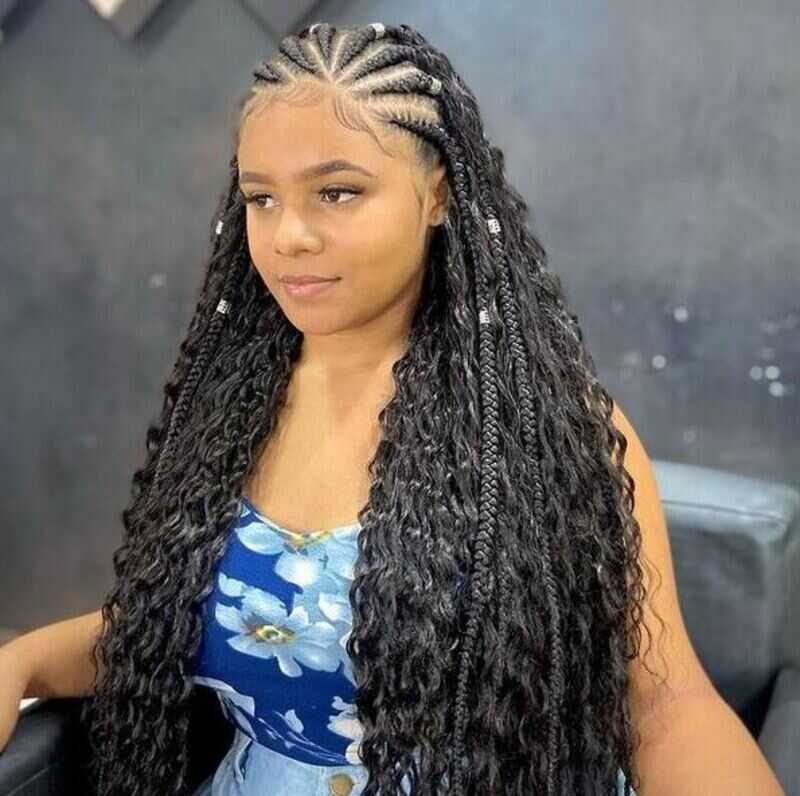 Extravagant Waves Sew In
The extravagant waves sew-in style is so popular with the elegant black curly weave. This stunning choice allows you to tap into your inner goddess to create elegance and allure. With its beautiful curls and timeless appeal, this sew-in style is sure to make a statement!
Long Middle Part Sew In Leave Out
For individuals with oblong faces, a long middle part sew-in hairstyle is a fantastic choice. Middle part styles are particularly flattering as they help create the illusion of a rounder face shape. Therefore, it will provide a softer and more balanced appearance. By embracing this hairstyle, those with oblong faces can enhance their features and achieve a more harmonious look.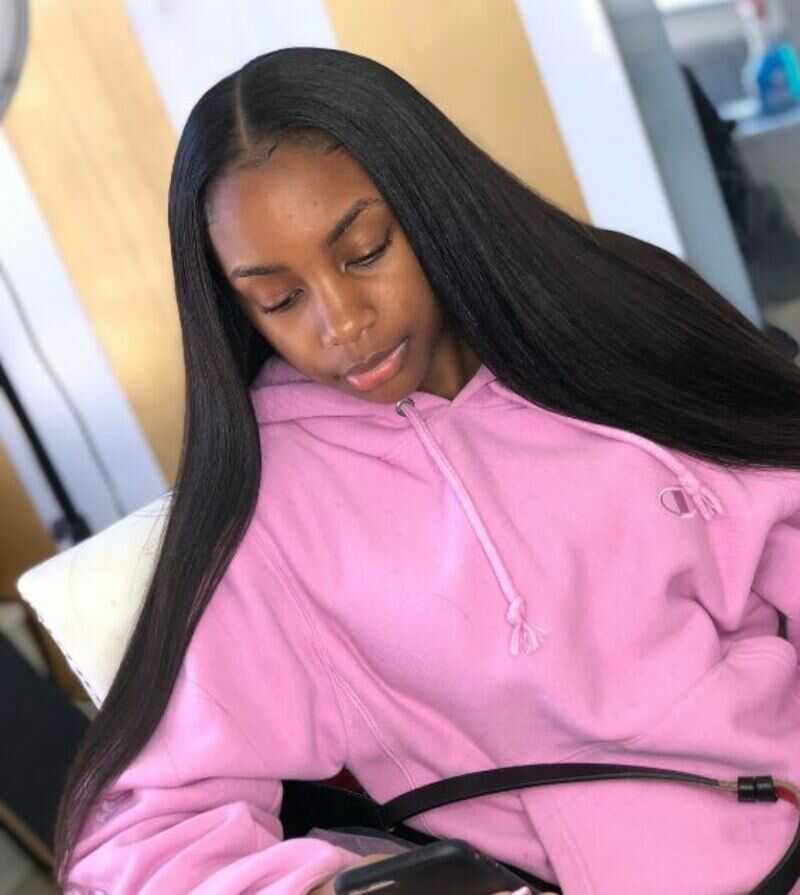 Long Side Part Sew In 
If you are looking for asymmetrical hairstyles, the long side part sew-in is an excellent choice to consider. By opting for a side part sew-in, you can achieve a stylish and dynamic look with an intriguing asymmetry to your hairstyle. It is a great option for those seeking a unique and eye-catching appearance.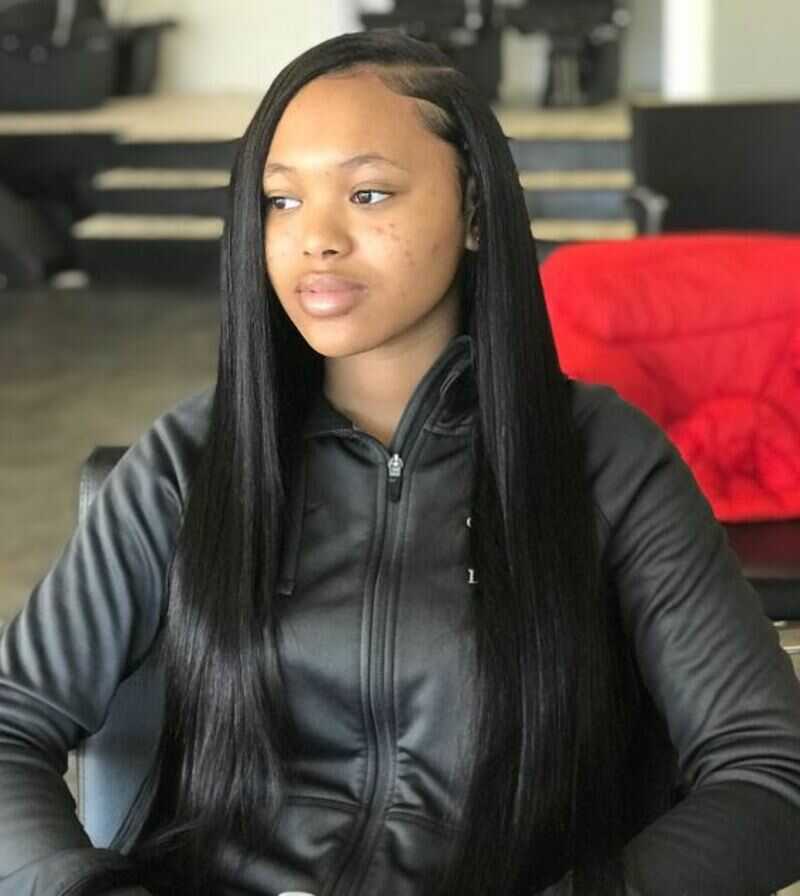 Side-Parted Layered Sew In
Finally, let's indulge in a side-parted layered sew-in hairstyle that features splendid waves. Voluminous curls can add a touch of glamour, and complement them with dramatic long side bangs. This captivating combination will elevate your look and create a stunning hairstyle. That is sure to make a lasting impression!
To Sum Up,
With the right techniques and considerations, you can achieve a natural-looking result that complements your style. Whether you choose to leave out or go for a no leave out approach, our guide has provided you with the necessary step-by-step instructions to get started. And finally, the various trending sew-in hairstyles mentioned hopefully have offered inspiration for your next look. 
If you have any further questions or need personalized advice, do not hesitate to contact us. Our team are willing to assist you on your journey to achieving the perfect sew in leave out middle part hairstyle!