If you are seeking a stunning yet daring update for your black hair, don't overlook the transformative impact of red highlights. From balayage to ombre, peekaboo to baby lights, there are numerous ways to incorporate red tones into your black mane, resulting in mesmerizing beauty. 
When contemplating how to infuse red into your black hair, consider your hairstyle. Discover our top 10 favorite styles of red highlights on black hair, providing you with inspiration for your next bold look.
Top Tips for Achieving Stunning Red and Black Hair
Know Your Hair Background
Before diving into the world of red and black hair, it is essential to understand your hair's natural color and texture. The starting point will influence how the red and black shades interact with your hair. 
For instance, if you have light or blonde hair, achieving a vibrant red or black color may require bleaching or pre-lightening. In contrast, darker hair may need less preparation.
Opt for High-Shine Black Tones
Achieving a lustrous, high-shine finish is key when it comes to black hair. Choose hair dyes or color treatments that mention "high-shine" or "glossy" on the packaging. 
These formulations often contain ingredients that enhance the reflective properties of black hair, giving it a sleek and radiant appearance. Additionally, regular deep conditioning treatments can help maintain the shine and health of your black hair.
Make Those Red Tones Pop
To make your red tones stand out and look vibrant, follow these tips:
Red hair comes in various hues, from warm copper to fiery crimson. Consider your skin tone and your preference of a shade. For fair skin, strawberry blondes or light red shades complement well, while deeper skin tones can rock richer reds like burgundy or mahogany.
Pre-Lightening for Intensity
Pre-lightening is necessary if you have dark hair and want a more intense red color. Lightening the hair before applying red dye produces a brighter, more vibrant result. However, it is crucial to consult a professional hairstylist or colorist to avoid damaging your hair during bleaching.
Use Color-Enhancing Products
To maintain the vibrancy of your red hair, opt for color-enhancing shampoos and conditioners specifically formulated for red hair. These products contain pigments that help revive and intensify the red tones, making your hair color last longer between dye sessions.
Protect Your Hair from Fading
Red hair tends to fade faster than other shades, so protecting it from premature color loss is crucial. Avoid frequent washing with hot water and opt for lukewarm or cool water. 
UV rays can also cause color fading, so shield your hair from direct sunlight or wear a hat outdoors. Additionally, using heat protectant sprays before heat styling and minimizing the use of hot tools can help preserve your red hair's vibrancy.
Must-Try Red Highlights On Black Hair
Subtle Dark Red Highlights with a Bob
Red color doesn't necessarily have to be bold; subtler styles are worth exploring. Consider this option: a black bob with deep red highlights that blend almost seamlessly with the black. 
It is a low-key way to incorporate red into your hair, giving the black base a subtle lift. You can recreate this trendy cut and color for a complete look or experiment with the dark red highlights on longer hair for a similar effect.
Black to Red Ombre Hair
We are absolutely obsessed with this fabulous concept! In this particular style, the hair boasts a gorgeous black hue, with a striking red color introduced around the midpoint of the length. It creates a breathtaking effect, combining highlights with a trendy ombre appearance. 
The combination of black and red colors like this undeniably adds a touch of pizzazz to your hair. You can opt for a similar style or explore alternative shades of red. A rich burgundy tone would be absolutely stunning.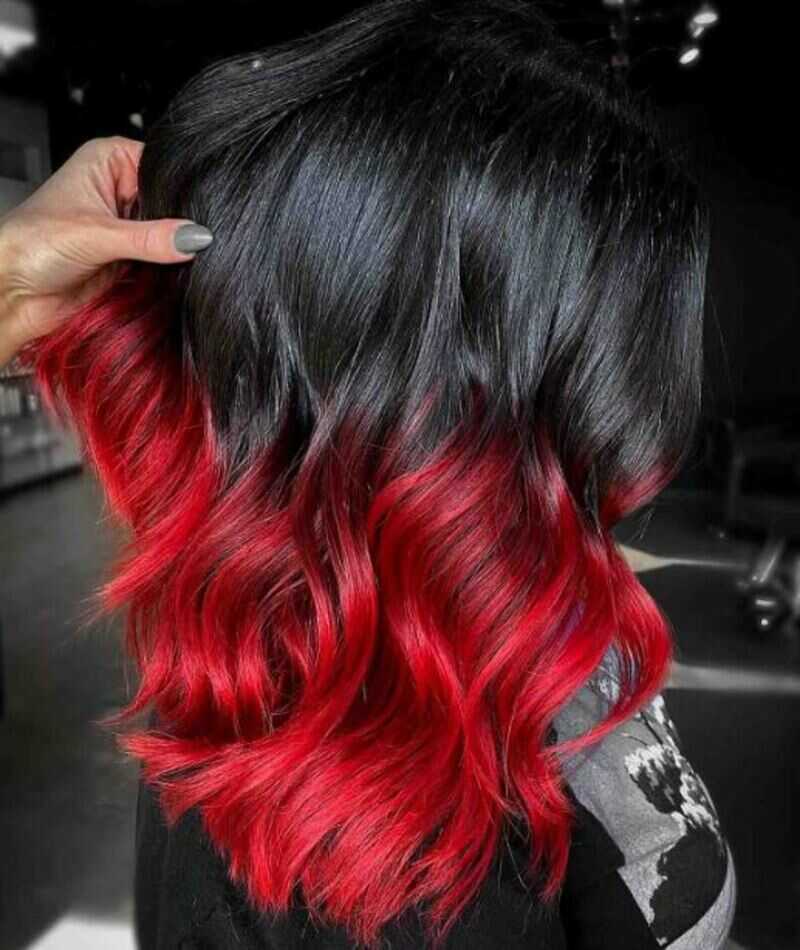 Black Hair with Red Highlights at the Front
In this variation of red highlights on black hair, we have black hair adorned with captivating red highlights. The lower section of the hair features numerous highlights, while the top portion predominantly showcases highlights at the front. 
As depicted, the red highlights at the front create a striking and impactful appearance. You can experiment with this hairstyle as shown or opt for a variation that utilizes red highlights primarily at the front, with fewer highlights on the bottom layer of hair. Either way, incorporating red highlights at the front will infuse a cool, statement-making vibe into your look.
Cute Bob with Red Highlights
In this particular look, the hair is styled in a short bob, with the roots showcasing a sleek black color. As you move towards the middle of the hair, you'll notice the addition of spicy red highlights. 
The fiery red shade, accompanied by beautiful coppery tones, truly steals the show. This trendy cut and color combination is ideal for the fall season, perfectly capturing the essence of autumn's warmth and vibrancy.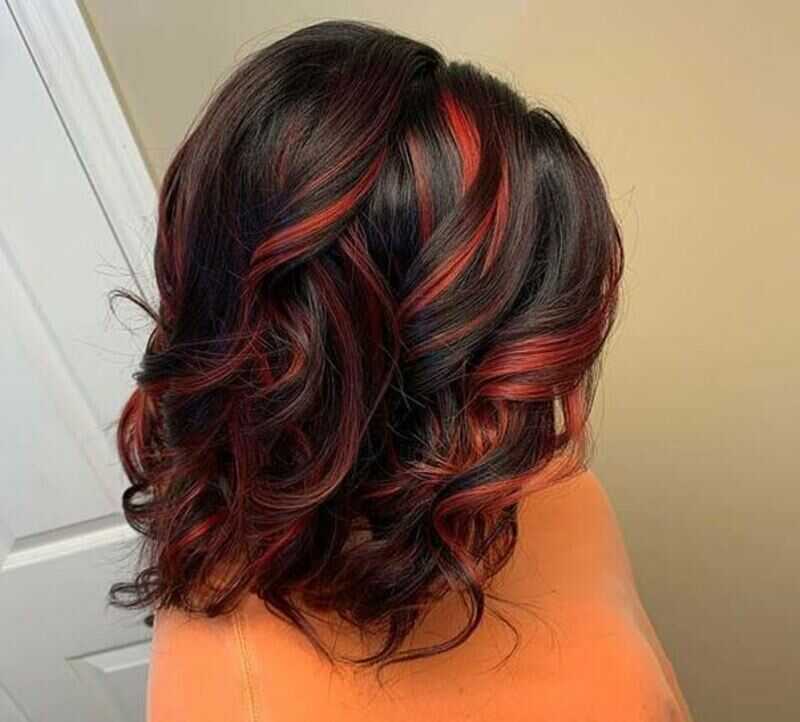 Dark Red and Burgundy Hair Color
If you want to make a bold statement with your hair, look no further than this impeccable idea. Behold the breathtaking black hairstyle adorned with alluring dark red and burgundy highlights. The combination of red, black, and burgundy creates a stunning color palette where each hue perfectly complements the others. 
This hairdo is an excellent choice for those who wish to embrace vibrant colors and showcase their daring side. You can recreate this style or opt for a subtler look by incorporating fewer colors, allowing for a more understated yet still captivating appearance.
Red Highlights and Bangs on Black Hair
This exquisite bob hairstyle boasts a black root color and vibrant red and purple highlights. The look is completed with bangs and beautifully styled curls. The combination of the bob cut with bangs and the striking colors creates an undeniably stylish appearance. 
You can recreate this trendy bob entirely or opt for a simpler approach by incorporating just the red and black colors. Regardless of your choice, your hair is bound to look absolutely fabulous.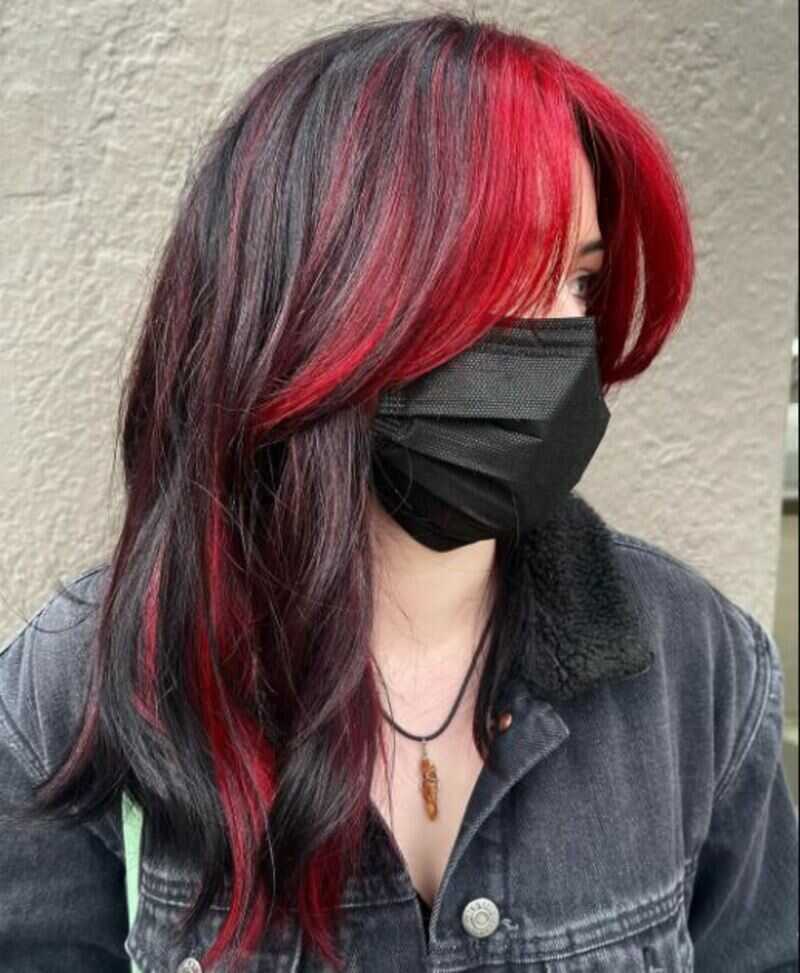 Subtle Red Highlights on Long Black
Let us present another exquisite method of adorning red highlights on black hair. This particular style showcases layered hair adorned with vibrant red highlights. It is a fashionable and effortlessly wearable look that complements individuals of all backgrounds. 
You can choose to recreate this style or explore incorporating darker red highlights for a more intense effect. Either way, you'll embrace a stylish appearance that will turn heads.
Fiery Hair Idea
If your hair lacks vibrancy, it is time to infuse fiery and spicy colors into your locks, just like this stunning suggestion. In this example, we have black hair adorned with captivating ombre highlights. The red shade is remarkable, reminiscent of the warm and rich tones found in ground cayenne pepper. 
Adding this shade will undoubtedly transform your hair, bringing it to life with a radiant hue. You can try this style or opt for a more subtle approach by incorporating less color. Whichever option you choose, your hair is bound to undergo a marvelous transformation.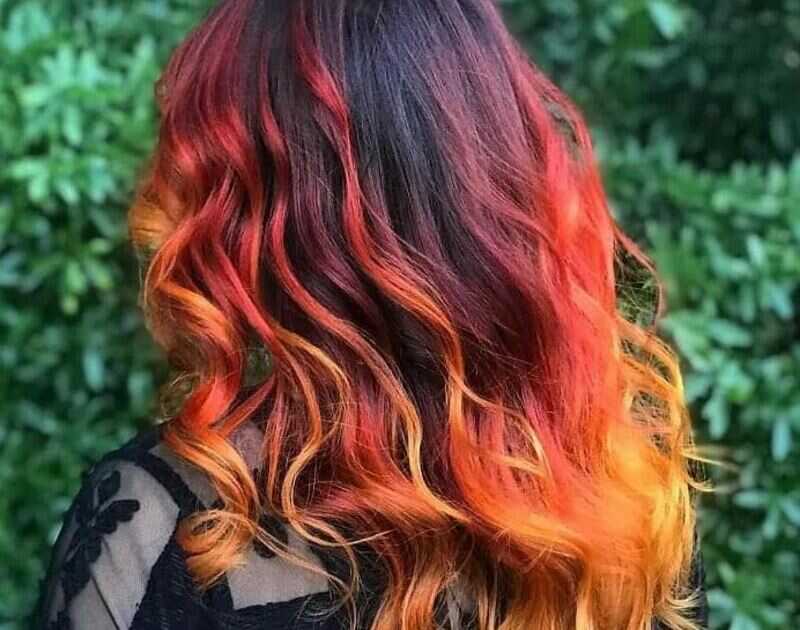 Coppery Highlights
Presenting a fashionable black bob hairstyle adorned with alluring dark red and copper highlights. The combination of these hues adds a touch of class and sophistication to the overall look. 
The copper highlights, in particular, beautifully complement this cut, resulting in a chic and elegant style. It is a trendy and effortless approach to incorporating red tones into your hair, and this style is versatile enough to suit individuals of all backgrounds.
Long Hair with Red Highlights and Curls
In this captivating look, the hair is luxuriously long and naturally black, with the addition of a vibrant bright red color. The red hue begins subtly at the top and gradually intensifies towards the tips, creating a stunning gradient effect. 
To further enhance the allure, the style is complemented with beautiful curls. We adore this fashionable and eye-catching look! It is an ideal choice for anyone seeking a total hair transformation. It wishes to make a bold statement with its appearance.
What are the best red shades for highlighting black hair?
Several captivating red shades can elevate your look when highlighting black hair. Consider these best red shades for highlighting black hair:
These deep, rich red highlights add a touch of intensity and allure to black hair. They create a stunning contrast and lend a sense of mystery to your overall style.
Copper red highlights infuse warmth and vibrancy into black hair. This shade offers a lovely blend of red and orange tones, creating a captivating and radiant effect.
Cherry red highlights bring a vibrant burst of color to your black hair. Their bold and luscious appearance creates a striking contrast and adds a touch of playfulness to your overall look.
Wine red highlights offer a sophisticated and elegant choice for highlighting black hair. These deep, rich tones resemble the shades found in a glass of red wine, imparting a sense of luxury and refinement to your hairstyle.
Bright red highlights are a fantastic choice for those seeking a bold and attention-grabbing look. These vivid, eye-catching highlights create a striking contrast against black hair, making a powerful statement with their intense and fiery appearance.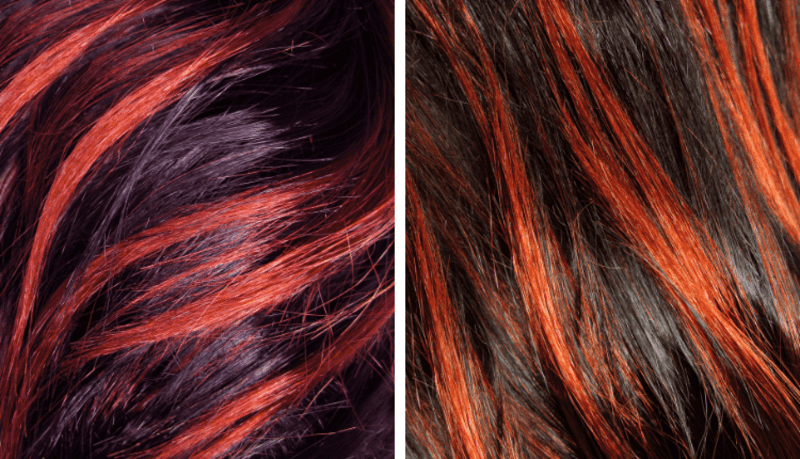 Hair Care Tips to Maintain Red and Black Hair Color
Here are some hair care tips you can follow to maintain the vibrancy of your red and black hair color. By following these hair care tips, you can help preserve the richness and intensity of your red and black hair color, ensuring your locks stay vibrant and gorgeous.
Eliminate brassiness with color-specific shampoo: Red and black hair colors can be prone to brassiness over time. To counteract this, use a color-specific shampoo and conditioner for red and black hair. These products help neutralize unwanted warm tones and keep your color looking fresh and vibrant.

Enhance red hair radiance with a color-depositing mask: Red hair color tends to fade faster than other shades. Incorporate a color-depositing mask into your hair care routine to keep your red hue vibrant between salon visits. These masks contain pigments that refresh and revitalize your red color, boosting radiance.

Nourish and add shine with lustrous hair oils: Both red and black hair can benefit from regular hydration and shine-enhancing treatments. Apply nourishing hair oils, such as argan or jojoba oil, to the ends of your hair to keep it moisturized and prevent dryness. These oils shine beautifully on your locks, making your color appear lustrous.
FAQs
Can I add red highlights to my black hair without bleaching?
Adding red highlights to black hair without bleaching is possible, but the results may be more subtle. Opt for a red shade specifically formulated for dark hair, or seek professional advice to ensure the best outcome. Remember that the intensity of the highlights may vary depending on the color of your natural black hair.
How do I maintain the vibrancy of red highlights on black hair?
To maintain the vibrancy of red highlights on black hair, use color-safe shampoos and conditioners specifically formulated for colored hair. Exposure to excessive heat and sunlight can cause color fading, so minimize it. Regular touch-ups and color-refreshing treatments can also help maintain the vibrancy of your red highlights.
Will red highlights suit my skin tone with black hair?
Red highlights can complement various skin tones when paired with black hair. Cool-toned reds like burgundy or cherry can work well with fair or cool skin tones, while warmer reds like copper or auburn can enhance medium to deep skin tones. Consider consulting a hairstylist to find the best red shade that suits your unique features.
Can I achieve red highlights at home on my black hair?
The right products and techniques can achieve red highlights at home on black hair. However, the desired results without professional experience can be challenging. For optimal and personalized outcomes, it is recommended to consult a hairstylist who can guide you through the process or perform the highlights for you.
How long does it take to get red highlights on black hair?
Typically, red highlights take about 2-3 weeks to show up on black hair. However, this can vary depending on the individual and several factors. The time it takes for the color to develop can be influenced by the hair's porosity, thickness, or highlighting technique. Additionally, the shade of red and the hair's natural color can also affect the time.
In Conclusion,
Red highlights offer a beautiful, edgy way to refresh and elevate black hair. Whether you opt for balayage, ombre, peekaboo, baby lights, or any other style, the combination of red and black creates a striking and captivating look. With our curated collection of 10 favorite styles of red highlights on black hair, you have plenty of inspiration to create a stunning transformation. Contact Jen Hair if you have any questions or concerns!