If you are ready to obtain a bold and daring look, short pixie cut quick weave hairstyles are here to inspire and transform your appearance. With their eye-catching appeal and charm, short pixie cuts combined with quick weave techniques offer endless possibilities for expressing your unique style. 
In the world of hairstyling, short pixie cuts are taking center stage in 2023. These versatile and captivating styles offer many options to express individuality and keep up with the latest trends. Join us on this article to explore the most attractive short pixie cut quick weave hairstyles that are set to dominate the hair scene in 2023. Get ready to turn heads and make a stylish impact with these fabulous hair transformations! Keep reading!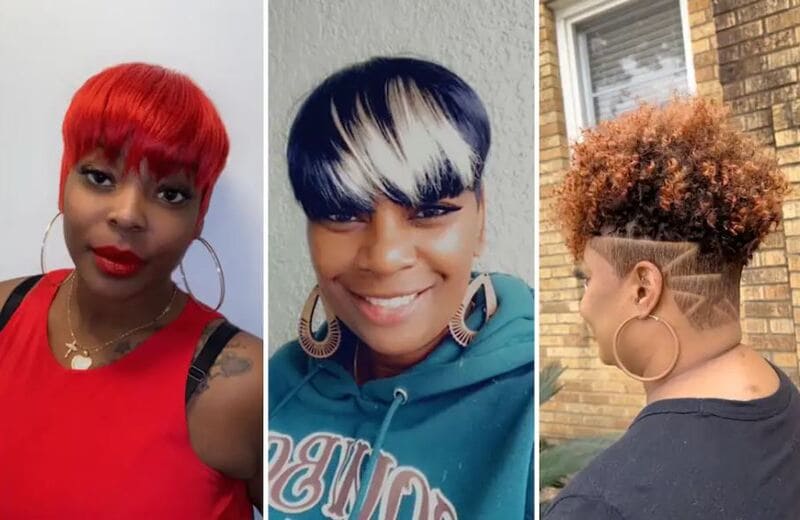 What is a pixie cut quick weave?
A pixie cut with quick weave is a trendy and efficient hairstyling technique that combines the classic pixie cut with the convenience of a quick weave. The pixie cut is characterized by its short and close-cropped style, often with asymmetrical or layered elements. It is bold and chic for those who want to embrace a low-maintenance yet fashionable look.
The "quick weave" component refers to how the hairstyle is achieved. Instead of spending hours in a salon chair for traditional sew-in weaves or glue-in extensions, a quick weave is a time-saving alternative. It involves creating a protective base on the natural hair and then gluing or bonding hair extensions. This technique significantly reduces the installation time compared to other methods.
A pixie cut with quick weave combines these elements by incorporating weft hair extensions to create longer, fuller, and more versatile pixie styles. It allows for various textures, colors, and lengths, enabling customization to suit individual preferences. 
This approach offers a swift transformation without the commitment of a permanent haircut, making it an ideal choice for those looking to experiment with a pixie style or add glamor to their everyday look.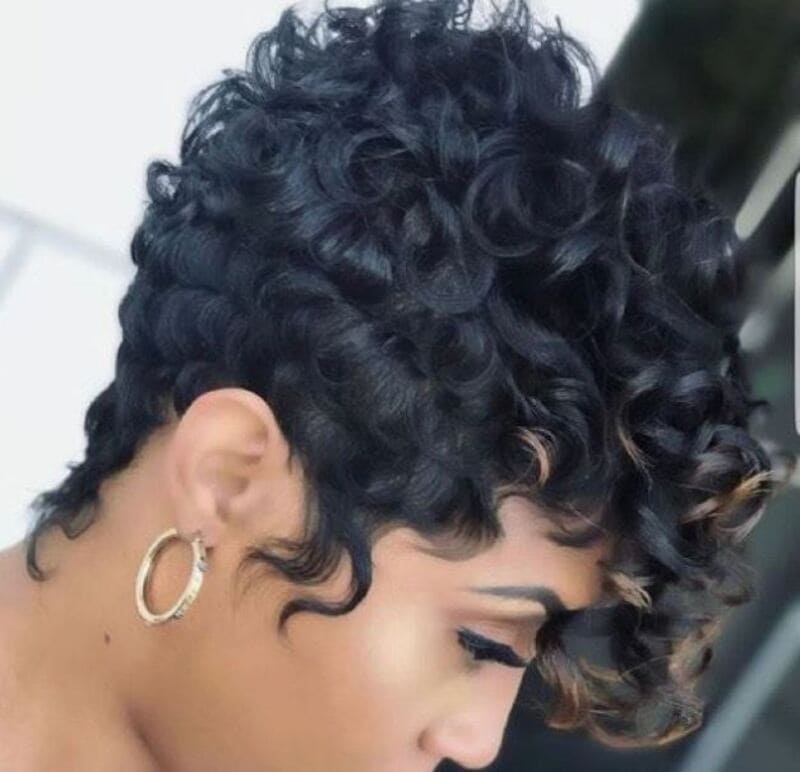 Benefits of a pixie cut quick weave
This hairstyle offers a range of benefits, making it a popular choice for those seeking a stylish and hassle-free hairstyle.
Low maintenance hairstyle
Pixie cuts are renowned for their minimal upkeep. With short, closely cropped hair, there is no need to spend hours detangling, blow-drying, or styling. This simplicity is perfect for those with busy schedules or who prefer a low-maintenance look.
Despite its short length, a pixie cut provides ample room for creativity. You can experiment with various textures, colors, and parting options, allowing you to change your style as often as you like. Add curls, straighten it, or opt for an edgy asymmetrical look – endless possibilities.
One of the most significant advantages of this style is the time saved during the installation process. Traditional sew-in or glue-in extensions can take several hours to complete. In contrast, a quick weave takes significantly less time, making it a convenient choice for individuals with busy lifestyles.
When done correctly, a pixie cut can look incredibly natural. The hair extensions are applied to mimic the growth pattern of real hair for a seamless blend. It feels comfortable and light, allowing for a natural appearance without the bulk or discomfort often associated with more substantial extensions.
Best short pixie cut quick weave hairstyles 2023
The best types of pixie cut with quick weaves
Here are the top pixie cuts with quick weave hairstyles for the year 2023.
The straight-hair pixie quick weave embodies timeless elegance. It melds the precision of a classic pixie cut with sleek, straight extensions, resulting in a sophisticated, polished appearance that never goes out of style. This style is perfect for those who appreciate simplicity and sophistication in their haircut.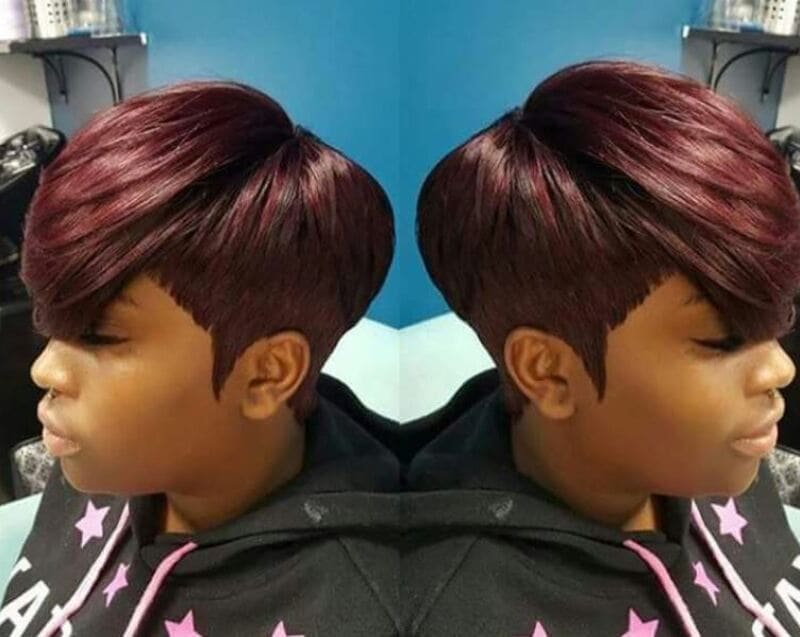 Short pixie cut quick weave
If you are inclined towards a daring and bold look, the short pixie cut with quick weave is your ideal choice. This style takes the pixie cut to the extreme by keeping the hair ultra-short. It is a statement of confidence and edginess, with a low-maintenance yet striking appearance that will make you stand out.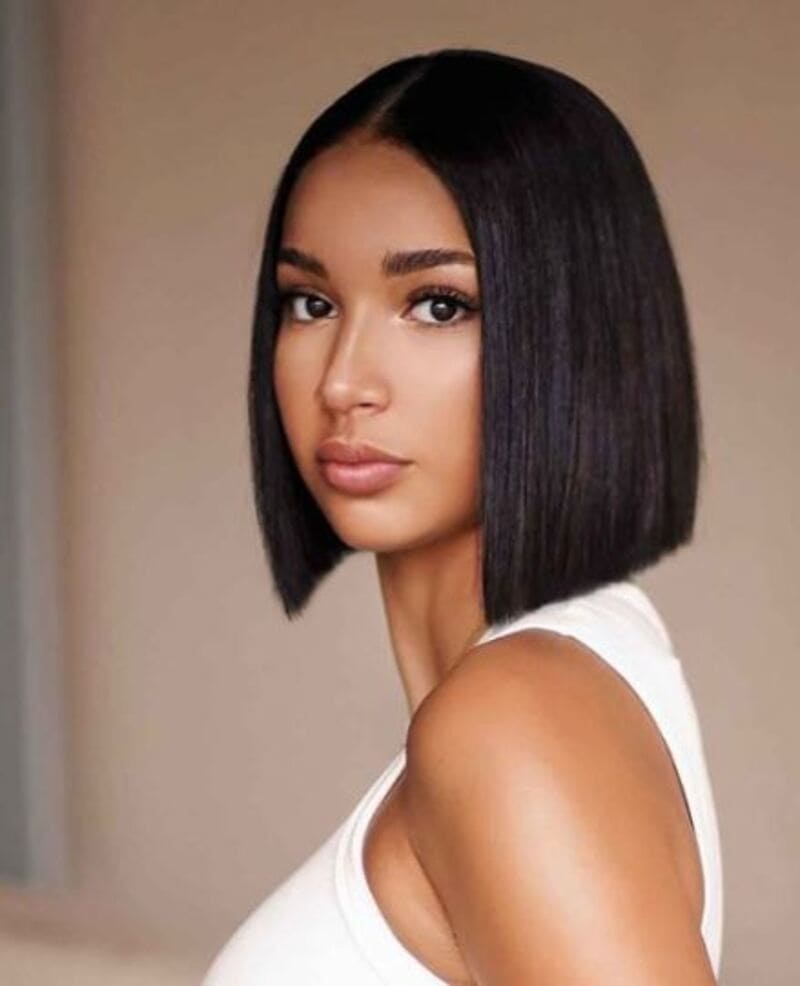 Curly pixie cut quick weave
The curly pixie cut creates playfulness and vibrancy. Introducing curls into the classic pixie style infuses energy and character into your appearance. This option is perfect for those who want to showcase their lively spirit and add a whimsy to their hairstyle.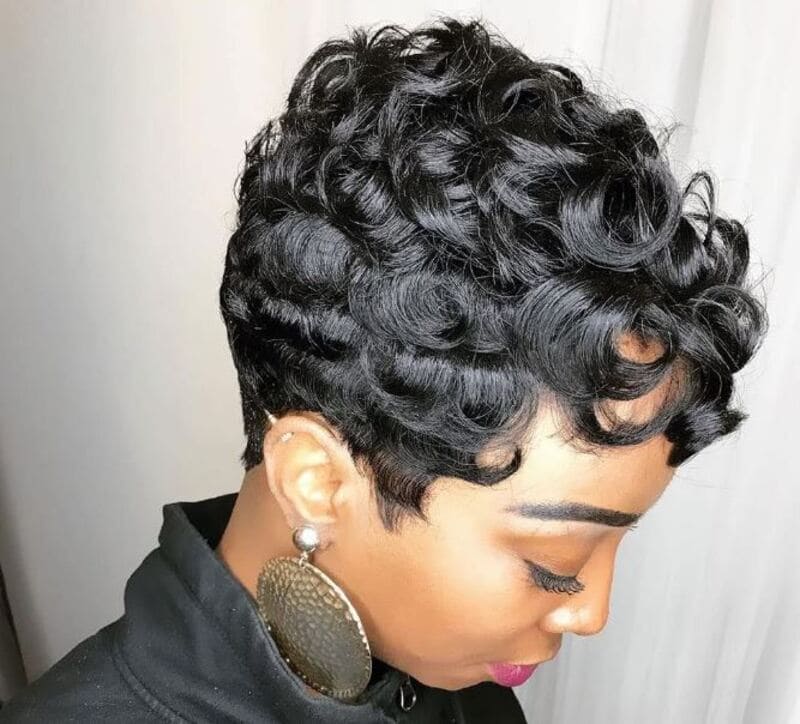 Mushroom pixie cut quick weave
The mushroom pixie cutis a trendsetting and unique variation of the classic pixie. Inspired by the distinctive mushroom cut, this style features a rounded, voluminous top with short, neatly tapered sides. It is a head-turning, fashion-forward choice gaining popularity in 2023, perfect for those who want to make a bold and stylish statement with their pixie cut.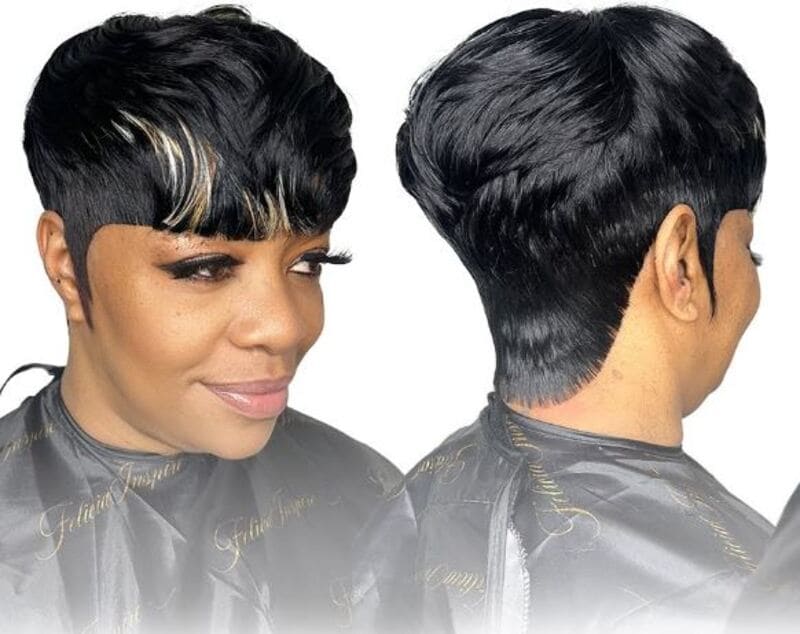 The Tapered 27 Piece Hairstyle 
This tapered, 27-piece quick weave hairstyle includes a rounded braid that starts at the back of your head, runs along the side of your ear, and extends just below your shoulder.
Consider incorporating long pixie haircuts to complement the tapered 27-piece style for a chic look. This style features shorter sides and a longer top, highlighting your facial features while adding a trendy edge to your appearance. The longer top also allows for versatile styling options.
Fabulous Finger Curls
To enhance the tapered 27-piece quick weave hairstyle, you can introduce stylish finger curls on the sides of your head. You can use a straightforward approach, using a curling iron to curl all the hair across your head or opt for a more intricate method using a brush.
Experimenting with finger curls is a fantastic choice to infuse texture and personality into your pixie cut quick weave. This technique is particularly effective for short hair, as it does not add extra length. Lastly, you can create a striking and stunning statement with your curls using the appropriate products and techniques.
Whimsical Pixie 27-Piece Haircut 
This short, polished hairstyle is ideal for those seeking a unique, personality-filled look. The strand length and the pixie cut create a distinctive appearance, maintaining a stylish and intricate overall style.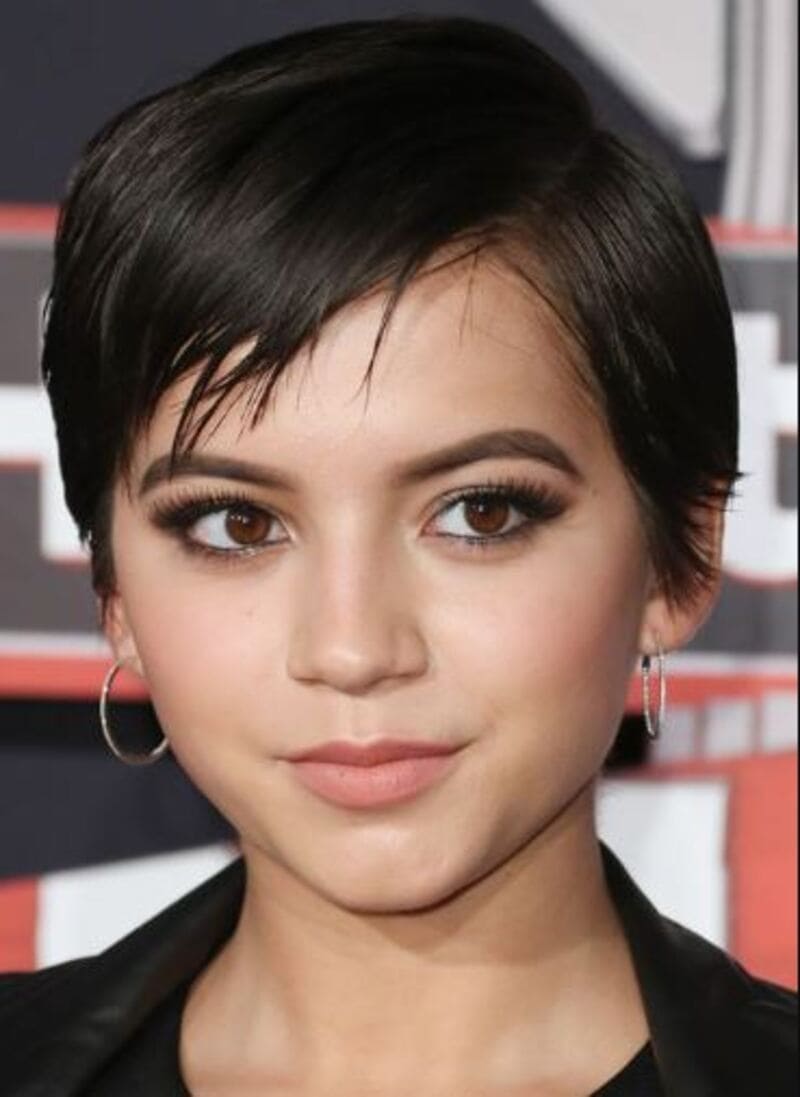 The Short Cut For Fine Hair 
The quick weave hairstyle showcases a shaved-up design with sufficient length to achieve a stylish swept-back appearance.
These haircuts introduce volume and texture to fine hair, enhancing its fullness and giving it a more voluminous look. Choose a shorter length with layered and textured elements to enhance volume and dynamic movement into finer locks.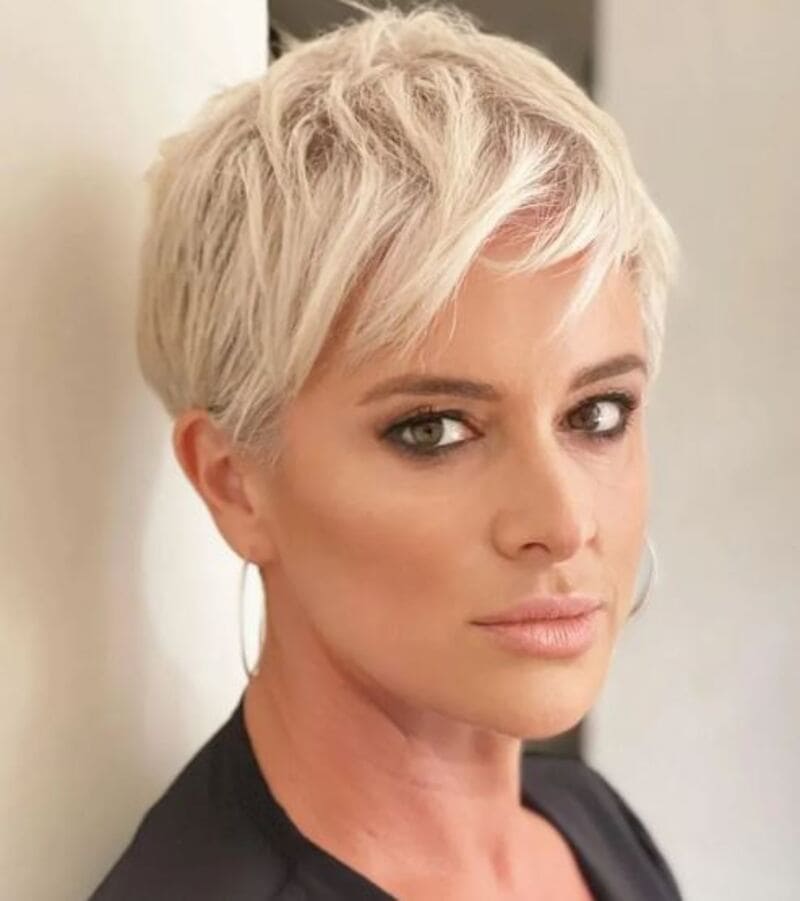 The 27-Piece Bowl Cut 
This 27-piece pixie cut hairstyle showcases a bowl cut with stylish side-swept bangs. For those who appreciate the timeless charm of 90s fashion, the 27-piece bowl cut is an excellent choice. This haircut combines vintage and contemporary aesthetics, bringing life iconic hairstyles from that era to influence today's trending hair fashion.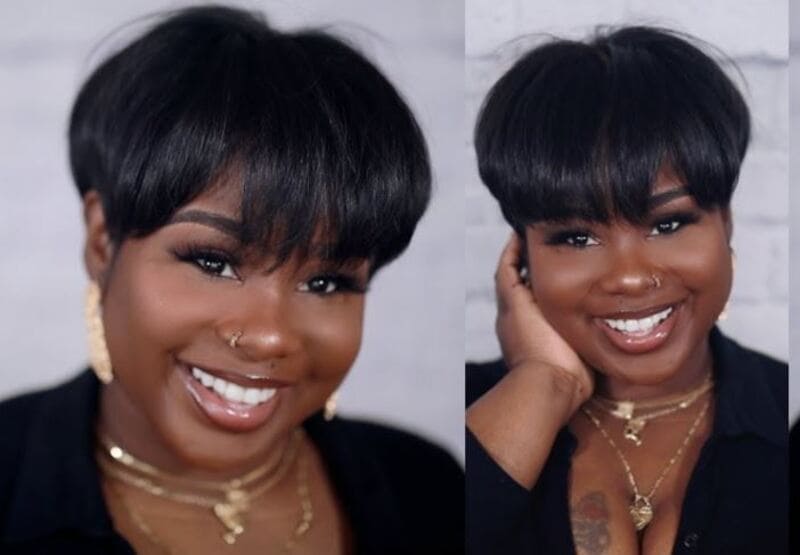 Free Formed Curls
In this quick weave hairstyle, you will find free-form curls paired with shaved side parts, eliminating the need for a barber trip. Crafting these free-form curls imparts a natural appearance to your quick weave that is bound to grab attention. To attain this style, contemplate utilizing a curling iron equipped with a ceramic barrel or exploring a hair perm kit.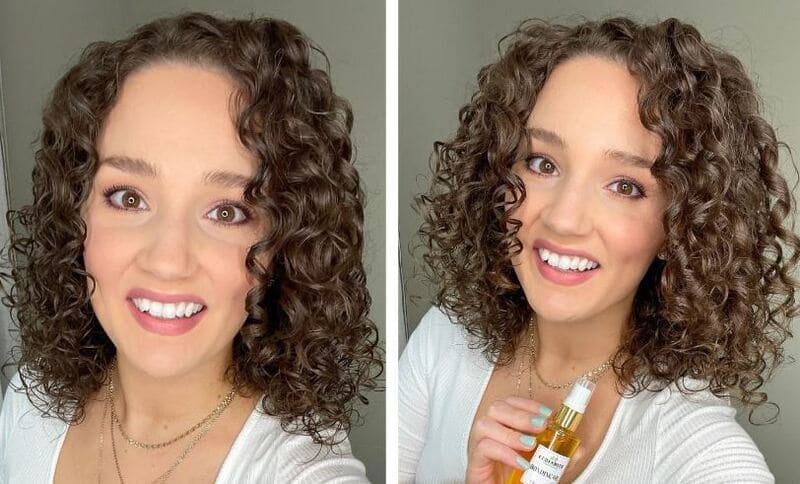 The Short Wavy Hairstyle
This quick weave style is characterized by its fuzzy texture and sleek, tapered bangs. The short, wavy hairstyle is a fantastic choice for an effortlessly chic, easy-to-maintain and stylish haircut. This look introduces volume to your locks and complements a variety of face shapes.
Shaggy Tapered Bob Hairstyle
Here is a shaggy, tapered bob with lengthy, voluminous bangs and disheveled layers on both the sides and rear. Consider opting for the shaggy tapered hairstyle for a classic bob with added texture and depth. This versatile cut complements various face shapes and can be personalized with layers of varying lengths to accentuate your finest attributes.
The Short Wavy Bob Hairstyle 
This pixie cut quick weave hairstyle showcases a captivating short wavy bob with edgy razored ends and shaved sides. If you are in the mood for a bold transformation and have short hair, embracing the wavy bob style can inject new life into your look. 
This chic cut does not just provide a touch of elegance; it also lends texture and volume to your hair, making it a versatile choice that is both fashionable and refreshing. Whether you are looking for a style update or wish to experiment with a short, wavy aesthetic, this bob offers a perfect blend of creativity and flair for your short locks.
Short Tapered Bob Hairstyle
This quick weave hairstyle reveals a stylish and versatile short tapered bob. This bob boasts choppy ends that add a touch of edginess, while the top of your head is adorned with a delightful, messy texture. The result is a unique and fashionable look that combines sophistication and an air of casual charm.
Tapered Wavy Short Hairstyle 
This pixie cut presents a layered design with wavy texturing at the crown and shorter, straight bangs that frame the forehead.
Consider experimenting with the tapered wavy short hairstyle for an elegant and refined appearance. It is ideal for individuals with naturally curly hair who wish to add more volume and texture to their appearance.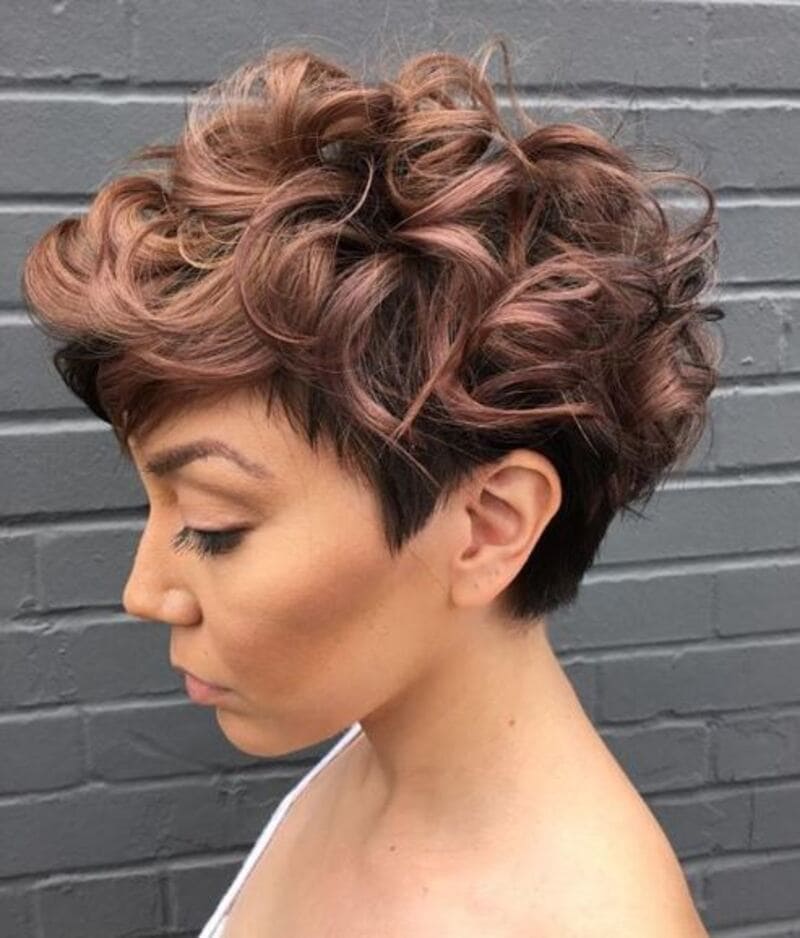 Bangs With Choppy Ends
You will find a short, sleek haircut with precision-trimmed bangs that sweep to the front of your face in this pixie cut with quick weave.
For a daring and sharp appearance, consider choosing short, choppy hairstyles, ideally accompanied by bangs sporting edgy, jagged ends. This playful style adds a touch of fun, creating texture and movement in your hair that beautifully accentuates your facial features.
Short Layered Wavy Hairstyle 
The hairdo showcases tousled layers at the crown, contrasting with a gentle wavy pattern along the sides and back.
Introduce texturized layers and waves into your style for a pixie cut with added flair. You can create this effect using a curling wand and texturizing spray. The layered waves infuse volume and a playful essence into your hair while maintaining its short length.
The 27-Piece Diva Cut 
This look is favored by those desiring an elongated pixie cut, with the option to maintain shoulder-length hair or transform it into a bob with bangs.
To achieve a captivating diva-inspired appearance, consider incorporating curls into your 27-piece short, quick weave hairstyle. These curly pixie styles introduce a playful and captivating element to your overall look. Experiment with various curl types, gentle, relaxed, or tight, to craft a distinctive and personalized style.
Peek-a-Boo Blondie Cut 
The "Peek-a-Boo Blondie Cut" is a charming and trendy option, tailor-made for those with lustrous blonde locks. It showcases an angled bob that exudes a playful and modern vibe, with gracefully cascading long layers and elegantly tapered ends.
This hairstyle is an excellent choice for those looking to infuse their blonde hair with sophistication while keeping a contemporary edge. The angled bob provides a sense of movement and dynamism, creating a look that combines elegance with a youthful spirit.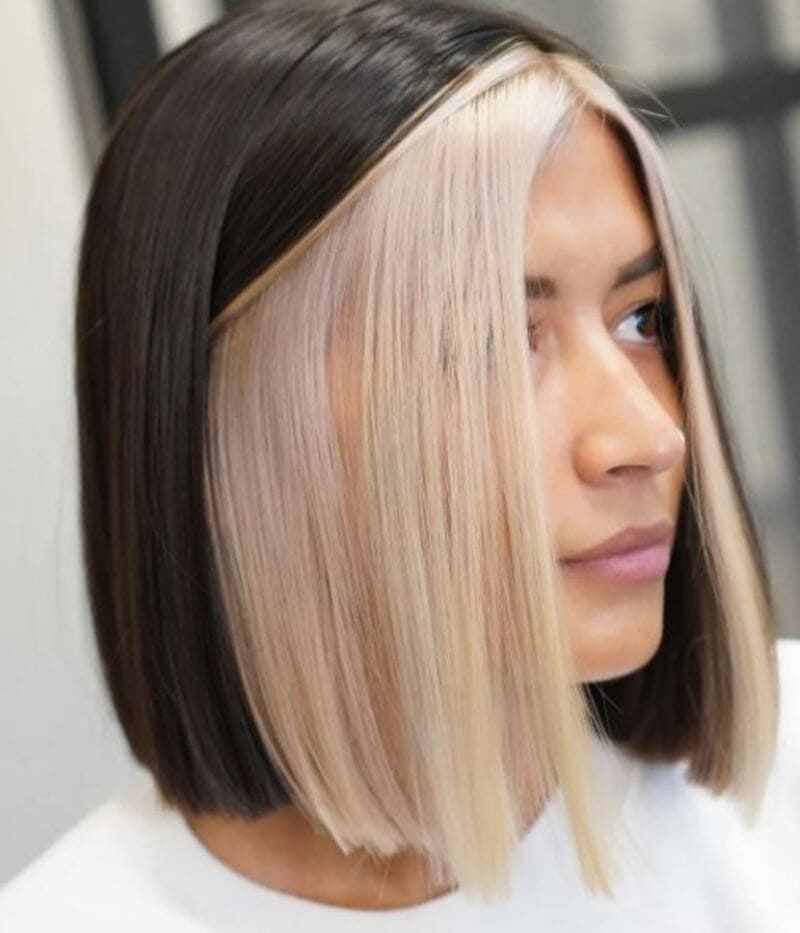 Best color of pixie cut quick weave
The realm of pixie cuts offers vibrant color possibilities to enhance your style. Let's explore some of the best color choices for this dynamic and versatile hairstyle:
Red pixie cut quick weave
A red pixie cut is a bold and attention-grabbing choice. Whether you opt for fiery red, deep burgundy, or a playful ginger hue, red exudes confidence and individuality. It is a color that symbolizes passion, energy, and a fearless spirit.
Blonde pixie cut quick weave
Blonde is a timeless classic that always stays in style. A blonde pixie cut can range from platinum to honey, offering versatility and radiance. It conveys a sense of elegance, youthfulness, and sophistication, making it a popular choice for those looking for a fresh, luminous look.
Pink pixie cut quick weave
Pink pixie cut with quick weaves are for the free spirits and trendsetters. The color pink is often associated with creativity, romance, and playfulness. Whether you choose a soft pastel or a vibrant neon shade, pink makes a vibrant statement, radiating positivity and uniqueness.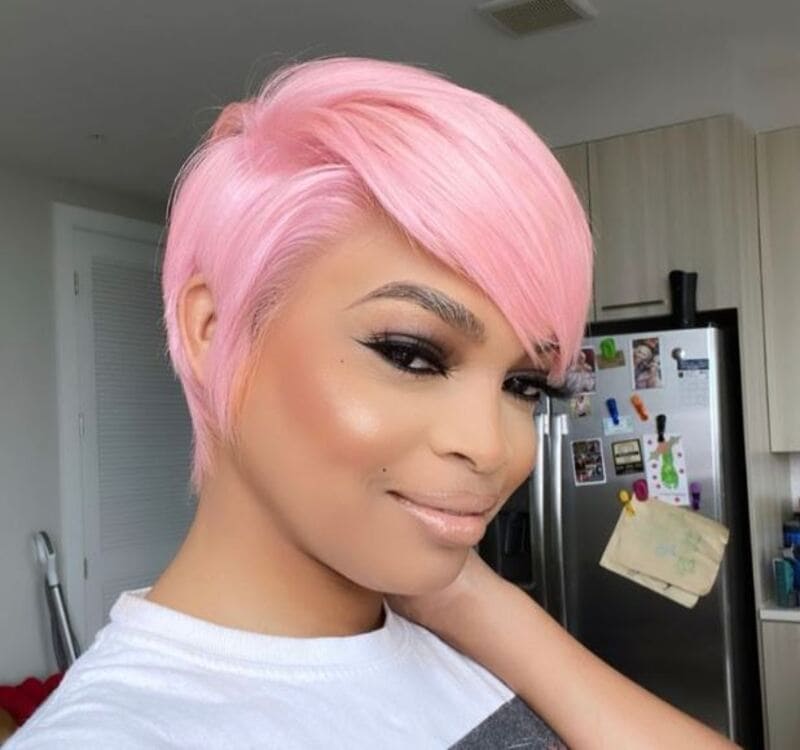 Blue pixie cut quick weave
A blue pixie cut with quick weave is a striking and edgy choice. The color blue represents depth, wisdom, and tranquility. From icy blues to electric aqua, blue pixie cuts can convey cool confidence and individuality, perfect for those not afraid to stand out.
How to do a pixie cut with quick weave
Creating a pixie cut with quick weave is a fantastic way to achieve a stylish, low-maintenance look. Here is a step-by-step guide on how to do it:
You will need:
Quick weave hair extensions

Weaving cap

Bonding glue or adhesive

Scissors

Wig clips

Hairdryer

Styling tools (flat iron, curling iron, etc.)

Haircare products (shampoo, conditioner, etc.)
Before you begin, ensure your natural hair is clean and well-prepped. Braid your hair close to the scalp or create flat cornrows to provide a smooth base for the weave.
Select your quick weave extensions
Choose the type, color, and texture of hair extensions that match your desired pixie cut style.
Place the weaving cap securely over your head, ensuring it is snug and comfortable. Trim any excess cap material.
Use the bonding glue to adhere the weft hair extensions to the weaving cap, starting at the nape of your neck. Work your way up, layer by layer, gluing each row of extensions.
Cut and shape the extensions to create your desired pixie cut style. You can opt for a traditional pixie, a layered look, or any variation you prefer.
Style the hair extensions as you like, using a flat iron, curling iron, or other styling tools. Blend the extensions with your natural hair and ensure the pixie cut looks seamless.
Trim any excess hair, ensuring the pixie cut is precise. Add wig clips to secure the weave firmly in place.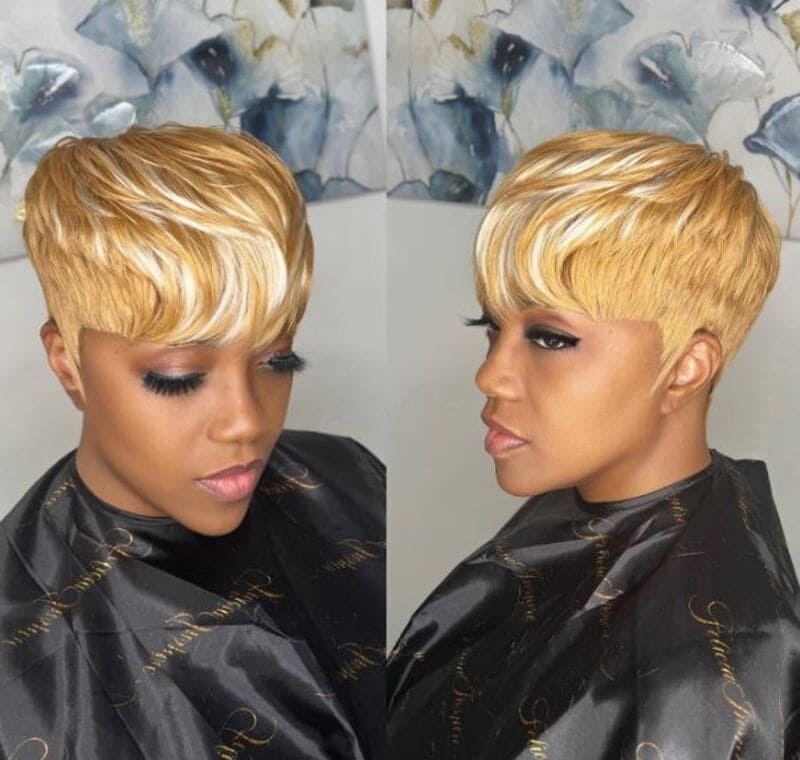 FAQs
How long does a pixie quick weave typically last?
Typically, a pixie quick weave has a lifespan of approximately 2 to 4 weeks. This duration can vary based on several factors, including the stylist's skill, the hair extensions' quality, and how well you care for the weave during that time. Regular maintenance and proper handling can help you maximize the longevity of your pixie quick weave.
Are quick weaves known to be damaging to hair?
While quick weaves can be a stylish and convenient choice, they do have the potential to damage natural hair. This risk primarily arises during installation or removal if not done correctly. It is important to seek a professional stylist to ensure the weave is applied and removed safely, minimizing the risk of harm to your hair.
Is maintaining a pixie haircut challenging?
Maintaining a pixie haircut can indeed pose some challenges. Due to its short length, regular trims are essential to keep the style looking sharp and neat. Additionally, the limited length might require more frequent styling to achieve the desired look, which can be time-consuming for some individuals.
In conclusion,
These alluring short pixie cut with quick weave hairstyles of 2023 offer an array of exciting choices to express your unique style. If you are ready to turn these inspirations into reality, search for "pixie cut quick weave near me" to locate a skilled stylist who can bring your vision to life. 
To ensure a professional and seamless experience, contact Jenhair, your trusted source for quality hair extensions and expert guidance. Reach out to Jenhair today and let us help you transform your hairstyle dreams into a stunning reality.