How to put on a wig with long hair? The simplest method is to make a braid and wrap it around your head. If you intend to keep the wig on for an extended period, consider exploring other techniques. Let's delve into those alternatives below.
If you're curious about how to wear a wig with long hair without cutting your natural locks, this article is a must-read. Jen Hair will guide you on how to neatly tuck and conceal your long hair, enabling you to comfortably wear a wig. Don't forget to choose a larger wig if you have thick hair, as this will ensure the success of the techniques. Now, let's start with us.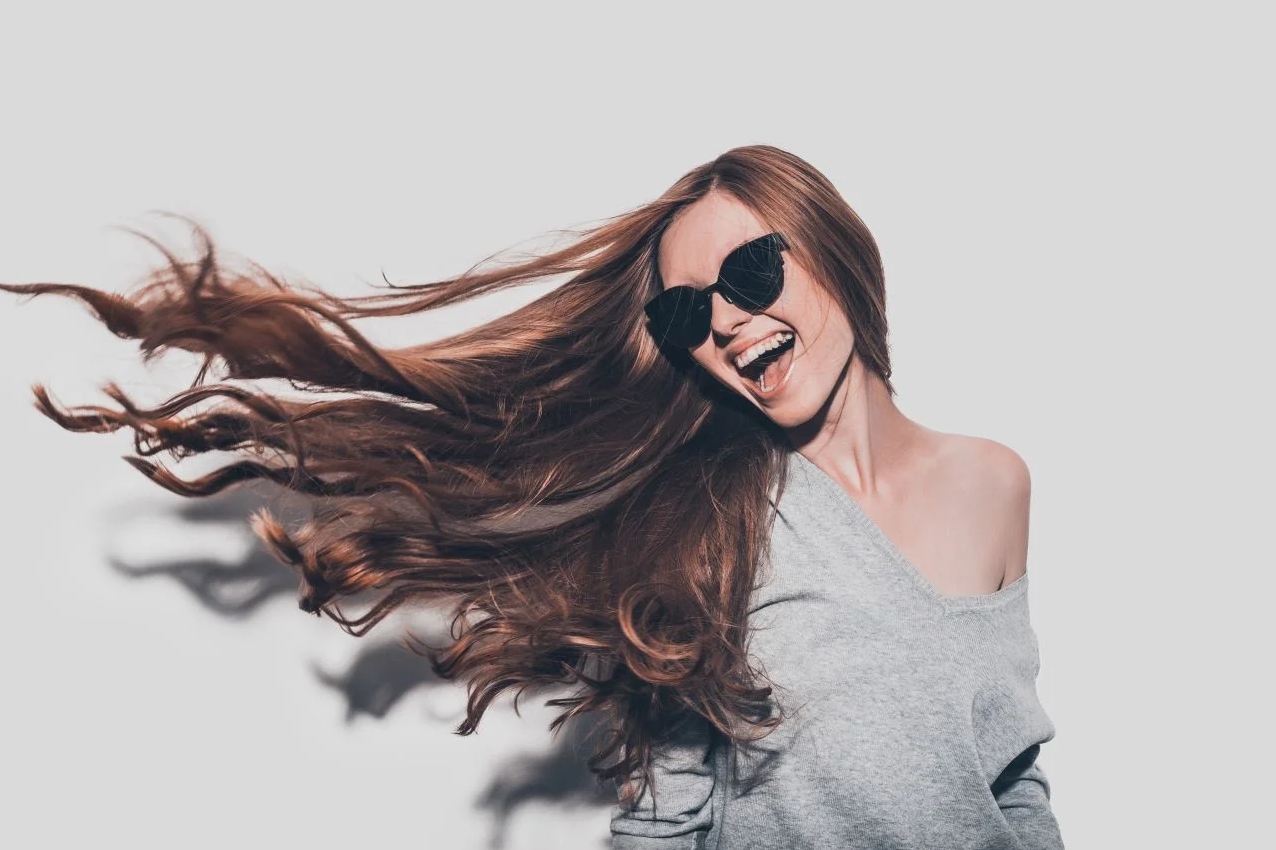 How to put on a wig with long hair? 4 Quick Steps
Preparing Your Hair
The initial step is to prepare your own hair by ensuring it's clean and well-groomed. Prior to putting on your wig, make sure you've thoroughly washed your hair to keep it moisturized. Following that, you'll want to brush your hair to eliminate any tangles or knots. 
Hiding your natural hair
The Plait Method
Divide your hair into two sections (or four if it's thick), from front to back. Secure each section with a loose hair tie.

Begin each braid near the base of your scalp and secure it with a small hair tie. Avoid braiding too tightly to prevent lumps under the wig.

Wrap the braids around the crown of your head and secure them with bobby pins, ensuring they're not too close to your natural hairline to remain hidden.
The Ponytail Method
Tie your hair into a low, tight ponytail. Ensure it's secure but not uncomfortable.

Pull the ponytail over your head, positioning the ends near your forehead. Smooth your hair to ensure a snug fit under the wig cap.
The Cornrow Method
Use a wide-tooth comb to create sections, forming a front-to-back line on your scalp. Depending on your hair's thickness, you can create three or more rows.

Begin at the front of your scalp, divide one row into three sections, and start braiding. 

Pass the right section under the middle one, then make it the new middle section. Continue braiding to the hair's end and secure it with a hairband. Reiterate the procedure with the section on the left.

Entwine multiple braids and encircle them around the back of your head. Secure with large bobby pins, ensuring individual braids lay flat to avoid lumps.
Applying Your Hair to the Wig Cap
Once you've chosen your wigs, whether they're synthetic or lifelike, the next step involves putting on a wig cap. This not only safeguards your long hair but also conceals and secures it. You'll want to know how to properly wear a wig cap.
To put on the wig, turn it upside down and carefully position it over your head. Stretch the elastic band around the wig's edge using your fingers. Slide it over your braids, ensuring they are all neatly tucked underneath. 
Gently lift sections of the wig hair and secure it in place by inserting a flap or pin through the mesh, attaching the wig securely to your head.  For added security, you can use bobby pins, wig tapes, or other methods. 
If desired, you can use double-sided fashion tape to secure the wig's edge firmly those considering extended wig wear, gluing it in place is an option. However, if you're new to this process, it's advisable to seek guidance from a professional to avoid any mishaps, as you wouldn't want the adhesive to affect your natural hair. Additionally, consult with a stylist for product recommendations to ensure you select the appropriate adhesive.
How to put on a wig with long hair: Put on wig
It's time for the grand wig reveal! Whether you've opted for a short wig or a long one, the process remains the same. Begin by donning a wig cap, ensuring that the elastic band will align with the front of your scalp when you pull it up. This means that the majority of the cap will be situated towards the back of your head. Carefully pull the cap over your head.
Next, carefully place the wig over your head, ensuring a snug fit. Use your fingers to extend the elastic band around the wig's edge. Slide it over your braids, ensuring that all the braids are neatly tucked beneath it. To secure the wig in place, lift sections of the wig hair and affix bobby pins through the mesh, attaching the wig securely to your head.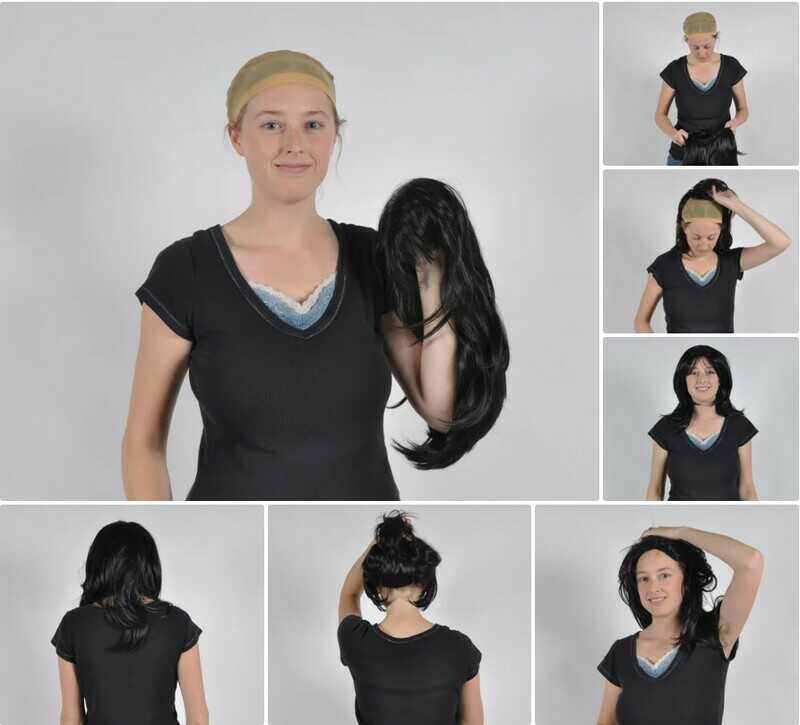 Tips for Securing Long Hair in a Wig Cap
Using a wig cap is a choice, but it can significantly enhance your experience when learning how to wear a wig with long hair without compromising on a natural appearance. While we've previously discussed the process of putting on a wig cap with long hair, here are some extra pointers:
Ensure that your wig cap matches the color of your wig to maintain a natural look. If, for any reason, your wig cap becomes visible, a color match will help your wig appear more authentic.

There are various types of wig caps, but for long hair, a mesh-like construction is ideal. This type of wig cap allows your scalp to breathe while securing your natural hair in place. With an abundance of natural hair beneath the wig, a breathable wig cap becomes crucial.
FAQ
What is the appropriate wig cap size for long hair?
The size of the wig cap plays a crucial role. It's essential to choose a wig large enough to accommodate your long hair properly. If the wig doesn't fit well, it can be uncomfortable to wear and may appear unnatural. The standard wig cap size typically has a circumference of about 21.5 inches. Keep in mind that there are variations between children's and adult sizes.
How can I establish the correct wig size for myself?
You can determine the suitable wig size by measuring your head. Using a measuring tape is a common method. Begin by placing the measuring tape around your head, starting from the front of your hairline, going behind your ear, along the nape, over to the other ear, and back to the front hairline.
Conclusion,
Now that you've learned how to confidently wear a wig with long hair, ensuring both security and a natural look, you can enjoy your wigs without any reservations. Your beautiful, long hair should never be an obstacle to wearing the wigs you adore. Be confident with how to put on a wig with long hair!
With these techniques, you can prepare your hair to flawlessly complement any wig, regardless of your natural hair's length. If you have any questions, feel free to reach out to Jen Hair for more information and to find the perfect wig you desire.