Are you looking for a hairstyle that combines the best of both worlds of the stunning half braids half weave hairstyles? This unique and eye-catching look offers the perfect blend of braided elegance and flowing weave for a head-turning style. 
If you are curious about how to achieve this fabulous look, you're in luck! In this step-by-step half braids half weave tutorial, Jen Hair will guide you through the process, helping you create the perfect blend of braids and weave. Get ready!
What is half braids half weave?
The half braids half weave hairstyle is a creative and versatile look that combines two different hair techniques to create a unique blend. 
In this style, the hair is divided into two sections: one section is braided, while the other section is enhanced with a weave or hair extensions. The braided section typically starts from the front or crown of the head and extends to a certain point. At the same time, the weave or extensions are added to the remaining loose hair. 
This combination allows for endless possibilities in terms of texture, length, and volume. It's a great way to add dimension, style, and a touch of elegance to your look. Whether you prefer sleek and straight hair or voluminous curls, the half braids half weave hairstyle offers a wide range of options to suit your personal taste.
How to make half braids half weave
Preparing Your Hair
Before diving into the half braids half weave hairstyle, preparing your hair properly is essential to ensure optimal results. Here are the key steps for getting your hair ready:
Washing and conditioning your hair
Start by thoroughly washing your hair with a gentle shampoo and conditioner. This will remove product buildup, dirt, and excess oils, leaving your hair clean. Be sure to choose products suitable for your hair type and texture.
Detangling and blow-drying
After washing, gently detangle your hair using a wide-toothed comb or a detangling brush. Start from the end and work your way up to minimize breakage and discomfort. Once your hair is detangled, use a blow dryer on a low heat setting to remove excess moisture. Remember to keep the dryer safe from your hair to prevent heat damage.
Applying a heat protectant
Before applying any heat styling tools, protecting your hair from potential damage is crucial. Apply a heat protectant spray or serum evenly throughout your hair, focusing on the ends. This protective barrier will help minimize the impact of heat styling tools and maintain the health of your hair.
Braiding the Natural Hair
Now that your hair is prepared, it's time to start braiding the natural section for the half braids half weave hairstyle. Follow these steps to achieve beautifully braided locks:
Sectioning the hair and creating partings
Divide your hair into sections using a rat-tail comb. The size of the sections will depend on the desired braid thickness. Create clean and precise partings to ensure a neat overall look.
Choosing the appropriate braid style
Select the braid style that best suits your preferences and complements the overall look you want to achieve. Popular choices include cornrows, box braids, or even French braids. Pick a style that you feel comfortable with, and that matches your personal style.
Step-by-step instructions for braiding the natural hair
Begin by taking a small section of hair at the front or crown of your head. Divide it into three equal parts, cross the right section over the middle section, then cross the left section over the new middle section. Continue this pattern, adding more hair from the parted section as you move toward the back. Keep the tension even and consistent for neat and uniform braids.

As you braid, make sure to maintain an appropriate level of tension. Avoid braiding too tightly, as it can cause discomfort and potential breakage. On the other hand, avoid braiding too loosely, as it will result in unraveled braids. Find a balance that allows for a secure hold without stressing your hair.

Once you've reached the desired length for each braid, secure the ends using small hair elastics or rubber bands. This will prevent the braids from unraveling and keep them neat and intact.
Preparing The Weave For Half Braids Half Weave
The weave portion adds volume, length, and texture to the remaining loose hair in the half braids half weave hairstyle. Follow these steps to prepare the weave for a seamless blend:
Selecting the appropriate weave hair
Choose a weave hair that closely matches your natural hair's texture, colour, and length. Consider factors such as the style, thickness, and quality of the weave. Whether you opt for human or synthetic hair, ensure it blends with your natural hair for a cohesive look.
Preparing the weave tracks
To create a solid foundation for the weave, you'll need to create tracks on your natural hair. Here's how:
Section off a small portion of your natural hair, leaving enough space for the weave to be attached. Use hair clips or rubber bands to secure the remaining hair out of the way.

Measure the weave track against the sectioned-off hair to ensure it fits properly. Cut the track to the desired length, leaving a small excess for secure attachment.

Apply a thin layer of hair bonding glue or use hair thread and needle to sew the weft onto the braid or cornrow. Start at the base and work up to secure the weave track tightly and evenly.

Repeat each section until all weave tracks are securely attached to your natural hair.
Blending the Braids and Weave
Now that the braids and weave are in place, it's time to blend them together for a natural look.
Styling the braids and weave together
Combining the braids and weave opens up a world of styling possibilities. You can leave the braids as they are, style them into updos or ponytails, or create intricate designs by incorporating the weave. Experiment with different hairstyles and find the look that best suits your style and the occasion.
Concealing the tracks and ensuring a natural look
To make the tracks and attachment points of the weave less noticeable, there are a few techniques you can use:
Use a crochet or latch hook to pull small sections of the loose hair through the weave tracks. This helps to conceal the tracks and create a more natural blend between the braids and weave.

Blend the natural hair with the weave by gently combing or brushing the hair where the two meet. This helps to soften any visible lines of demarcation.

Use styling products like edge control gels or serums to smooth down any flyaways or frizz and create a polished finish.
Tips for achieving a seamless transition:
Ensure that the texture of the weave hair matches the texture of your natural hair. Choose a curly or wavy weave to blend seamlessly if your natural hair is curly.

Select a weave colour that closely matches your natural hair colour or complements it. This will help create a cohesive and natural overall look.

Achieving a seamless blend between the braids and weave requires patience and attention to detail. Take the time to carefully comb, adjust, and style the hair to ensure a flawless result.
The most famous half braids half weave styles
The most famous half braids half weave styles are available to combine the beauty of braided hairstyles with the versatility and customization of weave or extensions. Let's delve into each style in more detail:
Stitch braids with a curly hair quick weave
This style will add volume, length, and texture to the hair. The stitch braids create a secure foundation for attaching the quick weave. In contrast, the curly hair weave enhances the overall look by providing natural-looking curls and body. 
This half stitch braids half quick weave style is ideal for those who desire a quick and convenient way to achieve a full and voluminous hairstyle.
Stitch braids on a curly lace wig
This can create a seamless and natural-looking hairstyle. The stitch braids are carefully created on the wig cap, allowing them to blend with the lace front of the wig. 
This technique ensures that the hairstyle looks realistic and undetectable. It provides a hassle-free way to achieve intricate braids with a curly texture.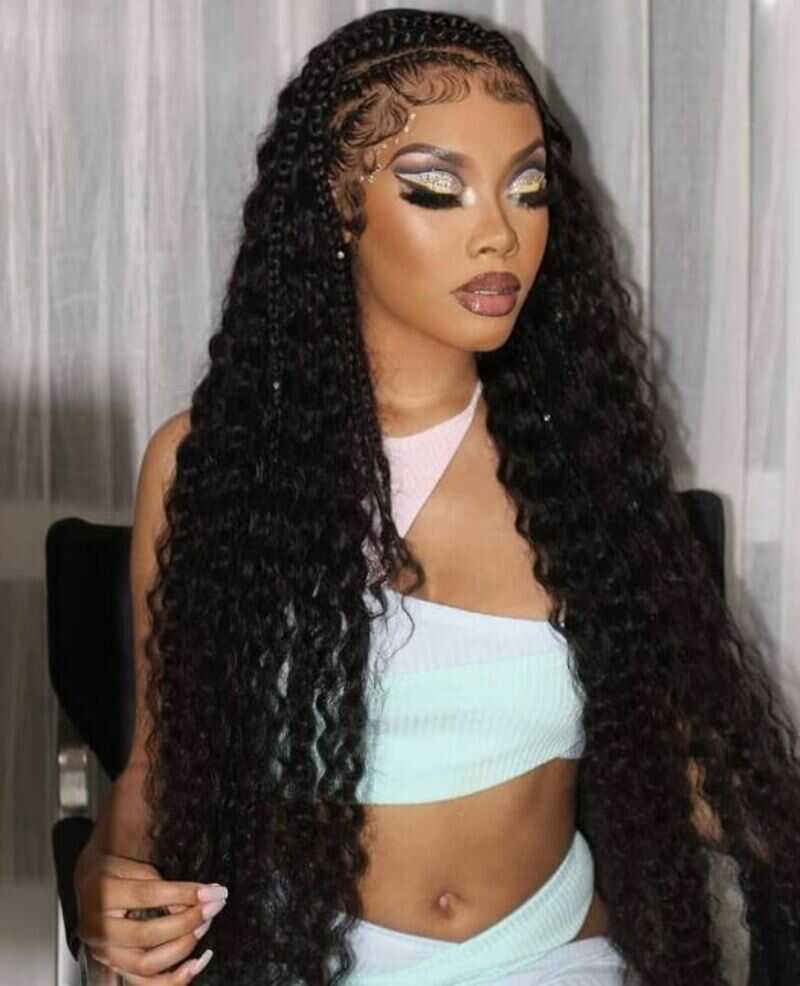 Stitch braids with a curly hair sew-in
In this style, the stitch braids are a solid foundation for attaching the curly hair extensions using a sew-in technique. This half braids half curly weave method allows for a secure and long-lasting style that can withstand various activities and provide a natural blend between the braids and the added hair.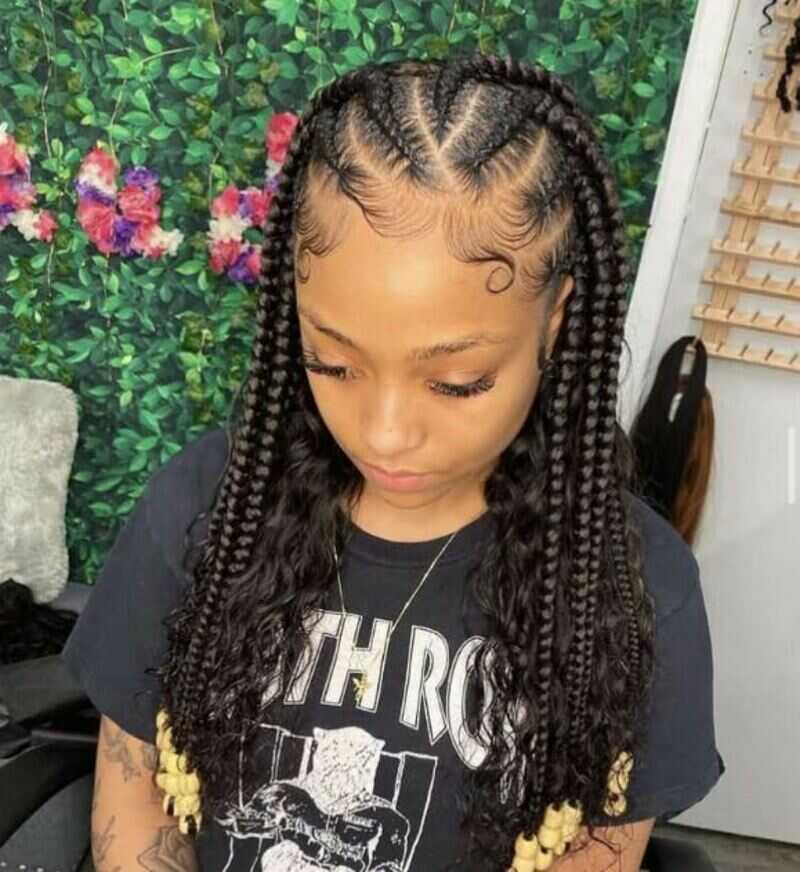 Two braids half up half down weave
You can obtain a versatile and trendy look with the two braids on the top or crown area of the head adding a stylish and eye-catching element. At the same time, the weave or extensions enhance the overall length and volume of the remaining hair. This style offers the option to experiment with different braiding patterns and weave textures, allowing for a customized and fashionable appearance.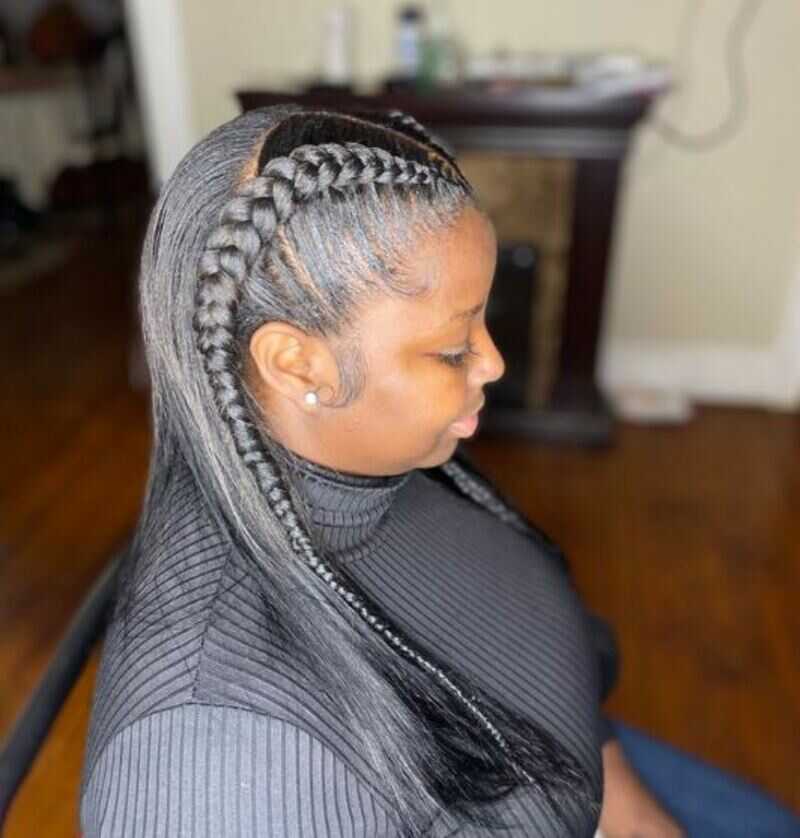 Caring for Your Half Braids Half Weave Hairstyle
After investing time and effort into achieving your stunning half and half braids and weave hairstyle, it's essential to practice a proper care routine to ensure its longevity and keep your hair and scalp healthy. Here are some key tips for maintaining and caring for your hairstyle:
Nighttime routine to protect the style
Before bed, take steps to protect your half braids half weave style. Consider wrapping your hair with a satin or silk scarf or using a satin or silk pillowcase to minimize friction and prevent frizz. This will help preserve the integrity of your braids and weave while reducing tangles and breakage.
Maintaining the cleanliness of the scalp
Maintaining a clean and healthy scalp is crucial for the overall health of your hair. To keep your scalp clean, you can use a dry shampoo specifically formulated for braids and weaves. 
Gently spray it onto the scalp and massage it, focusing on the root area. Alternatively, you can dilute a mild shampoo with water and apply it to the scalp using a bottle with a narrow nozzle or a cotton pad. Be sure to rinse thoroughly and pat dry to avoid excessive moisture.
Moisturizing and conditioning both the natural hair and weave
Proper hydration is essential to maintain the health and appearance of your natural hair and the weave. Use a lightweight leave-in conditioner to moisturize your natural hair and the exposed parts of the weave. Apply it from roots to ends and focus on the ends which tend to be drier. 
For the weave, you can use a moisturizing spray designed for hair extensions or a light oil to keep it soft and supple.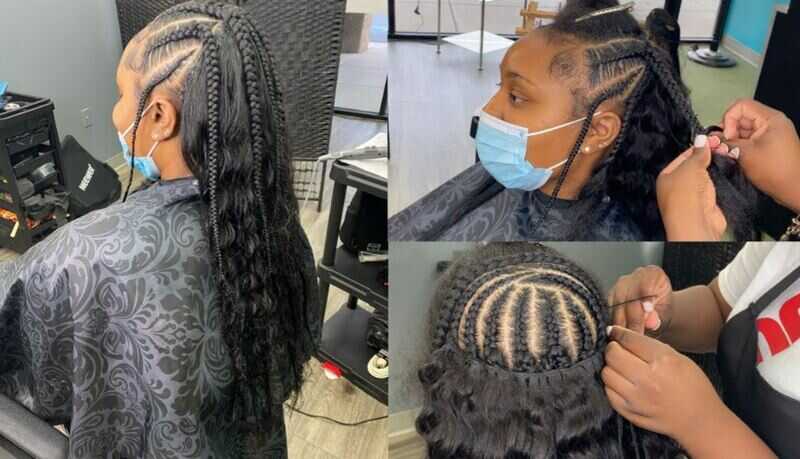 To Conclude,
The half braids half weave style offers a stunning and versatile option for a unique and eye-catching hairstyle. Combining braided sections with weave or extensions creates a beautiful blend that adds volume, length, and texture to your hair. 
In this step-by-step tutorial, we've covered the process from start to finish, guiding you through the braiding, weaving, and blending techniques. You can enjoy a long-lasting, head-turning hairstyle with proper care and maintenance. So why not give it a try? Experiment with different braid patterns and weave textures to find the perfect blend that reflects your style!