As autumn arrives, it is important to prepare for a change. It is time to consider some beautiful ponytails with braiding hair styles to protect your natural hair from the cold and dry air. Regardless of your hair's braid patterns or thickness, there are endless possibilities for styling braided ponytails.
To inspire your beauty, we have gathered the top ideas for braided ponytail hairstyles in the trendy realm of protective hairstyles. These ponytail with braiding hair styles are versatile, elegant, functional, chic, and rocking. Whether attending a formal event or a party, you can choose your favorite styles to showcase your natural beauty!
How to do the best ponytail with braiding hair styles
Slick Braids Ponytail with Bangs
Ponytails and bangs are perfect, especially with a braided bubble effect. Whether you have side bangs, blunt fringe, or choppy fringe, a braided ponytail can accommodate them.
Here's an easy guide to create a braided ponytail with bangs:
Begin by straightening your hair to achieve a sleek look for the ponytail.

Separate two sections of hair at the front for the bangs and gather the remaining hair into a ponytail.

Smooth down the hair and twist the two front sections, securing them away from your face.

Place a headscarf on your head and attach the hair extensions.

Braid the hair extensions and blend them with your natural ponytail.

Take a strand of hair and wrap it around the base of the ponytail to conceal the hair tie.

Add two small hair track pieces on either side of the ponytail to add volume.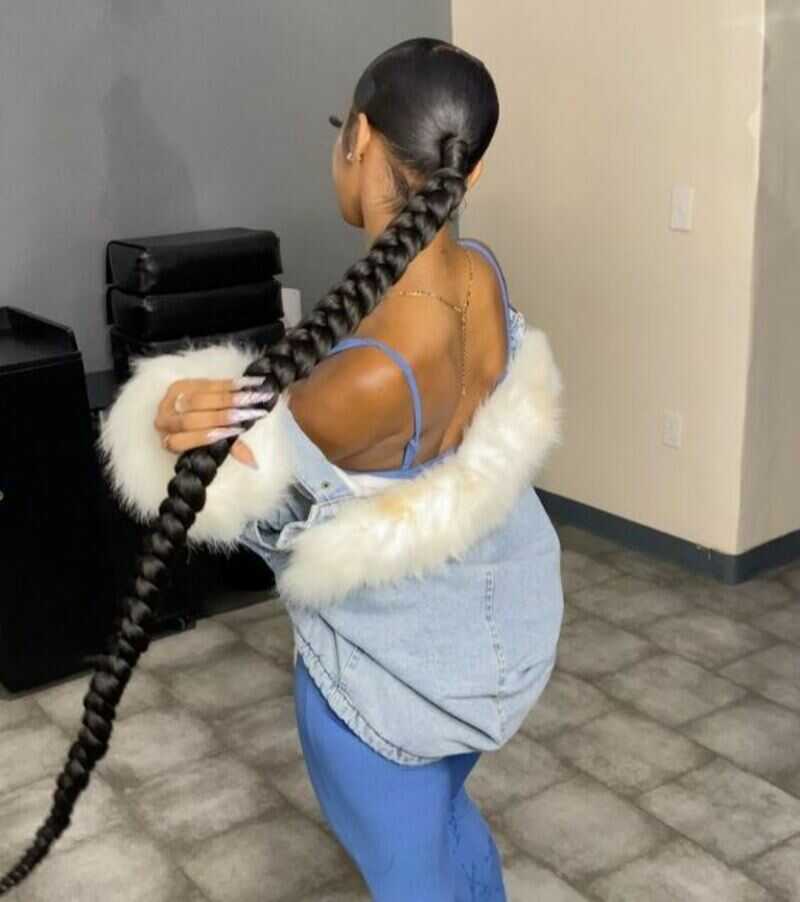 High Sleek Goddess Braided Ponytail
How to make a curly ponytail with braiding hair? The high, sleek goddess braid is a wonderful combination of curls and braids, making it an excellent choice for a protective hairstyle that promotes healthy, natural hair. This ponytail with braiding hair style can be enhanced by creating intricate crown braids or incorporating hair accessories.
Here's a simple guide to achieving a high, sleek goddess-braided ponytail:
Begin by smoothing your natural hair and pulling it up into a ponytail.

Secure a satin scarf around your head, wrapping it over the ponytail area.

Attach braiding hair to your ponytail, ensuring it is securely in place.

Begin braiding your hair, incorporating the curly hair pieces as you go. Leave about half of the curly hair outside the braid.

Integrate the curly hair pieces every two knots of the braid and continue adding the curly knot ponytail with braiding hair at the ends.

Braid the curly ends and add more hair to the rubber band to secure the style.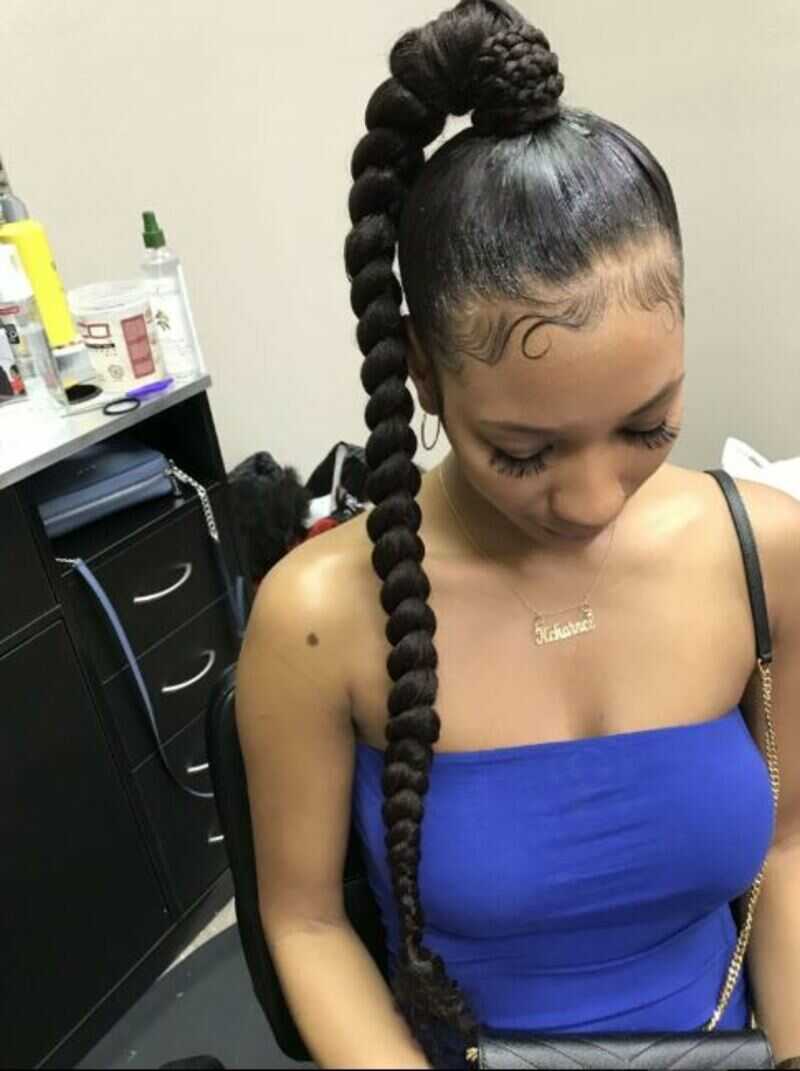 Butterfly Braided High Sleek Ponytail
The butterfly braided high-slicked ponytail is a highly popular hairstyle embraced by black girls. It is not limited to those with long hair; even individuals with short hair can achieve this look with the help of hair extensions and drawstring ponytails.
This stunning high braided ponytail style is worth trying for every girl who wants to stand out. The extra-long braided sleek butterfly ponytail, created with 100% human hair extensions, produces textured protective braids.
There are two braiding methods to achieve the Butterfly Ponytail:
Three-strand method:
   – Begin by braiding your black hair using the regular three-strand method.
   – Continuously add hair pieces while braiding.
   – Once all the extensions are incorporated, gently spread the braids to the sides, careful not to exert excessive force that may cause breakage.
Pull-through method:
   – Braid your hair extensions using the pull-through method.
   – Divide your ponytail into two sections: the upper half and the lower half.
   – Further divide the upper half into right and left sections.
   – Pull the lower section through the upper section from the middle space, causing the lower section to become the upper one.
   – Divide the upper section into two parts again.
   – Pull the left and right sections through the middle space, joining them together.
   – Repeat these braiding steps until you reach the end, securing it with a rubber band.
   – Pull the braided strands to the sides, resembling butterfly wings, and style the ends according to your preference.
Sleek Bohemian Braided Ponytail
Looking for something interesting? Give the Bohemian braided pony a try! This hairstyle is perfect for black women, featuring loose and relaxed high ponytails with disheveled and soft braids. It creates an asymmetrical but acceptable look, keeping the curly ends for a voluminous appearance.
To achieve this ponytail with braiding hair style, only the first few inches of hair are braided while the rest remains curly. The Bohemian braided pony can last long with minimal touch-ups and complements various clothing styles. It's a fantastic choice for those who prefer longer braids.
Here's a simplified guide to creating the Bohemian braided pony:
Moisturize your natural hair with chemical-free hair lotion, ensuring it's not tangled or dry.

Brush your hair thoroughly to achieve a sleeker look. Gather your natural hair and secure it with a hair tie, creating a small bun.

To control flyaways and frizz, tie your hair down with a scarf while you work on the braided ponytail.

Attach wavy or curly textured hair extensions, ensuring they cover your bun. Brush out the extensions after attaching them.

Braid your hair extensions using a regular braiding method. Leave the ends curly, and don't worry about braiding tightly or neatly. You can spread the braid to create a slightly messy look for your high ponytail.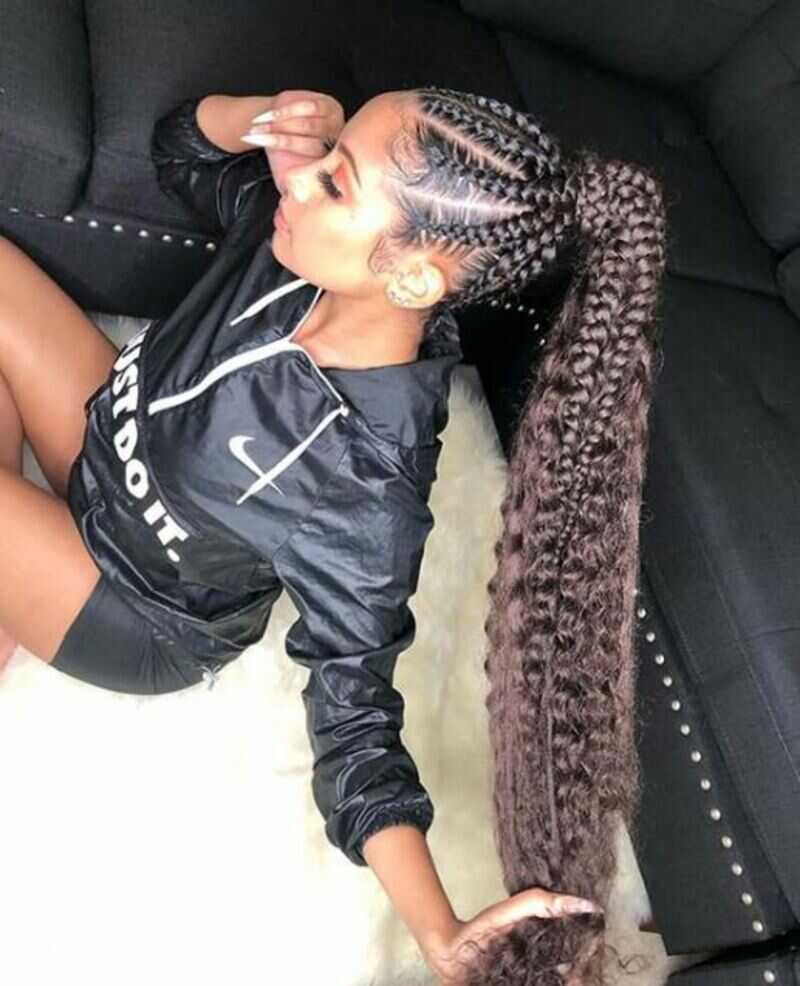 Pedal Braids Ponytail
The petal style is a chic and elegant hairdo that can be adapted to various hair types. It adds volume and length to your hair while maintaining a loose and messy appearance. Petal braided ponytail hairstyles are versatile and complement most face types.
Here's a rephrased version of the steps to create the petal style:
Start by tying up your natural hair from the beginning. Spray some water to soften your baby's hair and lay down your edges. Brush through your hair and gather it into a ponytail on your head.

Add hair extensions to your ponytail. Secure the perimeter with a satin piece and divide your small ponytail into three sections. Braid the braiding hair into the root of your ponytail. If you find it challenging, you can opt for a drawstring ponytail and braid it instead.

Braid your hair loosely, remembering that the braids will be pulled out slightly at the end. Avoid braiding too tightly. Flip the kinks to create a neater appearance. Use a rubber band to secure the end of your braids.

Pull the petals by gently loosening your hair from the bottom. You can take an extra piece of hair and wrap it around the root of your braided ponytail. Alternatively, you can braid the piece before adding it to your roots.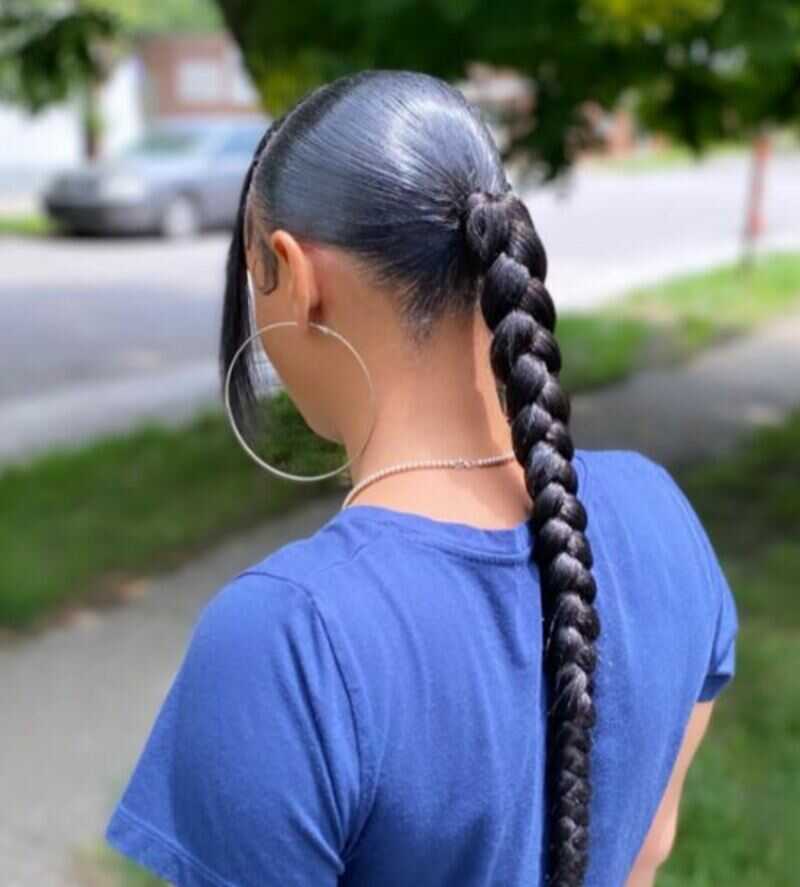 High Jumbo Braids Ponytail
Jumbo braids ponytail hairstyles create a chic and voluminous look. They are larger in size than regular braids, offering extra volume. You can add fun colors or hair jewelry to this thick weave ponytail for added beauty. These jumbo braids can last up to two weeks.
Take a look at a condensed version of the steps to create the jumbo braids ponytail:
Make a ponytail with your curls. Apply styling gel to slick them down and secure your natural hair with ties.

Achieve sleekness. Wrap your ponytail into a small bun, brush your hair again for a sleek appearance, and use a blow dryer on cool to dry your hair. Wrap your scalp with strips.

Attach a drawstring ponytail and braiding hair. Take a section of your ponytail to tighten and cover the roots. Split your ponytail into three sections and blend them with your natural hair. Braid your ponytail from top to bottom. Apply gel to tame any flyaways and gently brush them.

Trim the ends of your braids. Once the entire ponytail is braided, tie the ends with rubber bands and cut any excess hair.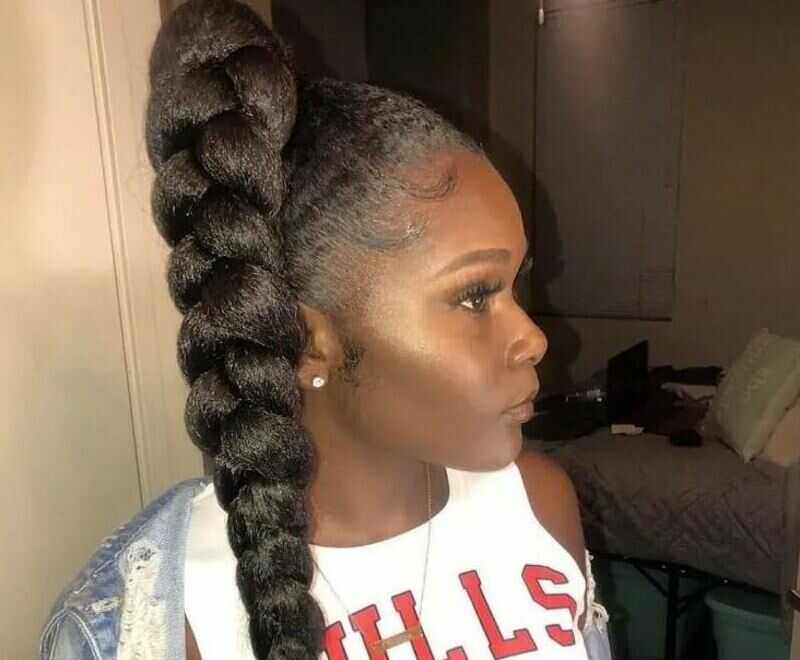 Box Braids Ponytail
The high ponytail with box braids is a protective hairstyle that safeguards your natural hair and scalp while highlighting your facial features. This style has a rich history dating back thousands of years in Africa. 
Box braids high ponytail is suitable for various hair textures, including straight, wavy, curly, and kinky, and with proper maintenance, it can last for weeks.
Here's a rephrased version of the steps to create the box braids high ponytail:
Braid your natural hair. Divide your hair into box-shaped sections starting from the middle part and braid each section using hair extensions. If your hair is dry and tangled, apply some gel to moisturize and smoothen it. Brush your hair to achieve a sleek look.

Create a high ponytail with the box braids. Gather your box braids together and secure them in a high ponytail. Wrap a piece of braided hair around the roots to conceal them. Additionally, you can braid the hair extensions and incorporate them into your ponytail.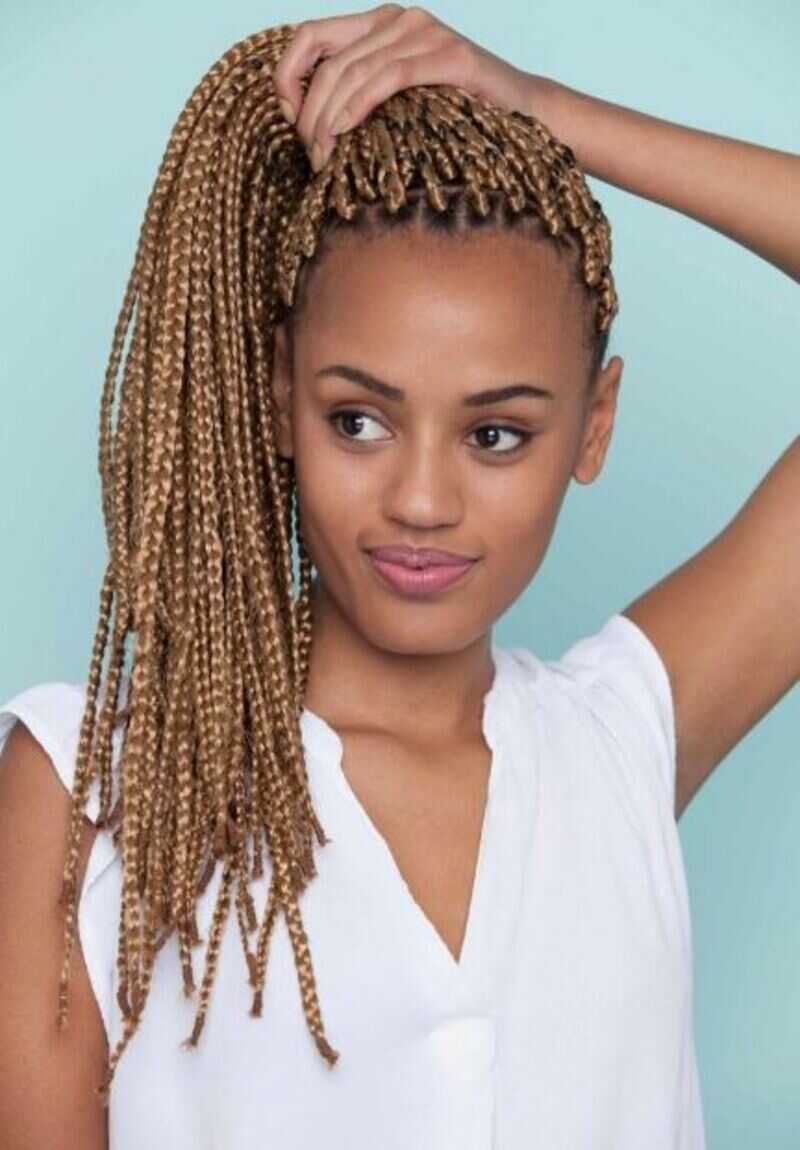 Cornrows Braids High Ponytail
Cornrows braids require a higher level of braiding skill due to their intricate nature, but the end result is truly amazing and captivating, resembling a masterpiece. Beginners can improve their skills through practice and patience.
When combined with extensions, cornrows braids offer versatile styling options such as small cornrows in a high ponytail, high-side cornrows with weave, ombre blonde cornrow braids ponytail, and cornrow feed-in braids ponytail. 
This is a simplified guide to creating a cornrows braids high ponytail:
Divide your natural hair into four equal sections, leaving a circular part in the middle. Tie off the four sections and begin working from the middle part.

Incorporate a piece of hair extension with the braiding hair to create braids in the middle section.

Release the left front section and create a vertical row by parting the hair from the edge. Secure the left hair and braid from the front to the back, using braiding hair extension pieces.

Continue sectioning thinner rows and adding thinner hair pieces to the braids.

Braid the front hair, alternating between thick and thin rows until all the hair is braided.

Release the back sections and braid your hair row by row, starting from the bottom and working towards the middle of your head, using hair pieces.

Apply mousse to your braids and dip the ends in hot water.

Blow dry your hair in a cool setting.

Gather your braids and tie them up into a high ponytail.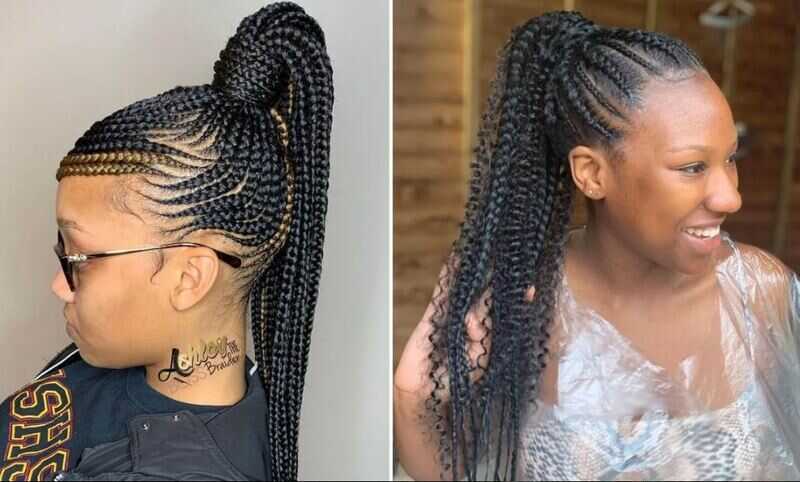 Low Braided Side Swoop Ponytail
The side swoop ponytail is a classic and timeless hairstyle that has been popular throughout history. It is also called the Barbie ponytail. It is characterized by sleek side fringes and the rest of the hair styled into a beautiful ponytail. Creating a low braided side swoop ponytail adds a touch of sophistication to this chic ponytail with braiding hair style.
Here's a simplified guide to achieving a low-side swoop braided ponytail:
Apply heat protectant spray to your natural hair and straighten it using a flat iron.

Spray got2b glue on your hair to create a sleek and polished look.

Dry your hair with a blow dryer on a low setting.

Create a side swoop part on one side of your head and attach hair extensions or a light yaki drawstring ponytail to enhance the length and volume of your hair.

Braid your ponytail and secure the roots with hair extensions.
Fishtail Braid Ponytail
The fishtail braid ponytail is a sophisticated and intricate hairstyle that adds an elegant and romantic touch to your look through its amazing weaving technique. 
This long braid ponytail with braiding hair style is particularly suitable for those with long hair, offering flexibility in styling. Fishtail ponytail hairstyles also embrace a slightly messy appearance, which adds to their creative and perfect look.
Following is a simplified guide for creating a fishtail braid ponytail:
Brush your natural curls upward to create a high ponytail and secure it with an elastic band.

Divide your ponytail into three equal sections and incorporate braiding hair into each section to add volume and length.

Hold the left section with your hand and cross it over to the right side, joining it with the closing section.

Hold the rightmost section and cross it over to the left side, combining it with the closing section.

Repeat these braiding steps, crossing the sections over each other until you reach the end of your hair. Avoid braiding your hair too tightly for a more relaxed look.

Once you finish braiding, gently pull on the edges of the braid to create a slightly messy and wider appearance.
Additional ways to style braided ponytail hairstyles
Side Parted Sleek Ponytail With Braiding Hair
A sleek and low side-parted braided ponytail is a fantastic hairstyle choice for women of all ages. This exquisite braided hairstyle is versatile for any occasion and remarkably simple. If you have short or shoulder-length hair, use a ponytail hair extension. Then, follow these steps to recreate this stunning hairstyle:
Hydrate your hair by applying a lightweight hair serum.

Comb your hair thoroughly to remove any tangles or knots.

Create a deep side part using a rat-tail comb. For a clean parting, apply edge control gel along the part.

Gather your hair at the nape of your neck and secure it into a low ponytail using a black hair tie.

Wrap the ponytail hair extension around the base of your ponytail and secure it in place.

Divide your hair into three sections and begin braiding a three-strand braid.

Use an elastic band to secure the three-strand braid at the end.

Complete the hairstyle by applying a holding spray to ensure it stays in place, leaving you looking beautiful.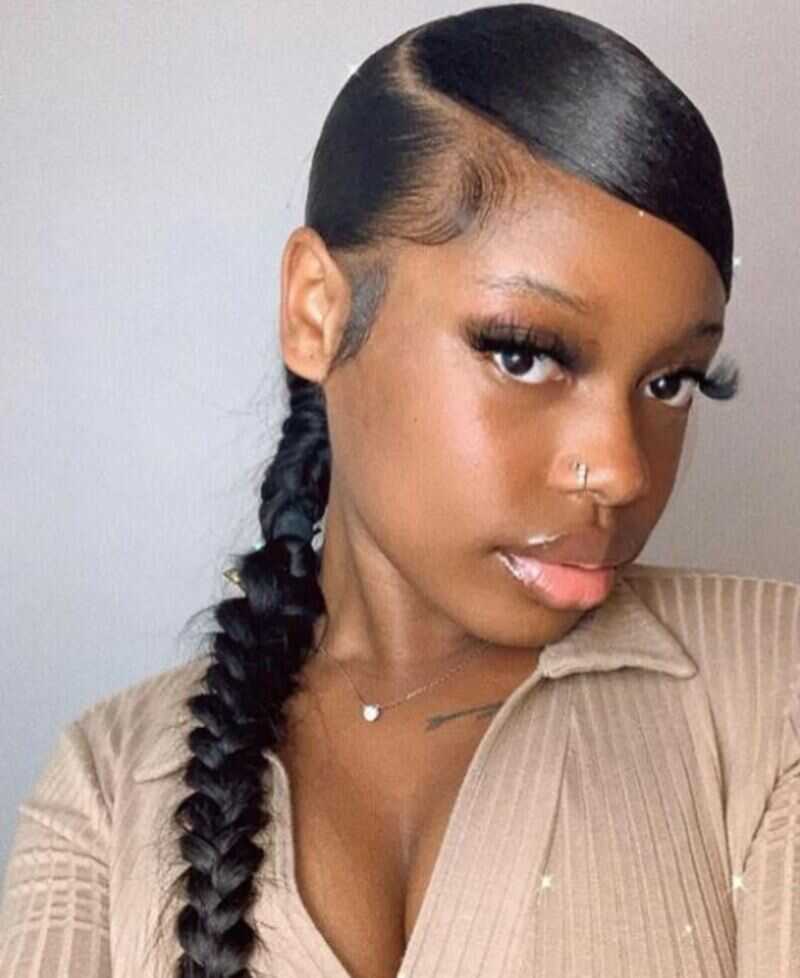 Wavy Knotless Braids In A Ponytail
Unlike box braids, knotless braids are installed differently. They offer a fantastic alternative to box braids and place less tension on the scalp. Consider tying your knotless braids into a high ponytail while leaving a section of braids on both sides to frame your face. 
You can create waves with loose ends on your knotless braids for added flair. This particular braided ponytail hairstyle will enhance your beauty and boost your confidence.
Long Braided Ponytail Hairstyle
This extended ponytail braid is perfect if you aim to replicate Rapunzel's long, flowing locks. To elevate this ponytail with braiding hair style:
Create beautiful cornrows at the front.

Apply mousse to style the edges and incorporate a touch of color using a long nylon thread.

Complete the look by accessorizing with dangling earrings and pairing it with a v-cut top. This stunning hairstyle will surely make a statement.
Kinky Braids In A Half-Up Ponytail
Enhance your natural hair texture and protect it by incorporating kinky braiding hair into your style. This will give you a trendy look that embraces your unique hair characteristics.
Ponytails are incredibly easy to create and offer an opportunity to add a touch of fashion of the 90s years to your appearance by leaving a few sections of hair loose on the sides. Achieving this hairstyle is a breeze and requires minimal time and effort.
To begin, gather the top half of your hair and secure it with a hair tie, forming a half-up ponytail. Consider wrapping a satin ribbon around the hair tie for an extra touch of elegance.
Styling Tip: Leave a few strands of hair on the sides to frame your face, adding a charming element to the overall look. This versatile hairstyle is suitable for any occasion and can be worn at any time of the day.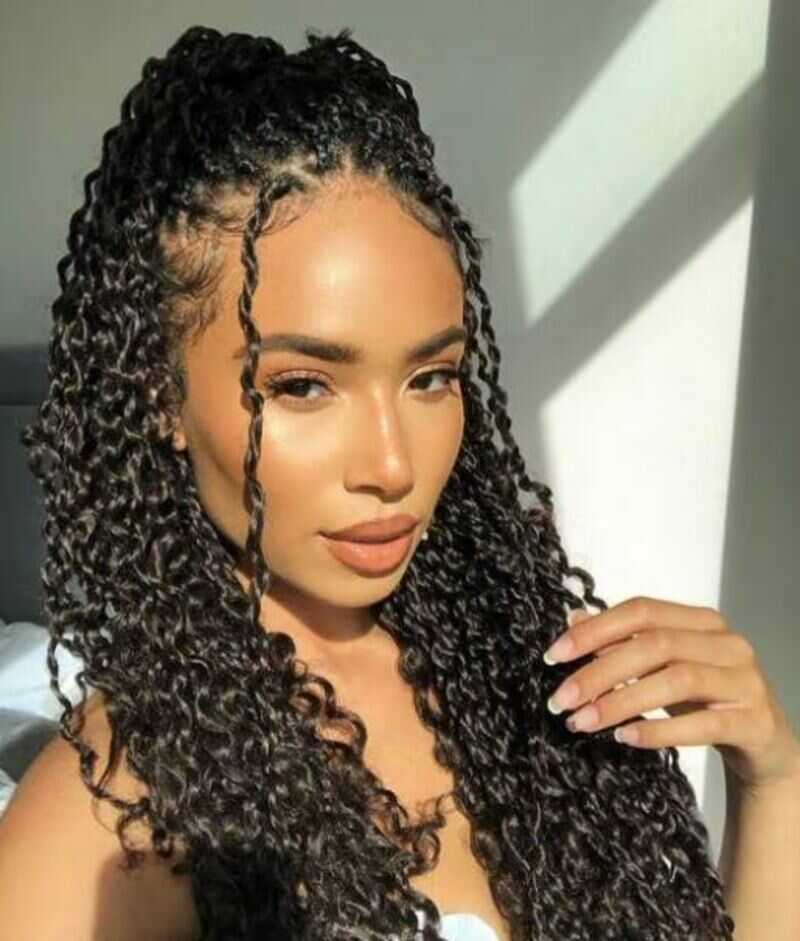 Albaso Braids In A Half-Up, Half-Down Hairstyle
Are you in search of a captivating ponytail with braiding hair style? If so, look no further than the Albaso braids. This hairstyle will turn heads and leave everyone around you feeling envious. Follow these steps to recreate this exquisite braided hairstyle:
Begin by blow-drying your hair and brushing it backward to create a smooth base.

Use a rat-tail comb to divide your hair into two sections, starting from one side of the ear and extending to the other.

Secure the bottom section away and focus on the top section for plaiting.

Divide the top section into left, center, and right parts. Clip the side sections away and incorporate a braided hair extension piece into the middle section. Proceed to do a French braid, incorporating the extension.

Secure the French braid over the extension at the bottom of the braided hair extension.

Create two small cornrows on each side of the center braid.

Utilize a braided hair extension piece for the left and right sections and a small cornrow on each side.

Gather the braided sections and tie them into a half-up ponytail. To achieve volume, apply a texturizing spray.
Final thoughts,
This comprehensive guide has hopefully provided an inspiration and step-by-step instructions for achieving the best braided ponytail hairstyles with natural hair. 
These ponytail with braiding hair styles not only showcase the beauty of natural hair but also offer versatility and protection. You can get the tools and knowledge to rock stunning braided ponytail hairstyles and elevate your natural hair!