Wearing clip in extensions is a quick and easy way to get hair that looks long, thick, and bouncy in a short time without having to try complicated hair treatments and wait a long time. 
However, most people will not want to keep the same hairstyle of clip in hair extensions forever. Creating different hairstyles will bring confidence and an impression. Therefore today, Jen Hair will share all things you need to know on  how to style hair with clip in extensions to help you confidently create many different styles of hair extensions at home in the most effective and fastest way.
Related post:
Several attentions before styling hair with clip in extensions 
1. Wash hair with clip in extensions at a reasonable frequency
Like real hair, extensions can get dirty from sweat, makeup, and pollution. So rinsing and moisturizing with shampoo and conditioner is essential.
However, washing your hair every day may not be the right way to do it. The clips may fall off when too much friction is applied to them. Instead, try washing your clip-in hair extensions just once or twice a week. If you wash your hair every day, you run the risk of damaging your hair extensions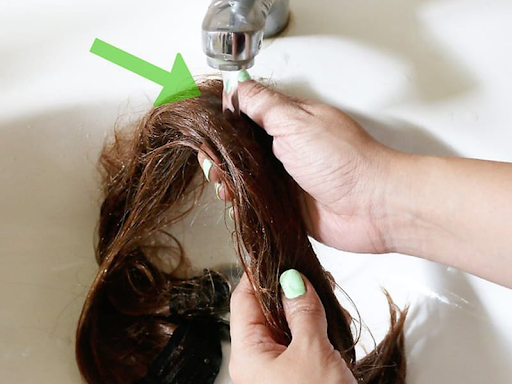 Use a heat protectant before straightening or curling 
Before using any heat styler to touch your extensions, make sure that you apply some heat protectant to them.
By using a heat protectant, you are applying an additional layer to your extensions. This creates a barrier between the heat and the hair. So instead of burning your extension, the heat protectant will take the impact, leaving the hairs of your extension untouched.
Heat protectants come in many forms, from curling creams to shine serums. As long as you apply a product before applying heat, it will make a huge difference in preventing heat from damaging your extensions.
Make sure your hair with clip in extensions are neat before styling
No matter what styling you do, you need to make sure they stay smooth and tangle-free. Otherwise, they won't match your real hair. Not separating your extensions also makes them prone to knots and break
In addition, If you straighten or curl your knotted extensions, you may end up with frizzy or stiff hair. You should use a gel or serum to make it easier to untangle your hair.
How to style hair with clip in extensions?
Here are 3 ways on how to style hair with clip in extensions that are widely used in many countries in recent times. Let's take a look at each way below:
1. Curl your hair with clip in extensions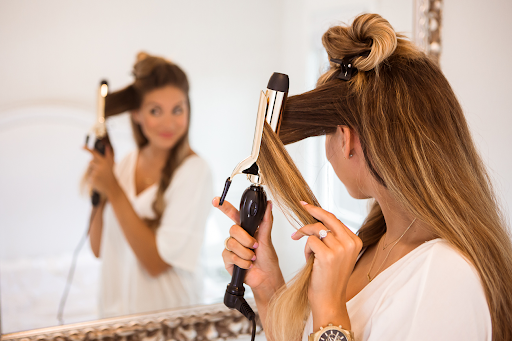 Step 1: Comb your hair
Comb your hair neatly and avoid tangles
Step 2: Use a heat protectant
To prevent your hairstyle from heat damage, use a heat protectant. This will also create bouncy in your hair, which is ideal for this hairstyle.
Take each small part of hair with clip in extensions, wrap it in the machine for 1 minute, and then release. You do this until all hair and do it from the left side to the right side. When you have finished styling all the hair, you can apply a layer of conditioner to make the hair smooth and avoid drying.
2. Straighten clips in hair extensions
Step 1: Use heat protectant spray or conditioner
Apply a hair conditioner or heat protectant spray before using the straightener. You can use essential oils, but it's best to use a gel specifically designed  to style hair with clip in extensions.
Step 2: Straighten your hair
Part the hair into small sections and secure it with hairpins. You can start from the bottom half of the hair extensions and then to the roots. 
Step 3: Don't forget to condition your hair
When you finish, do not forget to use another layer of hair conditioner to keep the style.
3. Braid
your clip in hair extensions
Step 1: Braid and pin your hair
Start by braiding your hair in the usual way. The number of braids you make is determined based on the thickness of your hair and the thickness of the waves. The more waves, the smaller the braid.
Step 2: Use hair gel
To keep the waves of hair extensions, you should use hair gel. Hair gel is a styling product used to add movement to hair while maintaining hold. It can also be used to smooth and soften hair.
Note that you should apply gel to each braid individually and not miss any
Step 3: Leave overnight
After the above 2 steps, your hair and extensions are styled. All you have to do is leave it overnight and go to sleep, your waves will form the next morning. To keep your hair frizz-free all night, sleep on a silk mattress or any other soft material.
Recommendation: 5 Hairstyles with clip in extensions you should not miss
Final thought
The above is all about how to style clip in hair extensions. What's important is your skill and creativity to style your clip in hair extensions. If you have a little patience with just a few simple products like this, you will have the desired hairstyle.
If you want to know more useful information about hair extensions, follow our articles to have the latest and most useful information.
You may also like: How to store your clip in hair extensions?