Wigs have been used for many years. Some believe that looking younger by wearing a wig. However, for some people, it aids in hiding hair loss, especially for patients receiving treatments like chemotherapy.
Whatever the situation, having the proper cranial prosthesis wig density is crucial. Women frequently struggle to decide on wig density. Are you in this situation?
This blog post will focus completely on the definition of wig density and how it can help you choose your wig. Let's deep dive with us right now!
What is wig density?
By definition, wig density is the quantity of hair placed on the cap to produce a specific appearance. In the end, it aids in determining how thick or thin the hair on the wig cap appears. Understanding the distinction between hair thickness and density is also crucial.
The amount of hair actually present on your wig is expressed as a percentage, which does not take into account the texture of the hair. It will appear fuller and more substantial the higher the density percentage and thinner and less substantial the lower the density percentage. 
The different kinds of wig density
There is a system for determining wig thickness. A percentage between 60% and 250% can be used to represent a wig's thickness. The wig's density increases in proportion to the percentage. For more information on the different kinds of wig density, keep reading!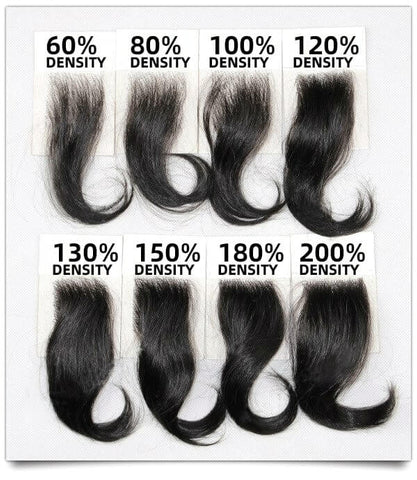 Natural/lower density wigs
Low-density wigs are the best choice if you want a wig that won't look fake and always looks natural. During your wig shopping, keep an eye out for the following natural or low-density options: 
60 – 90%

: You won't find wigs with a lower density than these. Given that elderly people typically have hair that is less dense, this density is ideal for them. 

100 – 110%

: There is general agreement that these wigs are low-density. You might wish to choose 100–110% density if you normally have low density and plan to leave some of your natural hair out. It will fit exactly. 

120 – 130%:

In the wig industry, these densities are typical. Due to their widespread use, 120 to 130% density wigs are readily available. This density is comparable to the density of a typical human head. This wig density is the one you should pick if you desire a natural appearance. 
Medium-density wigs
In search of a little something extra? Choose one of the following to increase the density! They give you additional options for style and more resources overall:
150%:

While still natural, 150% density is a step up from 120–130% wig densities and is somewhat fuller. If you enjoy giving your hairstyles a little more oomph while still valuing a natural appearance, pick this wig density. This density of wigs won't appear as natural, but they won't appear entirely unnatural either.
180%

: Your 180% density wig is thick, as observers will immediately notice. For a valid reason, it appears noticeably thicker than natural hair. To accomplish more daring, lengthier, and glitzy styles, you need a lot of hair. 
High-density wigs
On the market, these wigs have the highest density: 
200%:

A lot of hair is present. You'll need the self-assurance to match your chosen wig if it is this dense!
250%:

You cannot get a wig anyplace that is denser than this one. It won't look like your real hair when you wear it, but that's good if you enjoy having hair that's larger than life. It provides you with all the hair you'll ever need to create almost any style!
Why does wig density matter?
What is the significance of wig density? If you had previously believed that wig density wasn't important, allow us to verify that statement. Actually, the wearer's appeal and appearance vary depending on the density of the wig.
Your hair conveys a lot about your personality. When someone looks at you, it's one of the first things they notice. It's crucial to understand that, whether you like it or not, your hair can reflect your personality. 
People who are balding or losing their hair are often depressed or ashamed of the condition. Because of this, hair density is important. Since hair density improves one's appearance, it is significant and should be well-cared for.
One element that affects how to style your hair is hair density. Knowing the density well is crucial since it affects both the styles you could try on and the products that would fit you best. Your entire hairstyle will only look natural when the density of the hairpiece is the same as the density of your actual hair. It would be simple for others to determine if they don't match.
How to choose the right density for your wig?
Do you need a little more guidance in choosing the right wig density? In this section, we'll look more closely at the various aspects that affect which density is best for you.

Hairstyle requirements
One of the most crucial factors to take into account when selecting your wig density is your lifestyle. A wig with a reduced density will keep you cooler if you perspire a lot or frequently engage in vigorous exercise. On the other hand, a high-density wig will give you the perfect look you want to wear on a date or girls' night.
Natural hair density 
You should select a density that is similar to your natural density if you typically wear your hair out and want your wig to look exactly like your real hair. For example, if your natural hair is thin and fine, you should select a wig density that is more in the 130% to 150% range. 
However, if your natural hair is really full and thick, a higher-density wig (180-250%) will give you the most realistic appearance. 
Your age
Our hair naturally begins to thin down as we age. So select wigs with a lower density if you are older. Lower-density wigs not only appear more realistic, but they are also simpler to maintain and style.
Hair length
Whether you plan to wear your hair long, short, curly, wavy, etc. is important to keep in mind while selecting your wig density. The overall appearance of your wig can be greatly altered by using hair with various textures and lengths. 
FAQs
1. Is higher density for wigs better?
The wig becomes thinner as the density decreases. High-density wigs have a huge, voluminous appearance that makes the wig appear fuller overall. This is why it's crucial to take wig density into account when picking a wig.
2. Is 100 density good for a wig?
Yes. Of course. However, Wigs often have a hair density of 120%, which is a natural density. And this comes very close to matching the normal human head's hair density. Human hair density ranges from 100 to 120%, thus a wig with a density of 120 percent looks realistic. Additionally, it is lightweight and cozy to wear.
3. Is 180 density better than 150?
The amount of hair in the wig increases with the percentage. In general, a wig with a density of 180% is thicker and fuller than one with a density of 150% or any lesser density. With the richness of natural-looking hair, 150% is still a decent density.
Final thoughts
One of a wig's most crucial features is its density, which may either make or break your experience wearing one. The ideal choice for those who desire a full head of hair with a ton of bounce, volume, and personality is a high-density wig. If you want to feel like a stunning queen every day, we strongly suggest that you try one of our high-density, natural-looking wigs. We promise not to let you down! 
Which wig density best fits your needs? Please leave a comment below with your thoughts on the various hair densities you've noticed. 
Love what we share? Follow us and be the first one to receive notifications of brand-new content!