It is undeniable that extensions have become a popular tool to beautify women's natural locks in the world of hairstyling. It is bound to be a game-changer. However, the key to achieving a flawless and natural look lies in the art of disguise.
In the following exploration called "Top 10 trendy hairstyles that hide extensions", we will delve deep into the latest and most sought-after hairstyles that perfectly conceal extensions. Moreover, these hairstyles also enhance your overall appearance.
What are you waiting for?
Let's join us to discover the ultimate hairstyles!
How do you style your hair to hide extensions?
Before discovering 10 hairstyles that hide extensions, we will recommend you with careful planning and execution to achieve a natural and seamless look.
We will briefly show you a step-by-step guide:
Step 1: Choose the right hair extensions
Be careful to choose extensions that closely match your natural hair color and texture. We highly recommend human hair extensions thanks to their capacity to blend naturally.
Step 2: Well prepare
Before styling, make sure your extensions and natural hair are clean and neat.
Step 3: Choose the right hairstyle
Opt for hairstyles that naturally conceal the extensions or offer enough coverage to hide them effectively. 
Step 4: Attach the extensions
After dividing your hair into sections properly, carefully attach them to your natural hair. Make sure they are secure and well hidden within your hair.
Step 5: Hide extensions
Use a curling iron, straightener, or other styling tools to blend your natural hair with the extensions. Then, cover the areas where the extensions are attached with layers of your natural hair.
Step 6: Regular maintenance
If you want to use them for a long period, remember to maintain and care for them properly.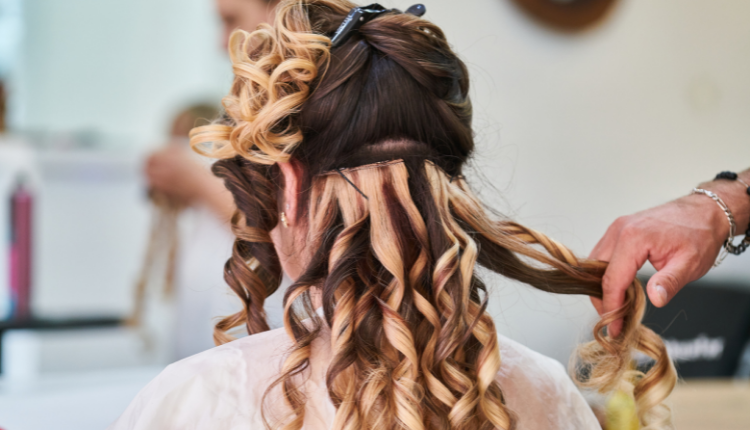 10 Hairstyles that hide extensions
1. Low ponytail
Creating a low ponytail is a simple and effective way to hide extensions and achieve a natural look. With a little practice, you can achieve a seamless and natural-looking low ponytail that beautifully blends your natural hair with the extensions.
You just need to prepare your clean, dry hair properly. Wrap a tiny length of hair around the tie and fasten it with a bobby pin to hide the attachment sites for the hair tie and extension. You can use texturizing spray or tease the hair at the crown to enhance volume and texture. To set the look, use a hairspray with a light grip.
2. High braided ponytail
The high-braided ponytail is a kind of hairstyle that effectively hides extensions, allowing you to show your trendy and youthful look. 
Start by preparing your extensions and natural hair. Make sure that your extensions are clean and tangle-free so that you can attach them securely to your natural hair later. 
Begin to braid the ponytail, making sure to incorporate the extensions flawlessly. You can choose to go with a traditional three-strand braid or get creative with a fishtail or Dutch braid. To give volume and texture to the braid, secure the end with another hair tie and gently pull on the sides. Use a light-hold hairspray to set the style and maintain it in place throughout the day.
3. Braid-wrapped ponytail
Braid-wrapped ponytail is also an alternative way to hide extensions and elevate your hairstyle. 
First, gather all your hair into a high ponytail, securely tying it. Braid a small section of hair from the ponytail and wrap it around the base, concealing the hair tie and extensions. Then, you just need to secure the end with bobby pins and add volume by gently pulling on the sides. You can also choose to finish with hairspray that makes your hair seamlessly incorporate your extensions.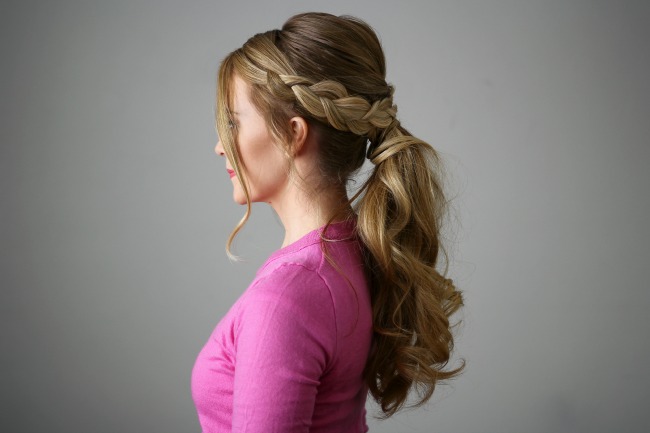 4. The headband tuck
The headband tuck is considered to be an excellent hairstyle that effectively hides extensions while adding a touch of elegance to your look. Ways to acquire this style are not too challenging.
Like the aforementioned hairstyles above, attach the extensions securely and place a headband over your head. Gather all your hair, including the extensions, and tuck it up and behind the headband, concealing the attachment points. Then you just need to adjust as needed and finish with hairspray for an elegant and discreet look that showcases your extensions beautifully.
5. Double French braids
Double French braids are a fantastic hairstyle to hide extensions while looking effortlessly stylish. This hairstyle is highly opinionated by a lot of women around the world thanks to its simplicity and convenience.
You can start anytime and anywhere you want. Divide your hair into two sections, braid each incorporating the extensions, and secure with hair ties. 
Let's enjoy double French braids, which not only perform a great job of hiding the extensions but also give you a stylish, young look that is suitable for any event!
6. Messy bob
If you want a trendy and time-saving hairstyle that perfectly hides hair extensions, the messy bob is an ideal choice. 
To achieve a messy bob that hides hair extensions, attach the extensions securely and create loose waves or curls for texture. Then, the only thing you need to do is to style your hair in a carefree and tousled manner to seamlessly blend the extensions with your natural hair.
7. Braids
Braids offer a versatile option for hiding extensions. Whether you opt for simple braids or a fishtail, they can effectively conceal the extensions. You only need to braid your hair and then add your extensions the proper way. Tape-in or clip-in extensions work great with braids. 
 Braids are the best option if you're having a bad hair day, your hair isn't cooperating, or you want to pull your hair back from your face in a more elegant way than merely tying it back. The way braids help merge the extensions with your natural hair will leave everyone in awe of your thick locks.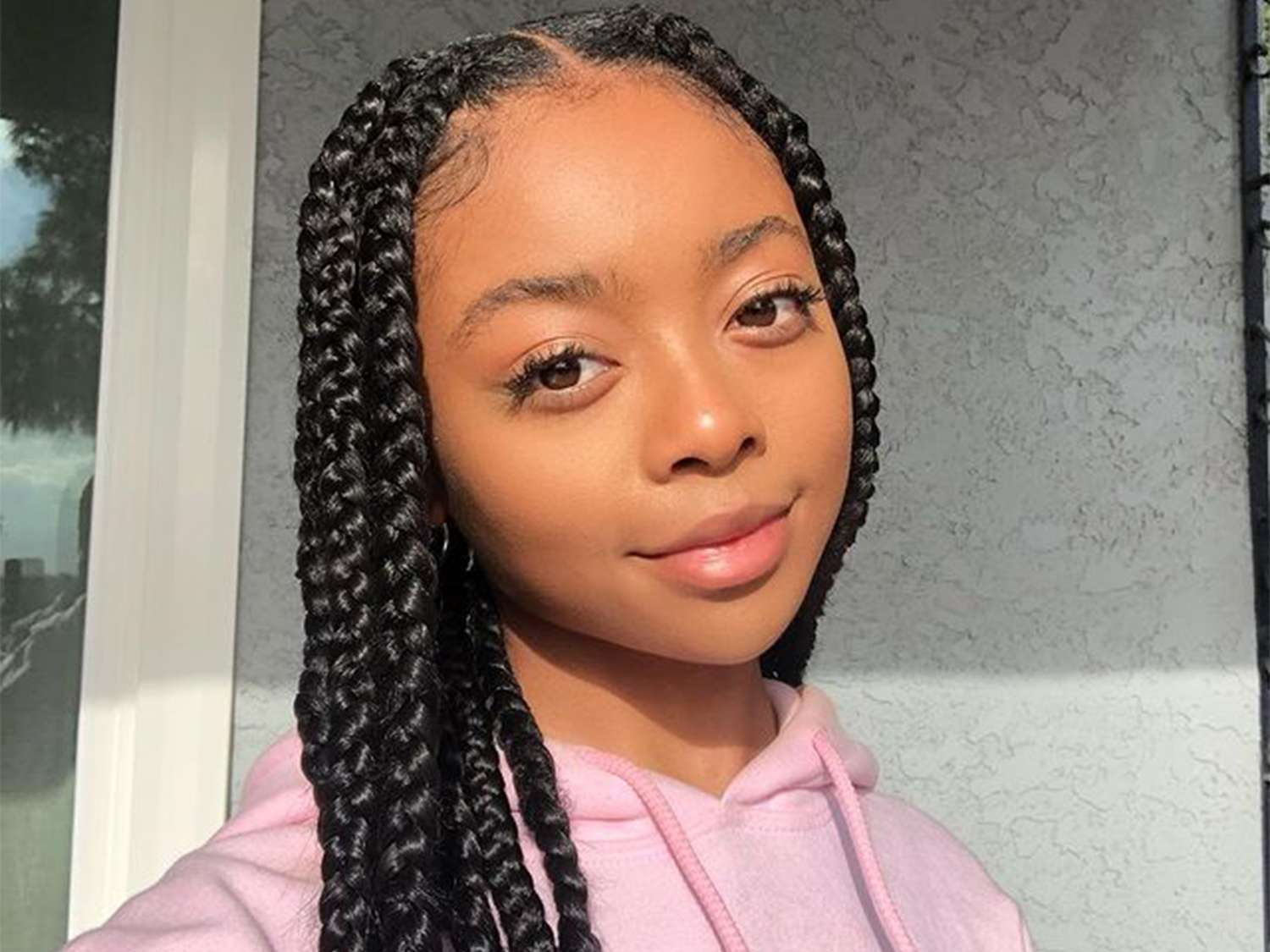 8. Beach waves
Beach waves are a fantastic hairstyle that can fascinate you a lot when it comes to hiding extensions and achieving a gorgeous look. 
Create beach waves in both your natural hair and extensions with a curling iron or flat iron after preparing your extensions and securing them. To assist the extensions and your natural hair blend more easily, add structure and volume with these loose, tousled waves. The waves' irregularity further hides the points where the extension attachments attach, giving them a more unobtrusive and natural appearance.
9. Messy high bun
If you want a stylish and casual look, a messy high bun is a great choice to hide extensions. We will show you a brief explanation of how to achieve a proper messy high bun.
You can master this hairstyle if you use the right approach and put in a little work. To make your bun neatly, you'll need a hair tie and a few bobby pins. To achieve this stunning style, detangle your extensions with a brush, then tie your hair up in a ponytail. Try to tie your hair halfway up in a partial bun at the last level. Then, attempt to properly trim your ends by wrapping them around the hair tie.
An unkempt high bun makes you seem stunning and quickly conceals your extension. This one will be easy to obtain with just a little effort.
10. Half-up half-down
Another excellent hairstyle to conceal your extensions is the half-up, half-down hairstyle. 
All you have to do is pull back half of your hair and add extensions to the other half. The texture of the half-up half-down hairstyle can also be altered to give it a more natural appearance. For instance, you may experiment with giving the half-up half-down hairdo some waves or curls. By doing this, the extensions will look more natural and be easier to conceal.
This hairstyle is ideal for various occasions, offering an elegant and harmonious balance between your natural hair and the extensions.
Final thoughts
In conclusion, these top 10 trendy hairstyles that hide extensions are gathered from a lot of reliable sources so that you are ensured of a seamless and natural look. With these trendy hairstyles in your repertoire, you can embrace the world of extensions, elevating your everyday glam and unleashing your inner fashionista.
Every hairdo deftly hides the attachment points for extensions, letting you flaunt your chosen look with assurance. These hairstyles offer adaptability and aesthetic appeal for numerous events, from casual to formal.
However, remember to consult a professional hairstylist for specialized advice on the right extensions and techniques in order to avoid risks. 
Love what we share?
Let's follow us right now!