Are you wondering, "how long is 18 inch hair?" Or, "what does 18 inches of hair look like, exactly"? With so many options available in terms of length and design, it might be tough to pick your favorite.
In this article, we will guide you with some interesting facts regarding 18 inch hair, including the visual look of this length, its suitable hairstyles, and concluding with answering some related questions about it. Hopefully, the information in this post can guide you toward the best fashion for you.
Related posts:
How long is 18 inches of hair?
On hair length chart, the 18 inch straight hair chart measures to around 45 centimeters. It was measured by taking the straight hair, then ruled it from the root and straight to the tip.
To be visually picture, It is expected that the 18 inch hair to reach the middle of your back. However, the 18 inch hair length can look different depending on your height and body proportion. Yet, it is still often around the area of the upper back to the mid back. Overall, 18 inches of hair is still a decent length, neither too lengthy nor too short.
Hairstyles that suitable for 18 inch hair
Whatever color it is, 18 inch hair will surely be shiny under any circumstances. Besides 18 inch straight hair, we suggest some of the most gorgeous hairstyles with 18-inch straight hair:
1. Layer cut
This cut is perfect if you want your 18 inch long hair to seem shiny without looking exaggerated. In a long cut with all-over layers, longer pieces frame your face and transition smoothly into shorter pieces that wrap around your back. The haircut allows you to amplify the volume and motion of your natural lock. As a result, people who have thin hair would benefit greatly from this option.
2. Half-up Hair
If you can take your 18 inch curly hair look to the next level with different looks, half-up hair conveys not only femininity but also a sense of cuteness and playfulness. If you're looking for a way to shake up your hair routine, choosing a half-up hair that involves highlights is a huge, huge plus! You won't believe how stunning you look if you dye your hair a trendy red or the sweet caramel hue.
3. Wide surface braid
For people who have 18 inch hair, one of the most attractive styles they must try is the wide surface braid. To get the right sweet spot of the hairstyle, 18 inch hair is the minimum length requirement, which adds movement and body to the whole appearance. Even though it could take you a little longer to make than other styles, the extra effort will be well worth it when you finally get a 18 inch braiding hair look.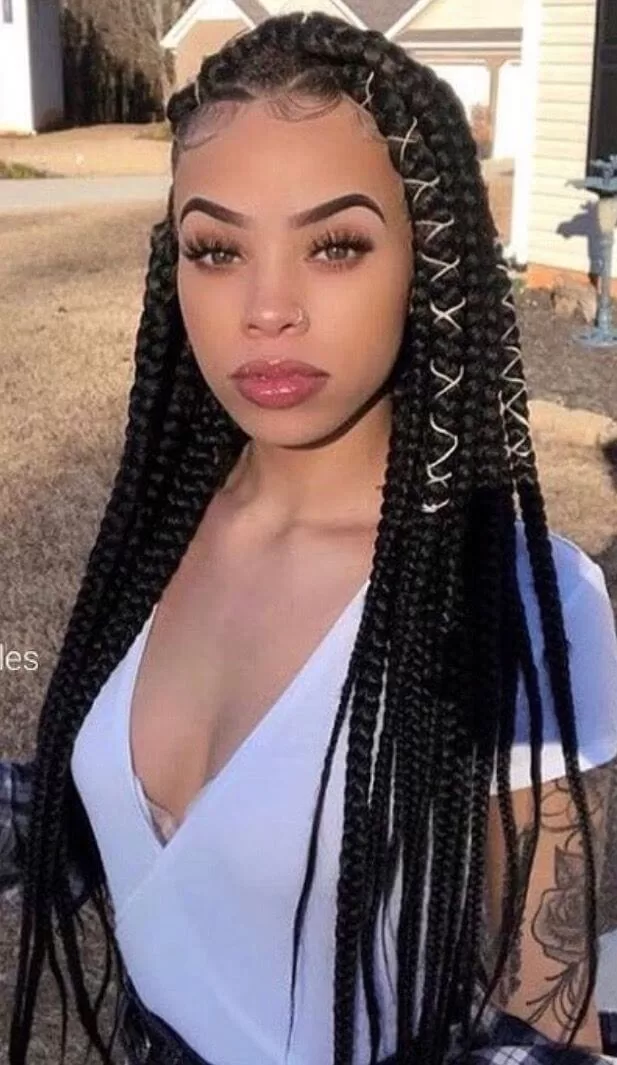 FAQs 
1. Is 18 inch hair considered long?
The length of this hair, measured in inches, is 18 inches (45 cm), which means it will reach about to the middle of your back. It is not the longest hair that most people would say, but it is still regarded to be rather long compared to the 14 and 16 lengths. In fact, 18 inch hair length is often considered as the medium type in many of hair salons. 
2. How long does it take to grow hair 18 inches?
Hair grows 1/4 to 1/2 inch a month. That means the most you can grow in 6 months is 3 inches. To grow 24 inches of hair is going to take you 48 months – if your hair is healthy.
So if you ask "can hair grow 18 inches in a year", the answer is no. However, 18-inch hair extensions are the greatest option if you're after an appearance that mimics natural 18-inch hair.
Final thoughts
To conclude, this article has provided you all critical facts about 18 inch hair. In light of the fact that attaining a hair length of 18 inches in less than a year is not an easy effort, purchasing a premium hair extension at an inexpensive price may be an excellent option.