When it comes to hair extensions, there are numerous methods and techniques available for women to apply. I tip hair extensions, which are also known as micro-bead extensions, have increasingly gone viral due to their semi-permanent nature and the minimal harm they cause to natural hair.
But what are i tip hair extensions? Which resources of information are reliable for people to absorb?
All topics will be covered in this article. We will show you all of the important information such as the definition, their advantages, and the answer to the question "What are i tip hair extensions".
Are you interested in what we are going to share?
Let's jump into the following article!
What are i tip hair extensions?
I tip hair extensions are, as their name suggests, little strands of hair with a pointed tip. A bead is used to attach the I tip to your natural hair and apply each hair strand to it. The I tip may be securely fastened to your natural hair thanks to the small size and flexibility of these beads, which make crimping the beads a snap. 
Contrary to the majority of hair extension kinds, which are implanted in wide wefts, i-tip extensions are individual strand hair extensions (or little bundles of hair) that are bonded to your natural hair strand by strand. Each strand is instead secured to your natural hair at the roots using micro rings or tiny copper beads.  
Because they can remain affixed to your natural hair for several weeks, most i tip hair extensions are regarded as semi-permanent.
I tip hair extensions may add length and volume to practically all hair types, therefore many hairstylists advise getting them for anyone looking to vary up their hairdo. They're also a fantastic option for adding bold highlights or subdued pops of color to your hair.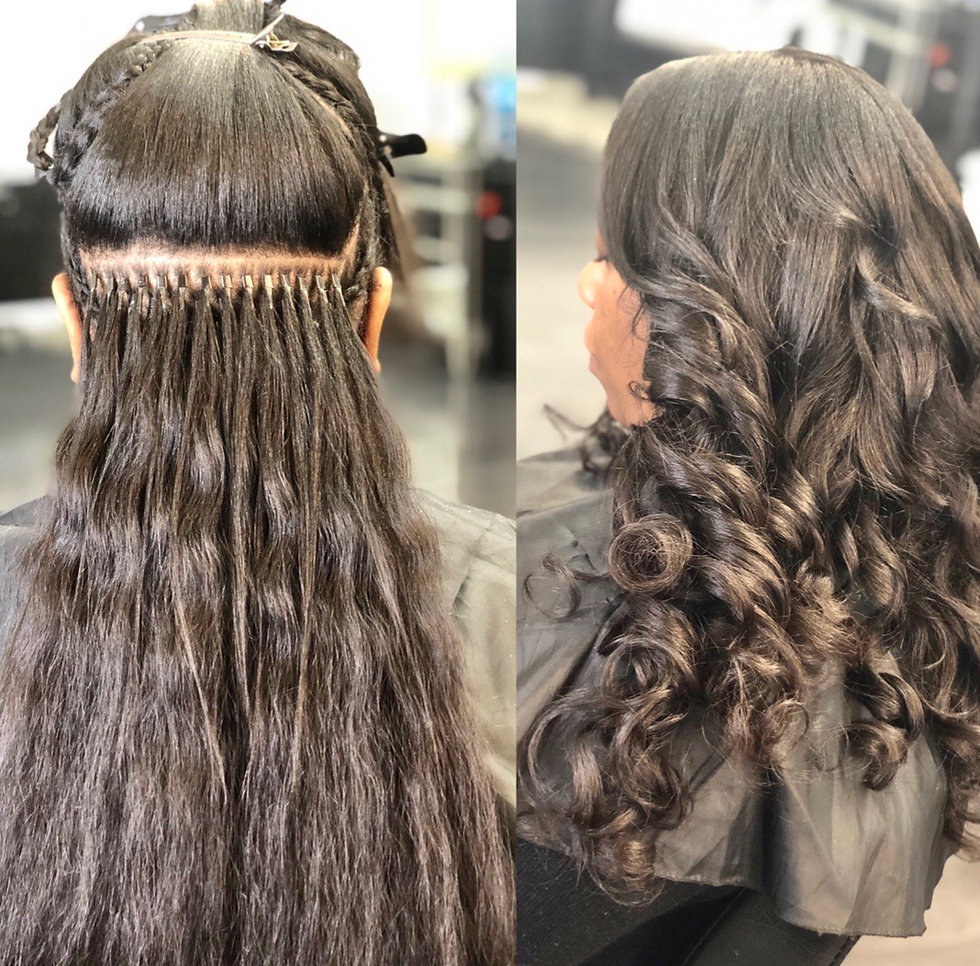 What are the benefits of i tip hair extensions?
You might be asking why you should pick i tip hair extensions over other kinds of hair extensions after you know the answer to the question "What are i tip hair extensions?".
Well, it is an easy explanation. The benefits of using I tip hair extensions are endless! Check out a few of their advantages below. 
Various lengths and textures available
You can opt to match I tip hair extensions to your present hairstyle or use them to switch up your hairstyle because they are available in a variety of textures and lengths. If implanted correctly and dispersed evenly, I tip hair extensions can produce stunning results, whether you want a few extra inches of length or flowing, mermaid-like locks. 
Suitable for a wide range of hairstyles
You can alter the look of your hair whenever you want using I tip hair extensions. 
They mix well with your natural hair because they are discretely implanted. To create beautiful hairstyles, you can curl them with a curling iron or with other styling products. We are sure that you will be fascinated with the things i tip hair extensions can do for you.
Easy to apply and style
Because i tip hair extensions provide simple access to the scalp, they are a fantastic choice. 
I-tip installation takes an hour and a half, whereas sew-ins can take three to six hours. Your genuine hair is able to move freely and "breathe" without being restricted by braids. Additionally, the extensions may be pulled into a fuss-free, natural-looking ponytail or topknot, increasing mobility. 
 You may style them the same way you would your own hair because they are also heat- and color-safe. They can be straightened, curled, blow-dried, or washed.
Rapid removal
The technique of removing i tip hair extensions from your natural hair is not as challenging as you have expected. 
Finding the tiny beads and applying pressure with pliers to them is all that is required. When the beads enlarge, the I-shaped tip will quickly slip downward. 
Longevity
The installation will last between six and eight months with adequate maintenance, while the hair itself will last a little over a year. Therefore, one purchase of hair might potentially cover two different installations. 
Regular hair wrapping and washing every two to three weeks are required for home care of your extensions. It is also advisable to go to the salon every four to six weeks in order to have the cylinders opened and empty of any shedding or dead hair. 
Unharmed natural strands
This is one of the key advantages of i tip hair extensions. 
You should bear in mind that the hair extensions must be installed correctly without the use of any harsh chemicals or instruments if you want them to be good with your hair. There is no chance of breaking the hair strands when applying the extensions because you don't need to utilize heating tools.
Cost-effective
You won't need to purchase a new bundle or set of hair extensions if you ever desire to get them again because the I-tip hair extension can last longer with the best care. You can save more money while getting a hair extension by using your previous I-tip hair. The good thing is that you can reuse your extensions up to 12 months total, every two to three months!
I-tips are produced using premium human and synthetic hair extensions because they are intended to be semi-permanent. 
Further reading: I-tip hair extensions pros and cons: Detailed analysis
FAQs
1. How long do I-tip hair extensions last?
I tip hair extensions require removal and reapplication around every three months, as do the majority of high-quality hair extensions. Since natural hair grows, leaving extensions in without touching them up might cause problems because the extensions will spread too far from the root of the hair. 
If you buy top-notch human hair extensions, they can last for a year. It means that you can reapply when they get damaged. 
Related post: How long do hair extensions last?
2. Are I-tip extensions damaging?
I tip hair extensions are less harmful than other types such as tape-ins or keratin bond extensions. However, they still have the potential to harm the hair if not done correctly. 
They're more prone to detach and pull out natural strands of hair, which could lead to breakage, if they're implanted too close to the scalp or if their attachment to your natural hair isn't strong enough. 
Additionally, excessive styling or poor installation might put too much pressure on the hair, which may cause traction alopecia or hair loss. 
3. Are I-tip extensions expensive?
Due to the complex process of installment, i tip hair extensions are one of the most expensive extension methods. The cost can, however, vary significantly depending on the style you're seeking for and how much hair you're buying. To get the most accurate quotation, you can do some research on the Internet or schedule an appointment with experts to talk through your desire.
Final thoughts
In conclusion, choosing a hair extension for your hair can be difficult, especially if you are unfamiliar with the different types of hair extensions that are out there. Therefore, with this post, we have shown you all of the essential information about the definition of "what are i tip hair extensions", the benefits, and a series of recommendations.
Hope that with this article, you have learned how the i tip hair extensions may transform your hair.
Are you interested in what you share?
If yes, don't forget to subscribe to our blogs and you will not only grab more information about i tip hair extensions but also other types of hair extensions.