There are many different types of lace on the market right now, including Swiss lace, transparent lace, and so on. Many wig makers are perplexed when it comes to lace materials for full wigs. So, how do you know which lace you really need and which one is appropriate for the wig you're making? This article: Swiss lace vs Transparent lace: What is the difference? Will help you find the answer. Let's jump in right now!
What is Swiss lace?
Swiss lace is a superior fabric used to make wigs that are imported from Germany. Due to its affordability and great quality, Swiss lace is a very popular material among wig manufacturers. The thicker and darker swiss lace stands out when compared to other kinds of laces. The wig, however, will be invisible once worn because it adheres closely to the skin.
The main features of Swiss lace:
Swiss lace is a good option for people looking for a wide range of hues. They are frequently offered in beige brown, beige, black-brown, and black colorations.

Swiss lace comes in practically all skin tones. Ask the wig maker to adjust the lace tone to match your skin tone if you want to look natural.

Due to the fragile and extremely tiny composition of the fabric, Swiss lace tends to break and damage easily.
What is transparent lace?
Transparent laces are made from French or Swiss laces. These invisible laces are skinny and blend in with light skin tones. You no longer need to wonder whether to color, bleach lace frontal, or closure. Transparent laces are typically white versions of regular laces. It is transparent in the colors white and light beige.
Referring to the characteristic of transparent lace, it is often known as: 
Because transparent lace is usually white, it looks best on people with light skin tones, such as Asians or Caucasians. Transparent lace is fantastic for people with pale, fair, or porcelain skin tones. If you have dark skin, the laces will match it and make it less noticeable.

Transparent lace is known for its many distinctive qualities, including its extraordinary thinness and difficulty in detection. As a result, many women opt for wigs composed of translucent lace. You don't need to consider the skin tone when selecting translucent lace.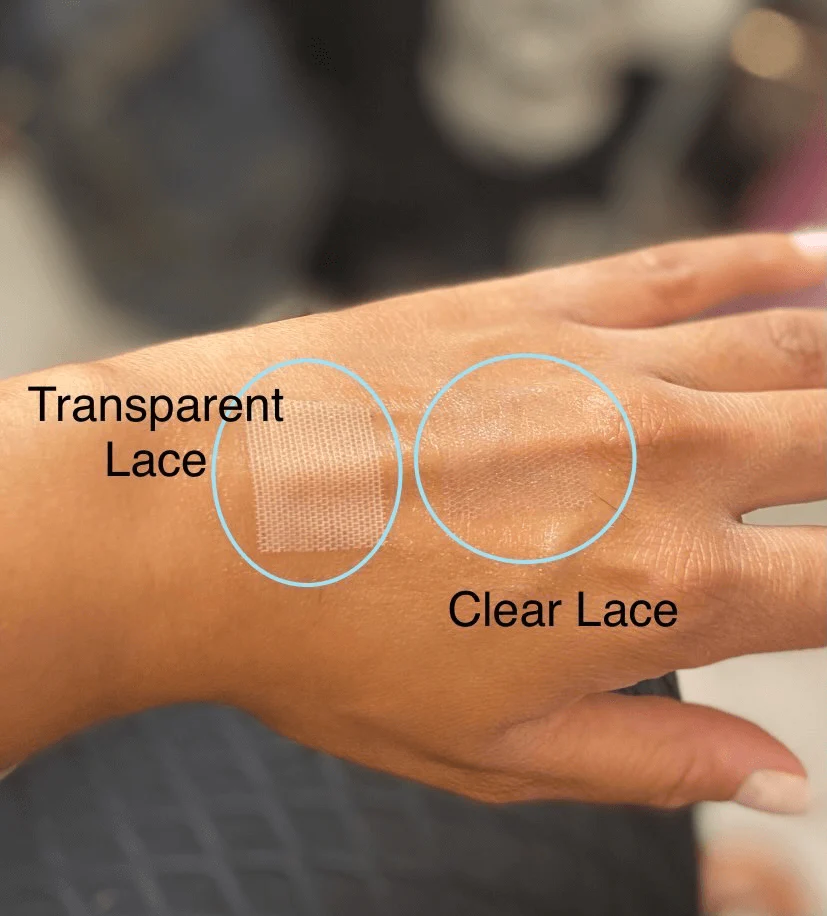 Swiss lace vs transparent lace: The comparison
This section gives a difference when comparing Swiss lace vs transparent lace. 
The common point between Transparent lace and Swiss Lace 
The two laces are all very light and thin. So when you wear the wig for a long period, it feels incredibly delicate and comfy. This is crucial because hair extensions are a long-term investment in addition to being an ornament that enhances your beauty.

All two varieties of lace hues complement a variety of complexion tones. So the wig makers will have more options when selecting the lace that best meets the needs of their clients.
The difference between Transparent lace vs Swiss Lace
Matching: Transparent lace matches some skin tones less than Swiss Lace. Because the majority of the lace is dazzling white or beige, it goes well with lighter skin tones. Dark-skinned folks can also use it, but you will lose some of the dying power to get the lace you want. You can also read this: Natural straight weft hair if you'd like more style that complements your natural hair and skin tone.
Durability: Comparing Swiss lace vs Transparent lace, Swiss lace has higher durability. Swiss lace is not as thin as Transparent lace, but it is more durable. Lace is created in a wide range of colors and is strong and challenging to rip. You can tell it is stiffer than the other two varieties when you touch them. Beginners who want to wear wigs can use them.
Swiss lace vs transparent lace: Which one to choose?
Each lace closure offers a unique set of benefits, they are generally of good quality and conform to fundamental requirements for thinness, naturalness, and beauty.
Therefore, you should take into account the following factors while selecting the appropriate lace from the Swiss lace vs transparent lace:
How many years have you worked in this field?
Make sure you have the abilities necessary to work with various lace kinds, particularly HD lace. Incorrect handling might cause them to shred and shatter easily. Swiss Lace should therefore be your first choice if you're just learning about wigs because they are less expensive than the other two varieties.
What style of lace closures is best for your customers?
As a knowledgeable and skilled salesperson, you should provide your clients with frank advice. To choose the lace that best suits your client, check to see what their skin tone matches, as well as what expectations they have for the lace closures they want to purchase. 
Where to buy Swiss lace and transparent lace?
Jen Hair is proud of being among several significant sites for manufacturing hair extensions, especially laces in Vietnam. Jen Hair is a leading wholesale hair company in Vietnam with around 6 years of experience. We are prestigious partners of various vendors and women around the world when it comes to purchasing types of lace. 
Jen Hair has provided hair products with a wide range of hairstyles, colors, and textures. Suppose your concern is about our quality. It just wastes your time. We provide unprocessed, 100% Vietnamese hair that is of outstanding quality and variety.
In terms of two significant hair products namely Swiss lace and transparent lace, we always prioritize the quality based on the customers' feedback. We take all of the critical reviews into consideration with a view to constantly boosting the standards. Both of them are more durable and flexible than others in the worldwide market nowadays. 
1. Swiss lace 
Our Swiss lace is one of the most favorite items voted by Jen Hair's customers thanks to a variety of advantages. They give customers smooth hairstyles. All skin tones can easily be blended with it.
There are numerous alternatives available for our Swiss lace's length. We offer both short and long type to satisfy all customer needs. Because we provide hair products with 100% Vietnamese origin, you can restyle in your own way. However, we recommend you should not use heat or chemicals so often.
2. Transparent lace 
Transparent lace provided by Jen Hair have natural colors that are suitable for many skin tones. The majority of transparent laces are white variations on regular laces, thus people with light skin tones look best in these.
As mentioned above, our products originated from 100% Vietnamese hair. Therefore, you are assured that they are really durable and lightweight. As opposed to conventional lace fronts, they give the wearer a more natural appearance. You can feel at ease in them as a result of using suitable transparent lace from Jen Hair.
Additionally, besides their durability and aesthetics, the price is an element that you can feel free. We just set an affordable price for most hair products so that we can achieve the goal of highlighting women's perfect beauty and boosting their confidence.
Together with our range of goods and services, we are happy to assist you with any inquiries you may have regarding us or our offerings. Your greatest options at Jen Hair will be guided by our customer support team.
Final thoughts
People may find it difficult to compare Swiss lace vs transparent lace. Jen Hair has provided you with the definition, characteristics, and advice on which type of hair to choose based on the information provided above.
We hope you find this information useful! Finally, keep following us to be notified of new articles!