Are you searching for reliable Megalook Hair reviews? Look no further. In this article, Jen Hair aims to provide you with an honest and unbiased assessment of Megalook Hair's effectiveness.
Through extensive research and analysis, we have gathered insights from individuals who have used Megalook Hair products to address various hair concerns. From hair loss and thinning to lack of volume and overall hair health, their experiences offer valuable perspectives on the results you can expect.
Megalook Hair: An overview
Megalook Hair was founded in 2006 in Guangzhou, China. With a mission to empower black beauties and enhance their pursuit of life and beauty, it has become a prominent brand in the hair care industry.
To ensure the highest quality of their hair products, the brand has established a raw material plant in Southeast Asia, enabling them to maintain consistent product quality while offering consumers affordable prices. Every product undergoes meticulous testing and validation from nearly 10,000 loyal end consumers before it is released to the market.
With nearly 20 years of experience in the hair industry, Megalook Hair is renowned as a premium virgin hair brand, both online and offline, offering high-quality hair at reasonable prices. Their focus is on providing excellent and affordable options for today's busy women, ensuring females worldwide can feel beautifully confident.
Megalook Hair reviews
Before making a decision, why not dive into Megalook Hair reviews to assess the reliability of the company and the quality of its products?
To make things easier, we have organized the reviews into easy-to-digest sections, highlighting the most critical factors that you should consider when evaluating the brand's trustworthiness.
Products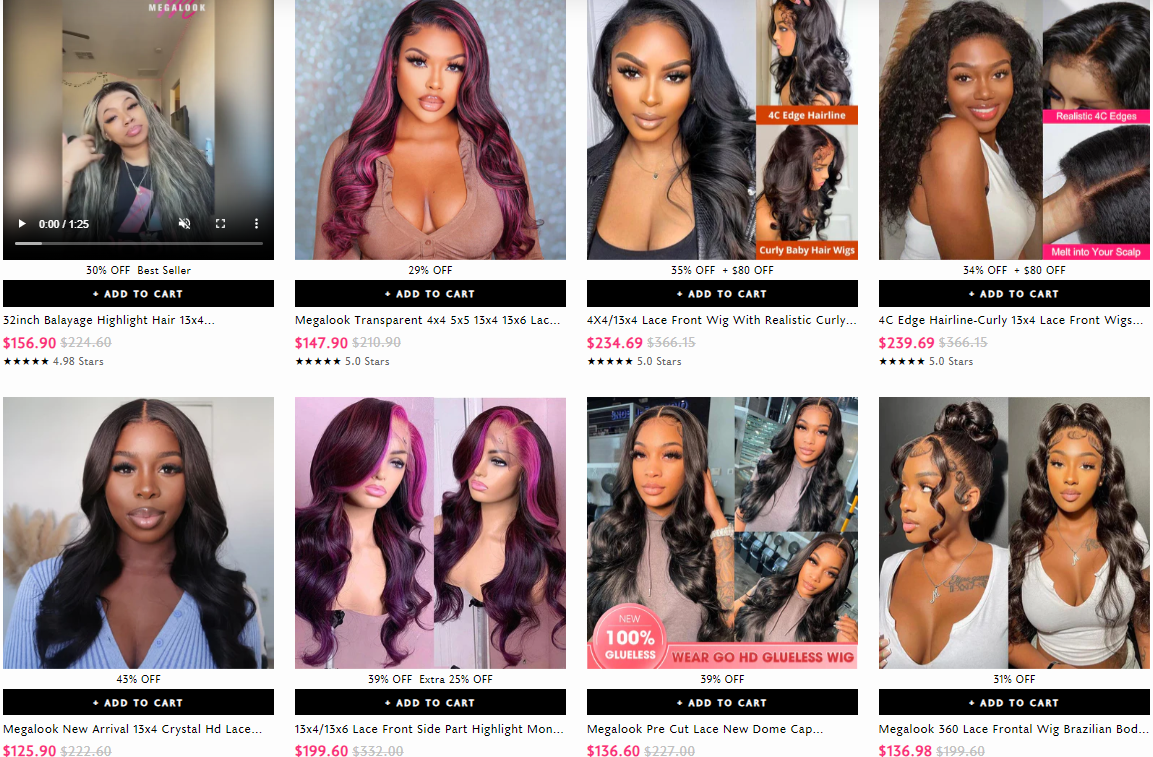 In the realm of Megalook Hair reviews, customers have praised the brand for its diverse range of products.
Crystal lace wig

: The crystal-clear lace blends seamlessly with the scalp, creating an undetectable hairline. Crafted with high-quality virgin human hair, it offers versatility in styling, allowing you to curl, straighten, or customize the hair as desired.

Short bob wig

: Megalook Hair's Short Bob Wig is a trendy and chic choice for individuals looking to rock a stylish and manageable hairstyle. The bob length offers a modern and effortless look. The wig features a breathable cap construction and adjustable straps, ensuring a comfortable fit and allowing for easy customization.

4C edge wig:

The wig seamlessly blends with natural hair and offers a realistic appearance. It is available in various styles, including sleek and laid edges or voluminous curls.

V/U part wig

: It offers the flexibility of either a V-shaped or U-shaped part, allowing for various hairstyling options. The wig is constructed with a comfortable and adjustable cap, providing a secure fit and ensuring a hassle-free styling experience.
Quality
Megalook Hair offers exceptional quality wigs and bundles that leave a lasting impression. Their products are renowned for their softness, durability, and natural appearance. The wigs and bundles provided by Megalook Hair are crafted with meticulous attention to detail, ensuring that each strand is flawlessly designed. We find that the wigs and bundles are incredibly soft to the touch, providing a comfortable and realistic wearing experience. Moreover, their durability guarantees long-term use without compromising on the hair's natural look and feel.
The Megalook Straight Lace Front Wigs Human Hair are high-quality wigs made from 100% unprocessed Brazilian human hair. They are soft, silky, and natural-looking, with a pre-plucked hairline and baby hair that gives them a realistic appearance. The wigs are easy to install and style, with a comfortable and breathable lace front that allows for a natural-looking hairline.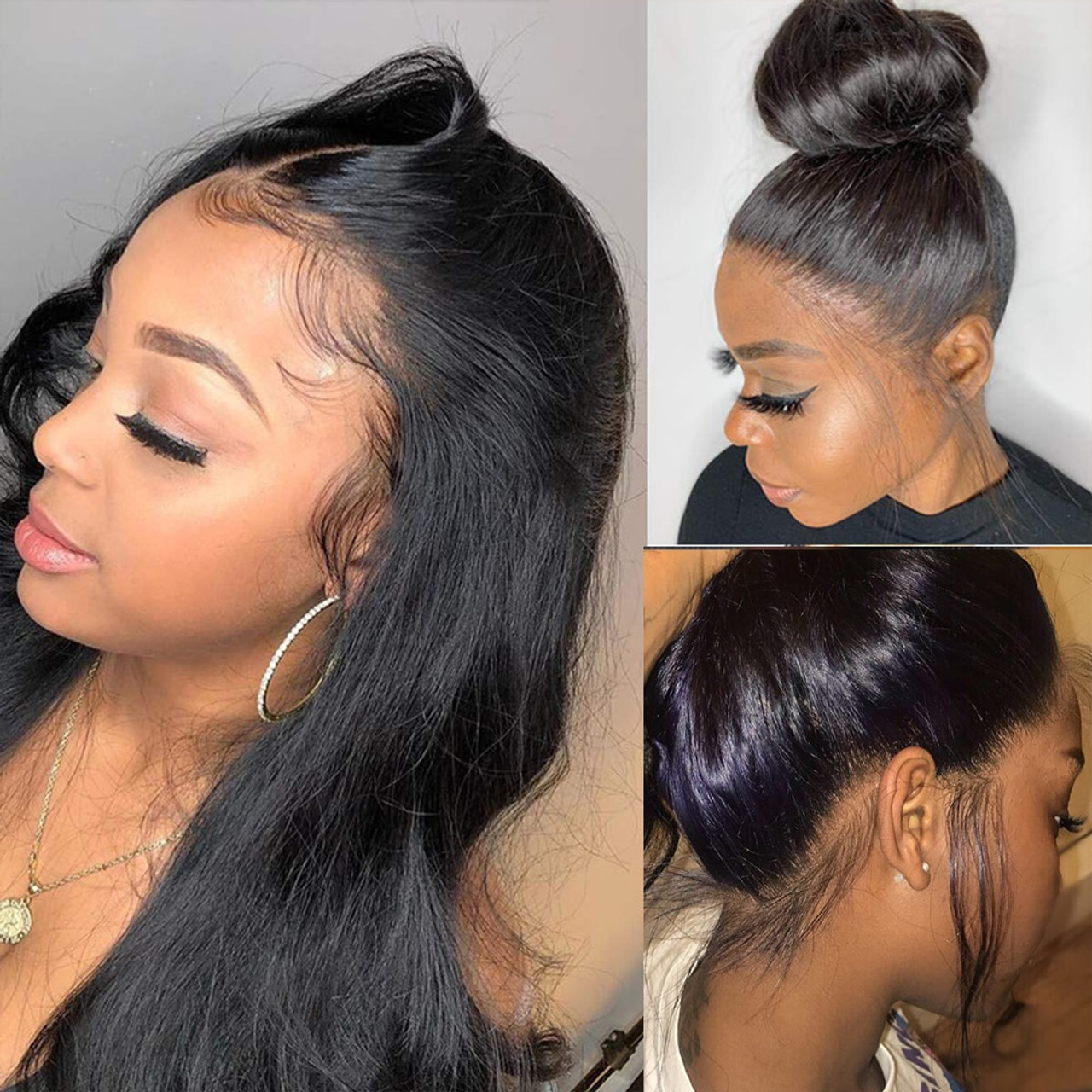 Price

Megalook Hair stands out as an affordable option when it comes to product pricing, with prices ranging from $80 to $150. In fact, many Megalook Hair reviews highlight this as a significant advantage for those who are new to the world of hair products.
Shipping
Shipping times vary depending on the destination:
United States: 3-5 days via DHL/USPS/Fedex.

Canada: 4-7 days via DHL/Fedex.

Mexico, United Kingdom, France, Germany: 3-7 days via DHL.

United Arab Emirates: 7-10 days via DHL/Fedex.

South Africa and other countries: 7-10 days via DHL/Dpex/TNT.
Please note that it is recommended to order hair at least 48 hours before you need it to avoid any unforeseen delays. Free shipping is available for orders within China, the United States, Canada, Mexico, the United Kingdom, France, and Germany. A shipping fee of $20-$25 applies to orders shipped to other countries.
Customer service
From Megalook Hair reviews, its customer service is praised for supportiveness and readiness. If you have any questions related to the buying process or about the product, you can reach out its email or phone number to ask for help. The team replies to you immediately. 
Moreover, the brand also uses responsive email communication to interact with customers. With their commitment to addressing customer needs, Megalook Hair strives to create a positive and supportive environment throughout the shopping journey.
Return policy
Celie Hair's return policy allows customers to return any hair products with evident manufacturing defects within 30 days of receiving their original order. The items must be in their original factory condition, and the customer must contact customer service before returning any or all parts of their order. Care and styling products, accessories, liquids, and special order items are not eligible for return. The customer is responsible for paying the return shipping fee. Once the returned item is received and inspected, the refund will be processed and applied to the original payment account.
Customer reviews on Megalook hair reviews
From Megalook Hair reviews, numerous customers have said that: 
The hair quality is beyond their expectations, which is extremely soft and durable. 

The wigs have amazing looks and are easy to style. 

Even the colored wigs also have an excellent hair quality.

The delivery is fast and the customer service team is helpful.
Is it worth buying hair from Megalook Hair?
After considering Megalook Hair reviews, the decision to purchase hair from Megalook Hair depends on your specific requirements and preferences. One key aspect to consider is Megalook Hair's emphasis on using good quality ingredients and advanced technology in its products. The reputation for delivering impressive results, along with their rigorous testing process involving thousands of satisfied customers, adds credibility to their brand.
FAQs
   1. Is Megalook Hair good?
Most customers have reported positive experiences with the hair quality and customer service. However, it is still important to do thorough research and read reviews from multiple sources before making a purchase decision.
   2. Is Megalook Hair legit?
Based on available information, Megalook Hair is a legitimate hair company that sells various types of hair extensions and wigs. They have a website and social media presence, and customers can purchase their products online. 
   3. How long does Megalook Hair take to deliver?
The delivery time for Megalook Hair products may vary depending on the shipping method and your location. Typically, standard shipping within the United States takes around 5-7 business days, while expedited shipping can take 2-3 business days. International shipping may take longer, depending on the destination country and customs processing times. 
   4. Where to buy Megalook Hair's products?
If you have read Megalook Hair reviews and decide to try its products, you can go to its website and order your favorite ones. In addition, to purchase directly from their official website, Megalook Hair products are also available for purchase on Amazon. However, you should still exercise caution and ensure you are purchasing from a reputable seller.
Final thoughts
In conclusion, we have provided you with comprehensive Megalook Hair reviews. It is clear that customers have experienced noticeable improvements in their hair's length and thickness. Additionally, it's always a good idea to read the company's policies and procedures carefully to ensure that you fully understand what you are getting into before making a purchase.
Finally, stay tuned for our next article as we expand our brand review topic to cover more popular brands!