When it comes to transforming your hairstyle, Celie Hair is a brand that has captured the attention of hair enthusiasts everywhere. Offering a wide selection of hair extensions and wigs, the brand claims to provide a premium and luxurious experience. But does it live up to the expectations?
In this article, we embark on a journey to uncover the truth behind its reputation. We will delve into Celie Hair reviews, exploring their firsthand experiences with the brand. From the quality and durability of the products to the range of styles and textures available, we leave no stone unturned. Let's get started!
Celie Hair: An overview
Established in 1993, Celie Hair has emerged as a leading manufacturer of hair products. With a focus on providing top-quality virgin human hair, they cater to large traders and wholesalers. Traditionally, these products have been resold to retailers and customers at exorbitant prices, leaving customers astonished. However, Celie Hair revolutionizes the industry by addressing both price and quality concerns.
Since their online mall's launch in 2013, Celie Hair has become the go-to choice for thousands of women seeking affordability. Customer satisfaction speaks for itself, with 70% of customers recommending the brand to their loved ones or returning for repeat purchases. Impressively, 99% of wholesalers select Celie Hair as their sole supplier, recognizing the superior quality that enhances their businesses.
Celie Hair reviews
Reading Celie Hair reviews before making any purchases is vital because they include a wealth of information about the reliability of the company and the quality of their products. To make things simpler, we have separated the reviews into several sections, each of which outlines crucial elements to consider the brand's trustworthiness.
Products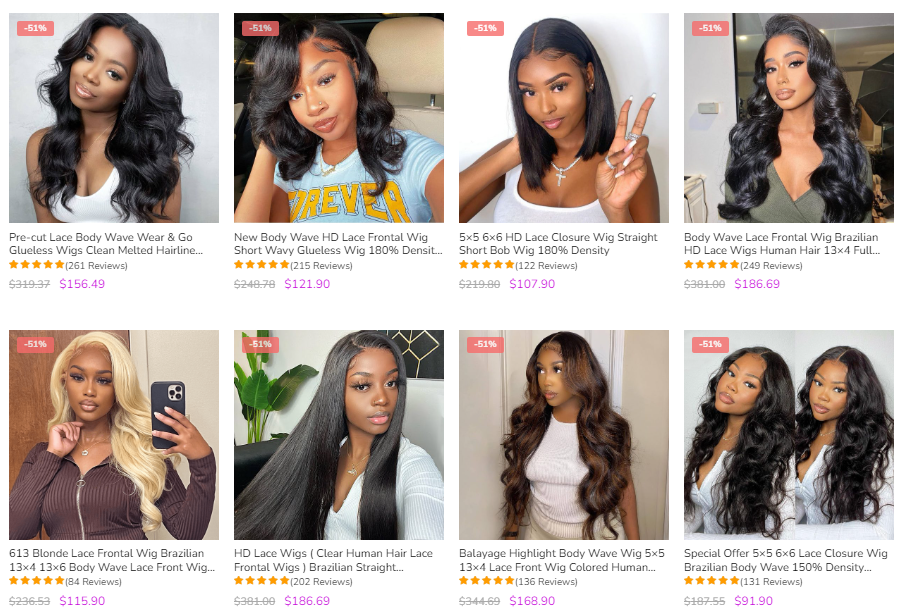 Here are the products that Celie Hair offers:
Hair bundles:

Celie Hair offers an exquisite collection of hair bundles that boast premium quality and stunning versatility. With a range of textures and lengths to choose from, you can effortlessly achieve the desired look and enhance your natural beauty.

HD lace wigs:

Get ready to achieve a flawless and natural-looking hairline with Celie Hair's HD lace wigs, meticulously crafted to blend seamlessly with your scalp.

V/U part wigs:

For those seeking a unique look, Celie Hair's V/U part wigs offer a convenient solution, allowing you to effortlessly switch up your parting style.

Lace frontal wigs:

Experience ultimate versatility and flawless hairlines with Celie Hair's lace frontal wigs, perfect for achieving stunning and effortless hairstyles.
Quality
Celie Hair wigs are widely regarded as the best in the industry. They have a natural appearance as they are made from real human hair. These wigs are made to last, as they keep their form and texture even after repeated washings. 
In general, the products offer versatility, allowing for styling, cutting, and coloring. The comfortable caps provide a secure fit, and their attention to detail ensures a reliable choice for those seeking natural-looking hair solutions.
Let's move to the example! The Celie Hair Pre-Separated Springy Afro Twist is a fantastic option for those with damaged soft locs. The springy texture adds a lively and natural look to your hair. With eight packs included, you have more than enough hair for a full and voluminous style. The pre-separated strands make installation quick and convenient. Whether you are repairing damaged locs or simply looking to switch up your style, this hair is a great choice for achieving a stunning and effortless look.
Price
Celie Hair offers a range of affordable pricing options, making it accessible to a wide range of customers. With prices ranging from $180 to $400, their wigs provide excellent value for the quality they offer. Despite the affordability, Celie Hair maintains high standards in craftsmanship and materials, ensuring that customers receive a product that meets their expectations. Whether you're looking for a budget-friendly option or a slightly higher-end choice, Celie Hair caters to different budgets without compromising on quality. 
Shipping

Celie Hair brand ensures efficient shipping services to deliver your order promptly. Typically, orders are shipped within 24 hours of confirmation, excluding weekends and holidays. Delivery times vary depending on the destination, ranging from 2-4 working days in America and 3-7 working days in Europe, Canada, and Australia, to 5-8 working days in Africa.
Customer service
Many Celie Hair reviews said that the brand offers exceptional customer service through various channels. Their phone support is readily available, allowing customers to speak directly with knowledgeable representatives who can address their inquiries or concerns promptly. 
Additionally, their responsive email support enables customers to communicate conveniently and receive timely assistance. Celie Hair's website features a comprehensive FAQ section, providing answers to commonly asked questions and empowering customers with self-help solutions.
Return policy
Celie Hair's return policy guarantees customer satisfaction. If you receive a defective item within 30 days, contact customer service for a refund. Returned items must be in original condition with tags, and packaging, and be unworn. Prior confirmation from customer service is necessary before returning any part of your order. After inspection, refunds are issued to the original payment account. Return shipping costs are the buyer's responsibility, but alternatives can be discussed with customer service. 
Customer reviews on Celie hair reviews
According to Celie Hair reviews, the brand receives 5-star of ratings on various platforms. We have summarized the customer feedback as follows:
The hair is beautiful, soft, and silky throughout the entire day of use.

The hair is durable and worth the long-term investment.

The customer service team is caring and regularly available online to promptly address any inquiries you may have.
Is it worth buying hair from Celie Hair?
Celie Hair is known for providing good quality products that are crafted with high-quality materials. Their wigs, extensions, and braiding hair offer a natural look and durability. 
After reading our Celie Hair reviews, you can see that the brand has received positive feedback from numerous consumers. However, you should also conduct your research and check out some products to be sure Celie Hair's products and services meet your unique expectations before making a final purchase decision.
FAQs
   1. Is Celie Hair good?
Yes, Celie Hair is well-known for its high-quality offerings. They use only the finest materials in the creation of their wigs, extensions, and braiding hair, guaranteeing a natural appearance and long life. Numerous Celie Hair reviews have complimented the company's extensions for their natural look, secure fit, and enduring quality. 
   2. Is Celie Hair legit?
Yes, Celie Hair is a reputable and legitimate brand in the hair industry. They offer a wide range of high-quality hair products, including wigs, extensions, and braiding hair. You can confidently purchase from Celie Hair's official website, where they provide a secure and reliable shopping experience. 
   3. Where is Celie Hair?
The address of Celie Hair is Flat/RM 04, 18/F, Yan's Tower, 25-27 Wong Chuk Hang Road, in the district of Aberdeen in Hong Kong.
   4. Where to buy Celie Hair's products?
You can purchase Celie Hair's products directly from their official website. They have an online store where you can browse and select from their wide range of hair products, including wigs, extensions, and braiding hair. Simply visit their website and explore their collection to make a purchase. Additionally, Celie Hair may also have authorized retailers or distributors in certain locations, so you can inquire about local options through their website or contact their customer service for more information.
Final thoughts
To sum up, reading Celie Hair reviews is really vital before making any purchase. As you can see, the brand has emerged as a trusted and highly regarded provider, offering top-notch quality, a diverse range of styles and colors, and exceptional customer service. With Celie Hair extensions, individuals can achieve their desired hairstyles effortlessly and confidently. For those seeking to enhance their natural beauty and transform their hairstyle, it can be a reliable choice.
Last but not least, please like and share this article to your fellow hair lovers if you find it useful! We will appreciate it!