Hair extensions give a wonderful change. Whether you're trying to make your hair longer, thicker, or even change color, extensions can give you the hair of your dreams in just a short amount of time. However, if applied correctly the results can change perfectly, if not applied well, you can leave a clear distinction which is not to harmonize your natural hair and the hair extensions. together.
Luckily, there are plenty of tricks and tips to prevent and fix poorly blended hair extensions. The following article by Jen Hair about the ways on how to blend hair extensions  will help you solve this problem.
Related posts:
Why hair extensions do not blend with my hair
There could be a number of reasons why your extension might not be matched your hair. There are some people who will buy hair extensions and easily attach them to their natural hair and make them look amazing in no time. There are people who will have to make more adjustments to the extensions they have purchased to make them fit their hair.
There are many other reasons why your extension might not be blended as it should be, but here are some common reasons that could happen:
1. Incorrect weight of hair extensions causing them to not blend
The weight and thickness of the hair extension are important factors to ensure a seamless blend. Using extensions that are thinner or thicker than your own hair will make the results look very unnatural.
2. Incorrect hair extension settings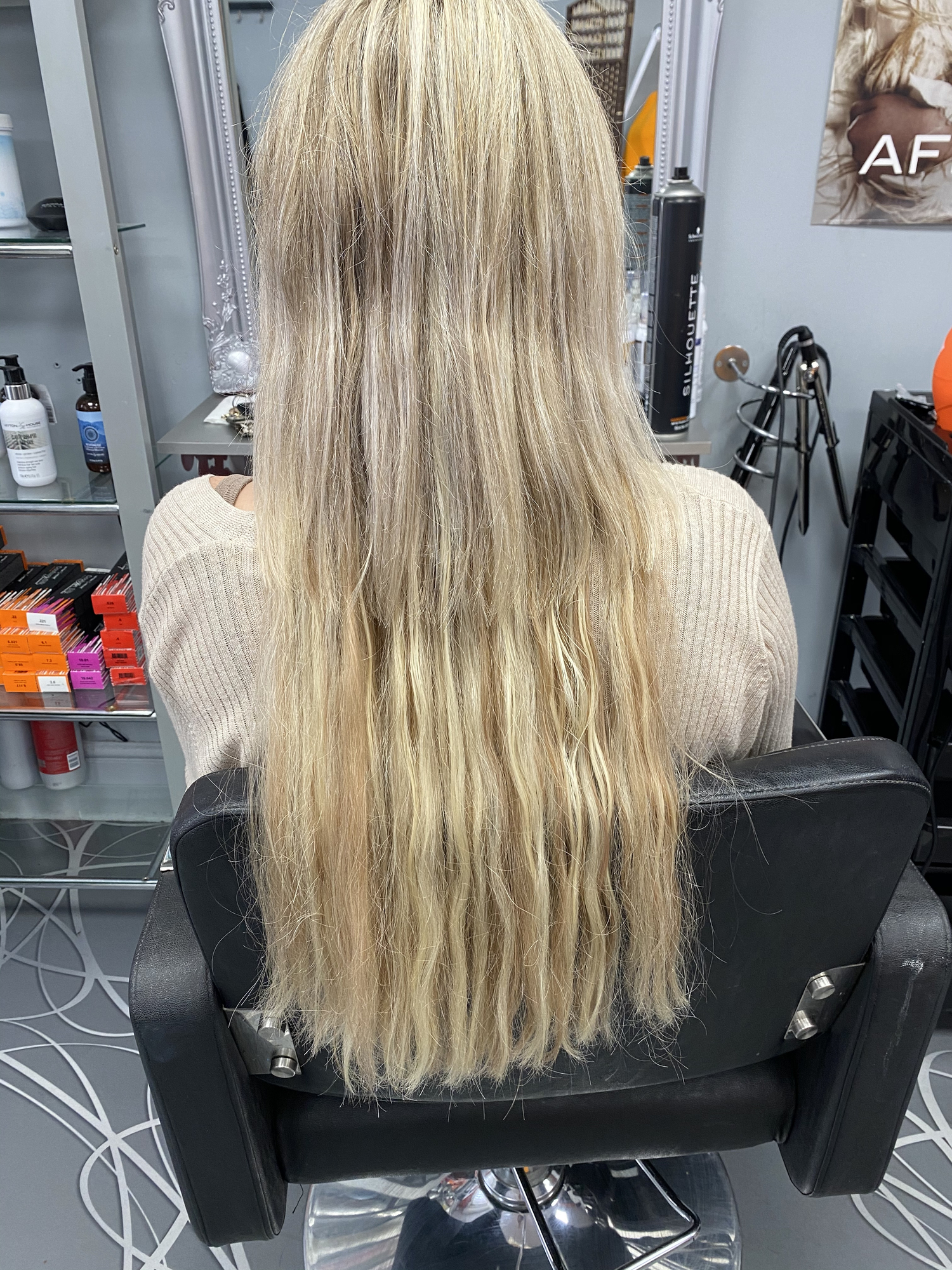 Where you put in your extensions – whether it's tape or clip in, it makes a huge difference to your look. Applying them in the wrong place can make them more likely to show imperfections or expose the connection between the extensions and the real hair. This will cause your hair extensions and hair to not blend
3. Hair is too short to blend with hair extensions
With extremely short hair or even hair on the shoulders, it is difficult to blend naturally with hair extensions.
For hair less than 5 inches long, you will need to use fixed hair extensions such as tape or nano rings. Any other type of extension will most likely expose your hair in the attachment area and have no natural and blend finish.
How to blend hair extensions naturally?
There are always solutions to every problem and so are hair extensions. There are certain tips and tricks that you can use depending on your own circumstances to help your extensions naturally blend with your natural hair.
1. Curling your extensions so they blend better
Hair extensions will look a lot more natural with curly hair because it helps the two hairstyles blend together.
You should attach the hair extensions to your hair first, then curl them together. This gives a much smoother finish, making it almost impossible to see which is your own hair and which are extensions! Lightly combing the hair after curling also gives a soft and natural hair extension.
Further reading: How to curl hair extensions for beginners?
2. Cut hair extensions to blend hair extensions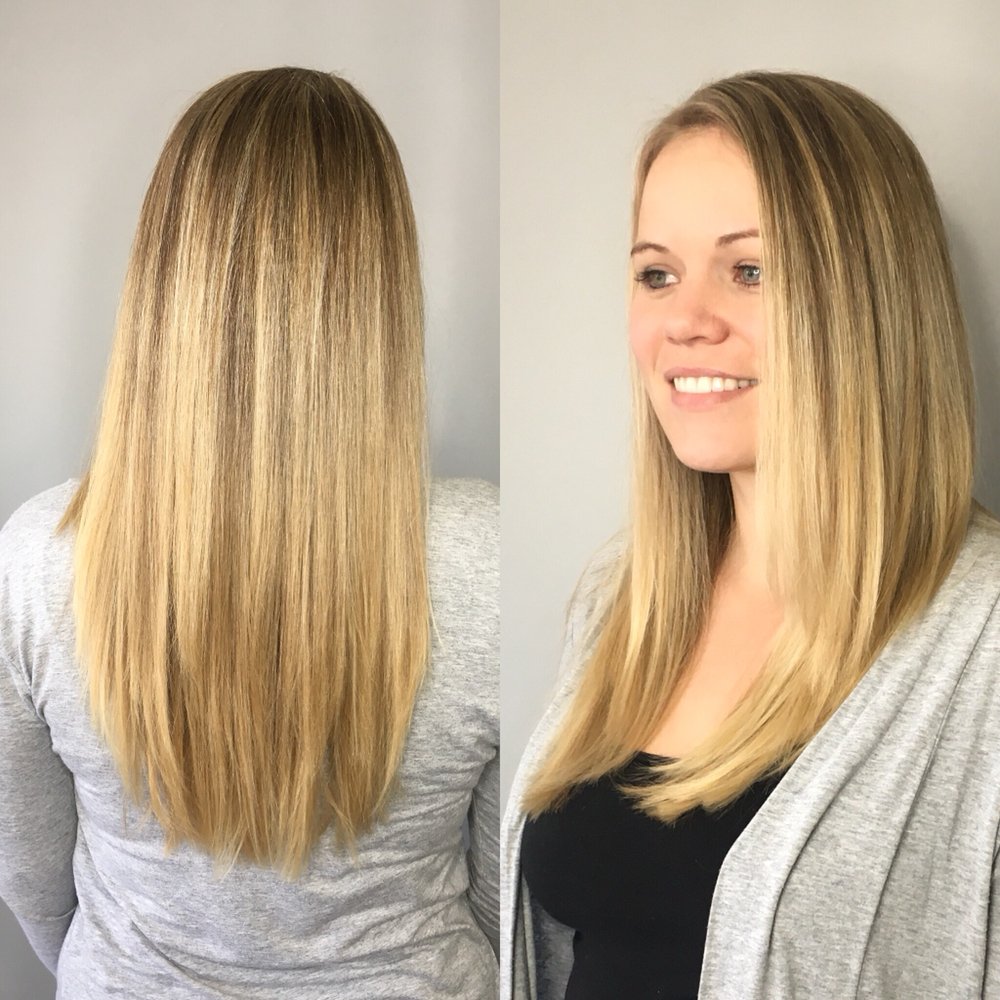 Another way to match your extensions to your real hair is to use cutting techniques to add layers. For best results, it is recommended that you have a professional hairdresser do this for you as they will be able to skillfully shape the hair so that the extensions blend together.
You can also do it at home. The first step when cutting hair extensions is to locate the positions of the layers on your natural hair.  Hold the section of hair between your fingers, grab your scissors and open the blade, gently slide & cut in a slow diagonal motion. It is extremely important to keep the scissors open and keep moving! Continue until you achieve the desired result. For the details, you should read this post: How to cut hair extensions at home?
3. Straighten hair extensions along with natural hair
This can be an effective way to combine hair extensions because once straightened they go well together. To blend real hair with extensions, part your hair from the nape of the neck to just in front of the ears. You should comb your hair extensions and real hair thoroughly so that they blend into one
Then, start with each section of hair (the rest is clipped in place), lower each section, and continue straightening. Remember to comb the natural hair and the hair extensions that help them blend seamlessly. 
Advice on blending hair with extensions
1. Wash your extensions
Washing extensions may be the best thing to do. Washing the tail will help the tail become bouncy and soft. This ultimately makes the hair extensions look thicker and this helps contribute to the harmonious blend of the extensions.
2. Clamp the wefts slightly higher on top
By clamping the wefts higher over your head or spreading them farther apart, it can help create a seamless blend.
You may need to braid the bottom section of your hair before attaching the larger part: people can easily tell you're wearing an extension by looking at your own bottom hair exposed underneath the extension. You can avoid this by gathering the bottom of your hair from ear to ear, then braiding it and securing it to your head with bobby pins. Go ahead and apply for your extensions as usual. This will help match the extension to your natural hair and you won't see that bottom hair showing underneath the extension.
3. Place the hair clip in the safe zone
The safe area of ​​​​the hair is where the joints of hair extensions are not easy to see. The ideal safe zone is just below your brow line.
Just create a solid base for the wefts: create something at the base of the hair so the clips can then hold onto something without slipping. You can mess up your hair at the base to set up the weft easier
Final thoughts
Hopefully, through this article, you can know the exact steps about how to blend hair extensions and can apply it at home and get the desired results.
Thank you for reading our blog! We hope you enjoyed this article – if you liked what you've read, share this with your friends and follow us on our social media channels to stay up to date with the trends, tips, latest tutorials, and more!