Are you tired of scouring the internet trying to find up-to-date information on how much hair extensions are at a salon? The research process can be tricky as the price can vary depending on the type of hair extensions you choose, the length and thickness of your natural hair, and the location of the salon.
In this article, Jen Hair will provide the latest and most accurate information about prices of hair extensions in salons with the data updated in 2023. With our newest pricing information, you'll be able to make an informed decision about which type of hair extensions to choose and how much you can expect to pay. 
How much are hair extensions at a salon?
Hair extension prices in salons can vary depending on the type of hair used. Generally, there are two types of hair extensions: synthetic hair extensions and human hair extensions.
Synthetic hair extensions are typically less expensive than human hair extensions, as they are made from synthetic fibers rather than a real human hair. The cost of synthetic hair extensions can range from $50 to $300, depending on the length and style of the extensions. Human hair extensions have a higher price because they are made from real human hair, ranging from $200 to $2,000 or more, depending on the quality of the hair, the length of the extensions, and the method of installation.
It's important to keep in mind that the cost of the initial installation of the extensions is just the beginning. Maintenance appointments are usually required every 4-8 weeks, and these appointments can also come with additional costs. Now, let's explore how much hair extensions are at salons!
    1. The cost of clip-in hair extensions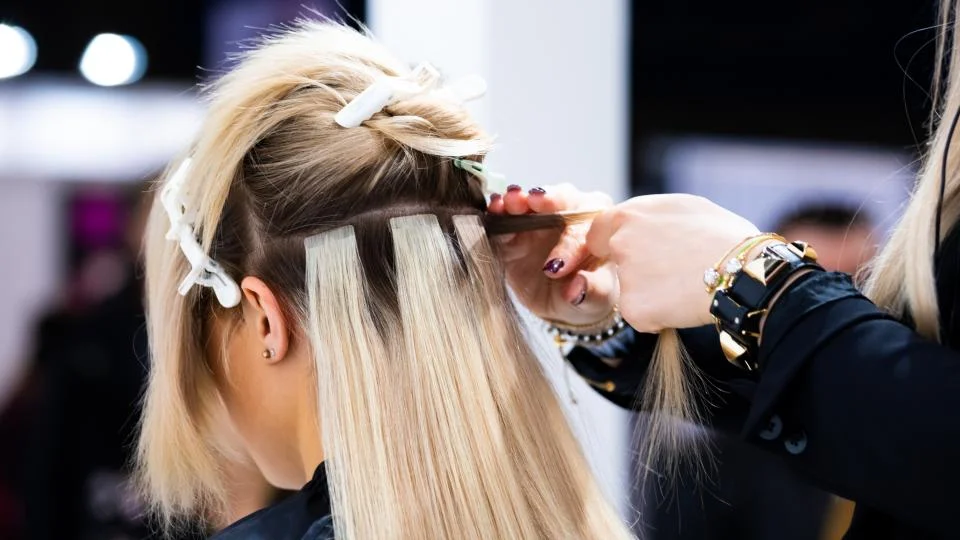 Clip-in hair extensions may be purchased for anywhere from $100 and $500 and are the most convenient solution in terms of installation and removal. They may be worn for up to a year with proper maintenance and removal is a breeze (no trip to the salon required). Temporary use is safe for the hair, but low-quality clips may cause them to fall out. This type of hair extension is ideal for hair thickness levels in the middle.
    2. The cost of sew-in hair extensions
The average cost of having hair extensions professionally sewed in is around $250, with an extra $60 required for each individual hair extension. This hairstyle may persist for up to six weeks. They're a cheap alternative that won't damage your hair with heat. They may cause stress on the scalp and break if worn for an extended period of time. This product is ideal for those with thick locks.
    3. The cost of tape-in hair extensions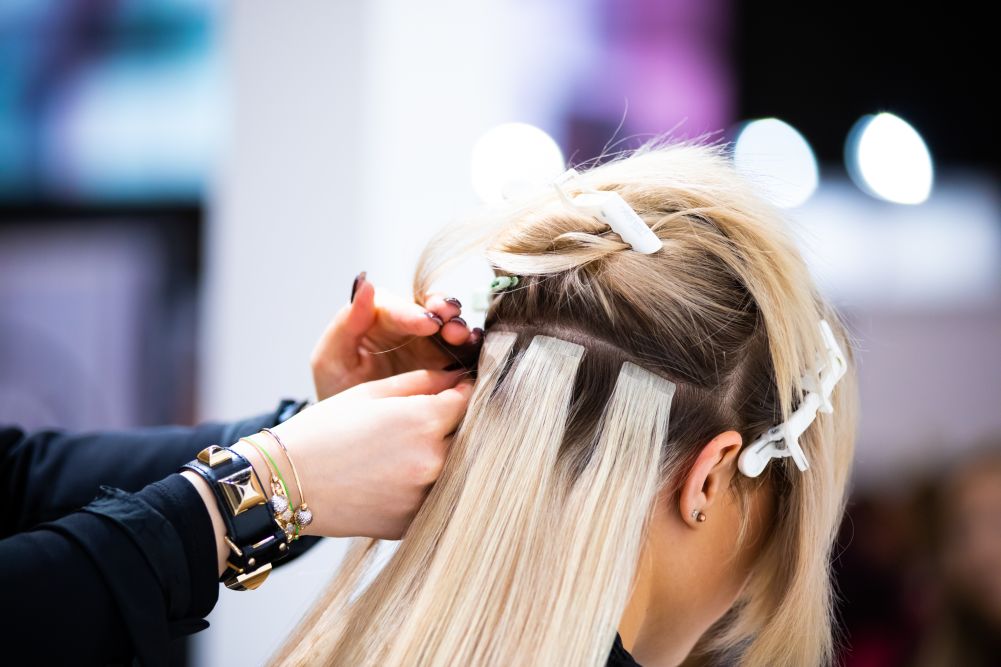 Tape-in hair extensions are long-lasting hair extensions that cost $180-$200 and may be used for four to six months. They must be applied by a skilled professional, although the procedure is straightforward and quick. Nevertheless, they tend to become tangled up, and removing them may leave a sticky residue. They'll look great beside your own hair because of how well they mix. Those with medium-thick hair will benefit the most from this.
    4. The cost of glued-in hair extensions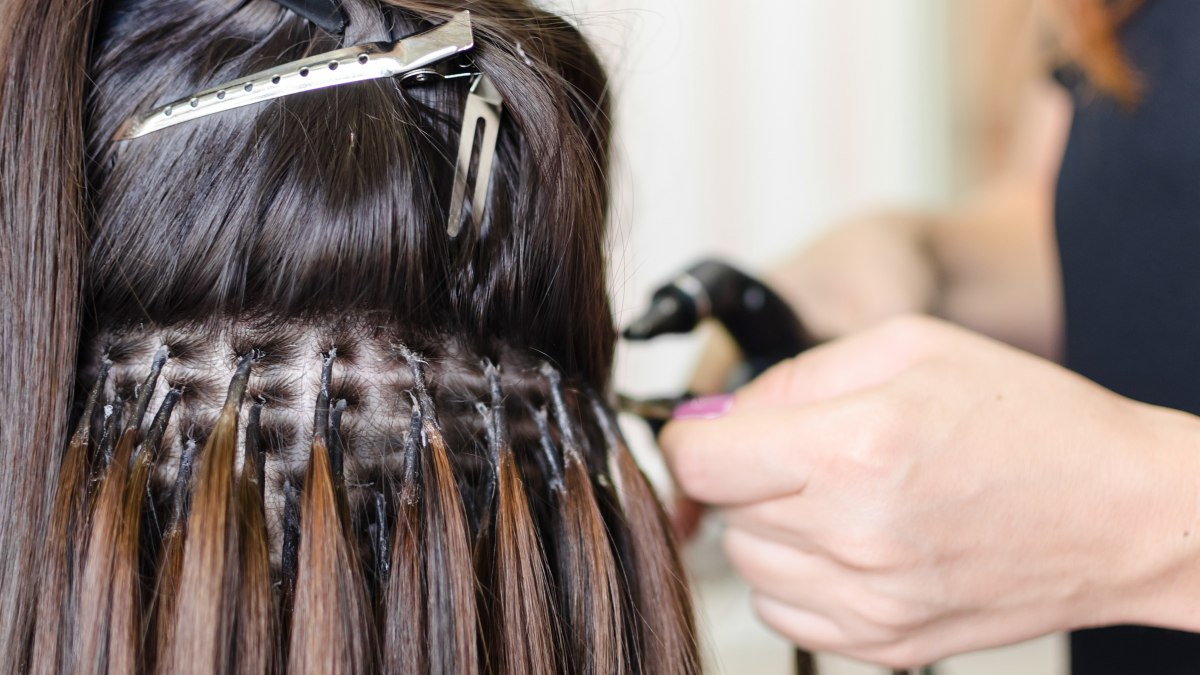 The price of glue-in extensions ranges from $300-$500, and the treatment may continue for up to 8 weeks. When done by a professional, they stay in place and look much like your own hair. To remove them, however, the use of acetone-based treatments might cause damage to the hair. Those with average to thick hair will fall in love with this hair type as its a voluminous and gorgeous look.
    5. The cost of fusion extensions
Although more costly (from $200 to $1,000), these extensions are flexible to work with any hair type and may last for up to 12 weeks. The bindings to your hair are meant to maintain your hair in place and are almost imperceptible after they have been applied to your head by an experienced professional. It is necessary to remove them carefully in order to prevent causing irreversible damage to your hair if you are negligent.
    6. The cost of bond extensions
Bond extensions work well with any kind of hair and cost between $1,500 and $3,000. They may be used without the need for heat and can be worn for up to six months (they use cold fusion). They need regular visits to a professional hair stylist for maintenance, at least once a month.
Note: Some salons may charge by the bundle or by the hour, while others may charge a flat rate for the entire service. 
It's best to consult with a stylist at a salon to get an accurate estimate for your specific hair type and desired look. They can give you a better idea of the total cost, as well as any additional maintenance or touch-up appointments that may be required to keep your extensions looking their best.
FAQs
    1. What types of hair extensions are available at salons?
Salons typically offer a variety of hair extensions, including clip-in extensions, tape-in extensions, sew-in extensions, fusion extensions, and micro-link extensions. Each type of extension has its own advantages and disadvantages, and the cost can vary depending on the type you choose.
    2. Why do salons charge a higher price for extensions?
There are a number of reasons why hairdressers charge a higher price for hair extensions. To begin, the extensions used at hair salons are often of a better grade and more closely resemble genuine hair. Second, salons often use trained experts to implant hair extensions since doing it properly demands a high degree of knowledge. Finally, each client's hair is unique, requiring the stylist to take extra time and care in crafting extensions that complement the client's natural hair in terms of texture, color, and length. Last but not least, the cost of hair extensions takes into account the care they need, such as frequent sessions for adjusting, washing, and styling. Salons may be more expensive, but they often provide superior service and products.
    3. How do I choose the right salon for hair extensions?
Choosing the right salon for your hair extensions is an important decision that can impact the outcome of your new look. Here are some tips on how to choose the right salon for your hair extensions:
Look for experience

: It's important to choose a salon that has experience in installing the type of hair extensions you want. Ask the salon about their experience with the specific type of extension you're interested in and how long they've been offering this service.

Check reviews

: Look for reviews from previous customers to see their experience with the salon and the quality of their work. Check websites like Yelp or Google reviews to read reviews from other customers.

Consider the price

: The cost of hair extensions can vary widely depending on the type of extension and the salon. Be sure to get a quote from the salon before making a decision, and compare prices with other salons in your area.

Check credentials

: Make sure the salon is licensed and that the stylist installing your extensions has the necessary credentials and training.

Consultation

: Schedule a consultation with the salon and stylist to discuss your hair goals and the options available to you. This is a great opportunity to ask questions, see examples of their work, and get a sense of their expertise.

Location and availability

: Consider the location of the salon and the availability of appointments that work with your schedule.
By taking these factors into account, you can make an informed decision and choose the right salon for your hair extensions.
Final thoughts
In conclusion, the cost of hair extensions at a salon can vary greatly depending on a variety of factors. Therefore, it's important to do your research and choose a reputable salon with experienced stylists who can provide a consultation and offer recommendations tailored to your individual needs and budget.
In this article, Jen Hair has provided you with updated information on how much hair extensions are at a salon. While the initial cost may seem high, investing in high-quality extensions can provide a fuller and more versatile look that can last for months, making it a worthwhile investment in the long run. Finally, do not forget to keep following us to be notified of the latest news!