Have you been considering where to purchase hair extensions? Perhaps you have heard that Hermosa Hair is a popular choice, but you are unsure of whether or not to trust the reviews you have seen.
In this article, Jen Hair will provide you with honest and reliable Hermosa Hair reviews, with the intention of guiding you towards the best shopping experience possible. Keep reading to gain valuable insights!
Hermosa Hair: An overview
Hermosa Hair is a renowned virgin hair brand hailing from China, with its own supporting factory based in Xuchang City, Henan Province. The company was founded by a group of hair enthusiasts who were passionate about providing premium hair extensions at an affordable price.
One of the notable features of Hermosa Hair is its ability to cater to diverse customer needs. The brand offers a wide range of human hair products, including hair weaving, closures, frontals, and wigs, available in various textures. Whether you are seeking sleek and straight hair or luscious curls, Hermosa Hair has got you covered.
Moreover, the company continuously updates its factory operations, striving to provide even better products. This dedication to improvement and reliability further enhances the brand's reputation among customers.
Hermosa Hair reviews
Before making any purchase, it is essential to take the time to read reviews, as they provide valuable insights into a brand's reputation and the quality of its products. To help you make an informed decision, we have divided the reviews into distinct sections, highlighting key factors to consider when evaluating a brand's trustworthiness.
Products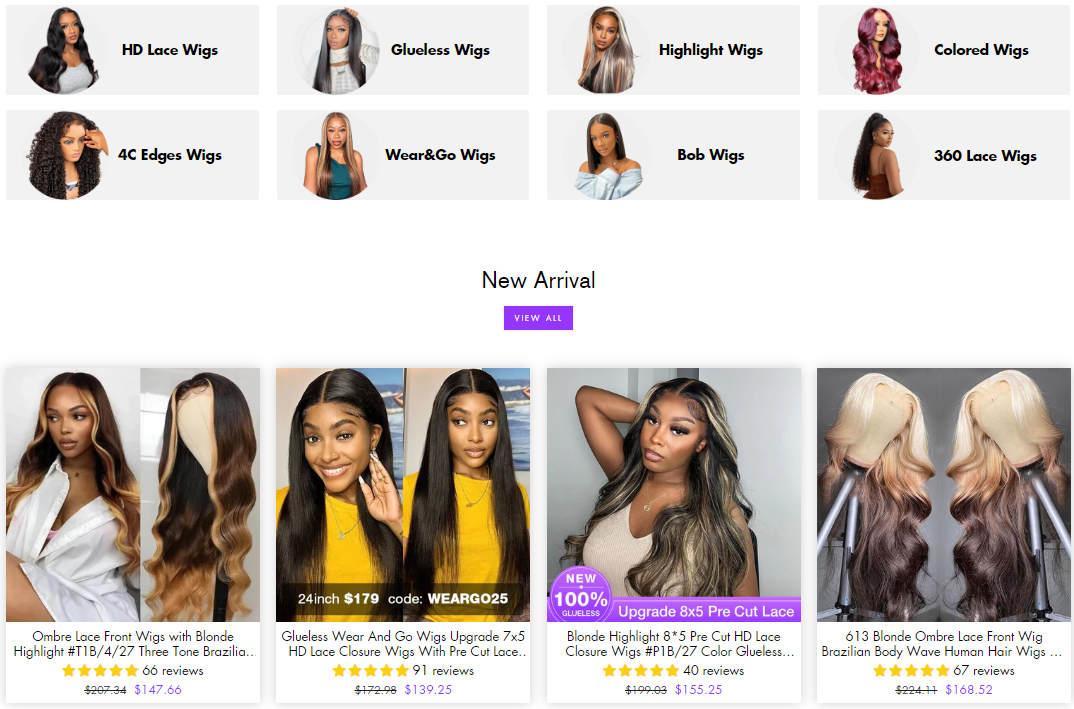 Hermosa Hair offers a wide selection of hair products designed to cater to diverse customer needs and preferences. Let's explore the range of products available:
Hair weaving:

Whether you prefer straight, wavy, curly, or kinky textures, Hermosa Hair has options to suit every preference. The hair weaving products are crafted with attention to detail, ensuring high quality and durability.

Closures

: To achieve a seamless and natural-looking hairline, Hermosa Hair offers closures. These closures blend flawlessly with your scalp, providing a realistic appearance. Customers can choose from different textures and lengths to match their natural hair or desired style.

Frontals:

Hermosa Hair's frontals are another popular choice for those seeking a versatile and natural-looking hairline. The frontals cover a wider area than closures, allowing for different parting styles and flexibility in hairstyling. They are available in various textures and lengths to accommodate individual preferences.

Wigs:

The wigs are available in different hair types, lengths, and colors, providing options for various styling preferences. Whether you opt for lace front wigs or full lace wigs, you can expect a natural-looking hairline and comfortable wear. 
Quality
One of the standout features of Hermosa Hair products is the use of premium human hair. The brand ensures that their products are made from genuine human hair, which allows for a seamless blend with one's natural hair. This results in a natural and authentic look, enhancing the overall appearance and boosting confidence.
For example, the Hermosa Deep Wave HD Transparent Lace Front Wigs have garnered positive reviews and are highly regarded in the market. Here is an overview of the key features and customer feedback for these wigs:
Natural and realistic appearance:

The HD transparent lace blends seamlessly with the scalp, giving the illusion of hair growing directly from the wearer's scalp.

High-quality construction:

These wigs are crafted with meticulous attention to detail, ensuring a high standard of quality. The use of premium human hair lengthens the longevity of the wigs, as they maintain their shape and texture even with regular wear.

Comfortable fit and versatility:

The adjustable straps and breathable lace cap allow for a secure and customizable fit, catering to different head sizes. 
Price
Hermosa Hair is widely recognized for its competitive pricing within the hair industry. Customers highly appreciate the affordability of their products without any compromise on quality. Generally, the prices range from $120 to $300, and the brand frequently offers significant discounts, with discounts of 20% to 30% off the overall price during various sales events. This combination of reasonable prices and attractive discounts further enhances the value proposition for customers seeking quality hair products.
Shipping
After reading Hermosa Hair reviews and choosing your favorite product, you can simply submit your order along with a screenshot of your Paypal payment. When it comes to handling time, Hermosa Hair strives for efficiency by ensuring that orders are processed and shipped within 1-2 days of receiving payment, with the exception of weekends and holidays.
For customers in America, Canada, and Australia, shipping typically takes 3-5 working days and is facilitated by reliable courier services such as FedEx, UPS, or DHL. For European customers, Hermosa Hair estimates a delivery time of 5-8 working days, with shipping services provided by TNT or GES. South African customers can expect their orders to arrive within 4-7 working days, with DHL handling the delivery.
Return policy
Hermosa Hair, like many reputable sellers, likely has a return policy in place to ensure customer satisfaction and handle any issues that may arise with the products. Their return policy may cover factors such as product defects, order errors, or dissatisfaction with the received item. Here are some common elements that you might find in the return policy:
Timeframe:

There is typically a specific timeframe within which you can initiate a return. This timeframe may vary, but it is often within 14 to 30 days from the date of purchase or delivery.

Condition of the product:

To be eligible for a return, the product is usually required to be in its original condition, unused, and unaltered. This means that you should not have worn, cut, or styled the hair, and it should still be in its original packaging.

Return process:

The return process may involve contacting Hermosa Hair's customer service team to initiate the return and receive instructions on how to proceed. They might provide you with a return authorization number or label to include with the package.

Refund or exchange:

Hermosa Hair may offer either a refund or an exchange for the returned product, depending on your preference and the availability of the desired item. Refunds are typically issued to the original payment method used for the purchase.
Customer service
With a commitment to excellence, their knowledgeable and friendly team is always ready to assist customers with any inquiries or concerns. The brand provides a chatbot powered by Tidio to receive and assist with any customer inquiries and its services within a few minutes. However, you need to register your email before entering a question.
Customer reviews on Hermosa Hair
Based on Hermosa Hair reviews on its website, it can be concluded that: 
Hair appears healthier and shinier after using Hermosa Hair.

Provides a soft and silky texture to the hair.

Hermosa Hair has a pleasant and long-lasting scent.

Suitable for sensitive skin, causing no irritation or scalp issues.

Convenient packaging with a pump for easy dispensing.

Restores and revitalizes hair, improving its overall condition.
Is it worth buying hair from Hermosa Hair?
Based on numerous Hermosa Hair reviews and their commitment to quality, investing in their hair products can be a worthwhile decision. However, individual experiences vary, so thorough research, considering your budget and needs, and reading customer reviews are important. Ultimately, choose Hermosa Hair or any other brand based on your preferences and unique requirements.
FAQs
   1. Is hair from Hermosa good? 
Yes, hair from Hermosa Hair is known for its good quality. The brand is recognized for providing high-quality human hair extensions, weaves, wigs, and other hair products. Customers have expressed satisfaction with the durability, texture, and overall performance of Hermosa Hair products.
   2. How long does it take to get products from Hermosa Hair? 
The delivery time for Hermosa Hair products varies depending on your location. Typically, customers in the United States and Canada can expect to receive their orders within 3-5 working days. Customers in Australia usually receive their products within 3-5 working days as well. European customers can anticipate a delivery time of 5-8 working days. South African customers generally receive their products within 4-7 working days.
   3. Who owns Hermosa Hair?
Hermosa Hair is owned by a company based in China. The specific ownership details and individuals behind the brand are not readily available in the public domain. However, the brand has gained recognition and popularity for its quality hair products and customer-oriented approach in the hair industry.
Final thoughts
From the honest reviews shared by Jen Hair, you can gain valuable insights into Hermosa Hair's products, customer service, and return policy. Therefore, you can make an informed decision when making a purchase. Finally, if you are interested in this topic, please show your support by liking and sharing!