Welcome to the highly anticipated "Brand Reviews" series by Jen Hair that has captivated countless readers! Are you eager to discover which brand we will be scrutinizing today?
In this article, we will delve into detailed Beauty Forever Hair reviews, providing insights into the brand's products, pricing, and customer service. By the end, you will have all the information you need to determine whether Beauty Forever Hair is the right choice for your hair needs.
Beauty Forever Hair: An overview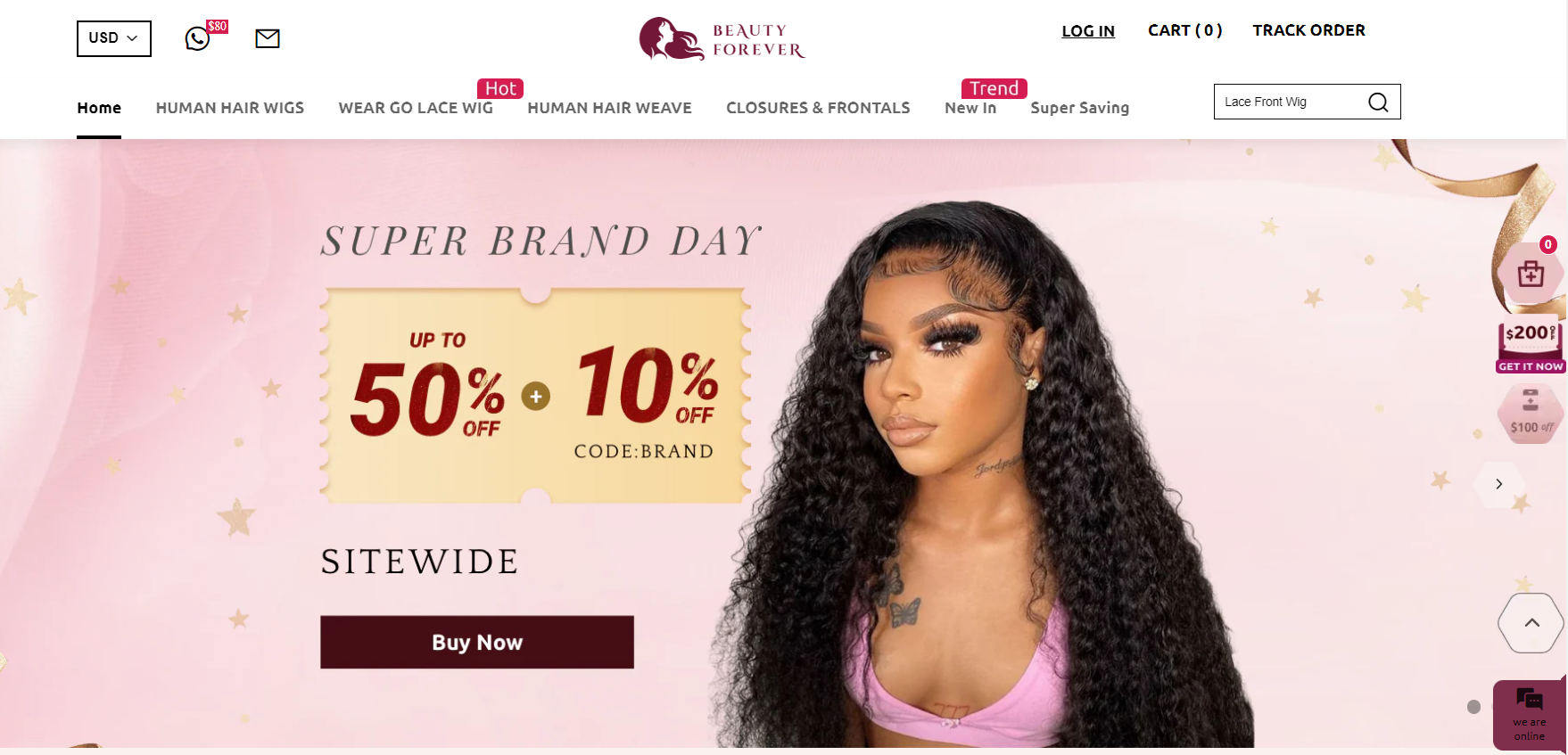 Beauty Forever Hair is a renowned company that specializes in providing high-quality human hair products, such as weaves, wigs, closures, and frontals, to customers worldwide. According to Beauty Forever Hair reviews, the company was established in 1999 and has grown significantly from a small local textile processing business to a major global human hair enterprise.
In 2016, they launched their website, which helped them establish themselves as a reputable Chinese hair vendor and a leading provider of virgin hair. You can find their address at Hangkong Hotel, Xuchang City, China.
Beauty Forever Hair sources its hair directly from reliable and ethical sources, ensuring that its products are made from 100% human hair. They offer a wide range of hair textures, including straight, body wave, curly, and kinky curly, among others. Additionally, Beauty Forever Hair provides various hair lengths, colors, and densities, giving customers a diverse array of options to choose from.
Beauty Forever Hair reviews
Before making any purchasing decision, let's explore our Beauty Forever Hair reviews to gain valuable insights into a brand's reputation and product quality. We will bring some key factors that can help you determine its trustworthiness.
Products
Beauty Forever Hair offers a diverse range of hair products, ensuring that customers can find the perfect match for their desired style. Whether you have straight, wavy, curly, or kinky hair, Beauty Forever Hair has options that cater to all textures. Let's take a closer look at the products available:
Hair extensions:

Beauty Forever Hair provides top-quality hair extensions in various lengths, textures, and styles. These extensions are made from ethically sourced human hair and can be dyed, bleached, or styled according to your preference.

Lace closures:

For a natural-looking hairline, Beauty Forever Hair's lace closures are an excellent choice. These closures seamlessly blend with your scalp, creating a realistic appearance.

Lace front wigs:

If you're looking for versatility and ease of wear, Beauty Forever Hair's lace front wigs are a great option. These wigs offer a natural-looking hairline and are available in different hair types, lengths, and colors.

Full lace wigs:

For the ultimate in customization and naturalness, Beauty Forever Hair's full lace wigs are the way to go. These wigs feature a lace cap that covers the entire head, allowing for various styling options.
Price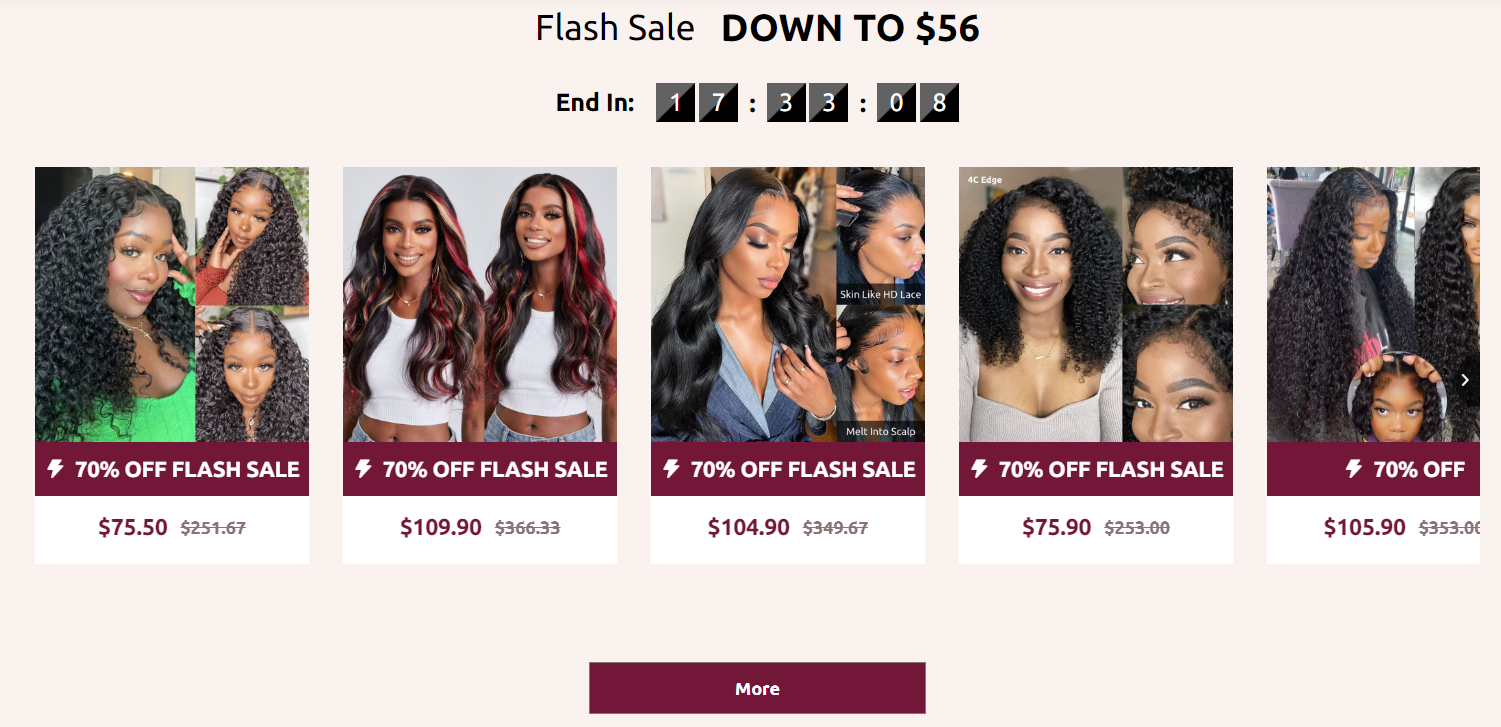 If you search reviews for Beauty Forever Hair, you can see that one of its standout features is its affordability. The brand defies the notion that high-quality hair extensions must come with a hefty price tag. With hair prices ranging from affordable to mid-range, usually, from $50 to $200, Beauty Forever Hair ensures that customers can access premium hair products without breaking the bank. Additionally, the brand frequently offers flash sales and promotions, providing further value for money.
Quality
In terms of quality, Beauty Forever Hair strives to offer high-end products to its customers. The brand emphasizes the use of human hair, ensuring a natural and seamless blend with your own hair. Through advanced technology and ethical sourcing practices, Beauty Forever Hair creates hair products that are not only beautiful but also durable and long-lasting.
For instance, the Beauty Forever 4C Kinky Curly Lace Front Wigs are designed to replicate the texture of natural Afro-textured hair. With a 13X4 lace front, they offer a realistic hairline and ample parting space. The wig features kinky edges for a natural look, while the glueless design ensures easy application. The HD transparent lace seamlessly blends with various skin tones, providing a natural scalp appearance. Pre-plucked and ready to wear, these wigs save time and effort in styling.
Shipping
Here are the three shipping options available for Beauty Forever Hair:
Free shipping:

Shipping time is typically 3-5 working days by USPS.

Express shipping:

This option costs $20 and guarantees delivery within 1-3 working days.

Same-day delivery (free):

Orders placed before 10:30 am are eligible for same-day delivery. However, orders placed after the cut-off time will be delivered on the next working day.
The brand clearly states the shipping time on their website. In general, you can expect to receive your order within 4 to 6 days from the date of purchase if the order is shipped from China. For orders shipped from the US warehouse, it typically takes around 2 to 3 days for delivery.
Return policy
Beauty Forever Hair offers a straightforward and customer-friendly return policy to ensure customer satisfaction. If you are not satisfied with your purchase, you can initiate a return within 30 days of receiving your order. To be eligible for a return, the product must be unused, unworn, and in its original packaging.
To initiate a return, simply contact Beauty Forever Hair's customer service team with your order number and reason for return. They will guide you through the return process and provide you with a return address. Once the returned product is received and inspected, Beauty Forever Hair will process your refund within 7-10 business days. Please note that shipping fees are non-refundable, and customers are responsible for the return shipping costs.
Customer service
The brand offers multiple channels for customer support, including email, phone, and live chat on their website. During our interactions with their customer service team, we found them to be responsive, helpful, and knowledgeable.
The brand's customer service team is known to respond to emails within 24 hours, and the live chat feature allows for even faster communication. Additionally, Beauty Forever Hair's website features a comprehensive FAQ section, covering a wide range of topics such as shipping, returns, and product care. This resourceful section can answer most common questions that customers may have, further enhancing the overall customer experience.
Customer reviews on Beauty Forever Hair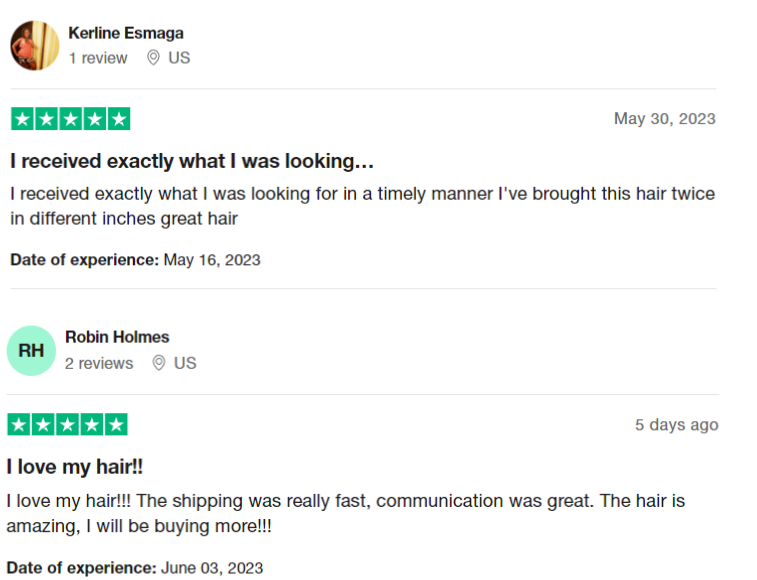 Based on numerous Beauty Forever Hair reviews, it is clear that customers are highly satisfied with the quality of their products. They have reported that the hair extensions are in excellent condition, beautiful, versatile, and long-lasting. Additionally, customers have praised the company's helpful customer service, fast shipping, and reasonable prices.
Is it worth buying hair from Beauty Forever Hair?

Whether or not it is worth buying hair from Beauty Forever Hair ultimately depends on the individual buyer's needs and preferences. However, based on the company's excellent reputation for high-quality products, generous return and exchange policy, and commitment to customer satisfaction, it is certainly a brand worth considering.
FAQs
   1. What is the rating of Beauty Forever?
According to Beauty Forever Hair reviews on Amazon, the brand has received positive ratings (4.2 out of 5) from many satisfied customers. The brand's commitment to quality and affordable pricing has contributed to its favorable reputation in the industry.
   2. Who is the owner of Beauty Forever's hair products?
We have conducted thorough research about Beauty Forever Hair reviews to find its owner; however, we don't find any information related to it. 
Final thoughts
To sum up, after analyzing Beauty Forever Hair reviews, it is evident that the company is a trustworthy supplier of top-quality human hair products. Their commitment to customer satisfaction is exemplified by their generous return and exchange policy, which gives customers peace of mind when making a purchase.
We take pride in providing honest and trustworthy reviews, and we hope that our analysis has been helpful to those considering purchasing hair extensions from Beauty Forever Hair. If you find our reviews helpful, please show your support by liking and sharing this article. By doing so, you can help us continue to provide reliable and informative reviews to our readers.