In the industry of hair extensions, Cynosure Hair is no longer an unfamiliar name. In fact, it is frequently suggested to newcomers who are looking for products of high quality. However, before making any purchases, it will be to your advantage to read the reviews of the products. 
In this article, Jen Hair strives to give you reliable reviews of Cynosure Hair, including the categories of items it offers, the services it provides, and the prices of those services. Make sure you read everything before moving on! Let us get started!
Cynosure Hair: An overview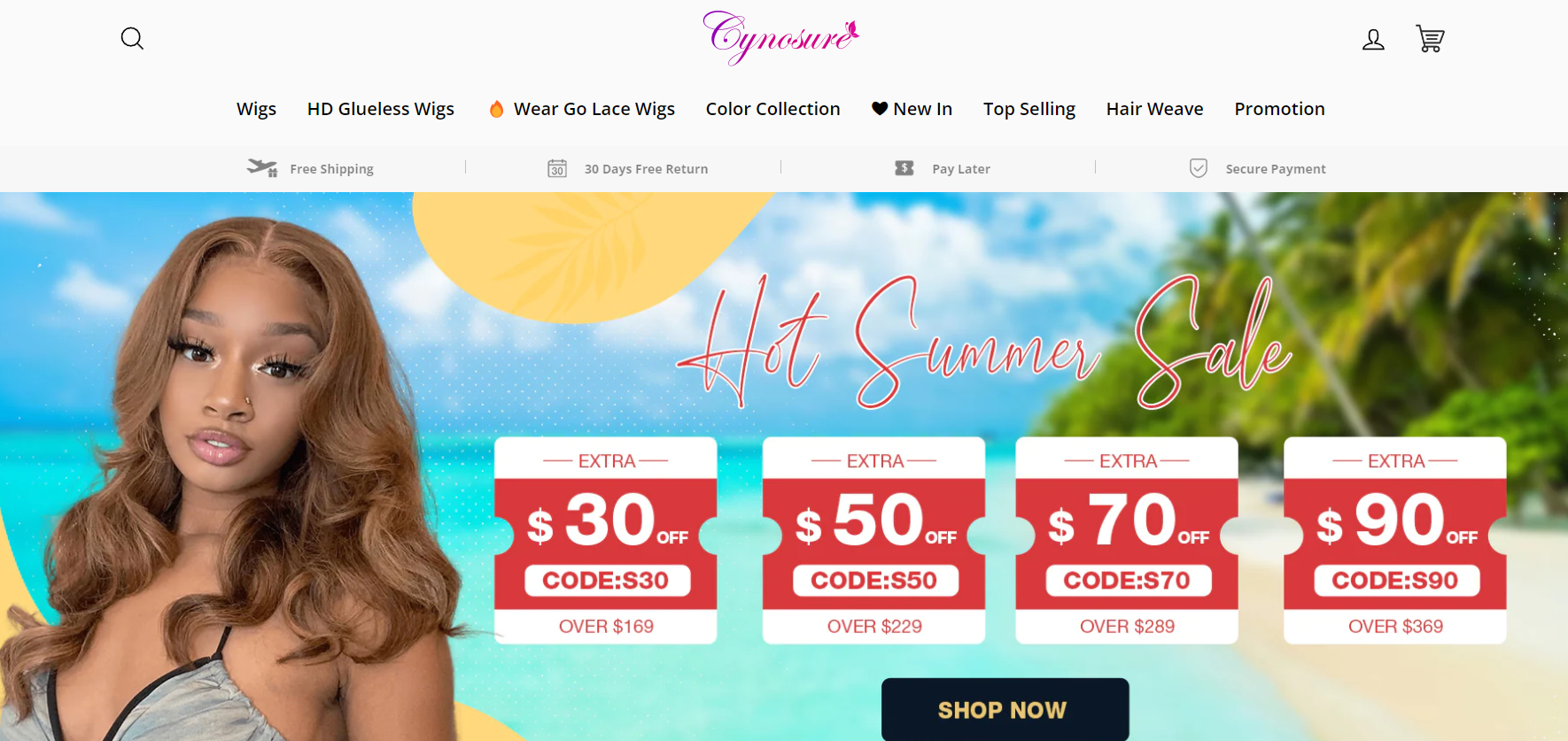 Cynosure Hair is a hair care company that specializes in providing high-quality virgin hair extensions, wigs, and other hair accessories. The company was founded in 2018 and is based in Los Angeles, California.
Cynosure Hair's product line offers a selection of wigs in different styles and colors, including lace front wigs and full lace wigs. These wigs are made with synthetic or human hair and are designed to look and feel like natural hair.
Cynosure Hair is committed to providing its customers with the highest level of service and quality. The company's products are backed by a satisfaction guarantee, and its customer service team is available to assist customers with any questions or concerns they may have.
Cynosure Hair reviews
Simply searching for Cynosure Hair reviews isn't enough to gain a comprehensive view of the brand. The process should involve a more in-depth approach. That's why we've broken down our reviews into different parts, making it easier for you to follow and gain a comprehensive understanding of the brand. So, let's dive in!
Products
All of their products are made with high-quality human hair or synthetic hair, depending on the customer's preference and budget.
Cynosure Hair's product categories include:
Pre-cut lace wigs:

You are provided with a natural-looking hairline due to the lace front design. These wigs are available in different lengths and styles, and the precut lace makes it easy to wear and style.

4C edge wigs:

They are designed for those with tighter curls, which can be difficult to manage with traditional wigs. These wigs are made with high-quality human hair and come in different lengths and textures to match natural hair.

Glueless HD wigs:

The wigs have a natural scalp-like appearance and are made without the need for adhesive, making them easy to install and remove. These wigs are available in different styles and lengths, and the HD lace material provides a more natural-looking hairline.

V-part wigs

: The products offer a V-shaped parting for a more natural-looking scalp and hairline. These wigs come in various lengths and textures, making it easy to match natural hair. 

Lace front wigs

: They have a natural-looking hairline and come in different styles made with either human or synthetic hair. These wigs are available in various lengths and textures and can be styled using different heat tools.
Quality
Cynosure Hair is renowned for providing top-quality hair extensions and wigs that look and feel incredibly natural.
The company uses 100% human hair for their human hair extensions and wigs, which are carefully sourced and processed to ensure the highest quality. The hair is soft, lustrous, and smooth, providing a natural-looking appearance that blends seamlessly with natural hair.
Their synthetic hair products are also made with high-quality materials that mimic the appearance and texture of real human hair. The synthetic hair is soft to the touch and holds its style well, giving customers the freedom to experiment with different hairstyles.
Let's us take one product for you to have a closer look at. The CYNOSURE Curly Ombre Color Highlight Lace Front Wigs are designed to offer a unique and stylish look with their honey blond ombre color and highlighted strands. The 13×4 lace front provides a natural-looking hairline and ample parting space, while the curly texture adds volume and bounce to the wig. These wigs are also made from human hair, which is generally known for its realistic appearance and versatility.
Price

Price is a crucial aspect of our Cynosure Hair reviews, and we have carefully evaluated its pricing strategy. Upon visiting their website and comparing their prices with those of similar products on the market, we found that Cynosure Hair offers a relatively affordable price range.
Their products range from $80 to $200, making them accessible to customers who don't want to spend a fortune on hair extensions or wigs. This affordable pricing allows customers to buy their desired products without worrying about breaking the bank or compromising on quality.
Shipping
For USA customers, orders are shipped from the USA warehouse by USPS, and express shipping of 2-3 working days is offered from the N.J warehouse. Non-USA customers can expect their orders to be shipped from the company's warehouses in China by FedEx/DHL/GES, with delivery times ranging from 4-6 working days for Europe/Australia/Canada/UK and 7-10 working days for Africa.
Most countries offer free shipping, and customers can check the shipping fees on the product page. Please note that orders won't be processed on Saturdays, and shipping companies close on Sundays. Processing and shipping times may also be extended during sales and holidays.
Return policy

Cynosure Hair has a clear and straightforward return policy that ensures customer satisfaction. If the return is due to the company's mistake, such as incorrect or defective products, customers will receive a full refund. However, if the return is due to the buyer's reasons, such as not liking the product or ordering the wrong size, a $20 loss of freight and handling fee will be deducted from the refund.
Once the returned item is received and inspected, customers will receive an email notifying them of the approval or rejection of their refund. If approved, the refund will be processed within a certain amount of days and applied to the original method of payment.
Cancellation and exchange requests can be made within 2 hours of placing the order by emailing the customer service team at admin@cynosurehair.com. After the order is shipped out, it cannot be canceled or changed. If customers need to exchange an item, they can contact the customer service team for return information.
Customer service
The brand's customer service team is available to assist customers with any questions or concerns they may have. Customers can reach out to the team through email, phone, or live chat on the website. The team is knowledgeable and responsive, providing timely and helpful responses to customer inquiries.
Moreover, Cynosure Hair values customer feedback and takes it seriously. They encourage customers to leave reviews and provide feedback on their products and services. This feedback helps the company improve and provide better products and services to their customers.
Customer reviews on Cynosure Hair
Searching Cynosure Hair reviews on Amazon, we found that: 
High-quality, natural locks.

Durable and easy to maintain hair.

The product can be shedding as time goes by. 

Fast shipping and good condition hair package. 
Is it worth buying hair from Cynosure Hair?
Based on the Cynosure Hair reviews above, it appears that it offers high-quality hair extensions and wigs at affordable prices, along with excellent customer service. Customers have praised the natural-looking appearance of the products, their durability, and ease of use.
While some customers have reported minimal shedding and tangling over time, the majority of customers have been very satisfied with their purchases from Cynosure Hair. However, you should take into account all of these factors before deciding whether its product will be worth an investment or not. 
FAQs
   1. Where is Cynosure Hair based? 
The headquarters of Cynosure Hair is located at 21 Grande Ave Ste 213, Palisades Park, New Jersey, 07650, United Sta
   2. Are Cynosure Hair products suitable for all hair types? 
Yes, Cynosure Hair products are designed to be suitable for a wide range of hair types. Whether you have curly, straight, wavy, or textured hair, you should be able to find products that work for you. It's a good idea to check the product descriptions or consult with a hair care professional to determine which specific products are best suited for your hair type and concerns.
   3. Can Cynosure Hair products be purchased online? 
The answer is yes, you may buy Cynosure Hair products on the internet. You may trust buying the company's wares through their official website. They may also be purchased through official vendors and online marketplaces like Amazon and AliExpress. 
   4. How can I contact Cynosure Hair for more information or customer support? 
For inquiries or customer support, you can typically find contact information on the Cynosure Hair website. Look for a "Contact Us" page or a similar section where you can find their email address, phone number, or a customer support form. Reach out to them directly for any specific questions or concerns you may have.
Final thoughts
In conclusion, our Cynosure Hair reviews have shed light on the company's products and services. With their extensive product line, Cynosure Hair offers solutions for different hair types, including dry, damaged, frizzy, and color-treated hair. 
The availability of Cynosure Hair products online, through their official website and authorized retailers, ensures convenient access for customers. However, it is recommended to check the most up-to-date information regarding their availability and purchasing options.
Finally, if you are interested in this kind of topic, feel free to leave a comment, and we'll continue delivering the best information to you!