Swimming is a great way to stay fit and is always a fun activity for everyone in their spare time. However, many people who have hair extensions are often very worried that they can go swimming with their hair extensions or not. It will affect their extensions badly or not because we all know hair extensions are very fragile and need gentle care.
With years of experience in the hair extension industry, Jen Hair will explain in detail to you precisely what can and should be done to protect your extensions and to help you find the answer to the question: can you swim with hair extensions?
Can you swim with hair extensions?
The short answer is yes, you can, but it depends on the quality of hair extensions you have and the type of hair extensions you are wearing.
Quality hair extensions
You should choose remy hair extensions. That is high quality hair extensions from human hair. The experts advise that it is the best choice for swimming instead of synthetic hair extensions. 
Indeed, If you have synthetic hair extensions, it's not a good way to let them get wet as they can absorb water easily and become more heavy and can not control.
When you wear remy hair extensions in swimming, you are just careful when drying your hair gently,  and then do some procedures to care after swimming.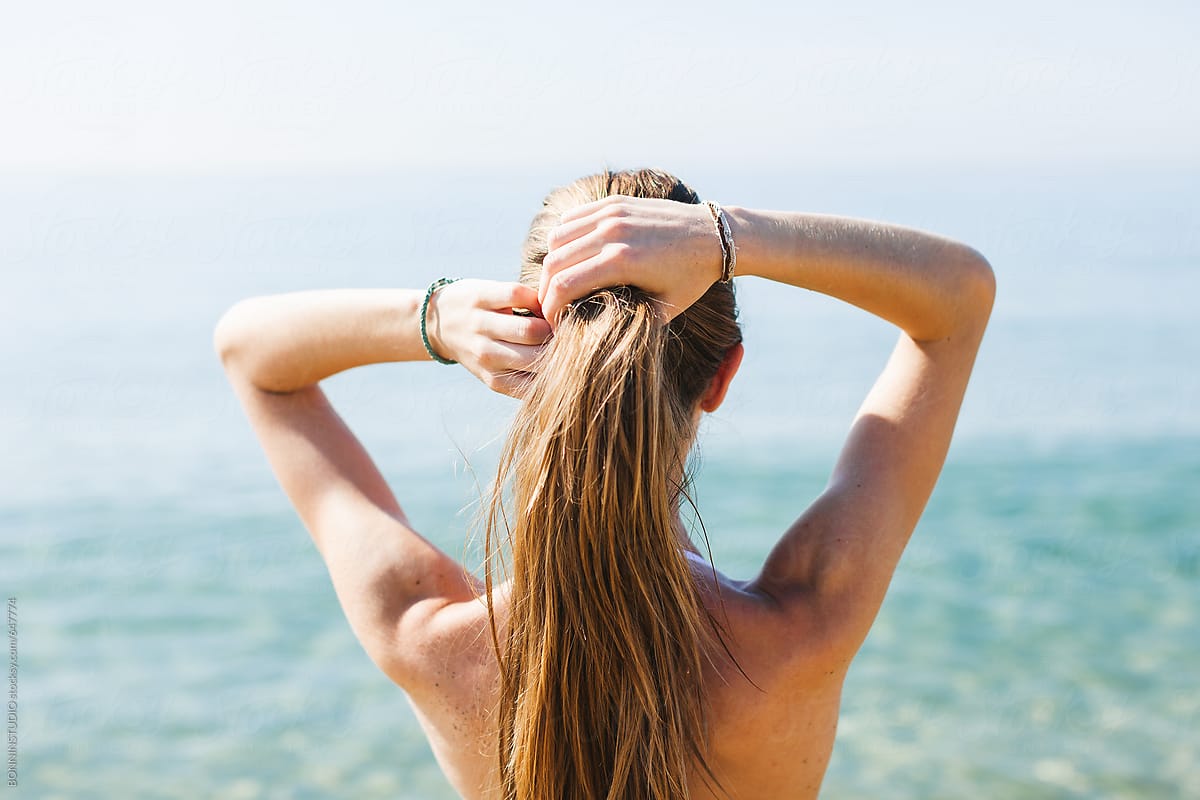 Type of hair extensions
There are several types of hair extensions that you can swim comfortably. The typical type is micro bead extensions made of tiny silicone beads that attach to your natural hair. They won't absorb water like other types of hair extensions and are less likely to fall off while swimming.
Also, tape in extensions is a more permanent solution. They're made with specific tapes that stay even in chlorinated water. But when you wear these hair extensions in the pool, you must be sure that  they are installed in the right way
How to swim with hair extensions the right way?
A little care before and after swimming will help you protect your extensions without losing their inherent beauty. Here are the tips below that will help to properly care for your hair extensions when you want to go swimming.
1. Oil steaming for hair extensions 
Make sure that the hair extensions are healthy enough before going to the pool to fight harmful chemicals. To ensure this, it is best to steam your hair extensions with olive oil or coconut oil.
In addition to the main effect of providing deep nourishment to the hair extensions thanks to the many vitamins, these oils also can create a protective film around the hair fiber, helping to limit the attack of chlorine and acids boric in swimming pool water that causes hair to dry out and fade.
2. Wet your hair extensions before going swimming
If you think that you can get wet in the pool, there is no need to wet your hair extensions, then you are wrong. You must wet your hair first with clean water before entering the pool if you do not want your hair extensions to be frizzy and dry later. At this time, when wet, the extensions will have certain moisture and can minimize the absorption of swimming pool water, causing damage to the hair later.
3. Use a swim cap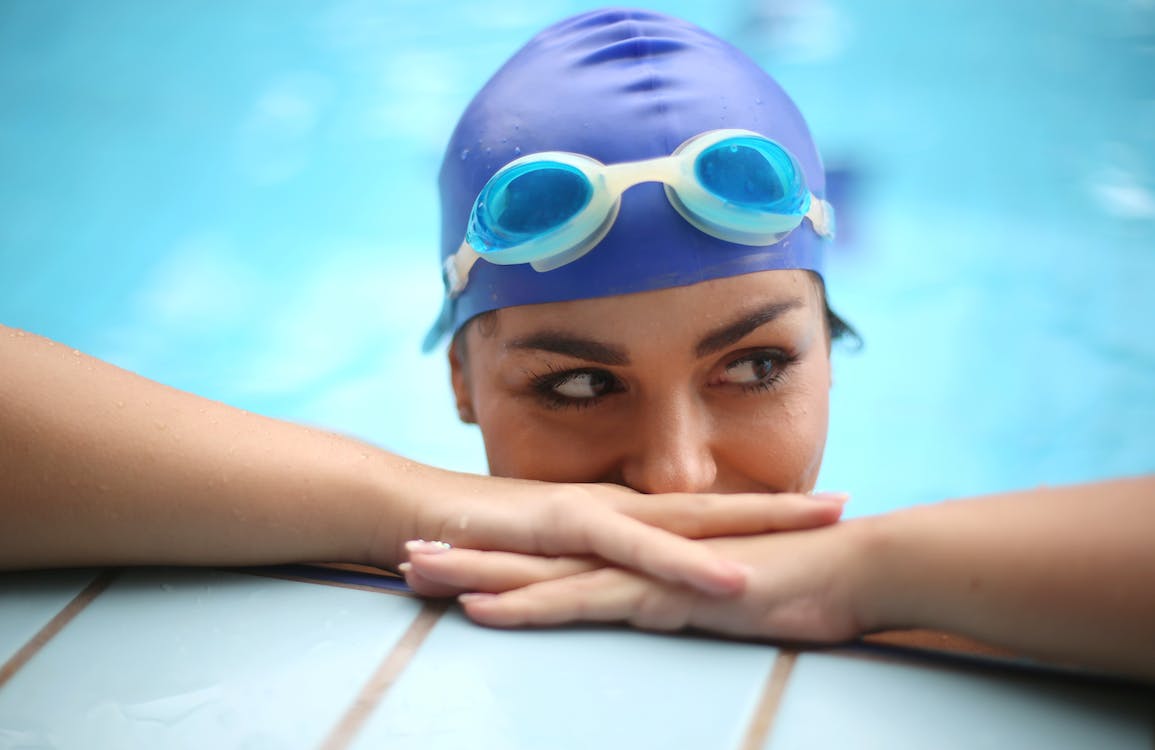 Always bring a swimming cap when you intend to swim in the pool. A swimming cap is the best armor to help you protect your hair from the huge amount of chlorine in the pool. This weapon not only helps to prevent hair from becoming entangled when swimming but also protects the scalp and prevents pool water from soaking into the hair extensions.
If your hair extensions are too long and thick, it is difficult to neatly put them in a swimming cap, then put it in a neat bun or braid before putting on the hat, it will be a lot easier.
4. Wash your hair extensions right after swimming
Just like getting your hair wet before swimming, washing your hair extensions with clean water right after getting ashore is equally important. This is the step to wash away the chemical components that are still attached to the hair, helping the hair "breathe" more easily. At this time, you should wash your hair more thoroughly than usual, then use a conditioner to condition your hair. In the final rinse, add a little vinegar with cold water in a ratio of 1:1 to soften hair extensions again and deodorize swimming pool water.
5. Incubate your hair extensions regularly
Even if you do all the steps above, it will only help your hair extensions partially against the harmful risks of swimming pool water. If you want healthy shiny hair, you need to give them more nutrients. In addition to shampooing and rinsing with moisture-rich products, you should combine regular hair extensions incubation 1-2 times a week with natural products.
One of the most effective recipes is a mixture of eggs and honey. You use egg yolks mixed with two tablespoons of pure honey, beat well, and apply the mixture to your hair extensions from root to tip. Incubate your hair for about 15 minutes, then wash it off with warm water, regularly every week. You can use fresh lemon juice mixed with cold water to apply to your hair extensions instead of conditioner. The hair extensions will become noticeably shiny after just a few treatments.
Final thoughts
We hope that the above article has helped you to have a useful answer to the question: can you swim with hair extensions? In addition, we believe that this information has partly helped you gain more knowledge to take care of your hair extensions so you can be confident to go swim with your extensions.
Follow our page for more related articles on hair extensions coming soon. Also, you can check out Jen Hair's extensions for the best products at the most affordable prices.