If you're interested in starting a hair extension business, one of the most important things you'll need is a full knowledge of bulk hair wholesale.
With an adequate understanding of market and hair expertise, you can ensure that you have a steady supply of hair that meets your customers' needs and preferences. Whether the customers are looking for straight, wavy, curly, or textured hair in various colors and lengths, you will satisfy them all. 
So, if you're ready to start your own hair extension business, let's read this article today to discover every bulk hair wholesale fact and tips to choose a manufacturer to help you turn your dream into a reality!
What are bulk hair extensions?
Bulk hair refers to hair extensions that are not attached to a weft or clip. Instead, the hair is loose and bundled together at the top, allowing the user to apply it in various ways such as braiding, fusion, or knotting. 
It is often used by professional hairstylists to create customized hairstyles and looks, as it allows for more flexibility in terms of placement and blending with natural hair. 
Furthermore, it can be made from various types of hair, such as synthetic, human, or animal hair, and can come in different lengths, colors, and textures.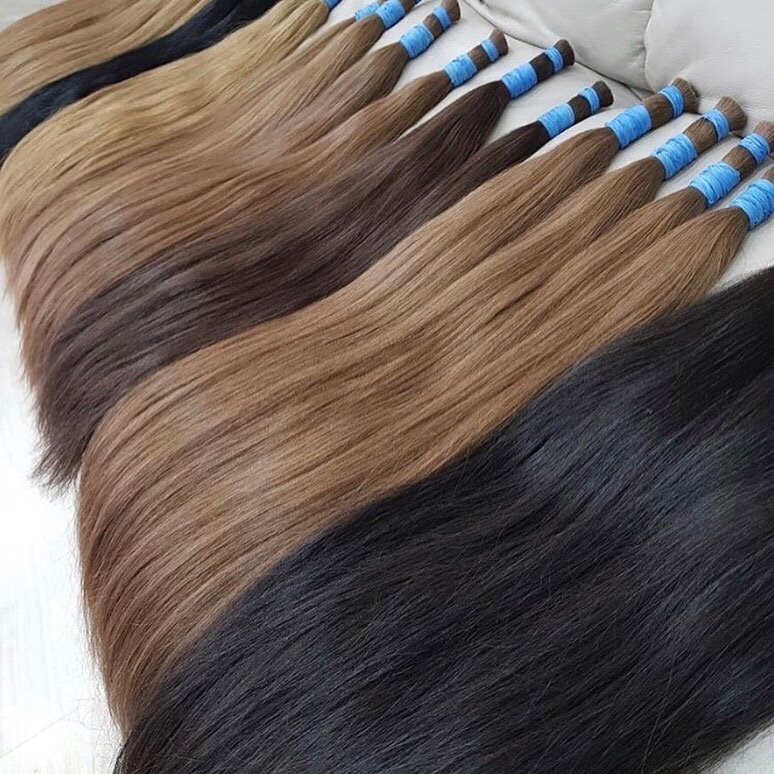 Human hair extensions are prevalent nowadays. Source: Hair by Russians
Benefits of Buying Bulk Hair at Wholesale Prices
Not only is bulk hair popular in many hair retailers, but it also comes with many other benefits that will help your business thrive. Continue reading to see if doing the bulk human hair wholesale is the right choice!
1. It is cost savings
As a business owner, you know that every penny counts! And, buying wholesale can help you stretch your budget further. When you purchase bulk hair wholesale, suppliers can often offer lower prices due to the larger quantity being sold. This translates to significant savings for your business and allows you to offer competitive pricing to your clients.
2. Access to a greater variety of hair
The more you purchase, the more options you will have regarding hair type, color, and texture. This expands the variety of services you may do for your customers and the types of hair you can work with. The increased variety of hair types and colors available will make it easier to satisfy your customers' demands.

Short hair is one of the hair options. Source: Made-in-China
3. Ensure a steady supply
Lastly, investing in bulk hair wholesale guarantees a constant supply of high-quality products for your company. Because of this, you can be confident that you are providing your customers with the most excellent service possible, increasing customer retention. 
Furthermore, when you have a reliable supplier that can provide you with a steady supply of high-quality hair, you can focus on growing your business and serving your clients, knowing that your hair needs are taken care of.
How to choose a bulk hair wholesale supplier?
When it comes to choosing a bulk human hair wholesale supplier for your hair extension business, there are several factors to consider. Not all suppliers are created equal, and taking the time to evaluate potential suppliers can save you time, money, and headaches in the long run. Here are some factors to consider when choosing a bulk human hair wholesale supplier:
1. Quality of the hair
First and foremost, you'll want to consider the quality of the hair the supplier offers. Hair quality can be affected by various factors, such as the source of the hair, the processing methods used, and the treatments applied to the hair. 
Look for a supplier that offers high-quality, ethically sourced hair that has been minimally processed and treated with care. Quality bulk hair will not only look better and last longer, but it will also help build trust and loyalty with your clients.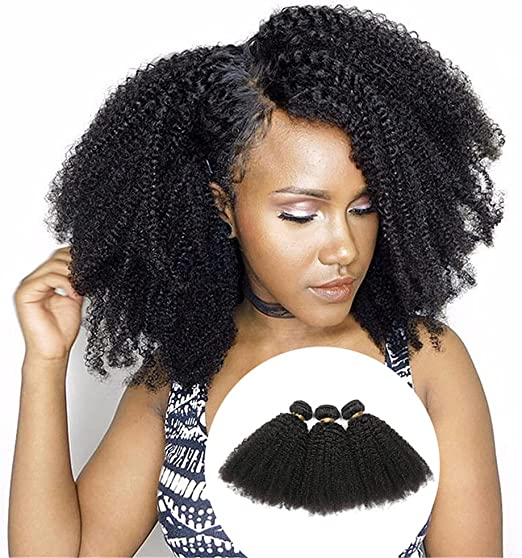 Quality is the primary factor. Source: Amazon
2. Price
Another factor to consider is price. While buying bulk hair wholesale can save you money, you'll still want to evaluate the pricing offered by potential suppliers to ensure you're getting a fair deal. Factors that can affect the cost of hair include quantity, quality, and demand. Be sure to compare pricing from multiple bulk hair wholesale suppliers to ensure that you're getting the best deal for your business.
3. Customer service
Customer service is another important factor to consider when choosing a bulk human hair wholesale supplier. Look for a supplier that is responsive to your business needs, communicates clearly and promptly, and provides excellent customer service. When you have a question or concern, you'll want to get in touch with your bulk hair wholesale supplier quickly and easily to get the help you need.
4. Production capacity
One critical aspect of buying bulk hair is the ability to produce a large quantity of hair that is consistent in quality and meets the specific requirements of the buyer. 
The hair industry is highly competitive, and there are many grades and types of hair available in the market. Therefore, it is crucial for buyers to have a thorough understanding of the characteristics of the hair they are purchasing and to work with suppliers who can consistently provide high-quality hair in large quantities. 
Failure to do so can result in inconsistencies in the final product, which can have a negative impact on the buyer's reputation and bottom line.
5. Reputation
​​Finally, you'll want to consider the reputation of potential suppliers. Look for suppliers with a strong track record of delivering high-quality hair and superb customer service. Read reviews, testimonials, and ratings from other business owners and industry professionals to get an idea of a supplier's reputation. A bulk hair wholesale supplier with a good reputation is more likely reliable and trustworthy, which can give you peace of mind as you build your business.
Jen Hair Vietnam – Top Bulk Human Hair Wholesale Supplier 
Jen Hair is a well-known wholesale hair brand that offers bulk hair. We are experts in producing luxurious hair that has been harvested responsibly.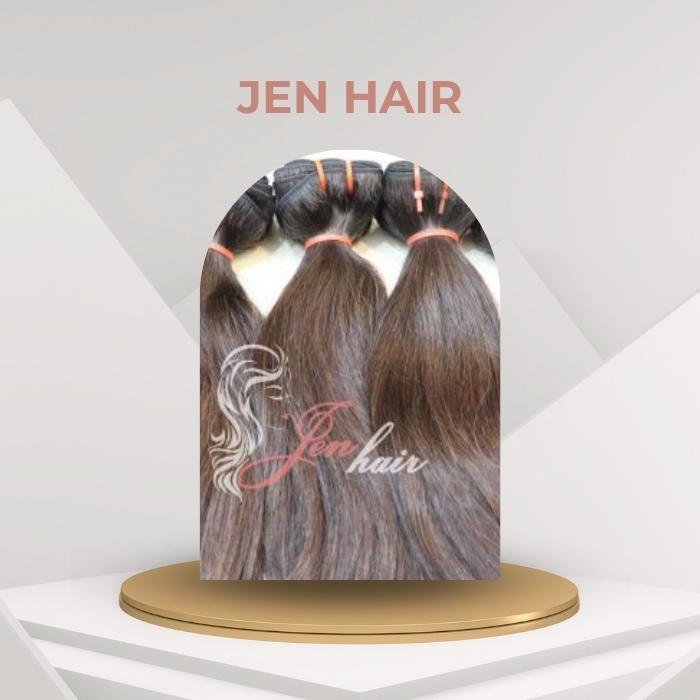 Jen Hair sells high-quality bulk human hair. Source: Hair Factory
Check out the following to learn more about why we're the market leaders in the hair extension industry:
Largest hair factory in Vietnam:

Jen Hair's factory is a bustling hub of hair production, where skilled professionals work tirelessly to create high-quality hair products that are unmatched in the industry. With our state-of-the-art facilities and innovative techniques, we are able to produce bulk hair in large (or any) quantities that meet the highest standards of quality and excellence

Professional staff:

Jen Hair's team of professionals are experts in our field, with years of experience and a deep understanding of the hair industry. We are passionate about providing excellent customer service and ensuring that every customer is satisfied with our purchase. Whether you need help selecting the perfect hair product or have questions about how to care for your extensions, the staff at Jen Hair are always there to help.

Fast shipping:

At Jen Hair, we know that time is of the essence, which is why we offer fast and reliable shipping on all of our products. We understand that customers want to receive our hair extensions or wigs as quickly as possible, and we work hard to ensure that every order is processed and shipped out promptly. With Jen Hair, you can have peace of mind knowing that your hair products will arrive when you need them.

High-quality hair:

Jen Hair's commitment to quality is evident in our ability to provide high-quality hair to buyers. We source hair from reliable and ethical suppliers and subject it to rigorous quality control measures to ensure that it meets standards. Additionally, we offer a range of customization options, such as the ability to dye or bleach the hair, to ensure that the final product meets the specific requirements of the buyer.
Overall, Jen Hair is a trusted hair supplier that provides high-quality, affordable, and versatile bulk hair. Furthermore, with our experience, we have established ourselves as a customer-friendly hair supplier that cares about our customers' satisfaction.
Conclusion
In conclusion, in this article, we have provided every basic fact about bulk hair wholesale for those in the hair business who want to offer our clients high-quality hair products. Considering the key factors outlined in this guide, we believe you can find every piece of knowledge that meets your business's needs.
If you like what you have read, follow our website and fan page to keep up with the latest trends, tips, guides, and many more!