The two types of Remy hair that are currently most in demand are Brazilian and Peruvian hair. They both have some similarities and differences. They are renowned for their exceptional quality. After utilizing it for a few weeks, you'll see a difference.
May you wonder about Brazilian and Peruvian hair, which one is better?
Now we just talk about the similarities and differences between Brazilian and Peruvian hair. After that, you will finally notice the better option for yourself.
Are you ready? Let's explore with us right now!
Brazilian hair: An overview
It should come as no surprise that Brazilian hair is considered to be one of the most attractive hair kinds available. The hair is typically quite resilient, moderately thick, and silky. Because of this, the hair complements any style. Brazilian hair is gorgeous and of very high quality.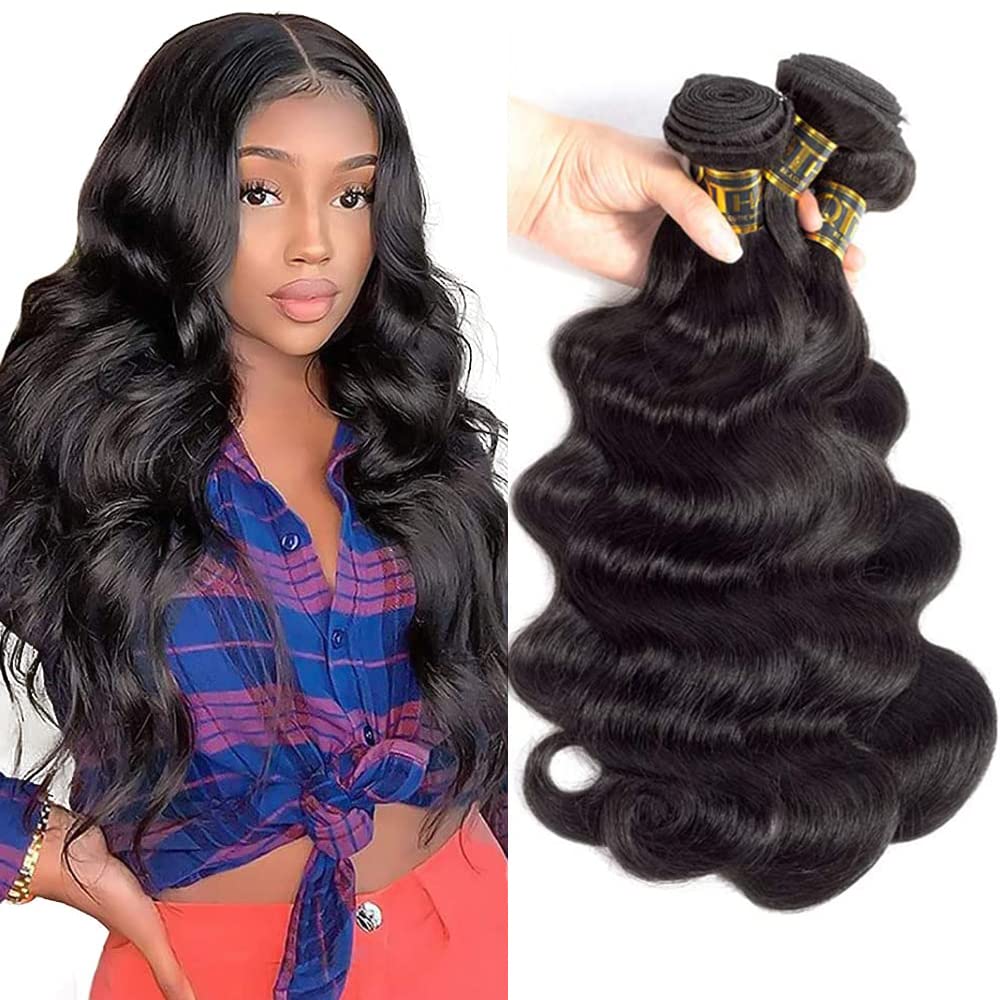 Brazilian hair has a shining appearance, is smooth to the touch, and is offered in a variety of textured styles. The fact that they are composed of 100% real human hair increases their allure. Because it can be worn with straight, curly, or wavy hair, its popularity has increased over time.
This hair type may endure a good deal longer than average when adequately maintained. The hair doesn't require any extra care. Brazilian hair may often be worn in any hairstyle.
Peruvian hair: An overview
Everyone wants to enhance their natural beauty, and Peruvian hair extensions are the perfect way. Contrary to other types of hair extensions, Peruvian hair extensions have a stronger and coarser texture. 
As a result, they beautifully complement hair textures that are often relaxed for African-American hair or medium for Caucasian hair. This specific type of hair extension is very flexible and can be styled in many ways to generate a range of appearances.
Depending on your taste, this style of hair can be straight or somewhat wavy. To guarantee that consumers receive a product they can be proud of, each bundle of Peruvian hair is examined for quality and texture.
Brazilian vs Peruvian hair: The similarities
Are you curious about the similarities between Brazilian and Peruvian hair? Here is a list of the major distinctions:
Both virgin Brazilian and Peruvian hair are made entirely of virgin human hair and are colorable, curly, and bleachable.

The color is the key resemblance between Brazilian and Peruvian hair that draws notice. There are two different hair colors: black and brown.

They are chemical-free and do not shed, tangle, or contain any odor-causing substances, or even tangle. They are very simple to shape into any desired hairstyle, from straight to curly. They hold curls well and can be curled elegantly.

They could give you a more natural look and can be styled to look like any hairstyle you've ever liked.

There are three possible styling options for any texture: curly, wavy, or straight.

Brazilian and Peruvian hair can be anywhere between eight and thirty inches long.
Brazilian vs Peruvian hair: The differences
Both Brazilian hair and Peruvian hair are fantastic options on the market right now. But which should you pick, and why? Let's examine the differences between Brazilian and Peruvian hair in detail.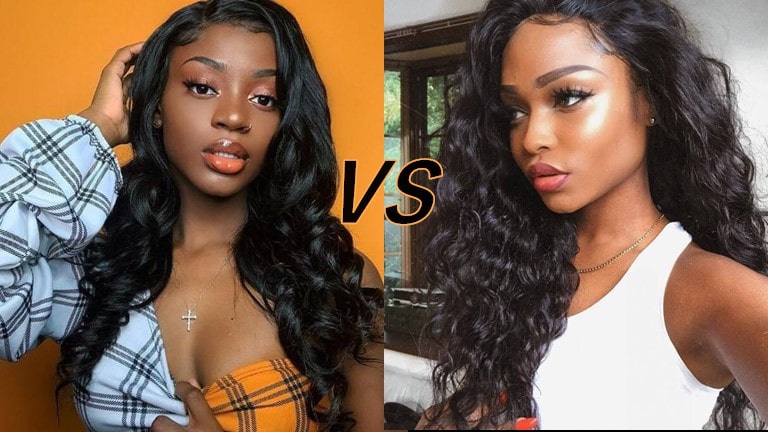 Texture
Compared to Brazilian hair, Peruvian hair is rougher, thicker, and has deeper curls. Brazilian hair is smoother to the touch in contrast. 
Peruvian hair also seems less shiny than Brazilian hair, which has a beautiful luster that gradually fades after two to three washes. The hair still has a natural brightness after that.
Quality
Brazilian and Peruvian hair types are both manufactured entirely from real human hair. Since neither hair type has been chemically or otherwise processed, it is of high quality.
Better quality can be found in Peruvian hair. In fact, it lasts roughly three years, as opposed to Brazilian hair, which, with good care, lasts eight to twelve months. It's possible that Peruvian hair's ability to withstand heat is what makes it so durable.
Hair type
Brazilian hair is adaptable and suitable for many different hair types. Women from the Caribbean, Africa, and the Mediterranean are fond of it. Straight, wavy, and curly are the three available hairstyles. Brazilian hair is popular when Caucasian women wish to increase volume because it is straight naturally.
Peruvian hair naturally develops in straight, wavy, or curly forms; it stands out due to its abrasive texture. Because of its texture, it blends in with the hair of Caucasians and Africans.
Usage
Due to its ability to mix in with natural hair texture, Peruvian hair is popular among black women. As a result, those looking for realistic wigs or extensions might wish to think about them. Brazilian hair requires more maintenance, thus Peruvian hair is a better option for those who lead busy lives.
In ladies of West African heritage, Brazilian hair is typical. Its wavy, curly, and straight hair textures are responsible for its popularity. Along with having a silky, smooth texture, the kind works nicely with curls. Though less manageable than Peruvian hair, it does not frizz as much in humid environments.
Brazilian hair can be used sparingly on your head due to its thickness. Peruvian hair compensates for its lack of thickness with volume and fluffiness, though.
Cost
The pricing is a key difference between Brazilian and Peruvian hair. The Brazilian species is a bit less pricey than its Peruvian counterpart. The cost is higher as a result of its scarcity and ubiquity.
However, Brazilian hair is straightforward to locate. It is offered by a number of merchants at a reasonably low price.
Brazilian vs Peruvian hair: Which hair is better?
To be honest, the answer depends on a few factors. Brazilian hair is definitely your best option if you want a haircut that looks natural and requires little work. On the other hand, Peruvian hair can be the greatest option for you if you're searching for more variety in terms of texture and color.
Brazilian hair comes to the rescue for black ladies who want their hair to seem dazzling in humid and hot climates. The intensity of the sun doesn't easily harm it because of its tremendous resistance. 
For black ladies who want to look tidy, put together, and natural, Peruvian is the perfect option. You can choose either hair bundle because they each have distinctive qualities.
Peruvian hair is the finest option if you desire thicker, coarser hair that is bouncy and volumized. Brazilian hair is the greatest option if you want silky, curly hair that you can cut into an edgy style like an angled bob.
In the end, it's crucial to take into account your individual requirements and preferences while deciding between Brazilian and Peruvian hair extensions. Whatever choice you select, make sure to spend your money on premium virgin human hair to get the greatest results. Combining the capabilities of the two products can help you create a distinctive style that will frame your face and ultimately give you more beauty.
FAQs
1. Is Brazilian human hair the best?
We claim that Brazilian human hair is one of the best kinds of hair texture, which is used by many African-American women. It is not only beautiful but also has a gorgeous look. Although true Brazilian hair is resilient, it is also incredibly dense, which places certain restrictions on its ability to move and be styled. Brazilian hair that is curly keeps its curls more firmly, making it stiff and nearly hard to flat iron.
2. Can you mix Brazilian and Peruvian hair?
Yes. Generally speaking, Brazilian and Peruvian hair can be combined. If you want to give your hair extensions or wigs body and bounce, mix Brazilian and Peruvian hair. This is good news that these are two of the most attractive hair kinds available.
3. How can you tell if Peruvian hair is real?
You can use the "burn test" method. Just cut a hair and place it over a flame that is blazing. It is not human hair if it slowly melts into a ball rather than burning and emits black smoke and a rubbery odor. Human hair is extremely flammable, burns almost instantly, curls into a ball, and smells like burning hair.
Final thoughts
Both Brazilian and Peruvian hair have particular characteristics. It is crucial to completely understand the traits of each before deciding whether to get Brazilian hair or Peruvian hair so that they can provide quality service. You finally should have a better understanding of the characteristics of these two types of hair extensions and be able to make a decision on which is right for you.
That is all Jen Hair would like to provide, which one do you prefer? Hope that you love what we share about this topic.