Have you ever heard of silk closures and lace closures? These may be somewhat unfamiliar concepts to you, because when it comes to wigs, sometimes users are only familiar with styles such as tape-in hair, clip-in hair.
However, with the advantage of being easily installed and having a certain degree of naturalness, silk closures and lace closures are two of the popular trends that help girls conceal hair and give an attractive look. Therefore, in this article, Jen Hair will introduce the comparison between silk vs lace closures, from which you learn more detail so that you can choose the most suitable one for you.
Related posts:
What are silk closures?
As the name implies, silk closures are designed with a silk base where the hair bundles are attached. This is the most natural-looking closure in the hair industry and you don't need to bleach the knot before setting it to real hair.
The pros and cons of silk closures
Pros:
Silk closures have a longer life than others because it is thicker

Silk closures do not need to be bleached

Silk closures blend well with the scalp so it is difficult to detect and looks naturally
Cons:
You still need to dye the silk base if you have a darker skin tone.

Silk closures are usually a bit thicker so it can't lie too flat against your scalp once it's put on.
What are lace closures?
Lace closures have a circular lace base with embedded hairs. The lace base is usually thin and it tends to be flatter when installed to the hair, giving it a more natural look.
Lace closures come in a variety of sizes. The different sizes of closures are always the same as normal closures (4×4, 5×5, 6×6, 7×7…)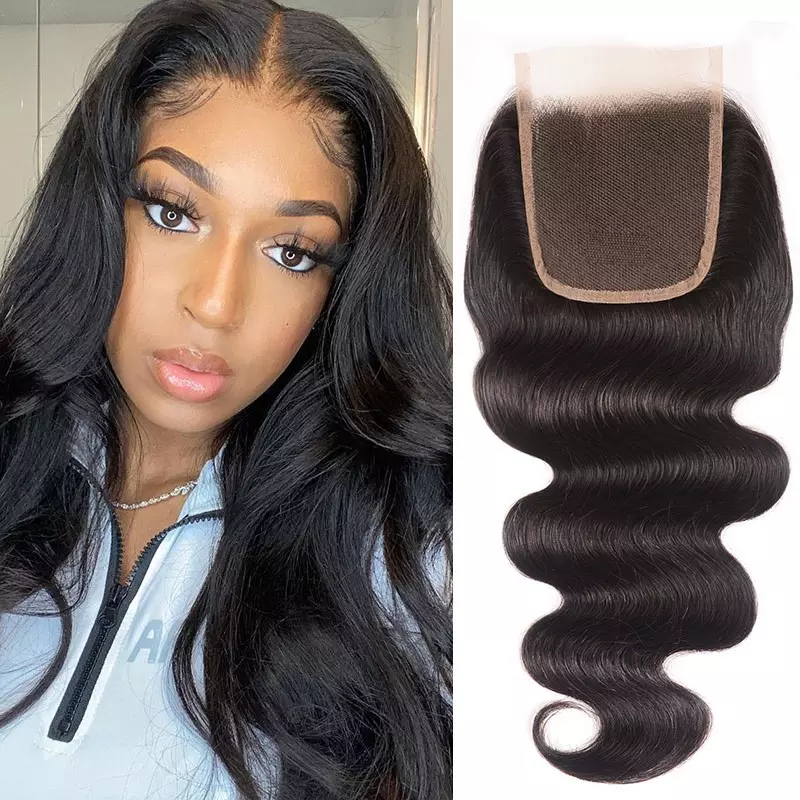 The pros and cons of lace closures
Pros:
Lace closures almost exactly simulate your scalp, matching your skin tone and giving it a natural look. 

The installation of lace closures is easy and it stays flat on your scalp, making any of your hairstyles look very natural.
Cons:
Lace closures when in use need some tweaking for better usability:
Lace closures need to be bleached or dyed first because bleached buttons will give you a scalp-like effect, making you feel as if hairs are growing directly from your scalp.

However, if you do not bleach or dye the lace closure properly, you will damage it.
Silk vs lace closures: What's the difference?
In general, both silk closures and lace closures give a perfect look while creating a scalp-like effect. However,  when we compare obviously between silk and lace closures, they still have many differences such as:
1. Transparency
One of the main differences in these closures is transparency.
Lace closures are made from material that reveals the natural skin underneath. Although the lace is see-through, the meshes are still visible and the knots where the hair is attached are also visible.
However, compared to lace closures, silk closures are not transparent like lace but they have the color of a scalp.
2. Price
Lace closures tend to be less expensive than silk binding. Many people choose these closures because of their affordability.
There are different types of lace to choose from. The softest and thinnest lace is Swiss lace which is the most expensive. Another option is transparent lace.
Silk closures are made of both silk and silk fabrics that remove the mesh lines to give them a more realistic look. So silk closures are more expensive than lace closures
3. Thickness
Lace is thin and flexible. It can be easily installed and laid flat on it. Many people choose lace because it is easy to apply to the head in a natural way. Lace is also more comfortable to wear because the meshes allow air to pass through. 
Conversely, silk closures are thicker than lace closures, and can be uncomfortable for some people to wear. They can be folded and bent if they are not installed properly – making it more difficult to flatten the closures to the head. So with this closure, knowing the exact measurement of the wearer's head circumference and the exact measurement of the silk closures part is essential, to avoid wasting money on a size that doesn't fit.
4. Bleaching
Lace knots require to be bleached to keep the scalp free of any dots. If not bleached properly, the lace can be damaged and so can the hair stuck to it. Many people choose to use foundation or concealer to accentuate the color of the lace. As for silk closures, you do not need bleach because the base has no mesh.
Which option to choose: silk closures or lace closures?
To decide between silk vs lace closures, which is better for you, it all depends on your own personal requirements:
If you are trying to make your closure look like a real scalp, silk closures are better. However, if you are looking for a breathable and more delicate option, lace closures are the best.

Also in terms of usability, many people choose lace closures because they are more comfortable and easier to set up.

Besides, budget is also an important factor for many people. Lace closures tend to be lower cost than silk closures.
In short, depending on your preferences and conditions, you can make the optimal decision to choose between silk vs lace closures
Final thoughts
Hopefully, after reading the comparison between silk vs lace closures, you will know what you like and choose for yourself the most suitable one. Remember, before you decide to buy silk or lace closures, you should do your research on the product and supplier. This will ensure that these closures will fit well with you. To know more useful information, you can follow our blog and read more latest articles.