Dread hair extensions also known as African hair. This is a hairstyle that has a long history and is typical of Africans in the past. Along with the wave of Hip Hop culture spreading globally, the popularity of rappers and dancers has helped this hairstyle become more popular among young people around the world. However, it is still quite foreign to most Asians. And to own this hair you will have to spend a large amount of money. So doing this hairstyle yourself at home may be the optimal choice.
However, installing dread extensions into hair, especially short hair can sometimes be difficult, but once you have the right method, you can do it. Even if you have very short hair, you can still do it. In this article, I will show you how to install dread extensions on short hair.
What are dreadlocks extensions?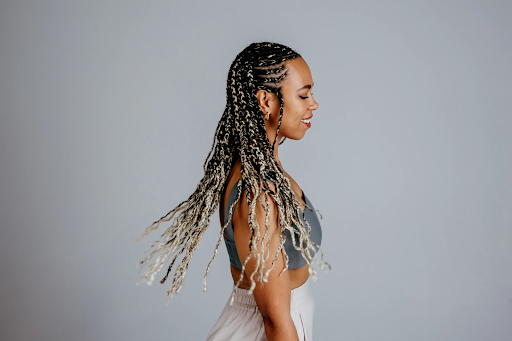 Dread hair extension is a hairstyle of having the hair braided into small braids and combed back. This hairstyle is from Africa and has many new variations to suit the preferences and personalities of each person. This hair extension is suitable for both men and women, besides, this hair extension is quite picky on the face, only suitable for people with slim faces.
Dread extensions can be used to lengthen real dread or can braid extensions on natural hair. These extensions can also be used to add color and fullness to the hair.
There are 2 popular types of dread extensions: dread extensions made from human hair and synthetic hair
How to install dread extensions on short hair?
Install human dreadlocks extensions on short hair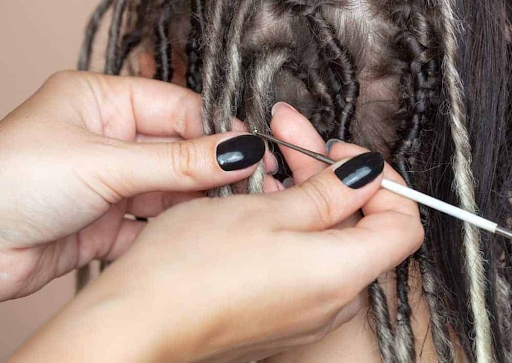 Dread extensions from human hair will create a perfect layer of hair, without annoying protrusions or split ends when done. They can be installed permanently or temporarily, whichever you choose. Here are step-by-step instructions of using a crochet hook to help you Install human dread extensions on short hair
Step 1: Place the
dread
extension in right position
Place the dread extension at the base of one of your natural hair sections (you should tie your sections into different sections for ease of use)
Step 2: Start crocheting
With a hook, start crocheting the extension and inserting it into your natural hair.
Use the index finger, middle finger and thumb to grasp the natural hair and the extension.

Insert and pull the hook out several times.

Regularly, turn your hair and crochet from a different angle.
Step 3: Finish crocheting
Stop hooking when you feel your hair is locked and secure.
Step 4: Repeat the step
Repeat the above steps to attach the remaining extensions
Note: Make sure not to hook too close to the scalp, as this can cause scalp pain. Leave at least half an inch of hair open.
Once you have attached all the extensions, you will notice that there are some frizz at the hairline. If you want, you can twist the hairline for a neater look.The steps below will help you with the twisting process:
Step 5: Spray water on the root of hair
Spray water on the roots of the dread extensions
Step 6: Use oil or gel
Add locking oil or gel if you like.
Step 7: Twist the parts
Twist the sections until they are flat to the scalp. Make sure that all positions are twisted in the same direction and do not twist too tightly. This is necessary to avoid headaches and hair loss.
Install synthetics dreadlocks extensions on short hair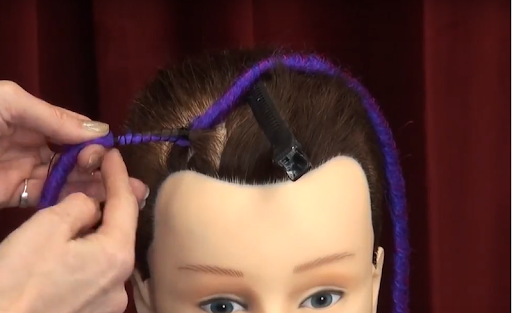 Many people prefer to use synthetics dread extensions because they are relatively inexpensive. However, you cannot use heat tools on synthetic extensions, or they will become mushy. Also, you cannot dye synthetic dread extensions. However, if you follow the steps below, you also have great dread hair extensions, but because it is synthetic hair, you need to follow each step carefully to do it right!
Step 1: Use gel and water
Use water and gel to help control so it will be easier to do as the curls will be easier to control
Step 2: Separate your hair 
Part your hair into two separate sections side by side
Step 3: Place the
dread extension in right position
Position the dread extension in the middle of the parted hair
Step 4: Wrap around the
dread extension
Then wrap the last two sections of hair around the dread.
Step 5: Comb your hair
Use a comb to Smooth that section of hair
Step 6: Use a band to secure your hair.
Grab an elastic band or thread and secure your hair. Tie it tight to secure the middle dread extension well.
Step 7: Keep your extra hair attached to the dread extension.
Continue to wrap the elastic or thread to secure your excess hair to the dread extension
FAQs on installing dread extensions
Can I ask a hairstylist to do this?
 Yes, most barbers can do it. You should ask in advance about the cost, hair care after the extension, as well as the implementation time
How many dread extensions do I need to have for a full head?
This is not an easy question to answer as the answer depends on many factors such as hair type, density and length.The average person needs about 5 packs of hair extensions to get a full head of hair.There are different types of dread extensions, including two-strand, three-strand, four-strand, five-strand and six-stranded.
What is the minimum length of hair that you can wear dread extensions?
One of the most common questions people are asking is how long does your hair have to be to lengthen it. The answer to this question depends on a lot of factors, such as the type of extension you're adding, what texture your hair has, and what style you're wearing. The general rule of thumb for adding extensions is that your hair should be at least 10 inches long.
Can I dye my dread extensions?
It all depends on the type of hair they are made of. There are some types of human hair extensions that have been dyed and processed so much that they will be difficult to dye. However, if they are made of virgin hair, you will have no problem
How long can the extension last with dread?
It can last up to 2-3 years with proper care. The synthetic  extension can be completely removed when you want. Human hair extensions are more long-lasting extensions because they are securely hooked into your natural curls. Both can be cut as your hair becomes longer.
Final thoughts
Dread extensions are becoming more and more popular over time because people increasingly have the affordability as well as their ease of use. Now, people can do them at home without having to go through expensive salons like before.
Hope the above article has been able to help you know how to install dread extensions on short hair. If you have any questions about this or other hair extension products, you can contact Jenhair for the most accurate answer.