The availability of hair extensions has also increased, with many brands offering a variety of colors, lengths, and textures to suit every hair type and personal style. If you are on the hunt for high-quality and affordable hair extensions, then you have likely heard of the popular Bellami Hair brand.
In this article, Jen Hair will provide you with comprehensive Bellami Hair reviews, which cover its history, product offerings, and customer reviews as well. Whether you're a first-time buyer or a long-time fan of the brand, we hope this article will give you the knowledge you need to make an informed decision about your next hair extensions purchase.
Bellami Hair: An overview
Bellami Hair is a popular hair extensions brand that was founded in 2012. Since its inception, Bellami has become a go-to destination for high-quality hair extensions that are both beautiful and affordable. The brand's motto, "Bellami as Beautiful Me", reflects its commitment to helping women feel confident and beautiful by providing them with high-quality hair extensions that are easy to use and maintain.
One of the things that set Bellami apart from other hair extensions brands is its focus on quality. The brand uses only 100% human hair for its extensions, which means that the hair cuticles are aligned in the same direction to reduce tangling and ensure a natural look and feel. Additionally, Bellami offers a wide range of colors, lengths, and textures to suit every hair type and personal style.
Bellami Hair reviews
Now that we have covered the general Bellami Hair reviews, let's delve into the crux of this article. This is where we will explore their product offerings, customer service, and what customers have shared about their buying experience. Don't miss even a word as we strive to bring the most authentic and reliable Bellami Hair reviews!
Products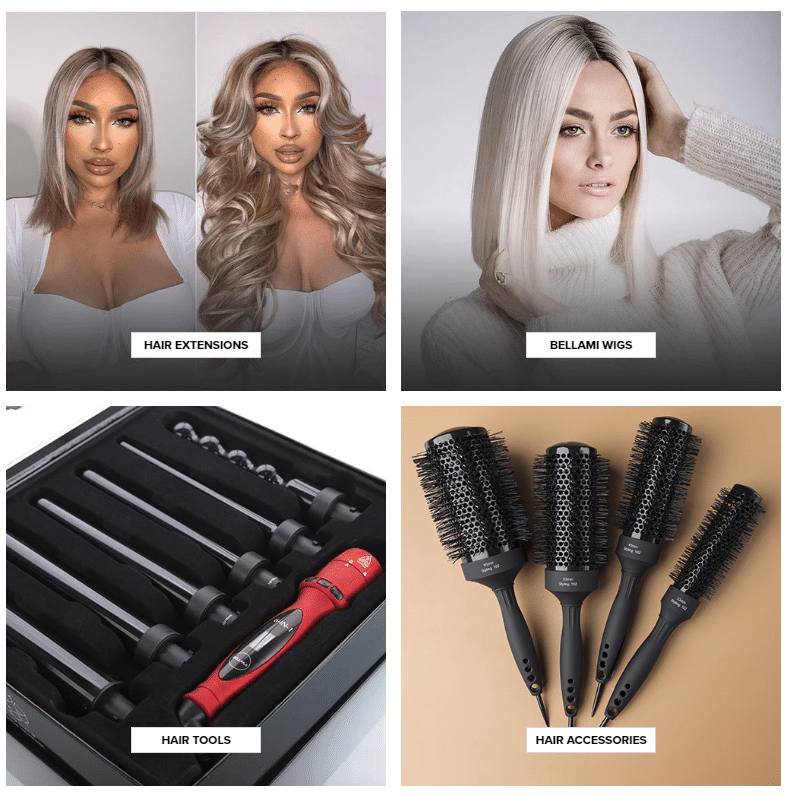 Here is the breakdown of its offering:
Hair extensions:

Bellami Hair offers a wide range of high-quality hair extensions crafted from natural human hair. From clip-in extensions to tape-in extensions and more, these extensions blend seamlessly with your natural hair, adding length, volume, and versatility to your look.

Wigs:

Explore the world of transformative hairstyles with Bellami Hair's collection of wigs. Made with precision and attention to detail, these wigs provide a realistic and natural appearance.

Styling tools:

To achieve the perfect hairstyle, Bellami Hair offers a selection of professional-grade styling tools. From curling wands to flat irons, these tools are designed to work harmoniously with your extensions, allowing you to effortlessly create stunning curls, sleek straight looks, or any style you desire.
Quality
When it comes to hair quality, Bellami Hair is renowned for its exceptional standards. Their hair extensions are crafted from 100% Human Remy Hair, ensuring a natural look and feel. The hair is meticulously sourced and undergoes a rigorous process to maintain its integrity, resulting in long-lasting, soft, and silky extensions that blend seamlessly with your natural hair.
One prime example is the Bellami Silk Seam Clip in Hair Extensions. These extensions boast superior quality, with the hair strands being thick from root to tip. The seamless design ensures a comfortable and discrete application, allowing you to achieve voluminous and flawless hair in an instant.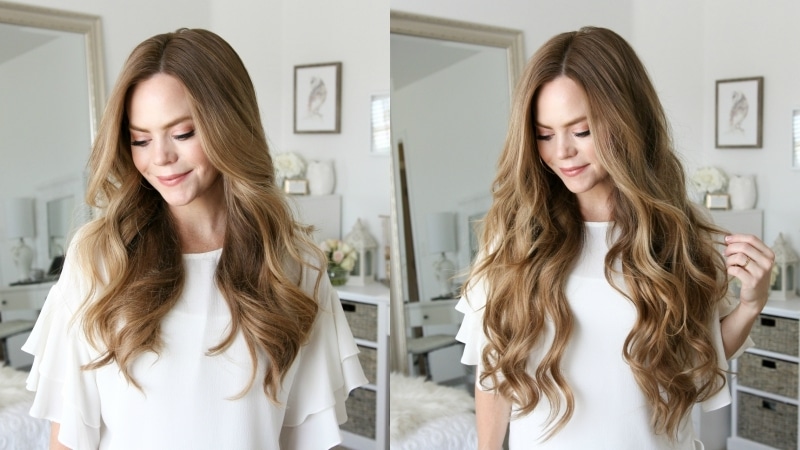 Price

Bellami Hair prices fall on the higher end of the spectrum, typically ranging from $200 to $400 for their hair extensions. While the prices may be considered quite high compared to some other brands, it reflects the brand's commitment to providing premium quality products crafted from human hair. 
Bellami Hair's focus on sourcing high-quality materials, rigorous quality control processes, and the longevity of their extensions contribute to the higher price point. Customers can expect to invest in durable and luxurious extensions that deliver a natural look and feel, making it a worthwhile choice for those seeking top-notch hair extensions.
Shipping
Many Bellami Hair reviews have praised for the brand's effective delivery method. Here are the estimated delivery times for each option:
Economy

: This option takes approximately 7-10 business days for delivery. However, it will be additional time for shipments to AK (Alaska), HI (Hawaii), and PO Boxes.

Standard

: With the standard shipping method, you can expect your order to arrive within 4-5 business days. However, you need to provide a street address for delivery as this method does not support PO boxes. 

Rush

: If you choose the rush shipping option, your package will typically be delivered within 2-3 business days. Like with the standard option, Bellami Hair cannot deliver to PO Boxes, so a street address is required.

Express

: For the fastest delivery, the express shipping method guarantees next business day delivery. 
Return policy
If you find yourself unhappy with your purchase, you can take advantage of their hassle-free return process. The policy allows for returns within 30 days from the date of delivery, provided that the items are in their original condition and packaging. Bellami Hair kindly requests that you reach out to their customer service team to initiate the return process.
Customer service
Bellami Hair's website features a "Chat with support", allowing you to connect with a representative in real-time for immediate assistance with any queries or concerns. Additionally, their comprehensive FAQ section provides detailed answers to common questions, ensuring that you have all the necessary information at your fingertips.
To facilitate your buying experience, the brand also provides clear and user-friendly buying instructions, ensuring that you make informed decisions when selecting the perfect hair extensions or products.
International customers are not forgotten either, as Bellami Hair has an International customer help center, dedicated to addressing the unique needs and inquiries of customers outside of their home country.
Respecting your privacy, Bellami Hair includes a "Do not sell my personal information" section, demonstrating their commitment to safeguarding your data and allowing you to exercise your privacy preferences.
Customer reviews on Bellami Hair
Reading Bellami Hair reviews from customers also provides insights into the performance of products and services. Numerous buyers have said that:
The hair extensions are soft, silky and easy to maintain. 

The overall customer service experience is good, including the ease of ordering and fast shipping.

Although the products are on the pricer side, their quality justifies the costs.

Some customers feel that the brand has a luxurious and high-end feel, while others appreciate the fun and trendy vibe.
Is it worth buying hair from Bellami Hair?
After considering our Bellami Hair reviews, whether or not it is a good investment depends on your specific preferences and needs. Bellami Hair is a great choice if you want to spend on high-end hair extensions but don't want to sacrifice quality.   
However, if cost is a major consideration, other options exist. When selecting if Bellami Hair is the best option for you, think about your priorities, budget, and expected quality.
FAQs
   1. Is hair from Bellami good? 
Bellami hair is widely regarded as being of high quality. As a renowned brand in the hair industry, Bellami offers an extensive selection of hair extensions and wigs that are crafted using top-notch materials. Numerous customers have expressed satisfaction with Bellami hair, praising its ability to look natural, its durability, and its ease of styling. Nonetheless, experiences may differ from person to person. It is advisable to read reviews and conduct thorough research before making a purchase.
   2. How long does it take to get products from Bellami Hair? 
You have the option to select your preferred method of delivery based on the information provided above. If you opt for standard shipping, your items will typically arrive within a span of 7 to 10 business days. On the other hand, if you choose an expedited shipping method, you can expect to receive your items in a shorter timeframe, usually within 1 to 3 days.
   3. Who owns Bellami Hair?
Bellami Hair is a company owned by Nikki Eslami. Nikki Eslami made a significant career shift, transitioning from the field of law to fulfill a demand for top-notch hair extensions. Recognizing a gap in the market, she embarked on building her own brand, Bellami, which quickly gained traction and became a leader in the industry. Her  dedication and entrepreneurial spirit propelled Bellami to great success. 
In 2022, she decided to take the brand to new heights by selling it to Beauty Industry Group, a strategic move that allowed Bellami to continue its growth and expansion under new ownership. 
Final thoughts
In conclusion, the Bellami Hair reviews have provided us with valuable insights into the brand's offerings, customer service, and overall reputation. With a strong track record and a loyal customer base, Bellami Hair continues to be a go-to choice for those looking to enhance their hair with top-notch extensions.
Moreover, do not forget to support us by sharing this post to your fellow hair lovers!