If you are pursuing a glamorous style, then 26 inch hair extensions will be the ideal first choice for your super quick change. However, many people will wonder if a 26-inch length is too long. How does your body or face change compared to your overall body? Let us show you the very clear difference between the 26 inch hair extensions before and after in this article!
What do 26 inch hair extensions look like?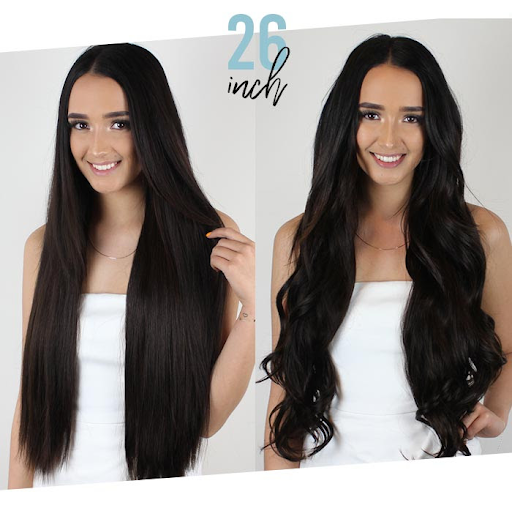 26 inch hair extensions are in the group of super long hair extensions. This is going to be super long and bouncy hair. These 26 inch extensions of hair reach almost to the hip, it will look like a beautiful and shiny waterfall. With such long hair, when you move, the hair also sways and moves gently with every step. This hairstyle is very suitable for girls who go to parties or events because you will stand out unmistakably.
26 Inch hair extensions: The characteristics
As we mentioned, the 26 inch hair extensions can reach to the waist (about 65 cm) so many women still like it even though it is quite long. When you curl or style, it retains an impressive length. This is a hairstyle suitable for people of good height.
Normally, These hair extensions will weigh 150-300g, depending on the thickness. For those who want to increase the moderate length, the weight will be a little less. If you want medium to thick hair, the weight can be up to 300g.
26 Inch hair extensions before and after
You will have a significant change. It can be said that this is a makeover with this 26 inch hair. The hair after joining will be bouncy and wavy with each step you walk. Let's take a look at 26 inch hair extensions before and after pictures to help you determine if they are the best choice for your style. 
26 Inch clip in hair extensions
The 26-inch clip in hair extension is a piece of hair that is sewn on the top and then attached with small clips. Since the 26 inch hair extension is quite long, it is then attached with a clip on top, so these 26 inch extensions of hair will be a little heavier than other hair types. The amazing thing about these extensions is natural looseness. You will easily have blemish-free hair in a short amount of time. The photo below is a clear demonstration of the naturalness, thickness, and impressive length of these hair extensions:
26 Inch halo hair extensions
This is also the optimal method for a 26 inch hair, as it will not reveal any mistakes. After the process is done, it will make the 26 inch hair extensions even more impressive. Halo extension is probably the most suitable hairstyle for 26 inch because it really doesn't make the hair sticky. Instead, it uses the natural shape of your head and stays comfortably on top like a crown with a hidden wire. You will clearly feel in the mirror that your hair will be noticeably longer and thicker. It's a shiny, bouncy, and naturally beautiful hair that's clearly compared to your frizzy, unruly hair before:
26 Inch tape-in hair extensions
The top of the tape-in 26 inch hair extensions is made up of tape fibers with a width of 2-3 cm. Hair extensions with the 26 inch length are extremely easy to apply and remove, don't damage your hair and look more natural after using this way since they set up almost completely to your head. After your hair extension, no one will probably realize that you are using 26 inch extensions. Because your hair is very long, but still smooth, bouncy and in a natural way like real hair. Let's look at these photos to see the makeover.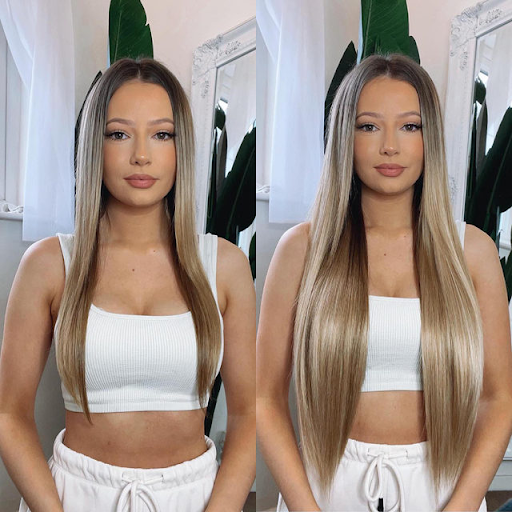 26 Inch sew-in hair extensions
As the name, the 26 inch extensions of hair will be sewn into your hair. This hair extension will instantly make you more beautiful and interesting with extremely long hair. With a length of 26 inch, impressive volume that coordinates with any color you want, so you can easily create any hairstyle. A twist and transformation in a magical and luxurious way. This hair extension will harmonize with your natural hair, making you feel like a real queen with bouncy hair that swings with every step. Let's take a closer look at this magical difference: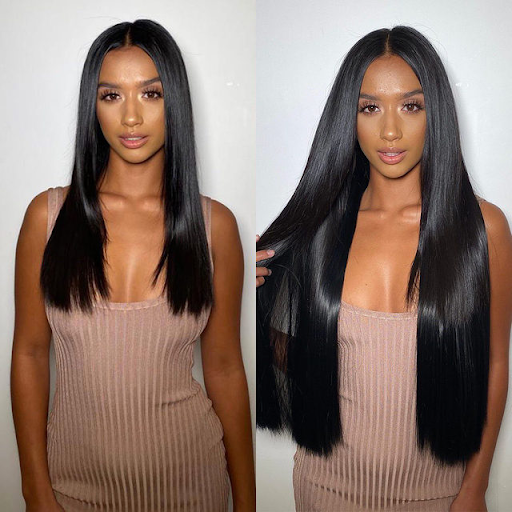 Where to buy 26 inch hair extensions?
Actually 26 inch length for hair extensions is very rare so you will have a hard time finding a supplier even though you are searching a lot of information on the internet but still have not found a reliable address. Some places offer 26 inch hair extensions but lack your favorite hair color. Some other vendors have poor customer service or do not provide these hair extensions
Jenhair will be the right choice for you, as we offer a wide range of hair extensions with different lengths,different styles, competitive prices, and professional customer service. Our hair extensions are entirely from remy hair which are collected from Vietnamese women with high quality hair.
Final thoughts
The change of the 26 inch hair extensions before and after is truly amazing. You can take a close look at the options we have shown in this article. You will really look like a princess coming out of a comic book with a gentle, feminine but equally luxurious beauty. Let your inherent beauty shine with the 26 inch extensions of hair!
If you have any questions regarding Jenhair hair extensions don't hesitate to contact us or leaving a comment below.