Want to switch up your hairstyle but don't want to pay for pricey, time-consuming, and scalp-damaging styling services? Hair extension is the one for you! Jenhair customers all over the world believe 14 inch hair extension products are an excellent choice. Have you ever thought about how fascinating 14 inch hair extensions before and after effect is? Allow Jenhair to examine the 14 inch hair extensions products and determine if they are suitable for you.
Related posts:
What do 14 inch hair extensions look like?
Hair extensions of 14 inch are typically shoulder length for individuals who have average proportions. Although this length might vary slightly based on the size of your neck and head, most 14 inch hair extensions will be about 2-3cm below your shoulders. This is referred to as the armpit length.
Choosing the appropriate length of hair extension is vitally important since your hair extension should be related to your body proportions. If you select an inappropriate length of hair extension, you will appear older than your age. Let's see if 14 inch hair extensions are the right length for you and check out how it looks. 
14 Inch hair extensions: The characteristics
A 14-inch hair extension is, without a doubt, 14 inches long. If you're not familiar with this unit of length, you can convert it to a variety of other measurements to better understand it. We will offer you the 14 inch comparable length in the following measurements: feet and centimeters.
14 inch = 1.2 feet
14 inch = 35.6 cm
Your hair will be 14 inches long, slightly longer than shoulder length. It should stretch all the way to the top of your back. This is a great choice for anyone who wants a medium-length hairstyle.
Many people prefer to talk about the weight of each hair bundle. Furthermore, depending on the restrictions of each provider, the weight of each unit of hair will vary.
14 Inch hair extensions before and after
You may notice an instant improvement in your appearance after applying the hair extensions. Have you ever pondered the before-and-after look of 14-inch hair extensions? Here are some fantastic examples for you to consider.
14 Inch clip in hair extensions
Clips will be provided with your 14-inch hair extensions. You can totally handle it at home by pinning 2/3 of your natural hair up and clipping the 14 inch hair extensions with the remains of the hair so that they are close to the natural hairline. Clip-in hair extensions are the most popular type of hair extension since they are simple to install and remove. Here is a beautiful before-after example for you: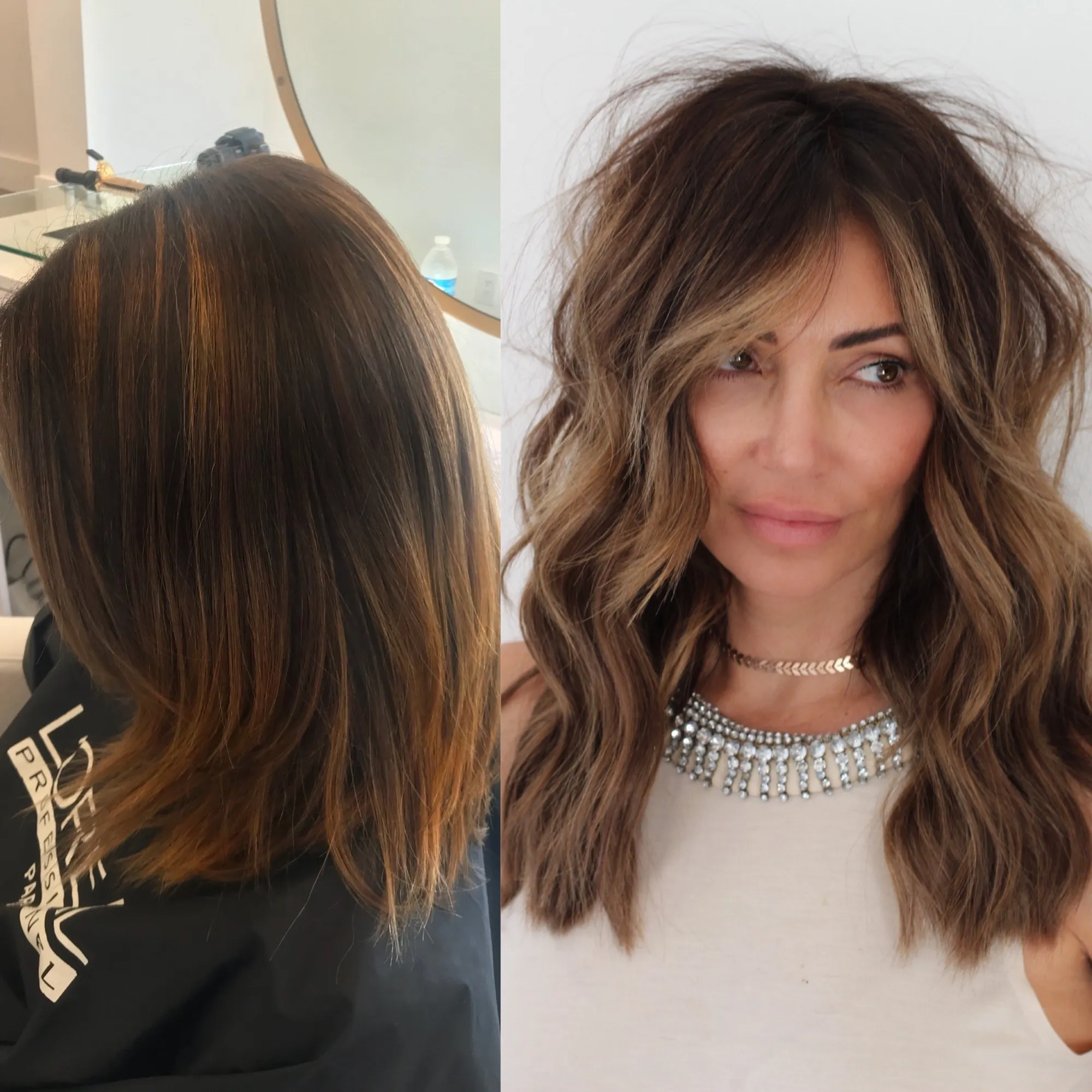 14 Inch halo hair extensions
The 14-inch halo hair extension offers you longer, and thicker hair with little to no effort. It's even better because it doesn't require any clips, glue, or damage. Halo extensions are the least damaging to your hair's roots.
The crown of the head is surrounded by a halo of transparent wire. The hair is surrounded in the bottom half, while the top half remains invisible, making it easy to conceal behind your own hair. It is convenient to use; it is not linked to any hair strands, it puts less strain on your natural hair, and it is convenient to apply. Look how gorgeous it is: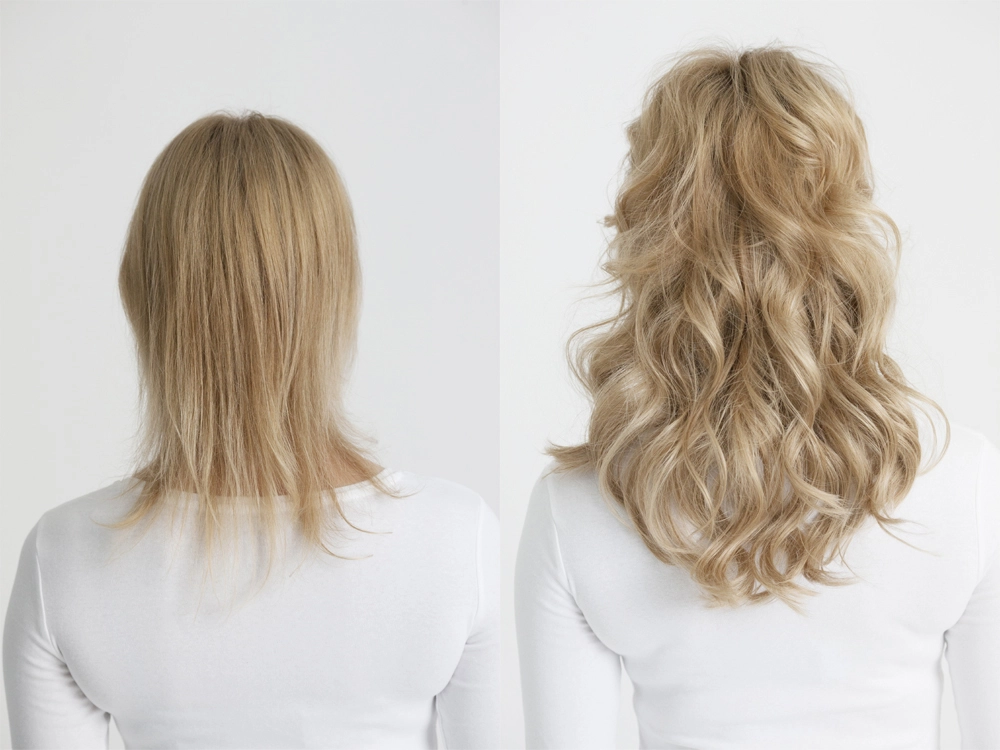 14 Inch tape-in hair extensions
Medical tape is utilized to hold the 14-inch hair extensions. Attaching tape in hair extensions 14 inch to actual hair is very similar to 14 inch clip-in hair extensions. Tape-in hair extensions 14 inch are the least durable form. Moreover, you might have to spend 1-2 hours installing it on your head.
 To begin applying, section off the top of your hair. Then, one by one, tape the extensions in place. Because the extensions are prone to tangling, you must be careful of tangles when wearing them. Here is a lovely result: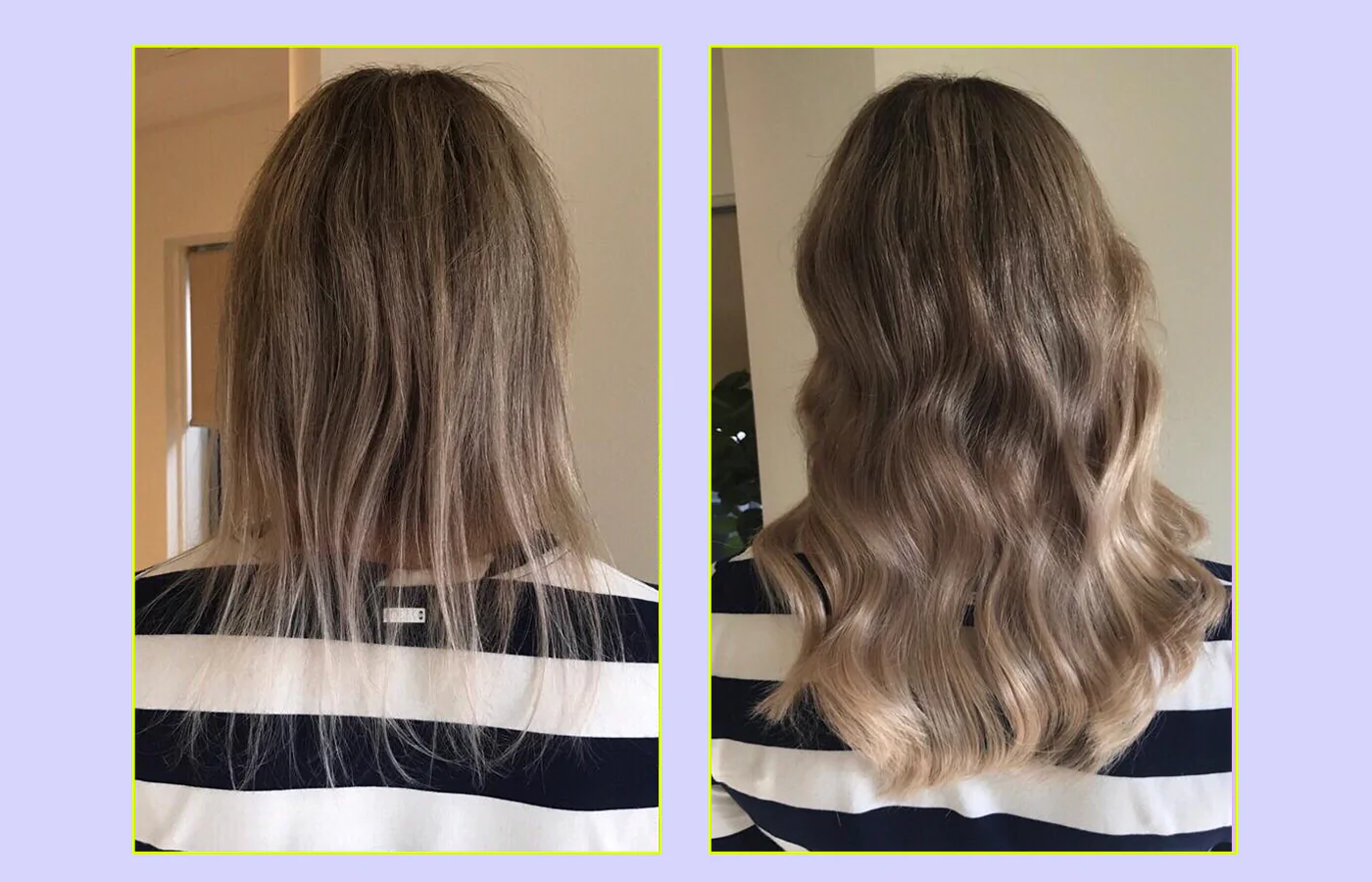 14 Inch sew-in hair extensions
A piece of mesh cloth the same color as the head skin is sewn into the top of the 14 inch sew in hair extensions. Sew in hair extensions 14 inch should be stitched directly with your actual hair, which is extremely tough and should not be attempted at home.
Because sew in hair extensions 14 inch takes time and skills, they appear to be the most natural hair extension varieties.   If you choose 14-inch sew-in hair extensions, it will take you 2-3 hours to install and will last at least 2 months. She is so charming in Jenhair extension:
Where to buy 14 inch hair extensions?
Jenhair can assist you in finding your perfect fit! Simply click "Product" on our website, choose the tones you want, check out our variety of hair extension lines, and then get the 14-inch hair extensions in a range of colors and styles.
Jenhair believes in the power of hair extensions, whether they are temporary clip-ins or professionally implanted keratin-bonded extensions or sew-ins that safeguard your original hair. Since we offer 100% REMY human hair (the gold standard for hair extension quality), you receive comfort and quality at a low cost.
Final thoughts
The results of 14 inch hair extensions before and after are evident. They quickly give volume to your hair, making it appear vibrant and rich. Hair extensions of 14 inch are a favorite hair length among many Jenhair customers since it is medium in length and not too heavy as you apply on the head. Customers who purchase 14-inch hair extensions will find it more convenient to use in everyday routines without encountering too many troubles.
If you have any concerns or want advice in selecting your hair extensions, please leave a comment below.