Name of Hair 
White Grey Hair
Material 
100% Human Hair, Non-Processed
Texture 
Grey Hair
Type 
Vietnam hair
Hair Grande 
8A,9A,10A
Hair Advantages
1. 100% Human hair, Virgin hair, Remy Hair

2. Can be dyed, Bleached and Restyled

3. Soft and Smooth, No Tangling, No Shedding

4. No Chemical Processed, No smell

5. Keep wave after washing

Length 
8-32 inch
Weight 
100g each bundles
Place of Origin 
Viet Nam
Payment 
Bank Transfer, Money Gram, Western Union, Agent
Delivery Time 
7-14 days after payment received
Way of Shipping 
UPS, DHL, Air Way, Ocean Shipping
Supply Ability 
5 tons/per month
Natural Grey Hair
Who doesn't like beautiful natural hair? But for different reasons, not many women are lucky to have the long tresses. In that case, human hair extensions is the best option for them.
Why natural grey hair extensions?
The human hair extensions add volume and length to your hair. The natural grey hair is suitable for the elderly, or anyone who wants to make a change to hair color. Many women want to get hair extensions because they want to increase the length of hair. Also, the natural hair extensions can cover up a bad haircut or hair loss. For those who want to add some colour and dimension to the hair, they don't need to dye their hair, but use a different hair color shade for the hair extensions.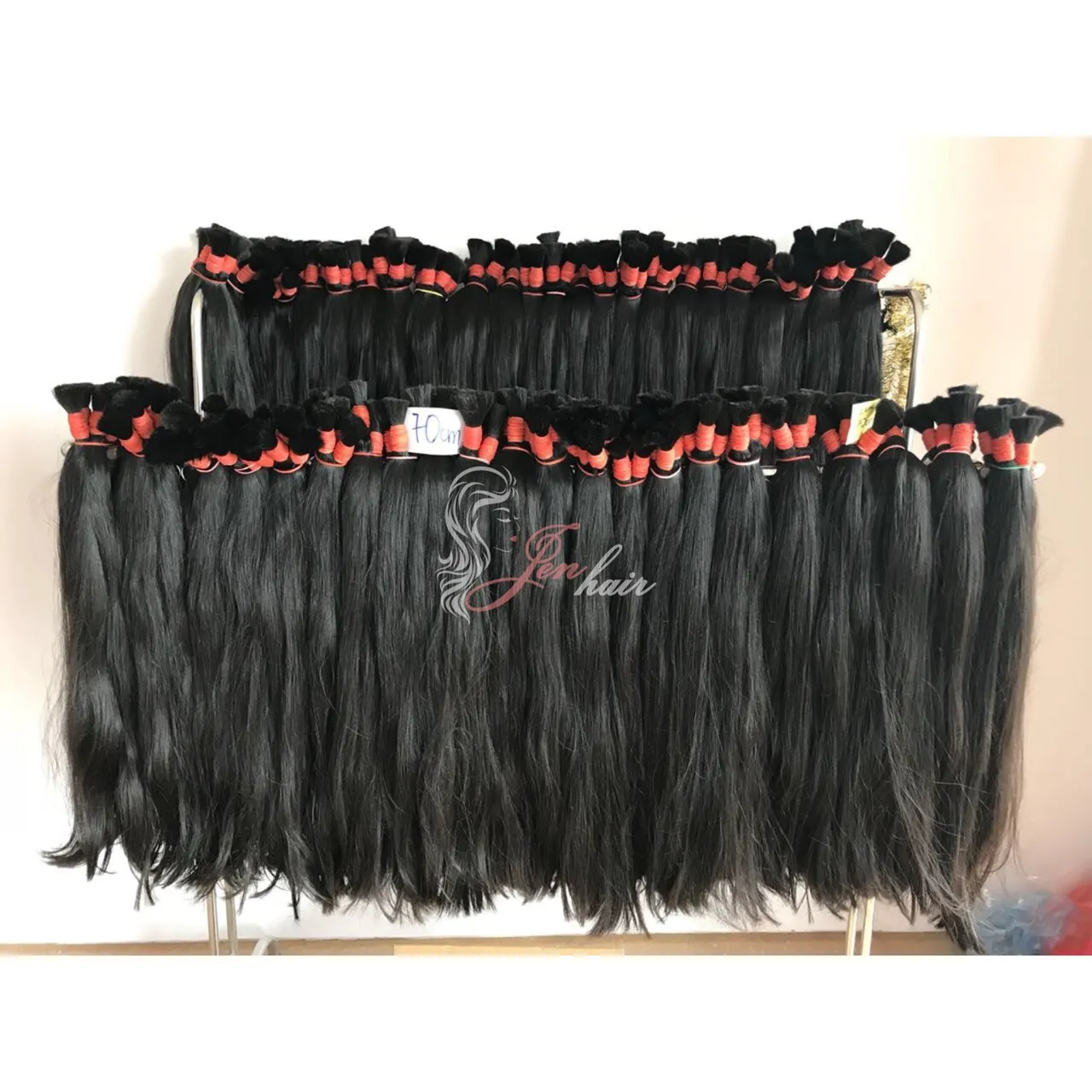 + Aside from that, hair extensions is ideal for those who are suffering from hair loss because it can add volume to the hair. Or who have thin hair naturally, hair extensions will make it look thicker. More importantly, you can use human hair extensions to change your hairstyle without actually cutting and changing your natural hair. In addition, many women are using too many chemical-heavy products. Or they use heat-involving hair appliances that can damage the natural hair. With the hair extensions, you will have a layer between your natural hair and the products or appliances.
Why Jenhair?
Jenhair is not only one of the top hair export companies, but also one of the best hair manufacturers in Vietnam. At the moment, we have thousands of customers all around the world. Jenhair has a mission of bringing the best quality made-in Vietnam products to the global market. In order to provide happiness, satisfactoriness to our customers, Jenhair has looked carefully into the market to find the best sources of products as well as improved our customer services. All hair products are available at any time for customers, check out https://jenhair.com/.
+ Natural grey hair products from Jenhair
Being one of the leading companies in the hair market, Jenhair provides a lot of product choices for customers. In terms of natural grey hair, you can find dark grey and white grey hair. They are all made with 100% human hair without being processed. The materials are high quality human hair from Vietnam. In terms of hair color, there are plenty of options for customers. For both products, you can choose virgin hair with natural color, two tone color, highlight color or mixed color. Additionally, you can choose specific Jen color or Jen classic color. For more information about Jen's hair color, visit the website https://jenhair.com/.
Moreover, the length of hair is available from 6 inches to 38 inches. When it comes to hair texture, you can opt for one among different types: full and thick, few short hair mixed, healthy, shiny and soft. As you demand, the hair density can be 120%, 130%, 150% or 180%. Jenhair use Swiss lace with different colors to choose from: transparent, light brown, middle brown and dark brown. Your minimum order quantity for each product is 0.5 kg. If it is in stock, the delivery time will be from 2 to 3 days. However, if it is customized, you need to wait for about 2-7 days until your products will be delivered.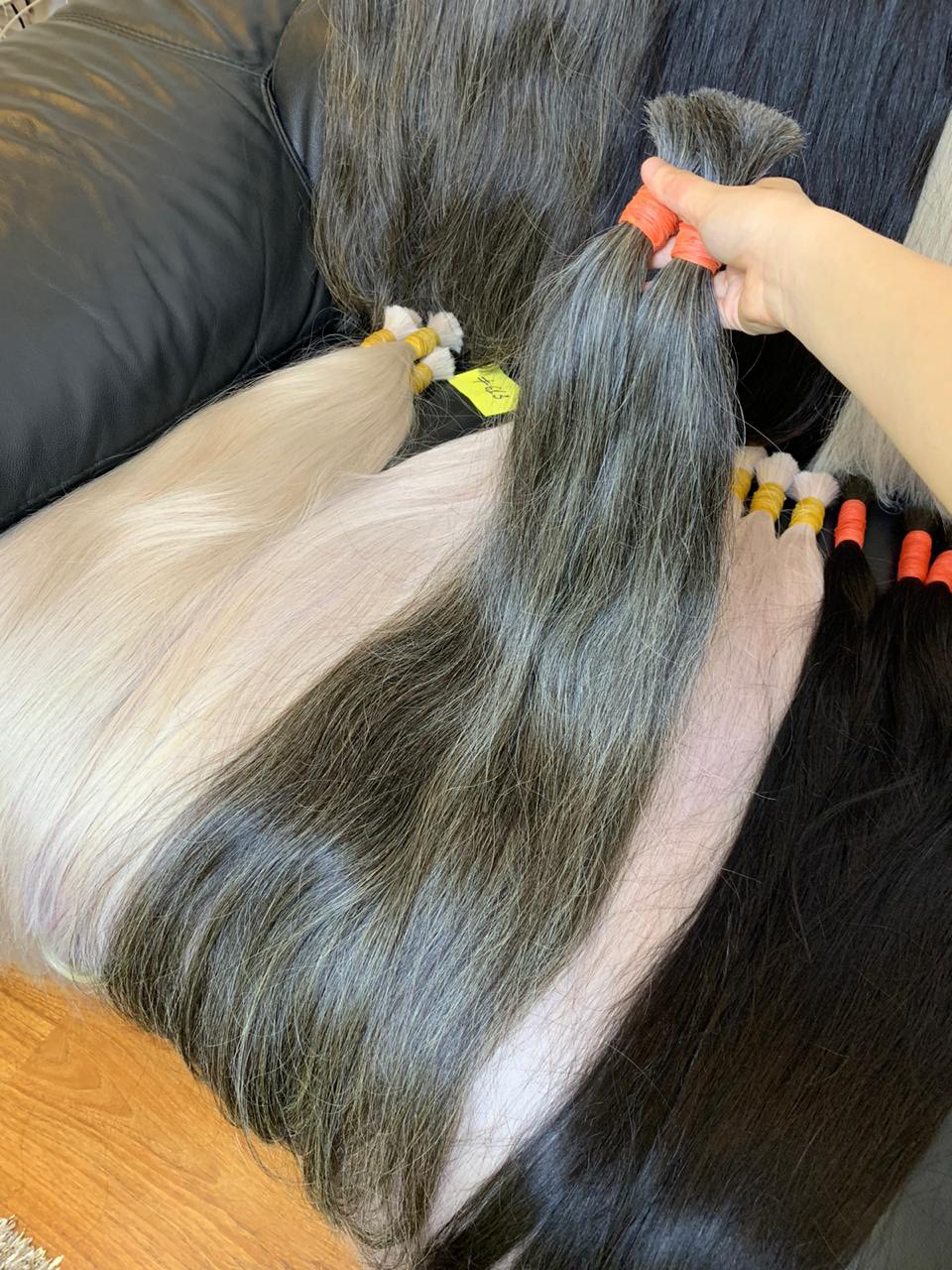 + When it comes to packaging, the dark grey and the white grey hair will be packed in PP bag or a strong box which can protect the hair and is suitable for long distance transport. Shopping with Jenhair, you don't need to worry about the quality of products and services. If you are outside of Vietnam, you can still order our products. Just visit the website https://jenhair.com/, we will assist you. Also, we accept payment with Bank Transfer, Western Union, Money Gram, Master Card, Visa, and Paypal. It is easy and convenient to shop or cooperate with Jenhair even if you are not in Vietnam.
The increasing demand for bulk hair in the market
The total revenues of the world's hair wig and extension industry is estimated at over $10 billion in 2023. That is based on the compound annual growth rate of approximately 9% between the year 2017 and 2023. Due to the growing demand for ultra-high quality wigs and natural human hair extensions all over the world, especially in the European countries, manufacturers of hair products are expected to have more opportunities. They can look forward to seeing the growth of their income as well as consumer spending power.
Aside from that, men have been interested in the hair care products recently which add to the driving force of the world's hair industry. Also, the rising economies such as India and China are experiencing a rise in expendable livelihoods and rapid urbanization, resulting in the increase in sales of the global hair market.