Klaiyi Hair is a popular brand in the hair extension industry, known for its high-quality human hair products and exceptional customer service. As with any product, it's important to do your research before making a purchase, and hair extensions are no exception. That's why reading reviews from other customers is an essential part of the buying process. 
In this article, we will take a closer look at Klaiyi Hair reviews to help you make an informed decision about whether their products are right for you. We will examine the quality of the hair, the durability of the extensions, and the level of customer service provided by the company. 
Klaiyi Hair: An overview
Klaiyi Hair was established in 2009, with its headquarters located in Xuchang, China. Since its inception, the company has become a leading manufacturer and supplier of human hair products, including weaves, wigs, closures, and frontals.
Whether you are looking for sleek straight hair, bouncy curls, or natural-looking waves, Klaiyi Hair has something to suit everyone's preferences. Customers have praised the softness, manageability, and natural appearance of their hair, providing a boost of confidence and enhancing their overall style.
Klaiyi Hair also places a strong emphasis on affordability. Despite offering high-quality hair products, they strive to keep their prices competitive, making luxury hair accessible to a wider customer base.
Furthermore, Klaiyi Hair is committed to staying up-to-date with industry trends and innovations. They regularly introduce new styles and collections, allowing customers to experiment with the latest hair fashion.
Klaiyi Hair reviews
By providing you with detailed Klaiyi Hair reviews, we aim to assist you in making well-informed choices. We'll assess the brand's commitment to customer satisfaction, affordability, and their ability to stay on top of industry trends. Stay tuned to discover more about Klaiyi Hair Company and unlock the secrets to achieving your hair goals with confidence!
Products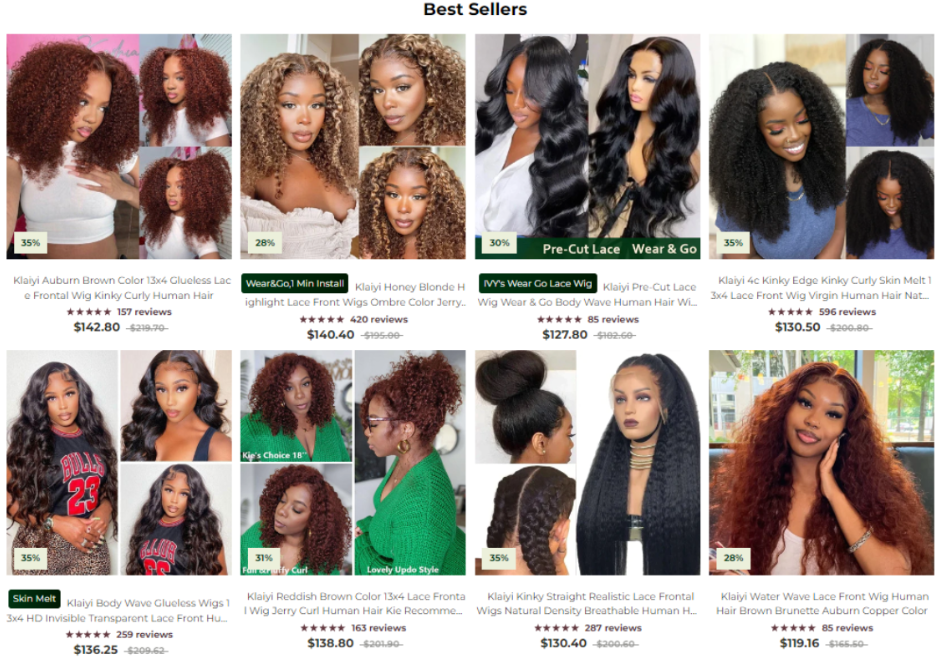 Starting with the products, Klaiyi Hair Company offers a diverse range that caters to various hair needs. Whether you desire a realistic hairline, versatility in styling, or convenience in application, Klaiyi Hair's wig collection offers solutions that deliver quality and satisfaction.
Here are the main products they offer: 
HD glueless wigs:

Klaiyi Hair's HD glueless wigs offer a convenient and comfortable solution for those seeking a seamless and natural look. These wigs are constructed with high-definition lace that blends effortlessly with the scalp, creating a realistic hairline. 

Frontal wigs:

The products feature a frontal lace closure that extends from ear to ear, allowing for flexible parting and styling options. With the lace carefully hand-knotted and the hairline meticulously pre-plucked, these wigs offer a realistic appearance and seamless integration with your natural hair.

Wear & go lace wigs:

These wigs are designed for easy application and require minimal customization. With pre-attached adjustable straps and combs, they provide a secure fit and require no adhesive. Simply put them on and go, achieving a flawless look effortlessly.

Pre-cut lace wigs:

The pre-cut lace blends seamlessly with the skin, creating a natural-looking hairline. With these wigs, you can enjoy a quick and effortless transformation without compromising on style or quality.
Quality
The brand ensures that their products are made from 100% human hair, carefully sourced to maintain authenticity and longevity. Whether it's their human hair bundles, wigs, or extensions, Klaiyi Hair's commitment to quality is evident in the satisfaction expressed by their customers. If you are looking for high-quality hair that looks and feels authentic, Klaiyi Hair is a reliable choice that consistently delivers exceptional results.
To be more specific, the KLAIYI Curly Lace Front Wig features HD Transparent Swiss Lace, Brazilian 10A Curly Human Hair, and a density of 180%. It is durable, tangle-free, and can be dyed, bleached, and restyled. With a natural color, it can be styled with a middle part for various occasions. The average-sized cap is glueless and adjustable, ensuring a comfortable and perfect fit. This high-quality wig offers a natural and voluminous kinky curly look in a convenient package.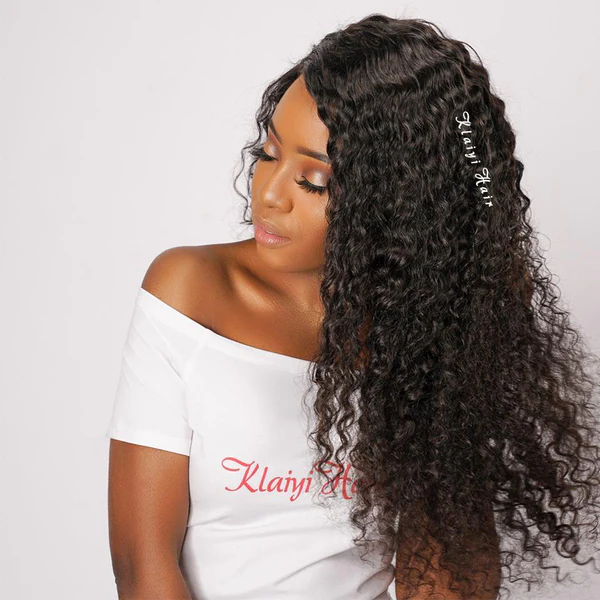 Price

Klaiyi Hair reviews consistently highlight the brand's commitment to providing affordable yet high-quality products. Customers appreciate the balance between price and quality, noting that they receive excellent value for their investment. The affordability of Klaiyi Hair products opens up opportunities for individuals to achieve their desired hairstyles without breaking the bank. Whether you're looking for human hair bundles, wigs, or extensions, Klaiyi Hair's competitive pricing ensures that you can find suitable options within your budget.
Shipping
The standard processing time for orders is between 3-5 business days, excluding weekends and holidays. It is advisable to plan ahead and place orders at least 3 weeks in advance to account for any unforeseen circumstances that may affect delivery.
Shipping is carried out from warehouses located in the USA or China. For USA customers, orders are typically shipped from the USA using USPS or UPS, unless there is no stock, in which case they will be shipped from China. International orders are shipped from China using trusted carriers such as DHL, UPS, or TNT. Additionally, customers in the USA can opt for express shipping at an additional cost of $20 for faster delivery, typically taking 1-3 days.
Return policy

The return policy covers various situations, such as items not delivered, unsuccessful delivery due to buyer or seller mistakes, shipping damaged items, and items not as described. It is important to note that if the parcel is lost by the shipping company, contacting the delivery company directly is advised.
Customers are encouraged to carefully inspect items upon delivery and report any issues within 15 days. Klaiyi Hair accepts returns and exchanges for items that do not match the description or fail to meet expectations. However, it is important to keep the items in their original condition, without washing, installing, coloring, or cutting the lace.
For unauthorized transactions, it is crucial to inform Klaiyi Hair within 7 days. The policy also includes a provision for no reason return and refund within 30 days, with the customer responsible for the shipping fee.
Customer service
From Klaiyi Hair reviews, the brand provides excellent customer service through various channels. Their responsive and helpful customer support team is readily available to assist customers through live chat, email, WhatsApp, and other communication platforms. 
Whether you have questions about product inquiries, order status, or general concerns, Klaiyi Hair's customer service representatives are dedicated to addressing your needs promptly. Additionally, they offer a comprehensive FAQ section on their website, providing valuable information and guidance. The combination of multiple communication channels and a well-structured FAQ resource ensures that customers can easily access the support they need, making their shopping experience with Klaiyi Hair smooth and satisfying.
Customer reviews on Klaiyi Hair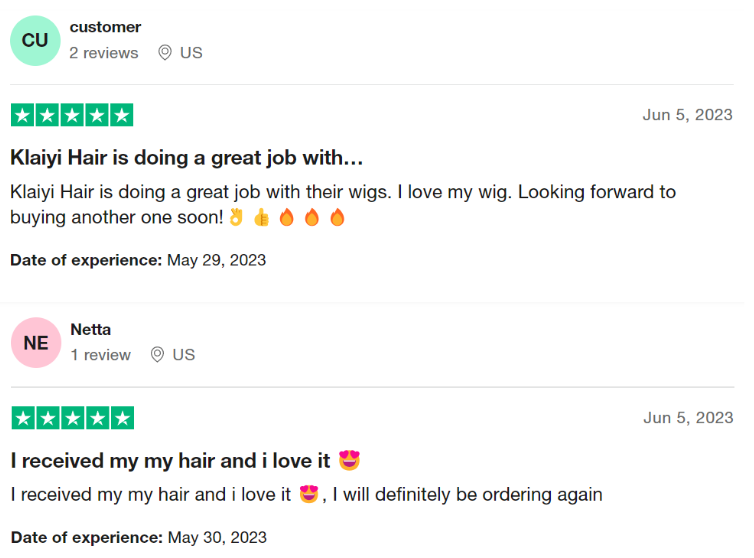 We have thoroughly examined numerous Klaiyi Hair reviews and reached a definitive conclusion:
Beautiful and durable hair just at an affordable hair.

The products maintain their luster and integrity over time, ensuring a long-lasting and satisfactory experience.

Efficient shipping and payment methods. 
Is it worth buying hair from Klaiyi Hair?
Based on the Klaiyi Hair reviews available, the company has received positive feedback from customers regarding the quality of their hair products, their affordability, and their customer service. 
Ultimately, the decision of whether to purchase hair from Klaiyi Hair is subjective and depends on individual preferences and requirements. It is advisable to review their products, prices, customer reviews, and any specific factors important to you before making a purchase decision.
FAQs
   1. Where is Klaiyi Hair?
Klaiyi Hair's headquarters is in Xuchang, China, situate in the heart of the global hair industry. Their location grants them access to top-quality materials, manufacturing expertise, and industry advancements, allowing them to offer customers exceptional hair products that meet their diverse needs and preferences.
   2. How can I place an order with Klaiyi Hair?
To place an order with Klaiyi Hair, you can visit their official website and browse through their product offerings. Select the desired items, add them to your cart, and proceed to the checkout process. Follow the instructions to complete your order and provide the necessary shipping and payment details. 
Or, you can visit its Amazon store and choose your favorite products. The buying process is similar to your experience with other products. 
Final thoughts
Overall, if you are in the market for high-quality hair extensions, it's worth considering Klaiyi Hair as a potential option. By reading Klaiyi Hair reviews and doing your own research, you can make an informed decision and find the perfect hair extensions to suit your needs.
Last but not least, please like and share this article to spread this helpful information to the hair community. We will really appreciate you!