18-inch hair extensions could immediately and effortlessly add volume and length to your hairstyle, giving it a new appearance. They may be a quick and effective way to cover up a terrible haircut or get ready for a particular occasion. If you are curious about how it looks or how long it is, this post is for you. Jenhair has put together a list of the top 18 inch hair extensions before and after for every hair type. Let's look at the advantages of 18-inch hair extensions to understand why it stands out from other hair extension lengths.
What do 18 inch hair extensions look like?
18 inch hair extensions are normally medium length. Although this length may vary significantly depending on the size of your neck and head, most 18 inch straight hair extensions will be around your shoulder blades, 18 inch wavy hair should be on your bra straps, and curly hair may touch your upper back. This is one of the most common extension lengths.
18 Inch hair extensions: The characteristics
What is the length of 18-inch hair extensions? It is 18 inches (~46 cm) long. You may style your hair in a variety of ways with an 18-inch long hair extension. Compared to a shorter hair extension, this 18 inch one is just increasing in popularity as it may provide a considerably greater choice of hairstyles because it is neither too long nor too short. The middle back length is ideal for everyday use and even some special occasions.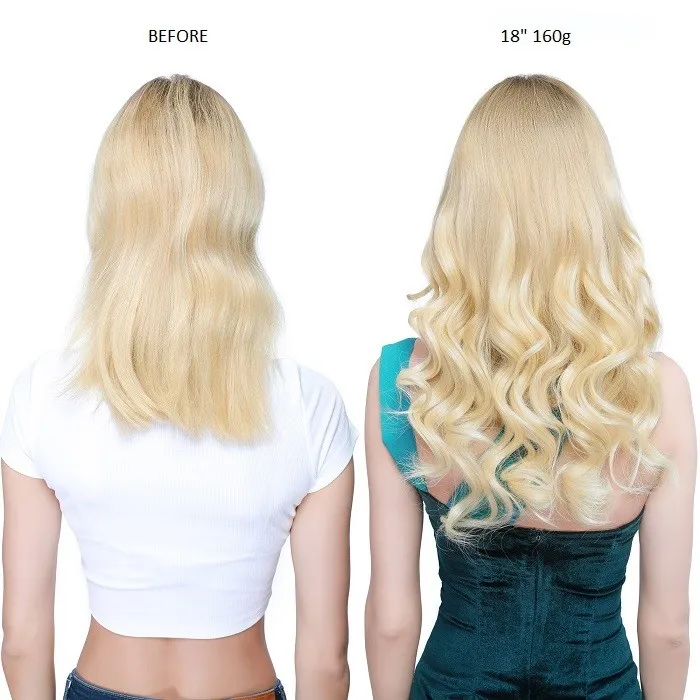 18 Inch hair extensions before and after
It is vital to select the right length of hair extension because your hair extension should be proportional to your body dimensions. If you choose an improper length of hair extension, you will appear older than your age. Let's have a look at 18 inch hair extensions before and after to check if they are the right length for you and how they look on a real person.
18 inch tape in hair extensions
Tape in hair extensions allow you to add length, thickness, and volume to your hair in a couple of minutes. They are normally one inch wide and made of 100% human hair, much like other forms of hair extensions. Never do it on your own since you might end up harming both your natural hair and the extensions. For optimal results, we recommend that you get your tape extensions installed by a professional stylist. Here is an 18 inch hair extension before and after photo: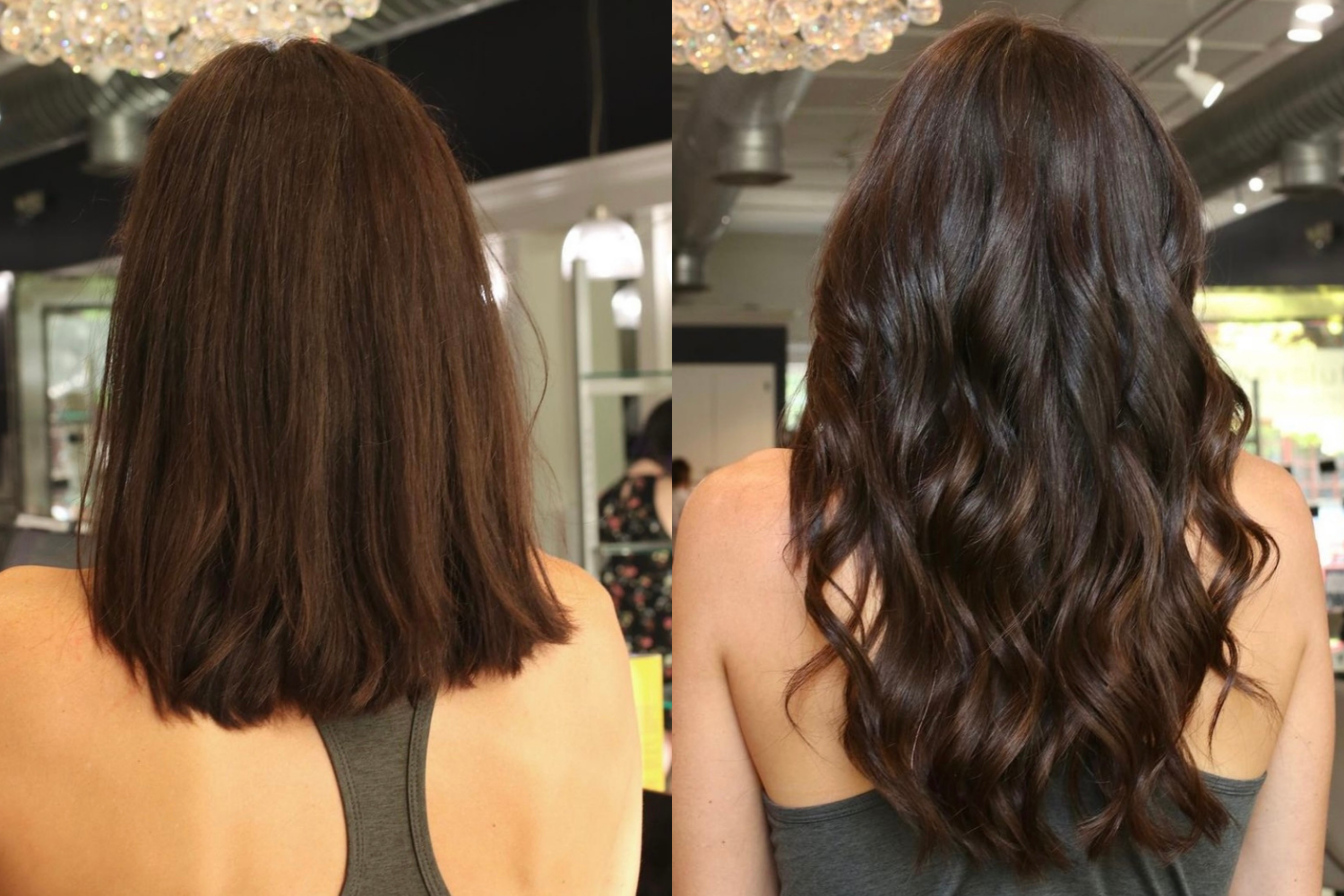 18 inch clip in hair extensions
The biggest benefit of clip-in hair extensions is that they are simple to install, which saves you money on pricey salon visits. You may wear these extensions wherever you like, and you won't need to use any heat or adhesive to do so.
Simply section off a part of your hair and brush out any tangles around your roots. Then, place the clip-in extension part on your head. Clip and secure the extension with light, moderate pressure. After that, you can look at the 18 inch hair extensions before and after transformation: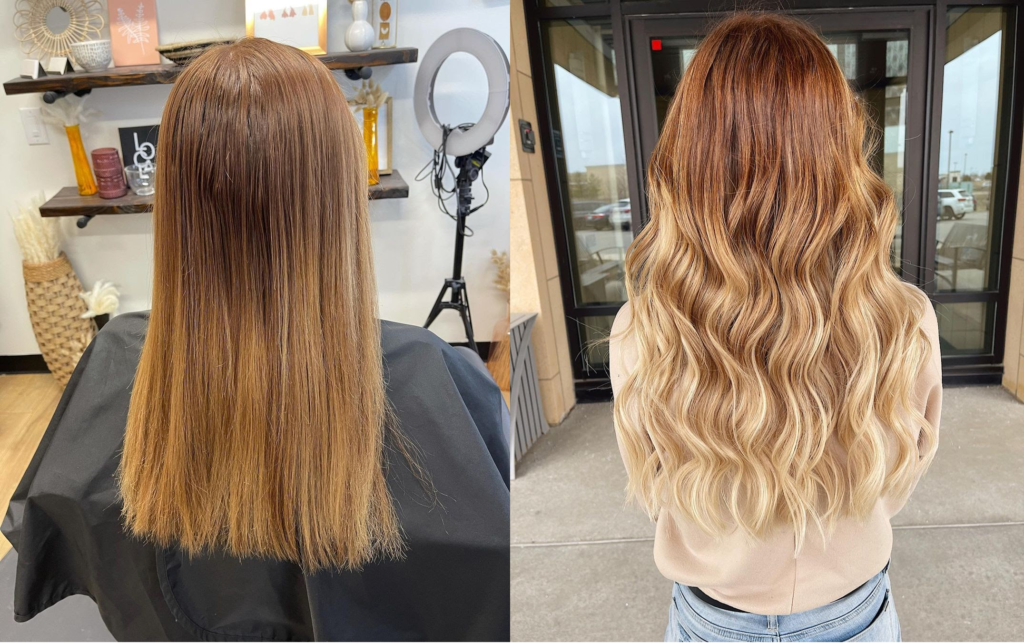 Where to buy 18 inch hair extensions?
Jenhair ensures that all hair extensions sold are of the highest quality. 100% human hair is collected from Vietnamese females and professionally processed by experienced workers in our licensed hair factory.  
Jenhair supplies remy hair, which is the best type of human hair extension available due to its natural appearance. Checkout our website to find the 18-inch hair extensions in a range of colors and styles. Just click "Product" and you may find your ideal item from our hair extension collections.
Final thoughts
18 inch hair extensions before and after are definitely magical. The hair is thicker and fuller as a result of the 18-inch hair extensions, which provide volume. With this 18-inch hair extension length, you can effortlessly style your hair and get an easy, beautiful appearance.
If you have any queries concerning 18 inch hair extension or need advices, please let us know by posting a comment or emailing us via:
Website: https://jenhair.com
Instagram: https://www.instagram.com/jenhair_vietnam
Youtube: https://www.youtube.com/channel/UCpfCRlgWNaxNBOqzrzCJOlQ
Email: sales@jenhair.com