Having long, beautiful hair is a desire shared by many individuals. However, there are different lengths to consider. And if you are wondering about the length and suitability of 24 inch hair, you have come to the right place!
In this post, Jen Hair will discuss all you need to know about having hair that is 24 inches long, including its length, appropriate hairstyles, frequently asked questions, and more. Now that we have your attention, let's get down to business and discover the truth about 24 inch hair!
How long is 24 inch hair?
24 inch long hair measures approximately 61 centimeters, making it a stunning and impressive length that falls well past the shoulders. There are various styling options with 24 inches of hair for you to choose, such as updos, braids, and curls. This length of hair is considered long and can create a beautiful, eye-catching hair look for any occasion.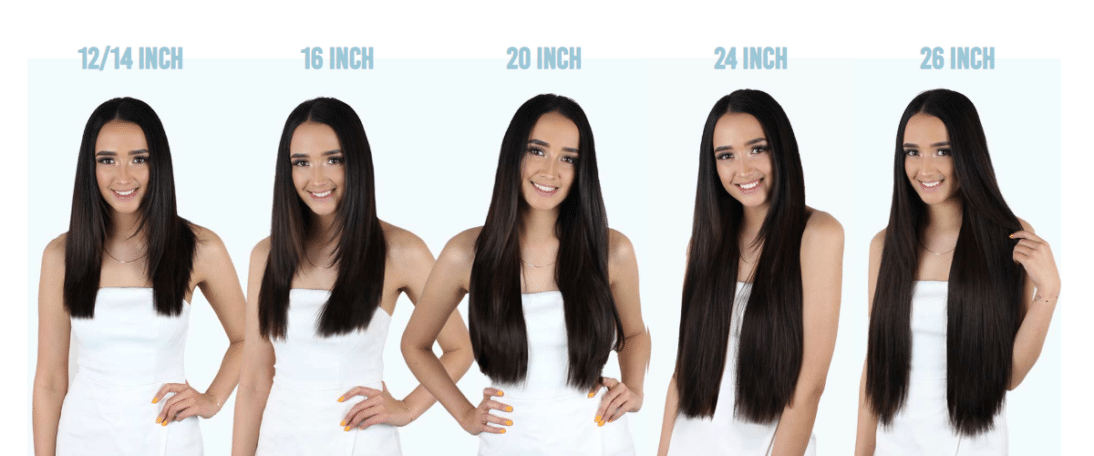 However, it is important to understand that the actual length of hair can vary depending on factors such as texture, curl pattern, and thickness. Straight hair will show the true length of the hair, while curly or wavy hair may appear shorter due to the natural curl pattern. Maintaining healthy hair at this length requires extra care, including regular trims to prevent split ends and breakage and deep conditioning treatments to keep the hair looking and feeling its best.
What hairstyles are suitable for 24 inch hair?
When it comes to 24 inch hair, the versatility is truly remarkable. The key is to find styles that suit your personal taste, occasion, and face shape.
   1. Seek ponytail 
A sleek ponytail is a timeless and sophisticated hairstyle that elegantly showcases the length and smoothness of 24 inch hair. What's even better is its versatility, making it a suitable choice for almost any occasion, be it work, school, or beyond.
The sleek ponytail can be customized in many ways as your preferences. Here are a few variations you might consider:
High ponytail:

A high ponytail is a great option if you want to show off the length of your hair and create the illusion of a longer neck. 

Low ponytail:

A low ponytail is a more subdued option that's perfect for a day at the office or a casual get-together. 

Side ponytail:

This is a fun and flirty option that's perfect for a night out or a special event. 
   2. Chignon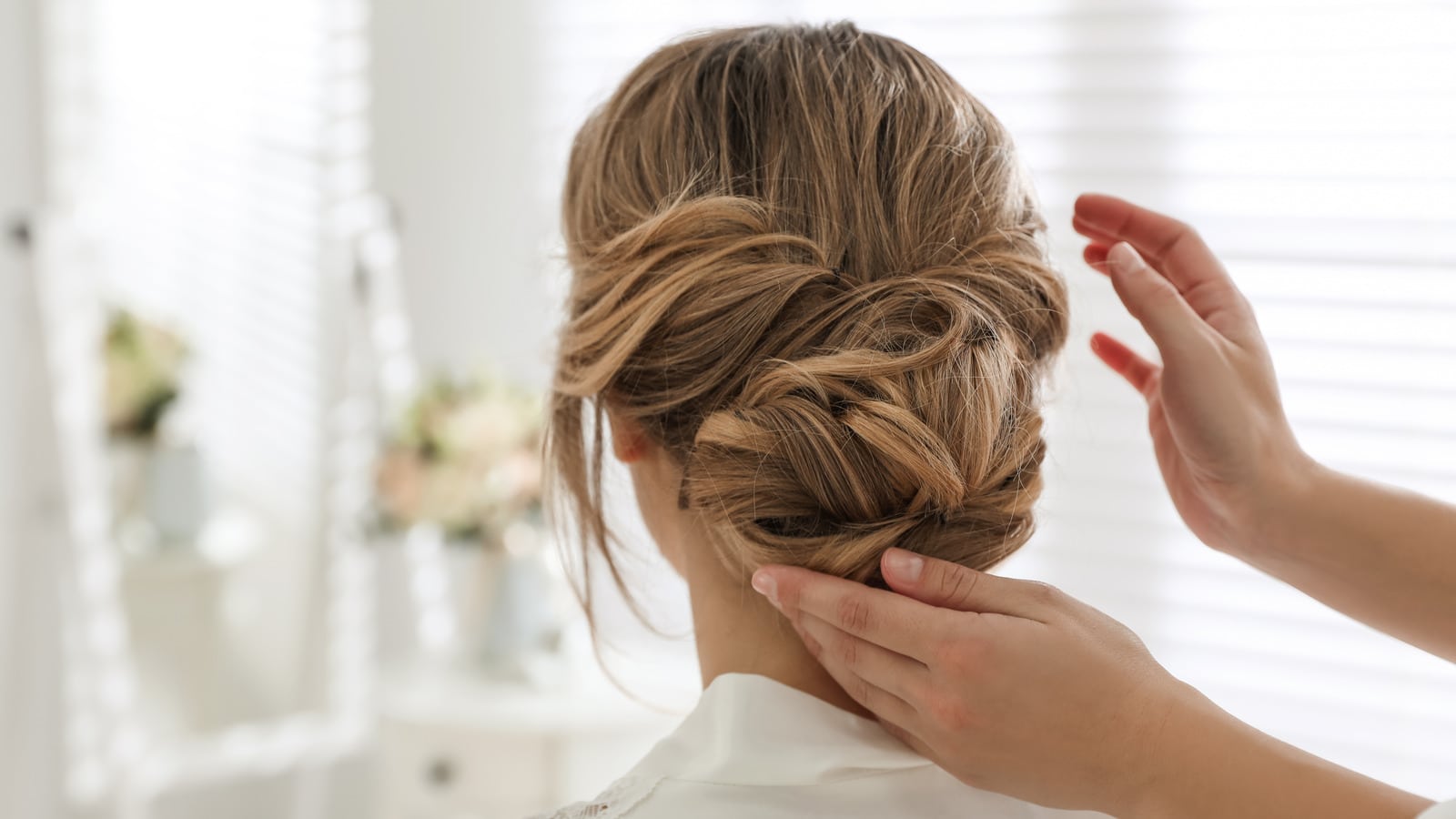 If you have 24 inch hair, you should consider the chignon hairstyle for several reasons. Firstly, the chignon allows you to showcase the length of your hair while keeping it neat and tidy, making it a great option for formal events or professional settings. Additionally, you can add braids, twists, or other embellishments to make your chignon more unique and interesting.
Lastly, the chignon is a practical hairstyle that can keep your hair out of your face and off your neck, making it a great option for hot and humid weather. The chignon can also help prevent tangles and breakage, which can be a concern for those with longer hair.
   3. Waterfall braid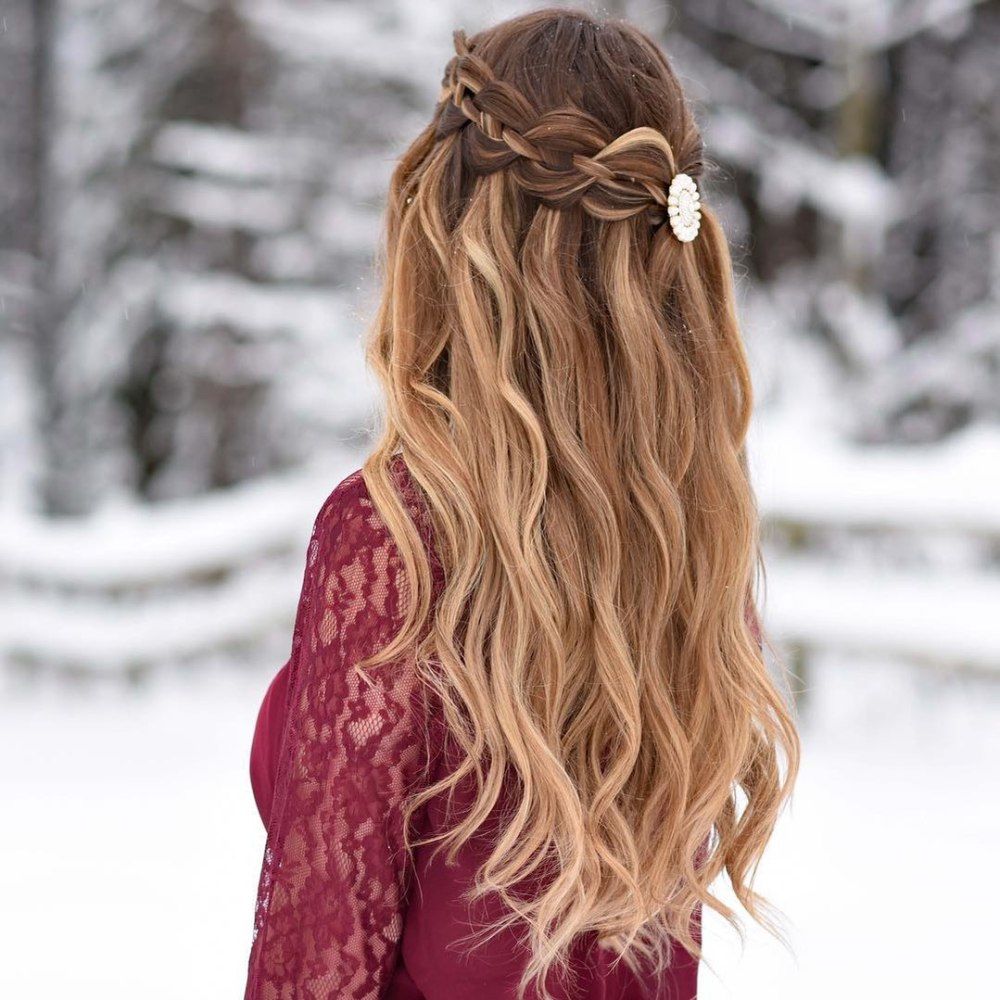 The waterfall braid is a beautiful and intricate hairstyle that can showcase the length, texture, and volume of 24 inch hair in a stunning way. This hairstyle is characterized by a cascading effect that resembles a waterfall, hence the name. Moreover, the length of the hair allows for a longer and more dramatic cascading effect, while the texture and volume of the hair can enhance the overall look of the braid.
Whether you prefer a sleek and polished braid or a more relaxed and romantic look, you can create a waterfall braid that works for you. Additionally, you can add accessories such as flowers or hairpins to embellish and accentuate the braid.
   4. Pinned back 
The length and beauty of 24 inch hair can be easily displayed by pinning it back. To obtain this flexible look, take a little portion of hair from either side of your head and twist it slightly out of your face. You can achieve a sophisticated and carefree style by using bobby pins to secure the twisted pieces at the back of your head. The twists give a touch of refinement and keep the hair out of your face in this pinned-back style. Pinning your hair back can make you look more put together and sophisticated, whether you're going to a casual or formal occasion.
   5. Beach waves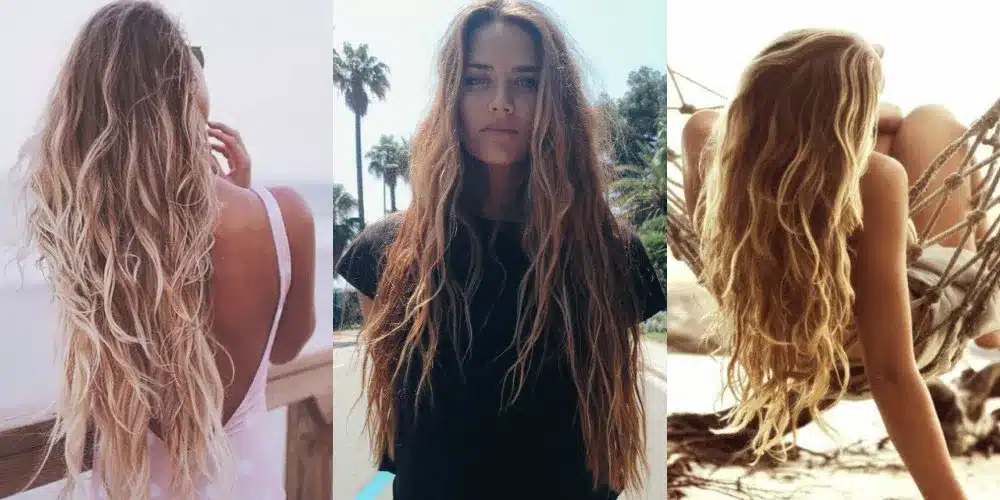 Beach waves are a popular and effortlessly chic hairstyle that can beautifully enhance the natural texture and length of 24-inch hair. These waves create a relaxed and tousled look that's perfect for a carefree and beachy vibe, making them a great option for both casual and bohemian-inspired styles. 
You can create a more polished and refined look by using a smaller barrel curling iron and curling smaller sections of hair. Alternatively, you can create a more relaxed and messy look by using a larger barrel curling iron and leaving some sections of hair straight.
FAQs
   1. How long are 24 inch extensions?
24 inch hair extensions measure approximately 24 inches in length from the weft to the ends. This length is about 61 centimeters, falling below the shoulders and can provide a significant increase in hair length and volume. Whether you are looking to add length or simply enhance your natural hair, 24 inch extensions offer a long and luxurious look.
   2. How many grams of hair do I need for 24 inches?
Generally, for a full and voluminous look, it is recommended to use 150-200 grams of hair for 24-inch extensions. However, if you prefer a more natural and subtle result, 100-150 grams of hair may be sufficient. Always check with your stylist or an expert in hair extensions to find out how much hair you will need to get your desired look.
   3. Is 24 inch hair considered long?
24 inches of hair is considered quite long. However, it is versatile and may be worn in a variety of styles because it falls just below the shoulders. It is long enough to work with for a variety of updos, braids, and curls.
Final thoughts
In conclusion, 24 inch hair is truly amazing. It offers endless styling possibilities, allowing you to transform your look and embrace your inner diva. Whether you choose to rock a sleek ponytail, romantic beach waves, or an intricate updo, the length of 24 inches will never disappoint.
Ready to explore more about hair care and styling? Dive into the world of hair with Jen Hair, where you will find expert tips, in-depth guides, and inspiration for all your hair needs. Stay up-to-date with the latest hair news and trends by following us for more useful tips and information.