Jumbo braid ponytails have taken the hair scene by storm. Whether you know them as box braids or simply jumbo braids, this style features wide, long, and thick braids that can be achieved with natural hair or a quick weave.
What makes weave jumbo braid ponytail so enticing is their incredible versatility. You can elevate the look with hair jewelry, incorporate micro braids for added flair, keep it sleek and sophisticated, or even weave in vibrant colors that reflect your unique personality.
Get ready with Jen Hair to embrace the allure of weave jumbo braid ponytails and discover their endless possibilities!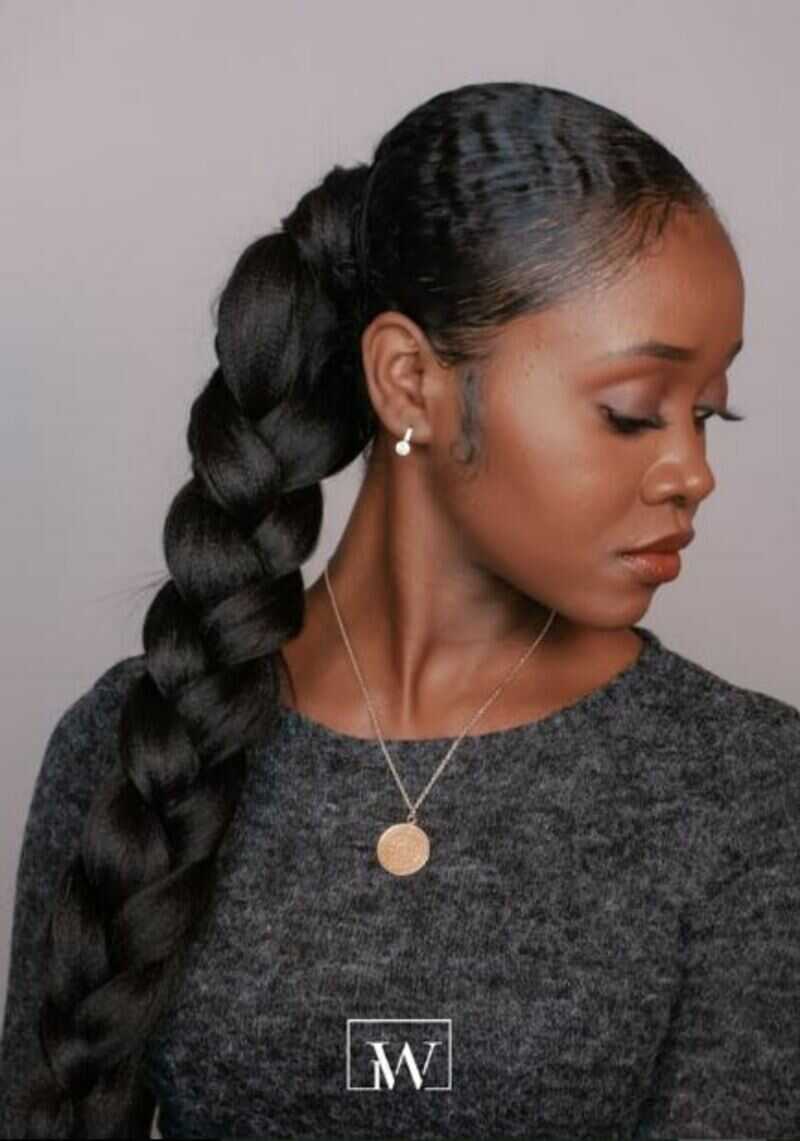 How to Do Weave Jumbo Braid Ponytail?
Making a jumbo braid ponytail using a weave is quick and effortless!
Here's how to do it:
Apply your preferred hair smoothing product and brush your hair back, ensuring a sleek look. Gather your hair into a high ponytail.

Position the ponytail high on your head, ensuring all your hair is included. Use a rubber band to secure the weave onto the ponytail, ensuring your natural hair is tucked beneath the hairpiece.

Divide the combined hair into three equal sections, and as you braid, incorporate your natural hair with the weave. Keep weaving until all the natural hair is seamlessly blended with the weave.

Continue braiding the hairpiece to the end and secure the braid's bottom with another rubber band to prevent it from unraveling. For a final touch, enhance the style with hair charms or cuffs, adding a touch of elegance with hair jewelry.
Extra Long Jumbo Ponytail
The sheer beauty of this sleek and stunning braided ponytail guarantees to garner admiration from everyone around you. Pay close attention to the combing process to ensure a flawless presentation, ensuring each strand is perfectly smooth. Before weaving the ponytail, create a substantial foundation on top, adding height and structure for an even more striking appearance.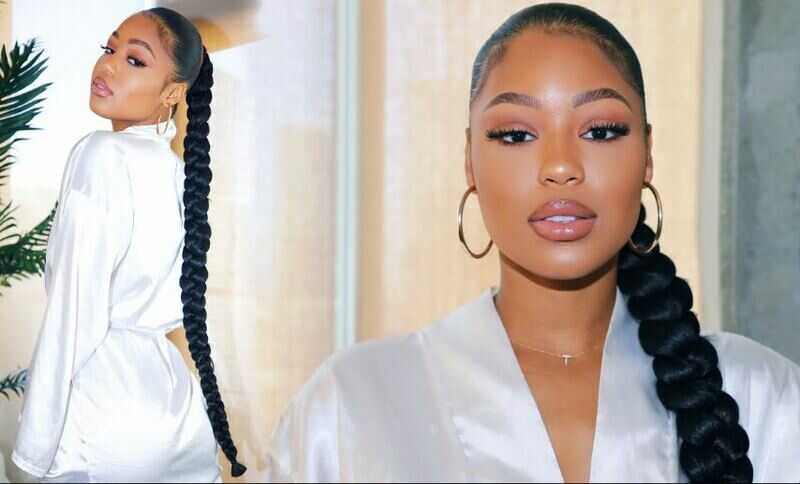 Triple Pony
Begin by dividing your hair into three sections: two on the sides and one in the center of your head. Now, let's create some magic with French twists! Skillfully twist each section, working from the roots to the ends, until you achieve three elegant French knits. Once you have perfected the twists, secure them at the bottom to keep them in place.
Now, it's time to bring it all together with a touch of flair. Style a low jumbo braided ponytail by gathering all three twisted sections and weaving them into a single braid. This creates a stunning, voluminous ponytail that sits gracefully at the nape of your neck.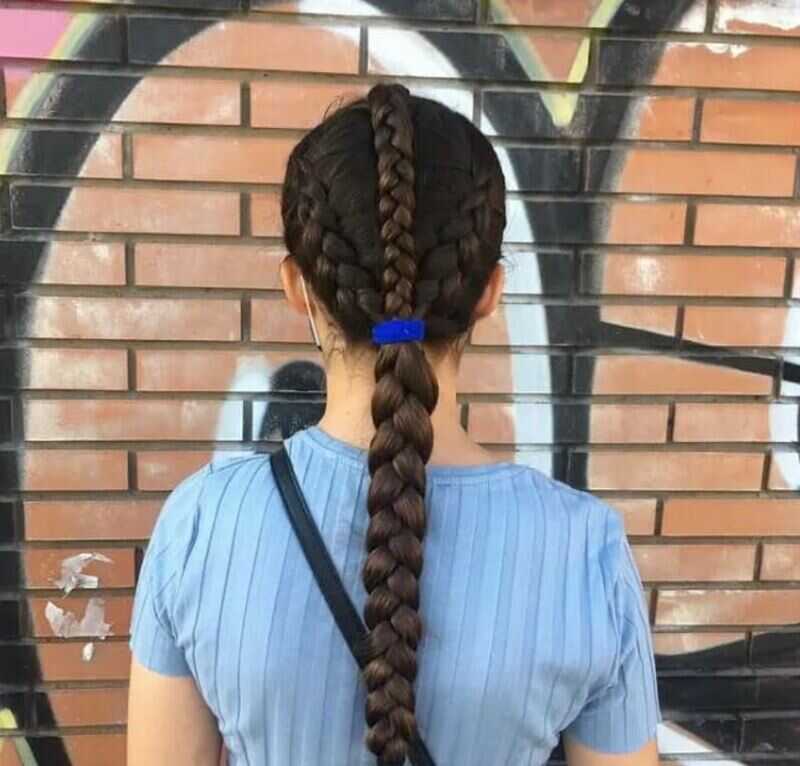 Extra Long Side Ponytail
 You only need a few feet of natural hair or weave and a trusty ponytail holder to achieve this gorgeous look.
This hairstyle is effortlessly chic, featuring a single jumbo braid cascading down the side. It is a timeless choice that adds a touch of sophistication to any occasion. Not only does it keep your hair neatly in place, but it also gives you a stylish and polished appearance.
With its clean lines and graceful charm, this ponytail perfectly balances practicality and style.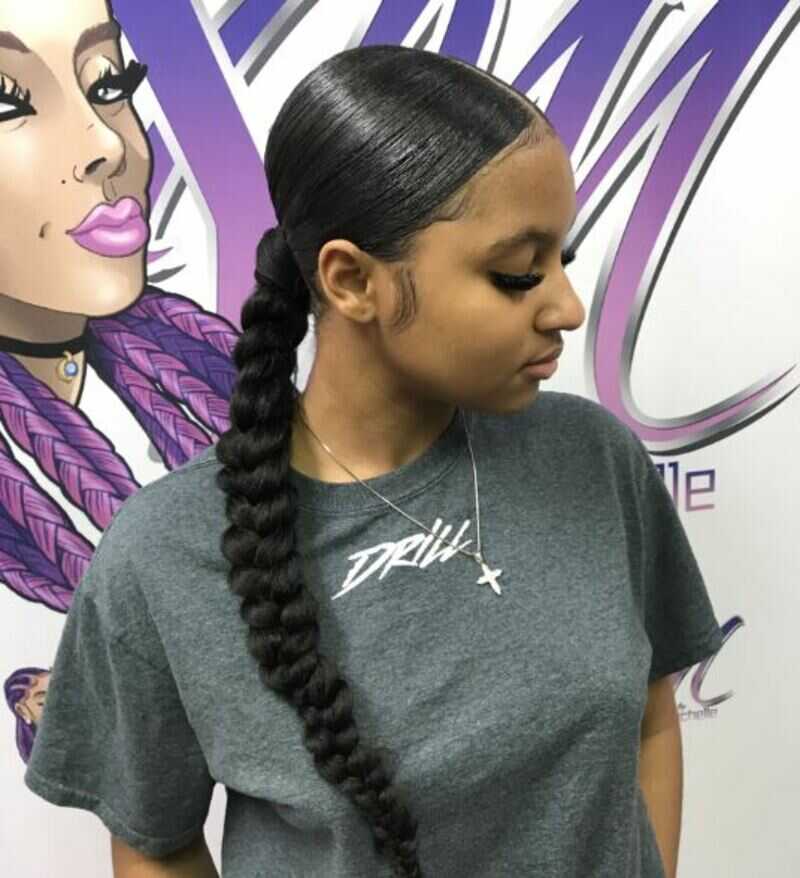 Genie Ponytail with Hair Cuffs
Hair bling is a fun way to accessorize and allows you to showcase your unique personality. With the addition of hair cuffs, you can add a touch of glamour and individuality to your look.
This high weave jumbo braid ponytail hairstyle is the epitome of elegance. Multiple box braids are skillfully gathered high on top of the head, creating a mesmerizing and eye-catching effect. The result is a chic and sophisticated style that exudes confidence and style.
High Ponytail with Highlighted Ends
This elegant and sophisticated hairstyle combines the allure of a jumbo braid with the beauty of highlighted hair. To achieve this eye-catching look, wrap a thick section of your hair or weave around the base of the ponytail. This ensures a seamless and polished appearance, where the focus remains on the stunning high ponytail.
The beauty of this braided ponytail lies in its simplicity and versatility. It combines practicality with style, allowing you to rock a chic hairstyle while keeping your hair securely in place.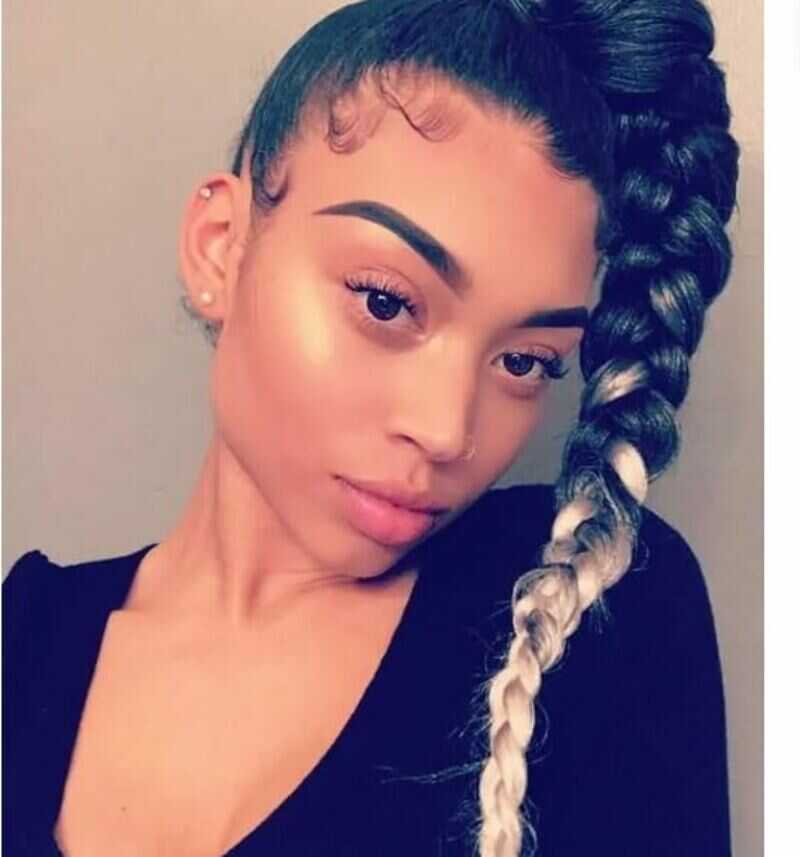 Colored Jumbo Braid with Weave
Jumbo braids are a versatile and stunning look that anyone can embrace. In this fabulous hairstyle, we combine the beauty of natural hair with the box braiding technique to create a thick and luxurious side braid.
Adding extensions or weaves can instantly amplify the thickness and length of your braid, giving it a more dramatic appearance. Alternatively, dyeing your natural hair in a fun and vibrant color adds a touch of excitement and uniqueness to your jumbo braid.
Ponytail with Microbraids and Weave
The model's weave jumbo braid ponytail stands out with the addition of micro braids originating from the forehead, which then intertwine into a French braid design. 
Weaves enhance the braid, and smaller braids are employed to secure it at the base of the ponytail. The vibrant red hues contribute to the hairstyle's contemporary, fashionable, and youthful appearance for women.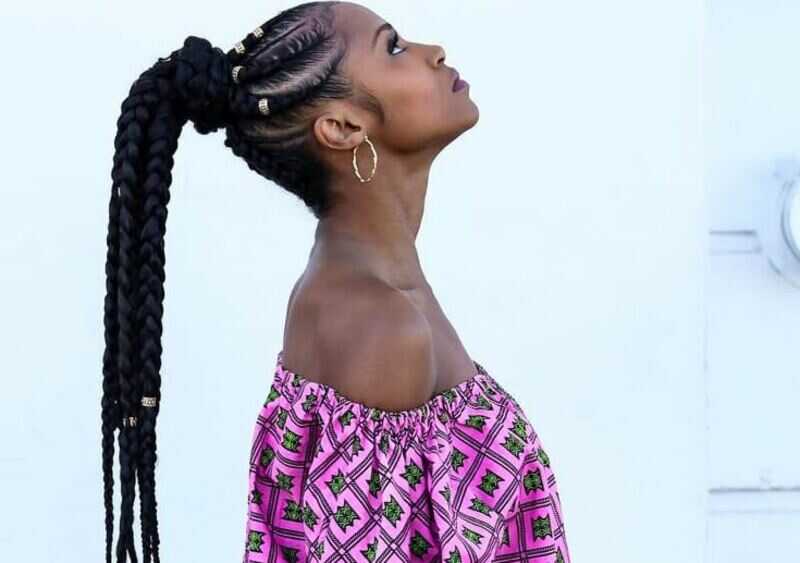 Ashy Blonde Braided Pony
If you want a natural and effortlessly chic ponytail, why not try the Ashy Blonde Braided Pony? Begin by styling your bangs to frame your face beautifully. Then, take it a step further by creating a stunning Jumbo braid on the crown of your head, using an ashy blonde color that harmonizes with your straight fringe. This combination will give you a unique and captivating hairstyle that exudes a sense of modernity and sophistication.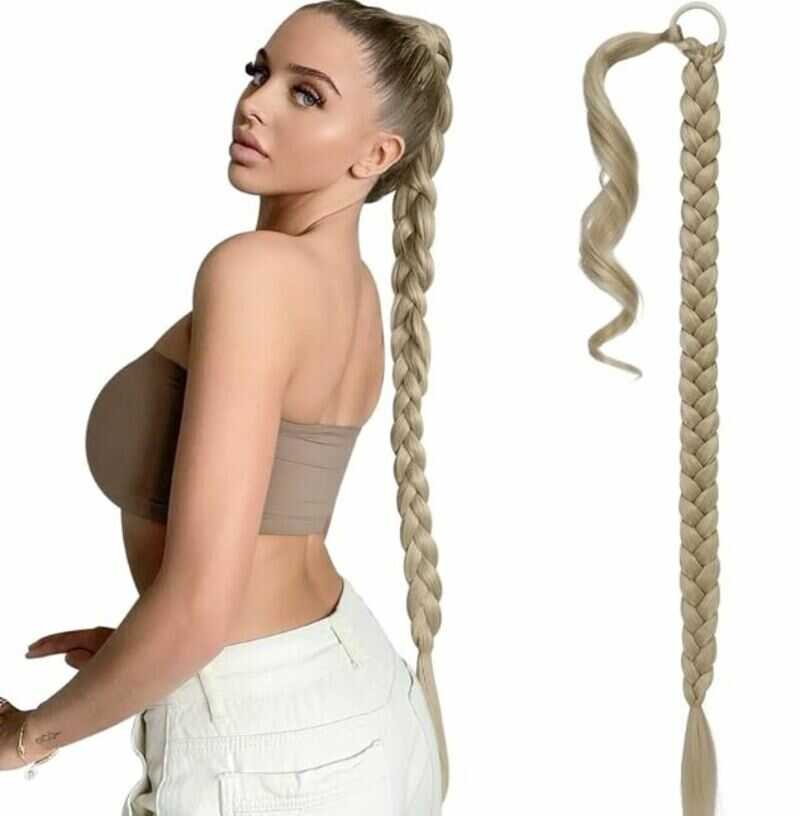 Half Box Braided Ponytail
For several reasons, the Half Box Braided Ponytail is a beloved choice among black women. This hairstyle adds height to the top of the head and exudes a romantic and captivating charm. Additionally, it has the remarkable ability to elongate and flatter rounded face shapes.
One of the great advantages of this style is its versatility. You have the freedom to play with the thickness of the braids, allowing you to customize the look to suit your preferences. Both options offer unique appeal, whether you opt for thinner or chunkier braids.
Stitch Braided Pony
The Extra Long Jumbo Ponytail is a stunning, elegant hairstyle that will capture everyone's attention. Achieve a flawless look by carefully combing your hair and creating a voluminous foundation on the top before braiding the ponytail. This meticulous approach will ensure a captivating and well-constructed final result.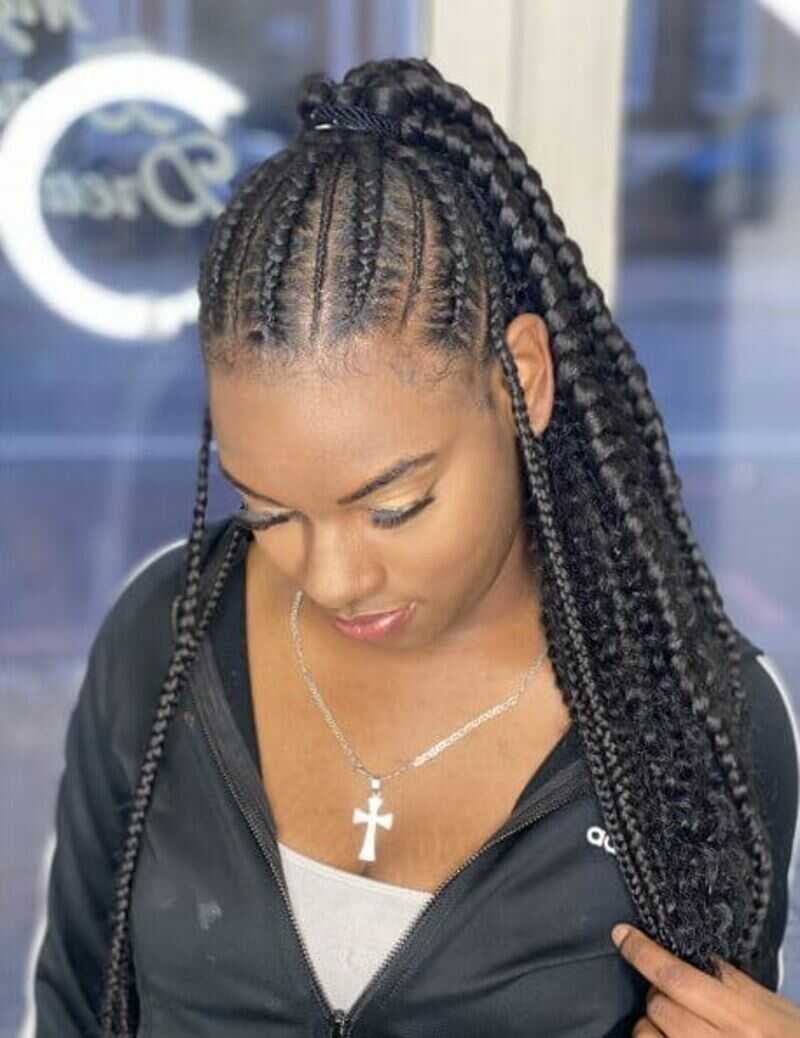 Do Weave Braids Damage Your Hair?
When done properly and with care, weave braids should not cause significant damage to your hair. However, it's important to note that improper installation, maintenance, or excessive tension on the hair can lead to damage.
To minimize the risk of damage, here are a few tips to keep in mind:
Find an experienced stylist specializing in weave braids. They will have the knowledge and skill to install the braids properly, reducing the chances of damage.

Braids that are too tight can put excessive strain on the hair follicles and lead to traction alopecia. Ensure the braids are comfortably secure without causing discomfort or pulling on the scalp.

It's essential to give your hair regular breaks between weave installations to allow your natural hair to breathe and recover. Continuous and prolonged use of weave braids without breaks can weaken the hair and lead to breakage.

Take care of your hair and scalp while wearing weave braids. Keep your scalp clean and moisturized and avoid excessive manipulation or pulling on the braids.

Remove the weave braids gently and carefully to avoid any unnecessary damage to your natural hair.
Frequently Asked Questions
What type of hair extensions are best for a weave jumbo braid ponytail?
When choosing hair extensions for a weave jumbo braid ponytail, it's best to opt for high-quality synthetic or human hair extensions. Kanekalon and Toyokalon are popular synthetic options known for their durability and affordability. Human hair extensions offer a more natural look and can be styled and treated like your own hair. 
How long can I keep a jumbo braid ponytail?
It depends on various factors, including the quality of the installation, your hair's health, and how well you maintain it. On average, a jumbo braid ponytail with a weave can be worn for approximately 4-8 weeks. However, it is essential to closely monitor your natural hair and scalp health during this time and ensure you give your hair regular breaks between installations to prevent damage.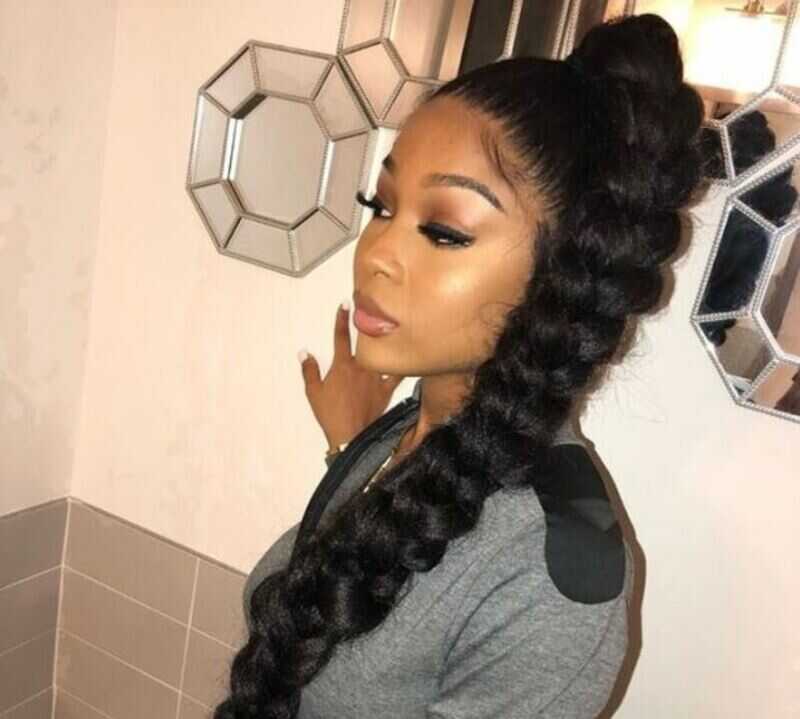 How do I wash and maintain a jumbo braid ponytail with weave?
To wash a jumbo braid ponytail with weave, dilute a gentle shampoo in water and apply it directly to the scalp, gently massaging it in. Rinse thoroughly and follow up with a moisturizing conditioner. It is crucial to avoid excessive rubbing or tugging on the braids. 
After washing, gently squeeze out excess water and allow the hair to air dry. To maintain the style, limit excessive manipulation, protect your hair at night with a satin scarf or bonnet, and moisturize the scalp and braids as needed.
How long does it take to install a weave jumbo braid ponytail?
The time required to install a weave jumbo braid ponytail can vary depending on factors such as the desired size and thickness of the braids, the experience of the stylist, and the complexity of the chosen style. 
On average, it can take anywhere from 2 to 6 hours to complete the installation. It's best to consult with your stylist beforehand to get a more accurate estimate based on your specific requirements.
Can I install a weave jumbo braid ponytail on my own?
While it is possible to install a weave jumbo braid ponytail on your own, it can be a challenging task, especially if you need to become more experienced in braiding or weaving techniques. 
It often requires proper sectioning, precise braiding, and secure weave attachment. It is recommended to seek the assistance of a professional stylist who can ensure a proper and long-lasting installation.
Summing Up
Jumbo braid ponytails have become a timeless and versatile hairstyle, allowing endless creativity and personal expression. Whether you rock them with natural hair or weave, there are countless ways to make this style uniquely yours. The options are limitless, from adding hair jewelry to incorporating micro braids or experimenting with vibrant colors. 
The popularity of weave jumbo braid ponytails continues to soar, captivating people worldwide. So, embrace this easy and chic style and confidently unleash your inner fashionista!